Nicola Hicks
I fell in love with the work of British artist Hicks's work twenty years ago when I first laid eyes on Dressed for the Woods. This year Elephant had the pleasure of working with her on a book, Keep Dark, which allowed me to discover the sequel, Dressed for the Woods II—not to mention Red Cat.
—Robert Shore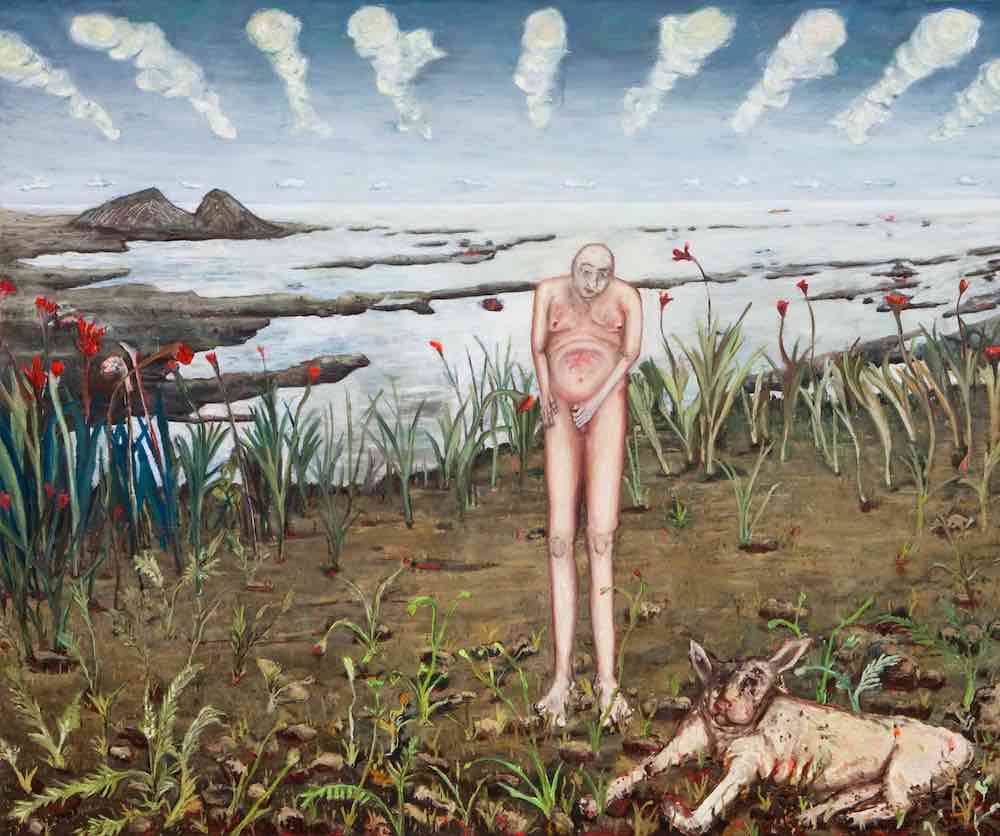 Andriu Deplazes
Andriu Deplazes may have graduated just last year, but already he has garnered notable attention for his original paintings—his work has been compared to various art historical figures, including Henri Rousseau, but it is resolutely contemporary—he was selected earlier this year for the Prix Helvetia at Liste art fair in Basel. Some have described his paintings as apocalyptic, but there is something determinedly human about the vulnerable naked bodies that roam his acid landscapes. Swiss-born, Brussels-based Deplazes will soon be exhibiting at the Aargauer Kunsthaus in Switzerland (27 January until 15 April) and has just announced his first solo show in London to take place in July next year.
—Jessica Saxby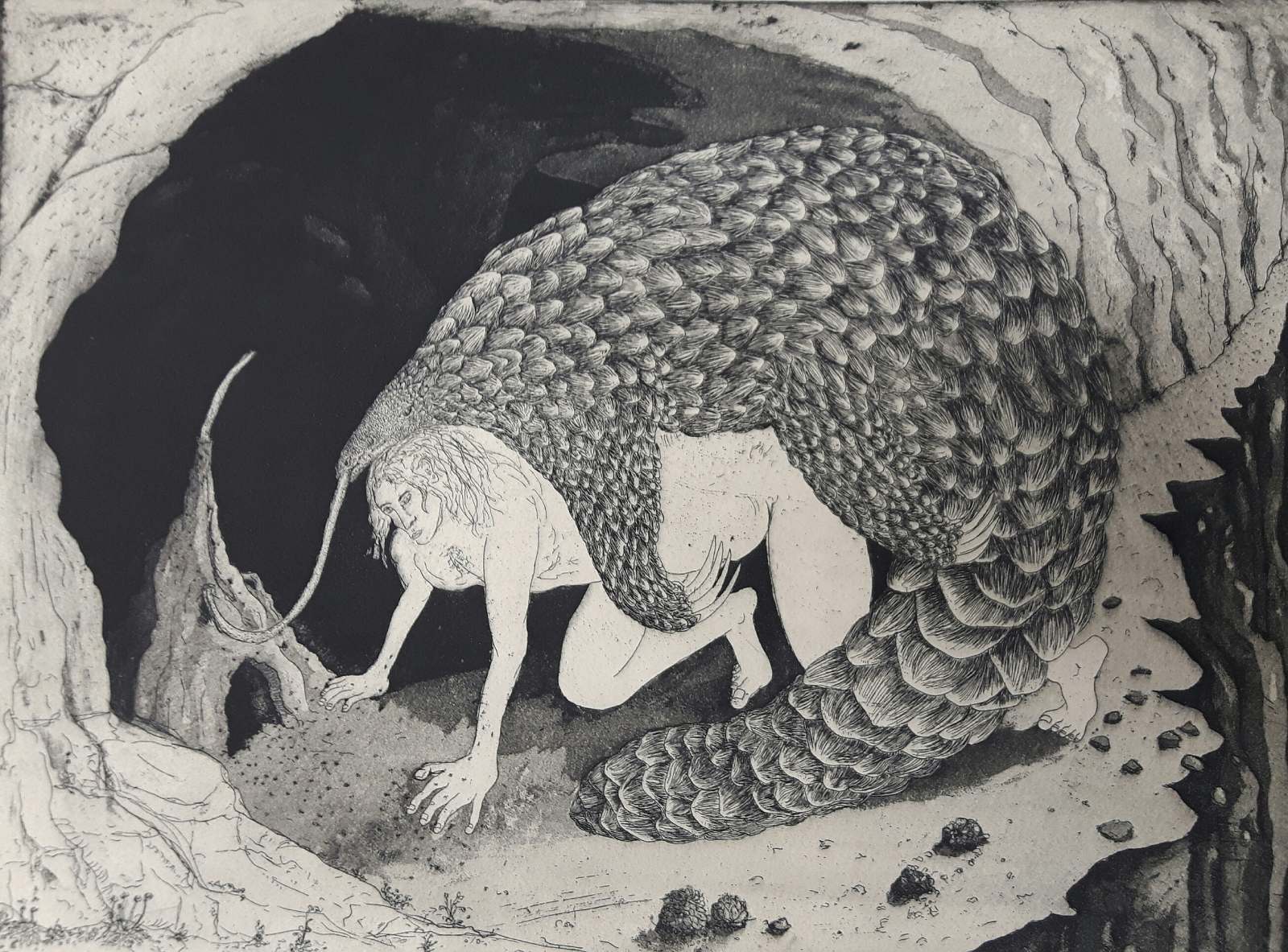 Jack Fawdry Tatham
I was really pleased to see Jack Fawdry Tatham's etchings at the Royal Drawing School show this year. It was a fantastic show overall, and the school really diverges from the typical London art school vibe, concentrating a lot on practical skills and letting the students create a huge body of work quite freely to see what comes out of it. These etchings are so weird and dark but there's something very comforting and beautiful about them as well—and they feel timeless. I'm looking forward to seeing how his practice develops over the next few years.
—Emily Steer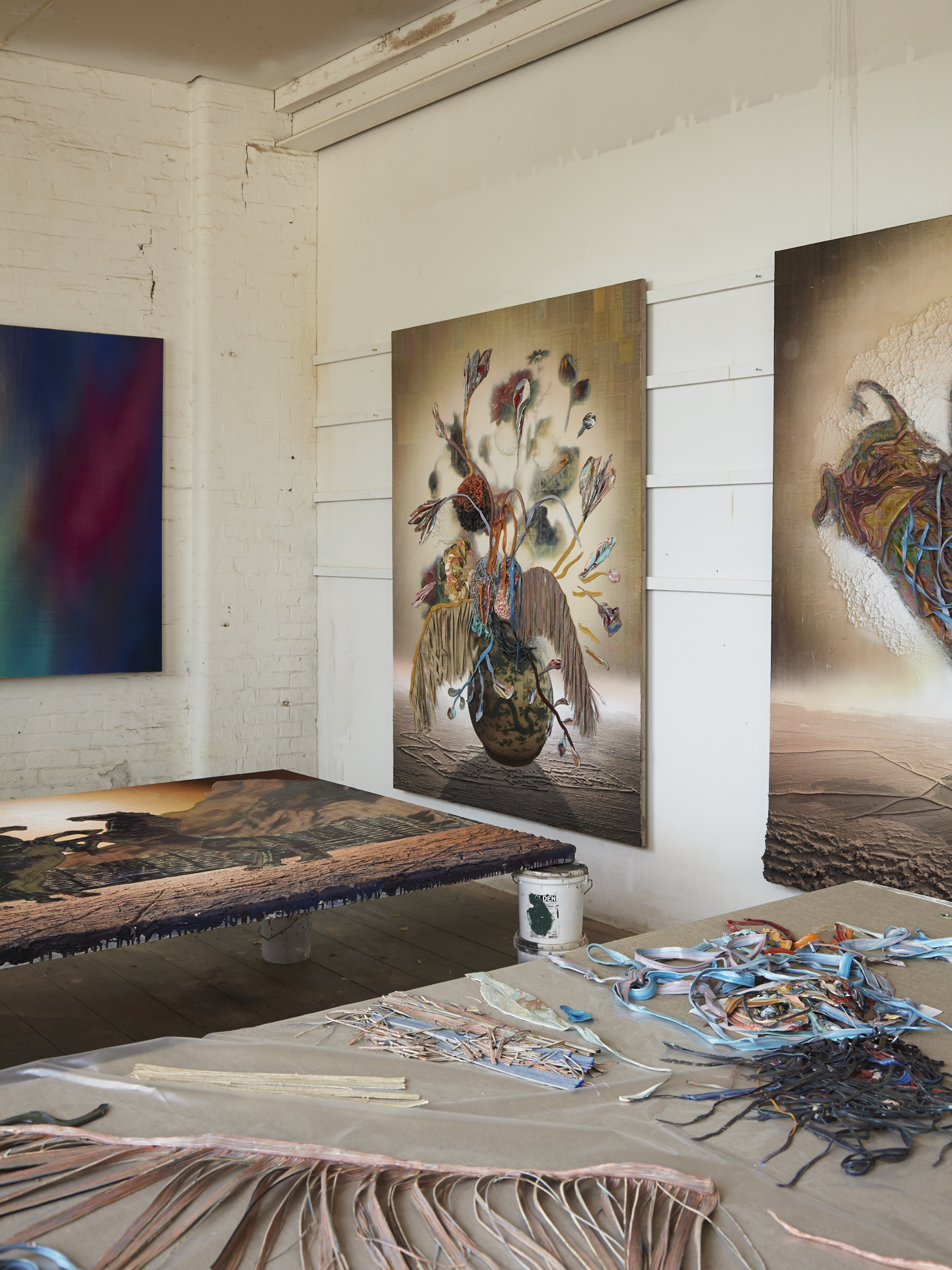 Gordon Cheung
From stock listings and maps to spray paint, sand and digital algorithms, British multimedia artist Gordon Cheung creates expansive and hallucinogenic vistas that teeter between the virtual and actual. Committed to finding ways to "expand the language of painting", Cheung's interest lies in questioning and interrogating the "information landscape" in which we find ourselves. Other areas of interest include the construction of power and the systems that go with it, geopolitics and how empires and civilisations shift and evolve over time.
—Gemma Padley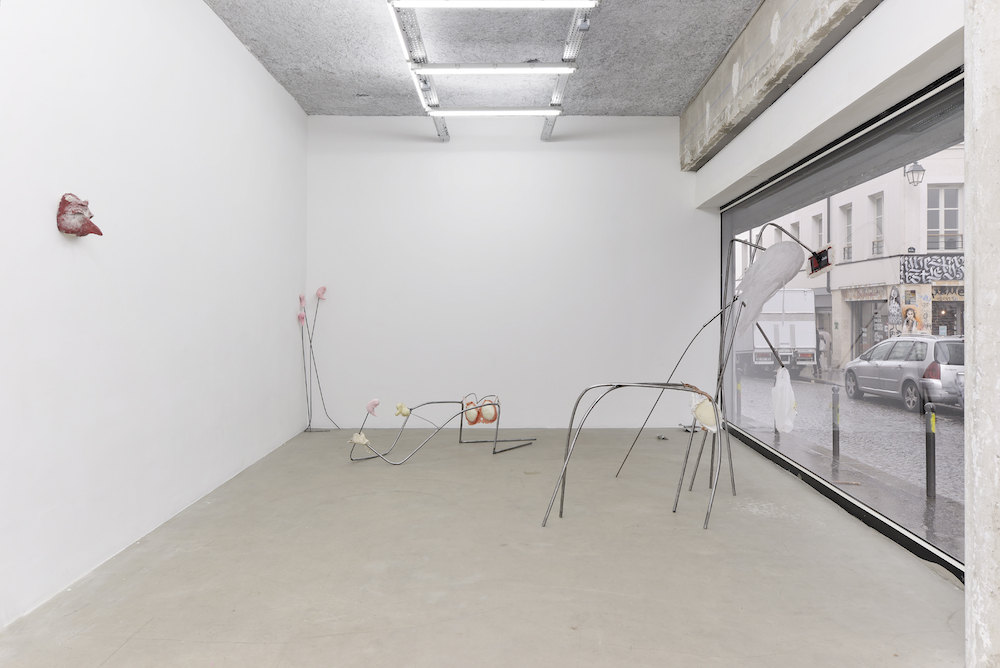 Jesse Darling
I got freaked out accidentally wandering into Sultana Gallery in Paris to find Jesse Darling's work in a show called White Weapons. I'm still having nightmares. I love their work though.
—Robert Urquhart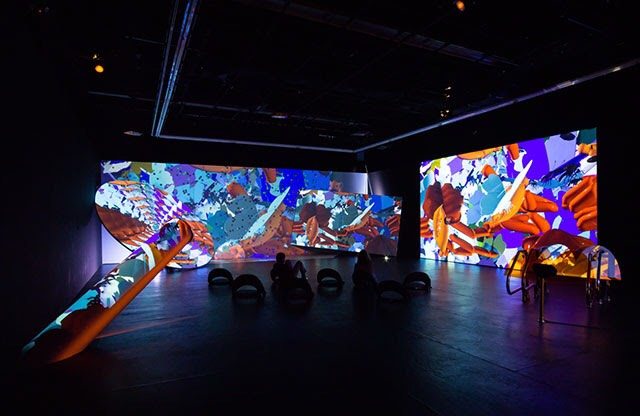 Meriem Bennani
The New York-based, Morocco-born artist Meriem Bennani had a knockout year in 2017, capped by her solo exhibition at The Kitchen in Chelsea this autumn. Bennani's video installation Siham & Hafida (2017) was picked up favourably by critics at Artforum and the New York Times for its ability to explore the intersection of the personal and political through a sleek and supersensory presentation. Equal parts funny and tender, the video jerry-rigs analogue source material with a beguiling blend of digital aesthetics to explore the speculative future of the chikha—a female singer or dancer wound deep into the cultural history of Morocco—within the twenty-first century standards of social media-enabled distraction and cultural disassociation to which the twenty-nine-year-old Bennani belongs.
—Alice Bucknell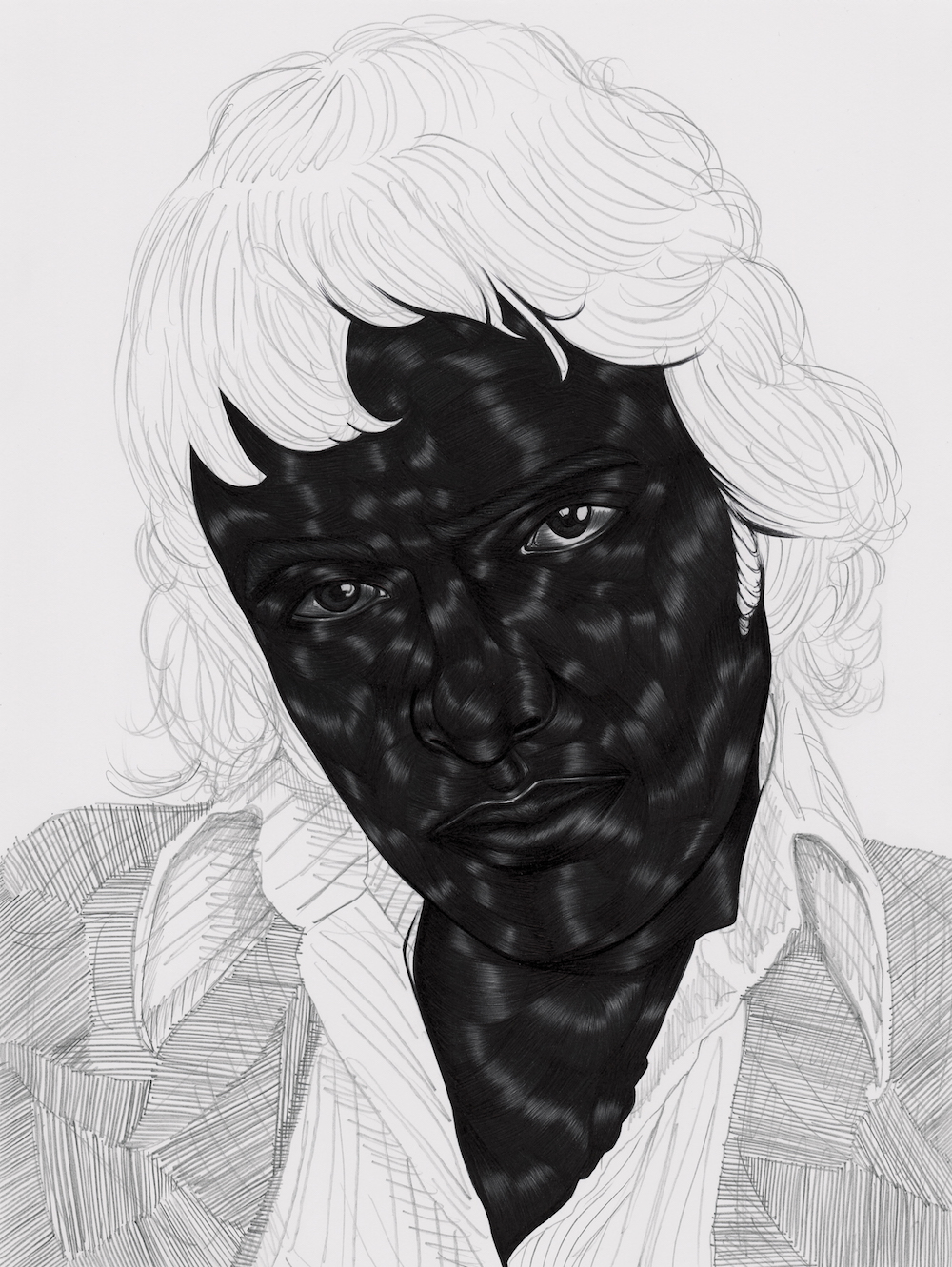 Toyin Ojih Odutola
One of the highlights of my year was interviewing Odutola ahead of her current exhibition at the Whitney in New York, To Wander Determined. She's super sharp, has amazing neck tats, and makes beautiful, enormous painted fictions, inspired as much by a rich range of painterly canonical references as they are by her own life and journey from Nigeria to Alabama and New York. They perfectly dovetail what it means to be multicultural now. I love looking at her portraits and imagining who they might be.
—Charlotte Jansen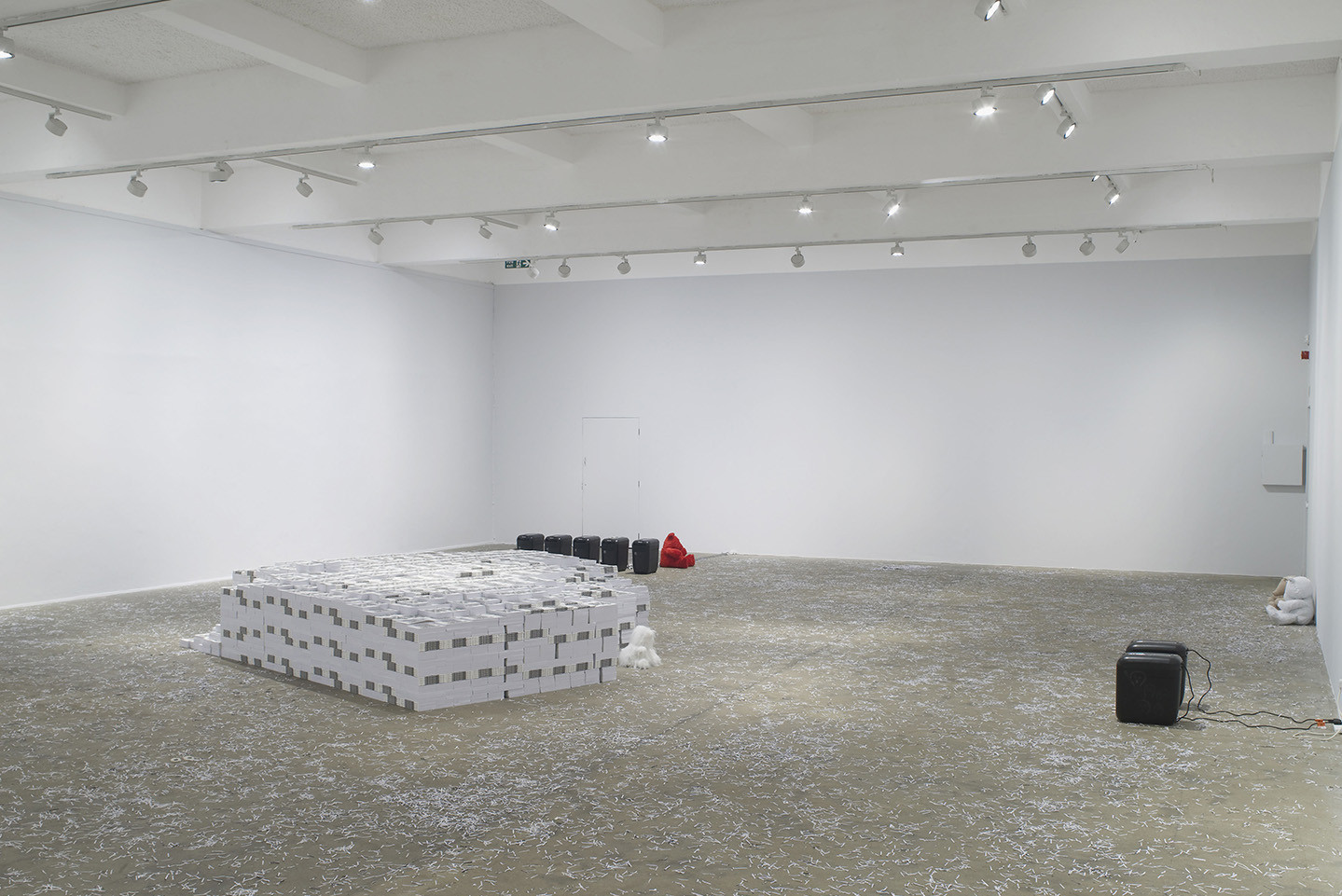 Hannah Black
The artist of 2017 for me was Hannah Black, who earlier this year led the call for the Whitney Biennial to remove and destroy Dana Schutz's painting of Emmett Till. Her show Some Context at Chisenhale was an initially confounding installation of 20,000 copies of her book of censored and edited conversations with friends on the theme of "the situation", stacked up in the middle of the gallery, surrounded by shredders and toys stuffed with shredded pages. Shifting between real-life anecdotes, theory and politics, the conversations tackle the feeling that the world is in a very particular, urgent and undefinable Situation right now—it feels so necessary and I'm still processing it.
—Rosalind Duguid