Below, we take a brief look at a few key artists whose early work was featured in this crystal ball-like showcase.
Bruce McLean, 1965
When Bruce McLean participated in Young Contemporaries in 1965, he says getting into the show wasn't exactly a goal: someone at Central Saint Martins simply told him "there was a lorry" taking works, and asked if he'd like something to go in. He describes his chosen work as one of "these funny grey box things" he was making at the time. It got in, and breaking his deadpan nonchalance, he attests that "if you got into Young Contemporaries, you were doing alright. I was very pleased to get into that show." McLean has vivid memories of the show's opening night—namely because he (quite fairly) told the then-Minister of Culture to "get off my sculpture please, and move your egg sandwich and your cup of tea."
Laure Prouvost, 2009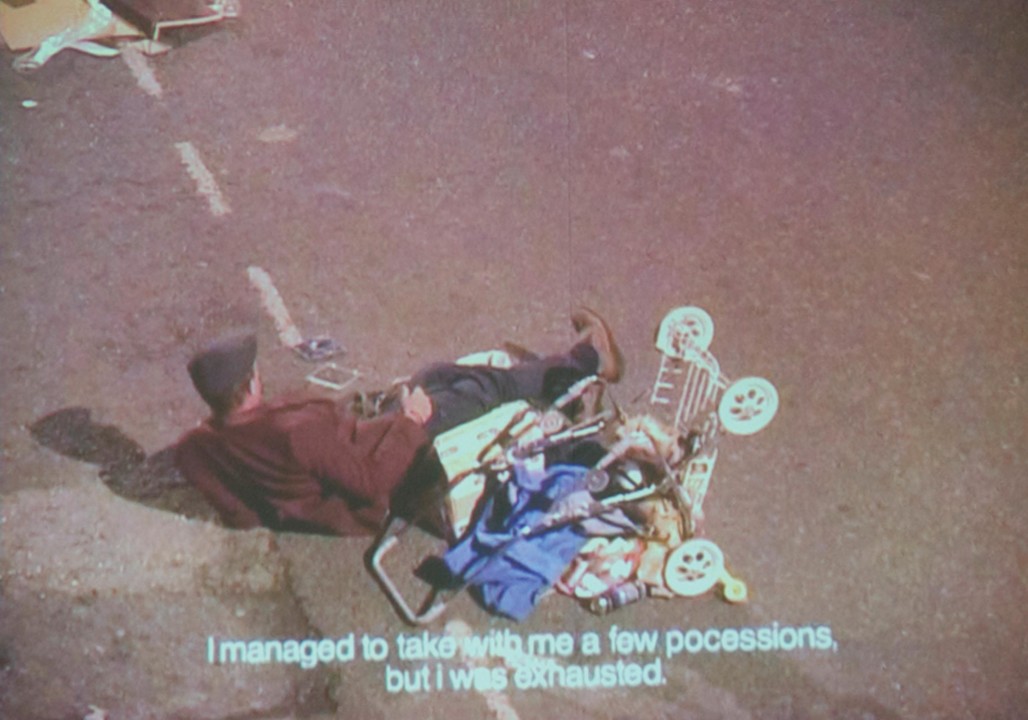 Burrow Me was created during Laure Prouvost's MA at Goldsmiths, and the film aims to "create a bond between narrator and viewer, developing a world where the audience's imagination is at work…" according to LUX, which now holds the film in its collection. Since such early pieces, Prouvost has told us that "film and video are still [her] main mediums," but she's since taken an interest "in the barriers between video and what then remains—the relics". Much like her earlier work, her concerns remain with the slippery boundaries between reality and fiction, "like when dreams become more real than what we experience in reality".
Mark Wallinger, 1981
Mark Wallinger's work, Mirror in the Bathroom, was selected when he was a student at Chelsea College of Arts. "I remember thinking 'Well, I've made this thing. I think it's a sculpture: is it?" he recalls. "I remember making up the frames, applying the coats of gesso and thinking, 'Maybe I've got something there.' It was enough of a pat on the back to think that I wasn't entirely barking up the wrong tree."
Life as an artist was very different then. When he graduated, young artists could "eek out a bit of an existence" living in "very cheap housing or squats—all those things that don't seem to be there now". Fifteen years after his student work was shown, Wallinger was a selector for the exhibition, and he advises graduates that "You have to keep some kind of momentum going because that's the hardest bit, the two or three years just after college."
Damien Hirst, 1989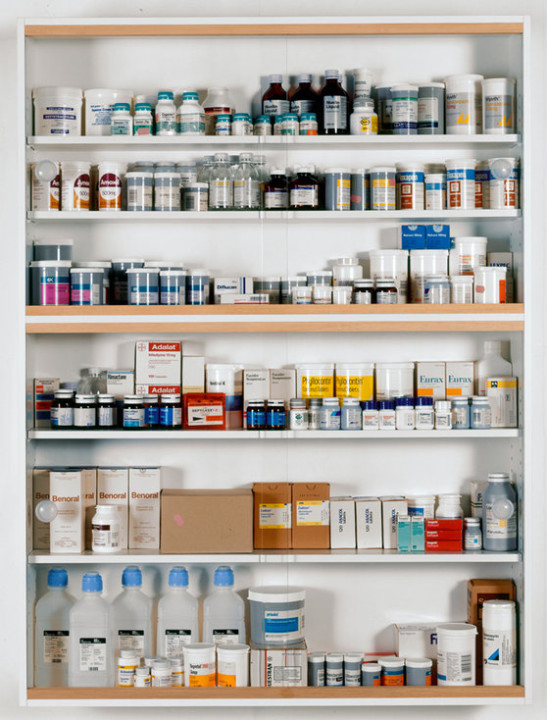 Damien Hirst is still well-known for the sort of work he was making as a student, including his Medicine Cabinets series, which he began during his second year studying at Goldsmiths with 1988's Sinner. He created the MDF unit at home, filling it with empty medication packaging from his grandmother, which he'd asked her to give him when she died. The pieces selected for New Contemporaries, Holidays and No Feelings, were from a group of thirteen Hirst made next. Each is titled after tracks on the Sex Pistols' album Never Mind the Bollocks. Charles Saatchi bought both cabinets from the exhibition. 
The used packages—which Hirst dubbed "empty fucking vessels"—were originally arranged as if the cabinet were a human body, with each packet appearing according to the organs the medication was created to heal. He later moved towards arranging them by colour, and he has likened the minimalist packaging to the work of Sol LeWitt and Donald Judd. "They're not allowed to sell themselves, except in a very clinical way. Which starts to become funny," Hirst has said.  
Tacita Dean, 1991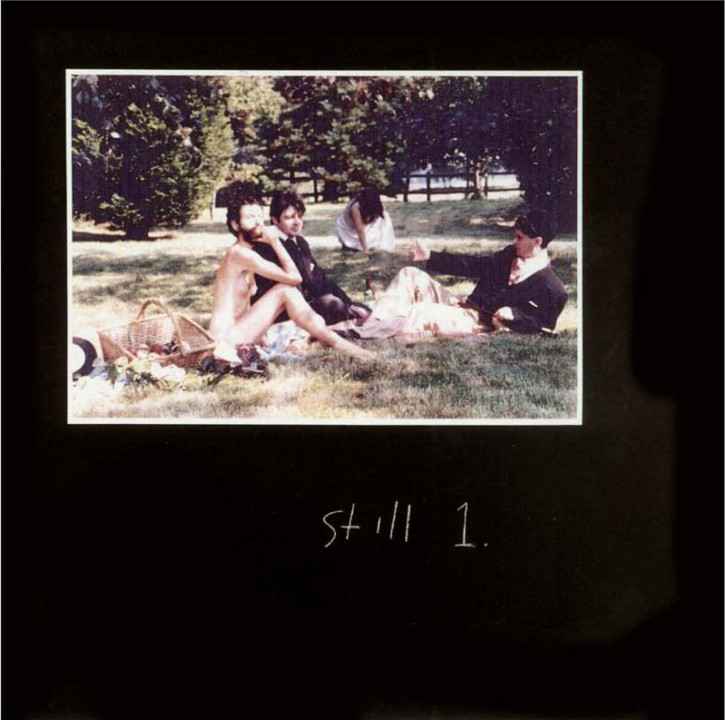 Tacita Dean created this image, a still from her video The Story of the Beard, during her time at Slade School of Fine Art. Like many of her early works, this is a feminist-leaning reinterpretation of a well-known artwork, and reconfigures Manet's Le Déjeuner sur l'Herbe into The Story of Beard. The film in its entirety tells the story of a shop owner, who's managed to collect a large number of beards. Dean's primary medium has changed little over the years: as a trio of shows in 2018 demonstrated, she still frequently works with spooled film. Following her showing at New Contemporaries, she earned a stint as artist-in-residence at the Wexner Center for the Arts in Columbus, Ohio.
Chantal Joffe, 1996
Like Wallinger, Chantal Joffe (who graduated from the RA in 1994) also speaks fondly of a bygone era for art students: "I feel very privileged to have grown up in a time when there were grants, and art school was well funded," she says. 
It was a very small group of paintings that got her into the show. "I wanted to use the subject; but find a way of slowing it down and making it about painting—pure painting and colour," Joffe explains. "I felt with those little panels, I had done that… It was the first time that I felt I made the subject and the making meet."
She adds, "I can honestly say being in New Contemporaries changed my life and the trajectory of my career: certainly it gave me huge confidence and self belief. You knew you hadn't been picked for being fashionable or for being heard of or anything, because you hadn't—you were just a student."
Bloomberg New Contemporaries
Until 17 November at Leeds Art Gallery, from 6 December to 23 February 2020 at South London Gallery 
VISIT WEBSITE