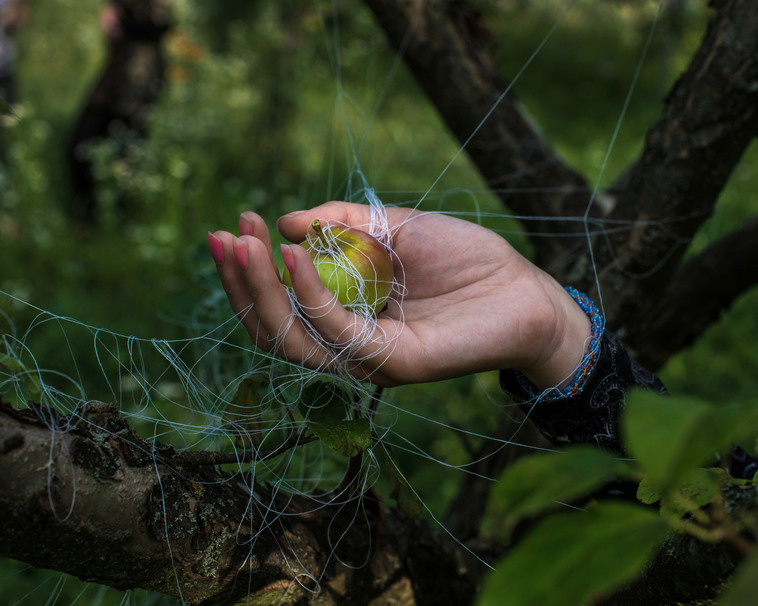 Carolyn Drake has always pushed the boundaries of photography in her practice. She has used collage, drawing, text, and more recently, video, found images and sewing alongside her photographs to create multi-layered projects. Drake became a full-time member of Magnum Photos in 2019 and is part of a younger generation amidst their ranks making socially and politically engaged work. Her longterm projects have explored diverse communities around the world and sought to question dominant historical narratives around them. She comes from a classic documentary tradition and is best known for her beautifully conceived self-published photobooks; lately she has moved away from this approach, she acknowledges that her love of bookmaking has driven her increasingly tactile approach, generating as it did an "impulse for physical contact".
In Wild Pigeon, Drake's project on the Uyghur Autonomous Region in Northwest China made during multiple trips between 2007 and 2014, she used collaborative collage to introduce her subjects' voices. She set out to challenge the authorities on the dominant history of the region, where the Uyghur community has faced persecution from the Chinese government who are seeking a unified state. The book shows these works as a distinct group, along with her documentary photographs; the title of the project is taken from an allegorical Uyghur story, whose author was imprisoned.
"When I came back to the US in 2013, part of that was to move back towards an introspection"
Internat, meanwhile, is her portrait of a remote Ukrainian community of girls with disabilities, made between 2014 and 2016. Play and performance are crucial to the narrative, and her photographs take on a more surreal and psychological tone in tandem with this focus. The book presents her photographs enclosed within pages from a text by the revered Ukranian author Taras Schevchenko, which Drake invited her subjects to overpaint; by doing so, she again brings their voices into the narrative.
From the series Isolation Therapy © Carolyn Drake/Magnum Photos
Based in California since 2016, Drake has turned her focus on the US for her more recent work. She has been shortlisted this year for the Aperture Photo Book Award for her latest project, Knit Club. Laced with references to the Southern Gothic literary genre, Drake's surrealistic images are once more made in collaboration with her subjects. This time, it is a mysterious group of women who call themselves the 'knit club', a community who convene outside the confines of the American patriarchy. 
This December, San Francisco's Museum of Modern Art will show Drake's work as part of a group exhibition Close to Home: Creativity in Crisis. On display will be a set of images taken from a recent experimental project, Isolation Therapy, produced by the artist during the confinement resulting from this year's Covid pandemic. A standalone series, it represents the most personal part of an ongoing exploration of her local community in the city of Vallejo.
"When I came back to the US in 2013, I think part of that was to move back towards an introspection, to where I came from," Drake explains. In 2016 she bought a house in Vallejo, in the Bay Area. One of the most racially diverse cities in California, Vallejo is also a nexus of social and political inequality endemic in American society. Beset with economic problems it suffers from a high rate of police violence, with 32 police shootings in the past decade claiming the lives of 18 people. None of the perpetrators of these crimes has been prosecuted.
Drake has been exploring her new home, in an ongoing project titled Next Door, which seeks to document the community of Vallejo and explore some of the issues confronting it. Her photographs portray local residents: a bikini-clad, sun-toughened neighbour gets her hair washed in a messy backyard; a heavily-tattooed mechanic flattens himself against the sidewalk as he checks under a car; a young African American woman self-consciously sits on a peeling picnic table, her direct gaze meeting the camera. Drake records street life: a man encased in an upturned shopping trolley; an elegant Mexican cowboy and his horse throwing shadows on a wall; the suburban landscape of homes and gardens.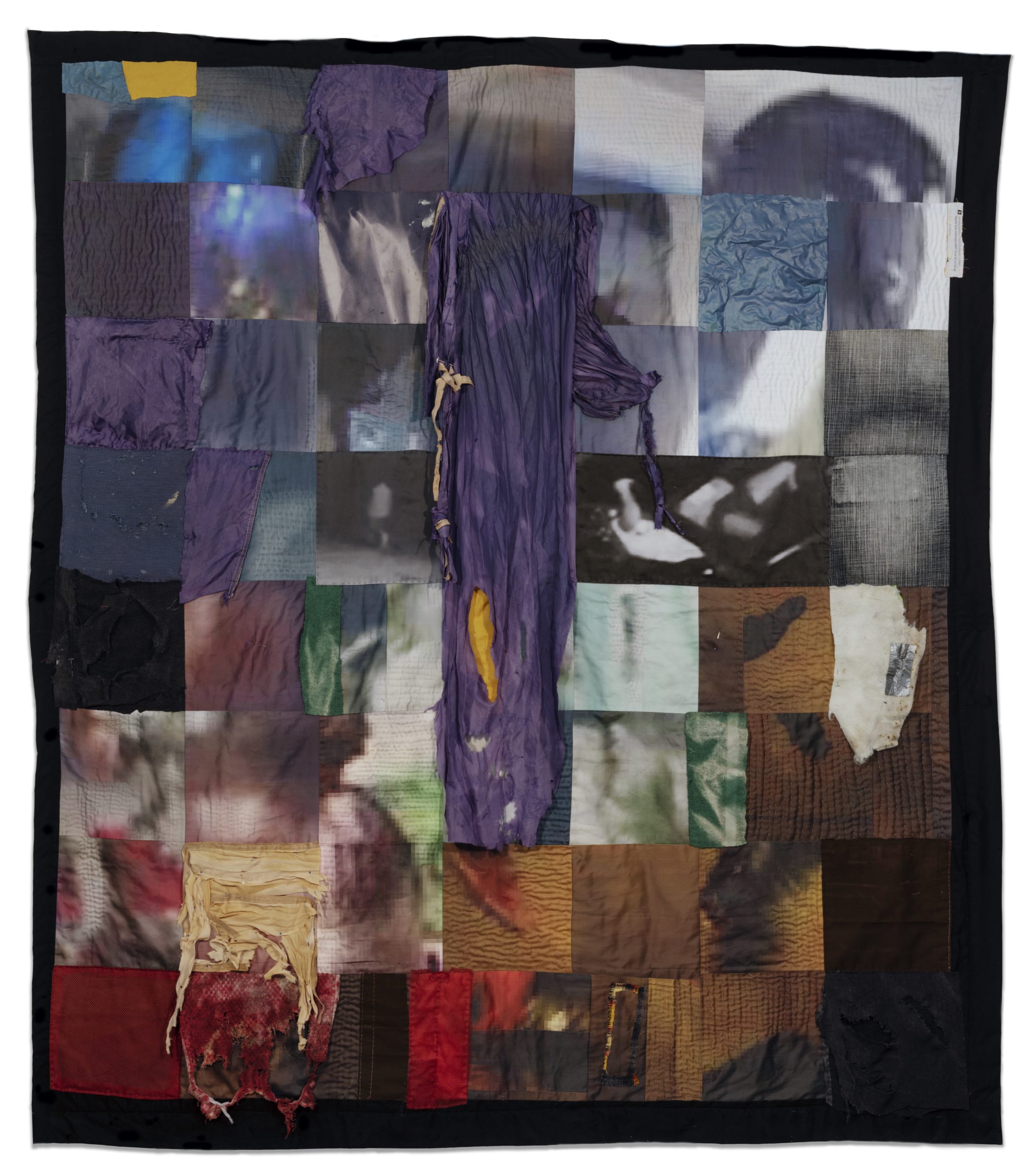 Alongside these images are her quilts. She has made two for exhibition in Chicago next year. In these textile works, she tackles the subject of police violence head-on. One, made from police uniforms, is a sombre, dark navy shroud, and visualises a shocking statistic: each square represents one of the 1004 Americans killed by the police is 2019. The other, still in progress, considers the police murder of Angel Ramos, a young man from her neighbourhood in Vallejo. On white satin fabric—chosen to recall the lining of Ramos' coffin—she has sewn a series of concentric squares, one for each year that he lived, incorporating a photograph of Ramos taken at his funeral by his mother at its centre. Drake says that "because of all the police violence here in Vallejo, I thought about what role I could play in that…I want to make that a subject of my work, but for the most part I have just been involved in protesting." 
In further quilted works that form part of this project, Drake incorporates the ephemera of the street in colourful clothing scraps found discarded in her local area. She also references surveillance culture in pixelated video stills taken from her neighbours' cameras, which she prints on material and then stitches over. Presented together, the work weaves the specific detail of her local community into a wider international dialogue around police brutality and control, and speaks to the encroachment of surveillance technologies into the privacy of our homes.
"I like to be critical of the structures that exist in the world, but as I research and think through that, I also want to connect with my gut"
Drake's original intention for the Next Door project was to highlight the perspective of a resident who has been confined to their own domestic space, looking out at the community through twitching curtains. With Isolation Therapy, which evolved during the first weeks of the Covid-19 lockdown, she turned the camera on herself and her personal space, and in particular, her garden. She created a number of ephemeral sculptures, made from material found in her home and garden, and photographed them; the resulting images will be exhibited at SFMoma.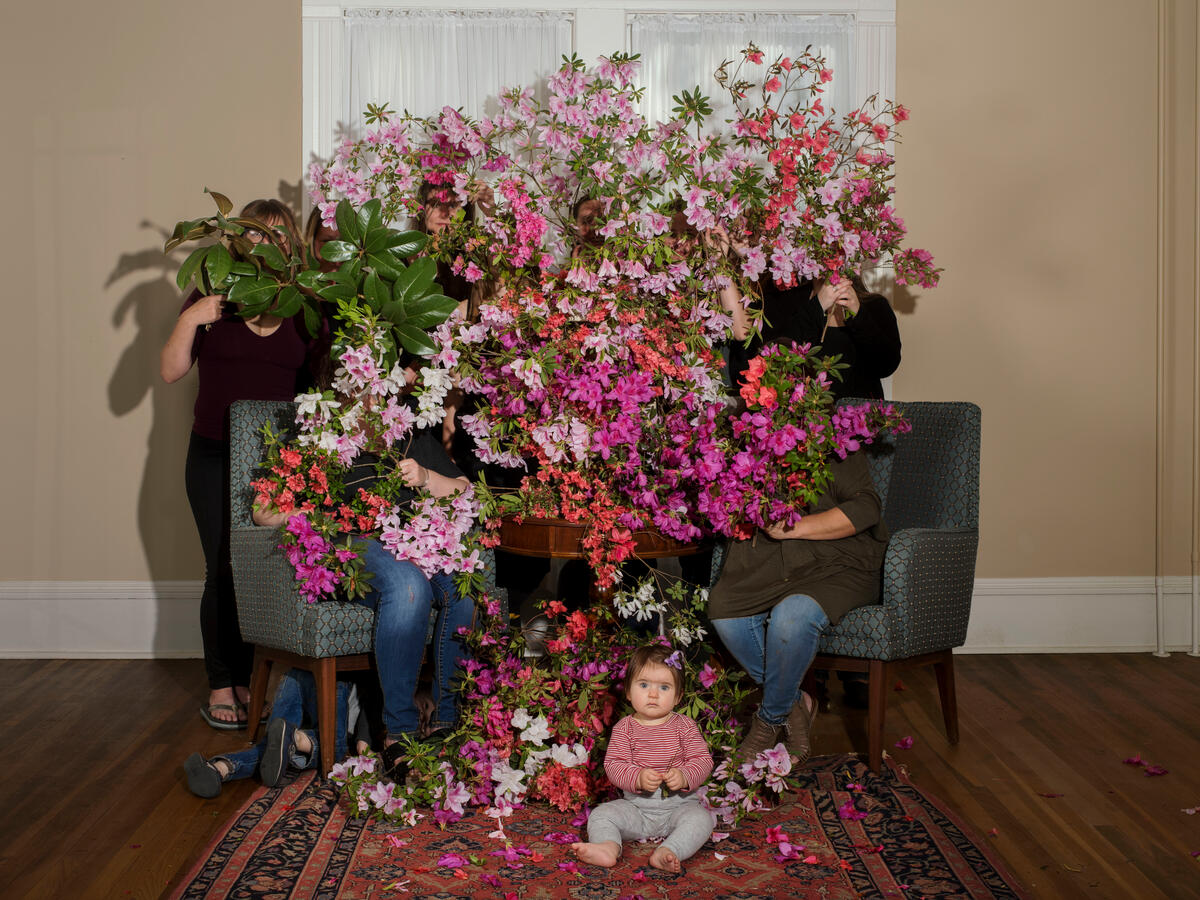 "The quickness of this backyard stuff was part of what I needed to just force myself to make something and finish in four hours. There's not much space for perfectionism," Drake explains. The project naturally pulled in various elements from Drake's existing projects and research. The strict timeframe and open production process of this series was influenced by the structure of an experimental residency at the High Museum in Atlanta that had been scheduled for March called the Live Lab. As with many of Drake's projects, literature featured heavily in her research for Atlanta, including works by James Baldwin and Amiri Baraka; much of this overflowed into the Isolation Therapy work. 
"I like to be critical of the structures that exist in the world, but as I research and think through that, I also want to connect with my gut," Drake reflects. She is at a tipping point in her career; the conceptual and multimedia elements in her work have had time to flourish. During a period when travel has been limited, she has taken the opportunity to look deeper into her own surroundings. She has found in Vallejo a story that reflects that of the US today; a complex, multiracial society blighted with inequality and paranoia. And yet, at a time of huge change, as a new President takes control, she has also found a home.