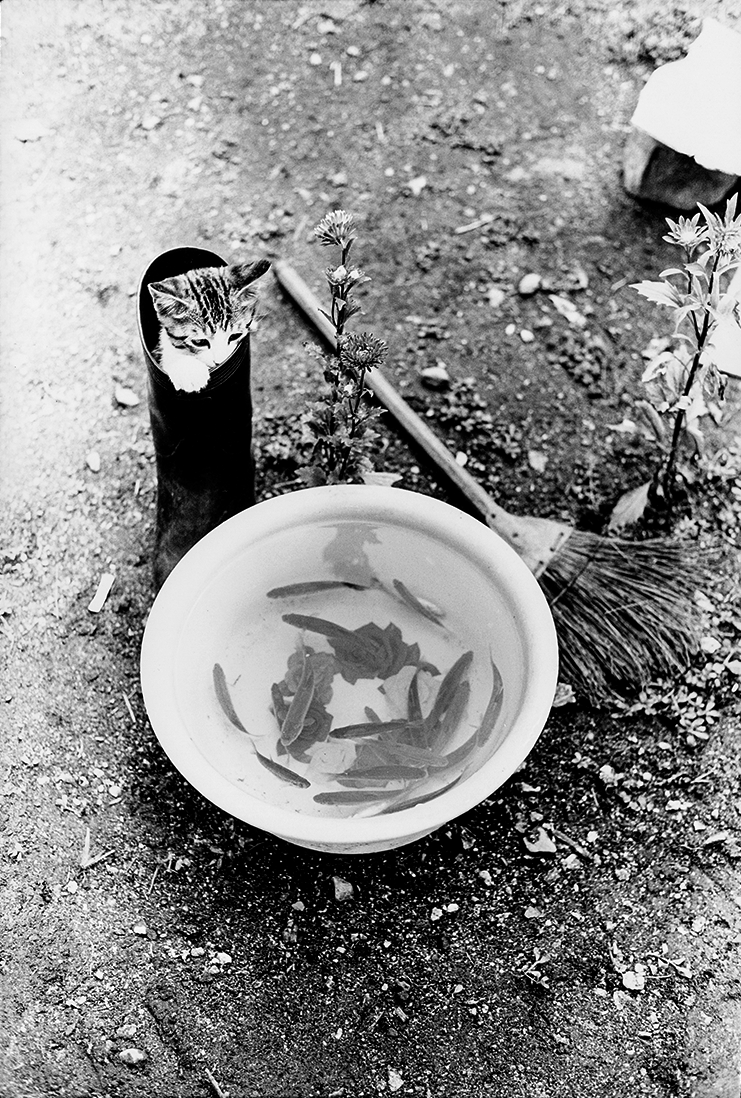 When Masahisa Fukase's wife Yōko left him in 1976, he embarked on a melancholy train journey to his hometown, Hokkaido. Glimpsing flocks of ravens through the window, he began seeing corvids all around and sought to catch them with his camera. The moody, morbid photographs were published in his classic 1986 photobook Ravens. However, if those birds spoke to the solitude of love lost for Fukase, then cats embodied the spark of love regained. And none more so than Sasuke the Second. 
On a cat-astrophic night in 1977, his adopted calico kitty Sasuke (named after the cartoon ninja) vanished from his Tokyo apartment ten days after arriving. A heartbroken Fukase scouted the neighbourhood night and day, pinning up "Missing Cat" posters on lampposts, until, two weeks later, his telephone rang: a woman claimed she had picked up a cat in a parking lot that looked just like the cat in the posters. Clutching a thank-you bottle of whisky, Fukase met the lady. But, devastatingly, the stray was not Sasuke. "Oh well," he thought, "let's go with this guy anyway." And so he took in Sasuke the Second.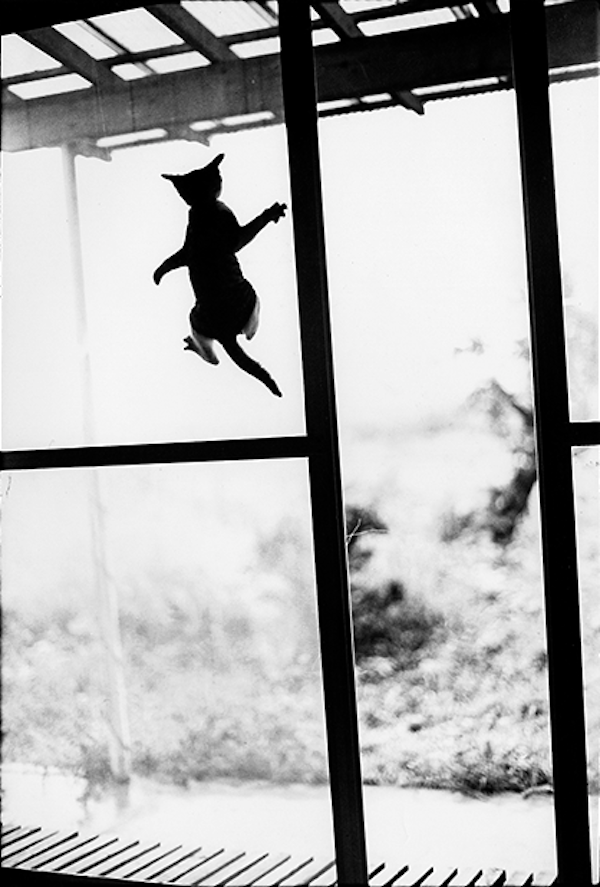 The newly-published photobook Sasuke chronicles their friendship. Despite the discrepancies in cat customs (the original Sasuke sucked on towels whilst Sasuke the Second nuzzled his paws), it wasn't long before Fukase and his new cat were hanging out in upmarket Harajuku, visiting the elephants at Ueno Zoo and crossing the country on express trains. "I took Sasuke out with me to Omotesando for a stroll," Fukase once reminisced in his diary, "and immediately found myself surrounded by girls squealing about what a cutie he was… I displayed his tricks, like how he'd climb up on my shoulders. Sasuke was a huge hit!" 
Sasuke's personality really came to the fore indoors though. Leafing through these pages, more often than not we tail the kitty's scrappy odysseys through the home: he hides in fish nets, ascends bookshelves and audaciously interjects his paw into a game of Go. There are downtimes too: one shot (the book's standout example of the photographer's mastery of "bokeh") shows Sasuke stretched across Fukase's sheets in characteristically insouciant manner. With belly strategically up, the camera shutter may have gone first, but tickles doubtless soon followed.  
"If those ravens spoke to the solitude of love lost for Fukase, then cats embodied the spark of love regained"
Then, of course, there are the yawns. "Sasuke is a big yawner," Fukase avowed. "In October, I decided to take shots of nothing else but him yawning. As he only yawns after his snooze, I had to put him to bed, set up the shot, then wake him up." Whiskers erect, tongue thrust and fangs fine as needles… Snap! The resulting surge of wide-stretched jaws take up 28 consecutive pages, constituting the book's unanticipated climax.
"I wonder if any other photographer in the world has taken as many shots of a cat yawning as I have…" pondered Fukase. Yet his portfolio of yawns was no vanity project (nor a mere extension of his fancy for tongues), but rather an exercise in something more profound: "I spent so much time lying on my belly in an effort to get onto his level that I… became a cat." 
When Sasuke turned one, Fukase became acutely aware of his ageing. "He doesn't frisk and bounce around the way he used to. He'll play if I force him, albeit grudgingly, but, before long, he puts on his annoyed face and curls up on the encyclopaedia to sleep."  
Fukase decided to welcome in another kitten, Momoe. "At first, Sasuke was scared and stand-offish… But after one week, they got along fine. Now, Momoe frolics around trying to pounce on Sasuke's tail, doing everything she can to annoy him." Momoe's unmannerly antics (and pen-pinching proclivities) inject a youthful zing towards the book's tailend. However, her brief and breezy appearances are just cameos in comparison to the spiritual heft of Sasuke's portraits.
Cats have roamed Japanese lore for centuries. From supernatural shapeshifters (bakeneko) and demonic corpse-eaters (kasha) to lucky figurines (maneki-neko), Japan's relationship with cats has always been love-hate. It is perhaps what makes them such enduring subjects through the lens, though. For Henri Cartier-Bresson, they were streetwise and aloof. For Walter Chandoha, the "grandfather" of feline portraiture, they were extended, furry family. For users of the internet—built on a bedrock of cat pictures—they are either cute or cursed.  
What Fukase offers here transcends a kawaii extravaganza, it's something more magical altogether. For it wasn't he who found Sasuke, but Sasuke who found him. In one of the closing photographs, Sasuke's colossal eyes return Fukase's gaze. We can almost peer into Sasuke's soul, and Fukase's too: a man eternally scarred by divorce. The next spread shifts from the sentimental to the whimsical: Sasuke pops up in a wintry field for playtime. Ever-dauntless, he leaps from one snowman to the next, belonging—as he does—to no one.  
All images from Masahisa Fukase, Sasuke (Atelier EXB, 2021) © Archives Masahisa Fukase