"The flâneur is not attracted to the city's official realities but to its dark seamy corners, the neglected populations," wrote Susan Sontag in On Photography, published in 1977. It is this searching and probing tendency, the impulsive spirit of the urban wanderer, that Chinese photographer Feng Li embodies like not many others working today. Since 2005 he has been wandering the streets of Chengdu armed with his camera, documenting the idiosyncrasies of human behaviour with an unwavering curiosity. Currently exhibiting photos from his celebrated 2017 photobook White Night at the Maison des Lices in Arles, Feng Li seeks to illuminate these dark corners with his hard flash, leaving in his wake viewers amazed and aghast in equal measure.
As we plunge into the plethoric world of his White Night, we encounter its moments with a visceral immediacy, as though we are never further than a few feet from the action. Sometimes comical, at other times macabre, Feng Li's photos are uncensored, uninhibited and unashamedly confronting, refusing to shy away from the often perplexing truths of everyday life. The modern metropolis has long-existed as a place of extremes, its kaleidoscopic nature perpetually giving rise to situations extreme, contradictory and nonsensical in nature.
Despite this, rather than attempting to make sense of its absurdities, Feng Li's White Night—a chaotic amalgam of parrots, wigs, tears, headlights, dance, blood and make-up—serves as a representation of his, and our, incomprehension of the surrounding world. An unobtrusive urban wanderer, Feng Li delicately treads a fine line, confusing, and even evaporating, the distinctions between reality and surrealism, modernity and tradition, and day and night. There are no answers in this uncertain world, only high-contrast questions posed at close-range.
Both: Feng Li, Untitled, from the series White Night, 2005-2015. Courtesy the artist
What do you consider your relationship with your subjects to be? Does proximity play a significant role in your encounter with them?
It is hard to say that there is a necessary relationship between myself and my subjects because nothing is ever planned—the moments documented in White Night are a series of encounters which are all completely accidental. For me, the element of surprise is what is most exciting about cosmopolitan street-life. You can never prepare yourself for what is around the corner. I don't stage photos because there is no need to. Reality itself is enough to amaze, terrify or even beguile us. I just capture these moments as evidence that they happened. Before you know it, you blink and they're gone.
Although I barely communicate with my subjects, I believe there is a kind of unspoken understanding between us in that passing moment—a brief recognition of our connection yet also our alienation. Even to my friends, I am a bystander. This is the great irony of urban space—a place so dense with people, yet all complete strangers to one another. In a paradoxical way, it's this proximity and closeness between people which often gives rise to the most extreme feelings of unfamiliarity. Perhaps this is why my photos seem absurd to people. Maybe we do not look closely enough.
"I am not interested in the dramatization of reality, but rather the intensification of it"
The defining aesthetic of your work is the ambiguity between the day and the night, which is intensified by your flash. How much is this a conscious and guiding element in your work?
In all honesty, I have never cared much about beauty. Creating a beautiful photo pleasing to the eye is the least of my concerns. The title of my work came about by a complete accident. I opened up a copy of the Bible, and a certain passage from the Book of Job jumped out in front of me. "They meet with darkness in the daytime, and grope in the noonday as in the night." These words made a great impression on me, and it was in this moment that I realized White Night. It was born out of this mystery, this liminal space, which is ambiguous, uncertain, yet at the same time enticing. It is the mystery of the darkness and the shadows that attracts me, like an insect to a bulb.
People think I live a kind of nocturnal life, but in reality I have never truly enjoyed the night. For me the night is the same as the day. Hence, my flash is not dependent on the time of day or amount of light outside. During my days as a medical student, I was completely fascinated by the surgical lamp—a stark and shadowless light illuminating the strange realities and hidden truths that we often turn a blind eye to. For me, this surgical lamp functions in the same way as my flash, and in opposition to the beam of the stage. I am not interested in the dramatization of reality, but rather the intensification of it.
Both: Feng Li, Untitled, from the series White Night, 2005-2015. Courtesy the artist
So vast in scale, White Night seems to resist a cohesive narrative, surrendering itself into chaos. Do you see your photography as relating to either reality or surrealism?
There is no narrative in White Night, no over-arching story to unify these moments. Each photo exists as a fragment of my experience, completely sovereign from the next. It may seem chaotic, but this is just reality. I think the photos are surreal only because reality is surreal. I am not very interested in reconciling this dichotomy between reality and surrealism. Reality is full of contradictions and paradoxes which may appear surrealistic, but this is because humans enjoy order.
People often ask me about the one-legged man, shot posing rather confidently in an unzipped bunny costume. All I know is what I saw. The juxtaposition between his cute outfit, attracting amused tourists seizing on a photo-opportunity, and the discomforting reality of his disability was quite unbelievable. However, we will never know the story of the man underneath the costume. All of my photos are like this. I collect the fragmented pieces from my experience of ordinary life and regurgitate them.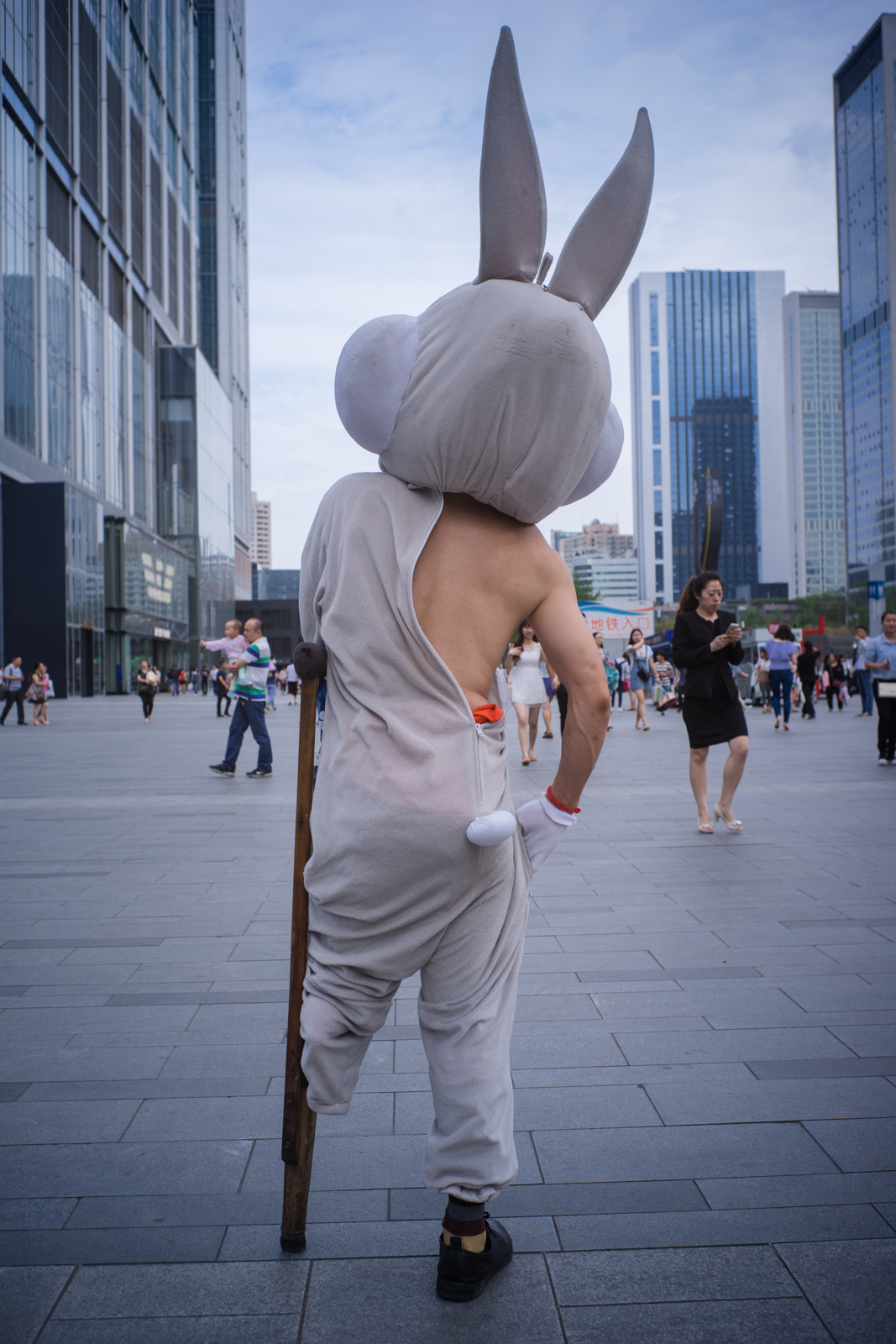 "I believe my work depicts not what has changed, but what has remained"
Do you consider your work to be a tale of modern Chengdu, or rather a depiction of the universal habits of human behaviour?
I am only concerned with people. Real people who walk our streets, ride our buses, shop in our markets. Yes, it's true that most of my photos have been taken in Chengdu but this is because my life is rooted here, my work and my family. Of course people seem to be fascinated by the recent evolutions of Chinese cities, however I am not a sociologist looking to document a particular society or culture. I want White Night to transcend space and time. If anything, I believe my work depicts not what has changed, but what has remained. The only constant for me is that human nature is complex.
Through my extensions of White Night in Paris and Arles, I believe I have presented the universality of people, their habits and peculiarities. My photos don't require definitions or cultural context in order to be understood. Almost anyone from anywhere can interpret the photos as they wish. As one woman exclaimed in Arles, "Your eye, it is so unique. Yet it spans the boundaries of culture!" I think this is a good answer to your question.
Both: Feng Li, Untitled, from the series White Night, 2005-2015. Courtesy the artist
You are recognized as a man of one series. Do you have any intentions to move onto a new project?
I take photos with my instinct, so I have never worried that my photos were boring, nor have I feared my work will exhaust itself. The realities of our lives provide us with too many possibilities for exhaustion. As long as I have the courage to live, my White Night will go on.