The Galerie Le Château d'Eau in Toulouse looks skyward this summer as it stages a group show celebrating the photography of birds. "Humans have always dreamed of flying," say curators Nathalie Chapuis and Philippe Séclier. "Unable to imitate birds, they first painted them in caves before depicting them on canvas, carving them, filming them, and finally photographing them." Des Oiseaux is created in collaboration with French publisher Atelier EXB and is based on their photobook series of the same name, launched by the late Xavier Barral in 2018 to pay homage to a class of animals under threat.
From their riotous colours and stirring melodies to the power of flight and the galaxy of symbolism they conjure up, birds have long fascinated painters, poets and scientists alike. This exhibition invites viewers to explore their presence (at once pervasive and precarious) through the unique styles of 12 international photographers. We're encouraged to reflect how both imagination and the heart soar when these winged creatures grace the camera lens. Here are our highlights.
Albarrán Cabrera, The Mouth of Krishna, #210, 2013
Art photographers Angel Albarrán and Anna Cabrera have been collaborating since 1996, their practice guided by a philosophy of subjective experience and experiments in photographic chemistry. The soaring buzzard in this image appears straight out of a fairytale, gliding in pigment print across a shimmering surface of hand-made Gampi paper and gold leaf. Inspired by Joan Miró's painting, Oiseau dans l'espace (1976), in which "a minimal representation of the bird lets our memories and imagination fly", the duo entrust the interpretation of this image "to the memories of the viewer".
Yoshinori Mizutani, Untitled, 2014-2016
Yoshinori Mizutani offers a fresh perspective on Tokyo's urban spaces. Taking his cues from the Japanese pictorial tradition, he playfully contrasts acid and muted colours to create scenes that border on the fantastic. Perched on wires, the bright yellow hue of these canaries pops against a rich blue sky. Through his agile framing, textures and shades, Mizutani renders these natural creatures hyperreal, as though tinged with the electric intensity of the city's lights and neon billboards.
Graciela Iturbide, Khajuraho, Madhya Pradesh, India, 1998 
Mexican photographer Graciela Iturbide's interest in birds stems from her interest in death. After losing her six-year-old daughter Claudia in 1970, Iturbide plunged into a period of intense depression and began ritualistically photographing burials. After one funeral, a flock of birds took flight in numbers so vast they seemed to darken the sun. She interpreted this as an omen and, deeming them a symbol of "liberty", began to photograph birds instead of cemeteries as a way to free herself from suffering. Even so, images such as this one from central India, taken in her signature black-and-white style, are haunting in their starkness and folkloric composition.
Byung-Hun Min, TB191, 2020
Byung-Hun Min's pictures whisper rather than shout. In capturing the essence of the Korean countryside, the Seoul-born photographer focuses on minimalist compositions and draws inspiration from traditional Korean and East Asian art forms, such as ink scroll paintings. The birds in this monochromatic photograph are almost imperceptible against the silvery wisps of grass in the foreground, encouraging the viewer to peer deeper into Min's mysterious visual world. These birds appear delicate, fragile even, as he represents moments of quietude in nature.
Rinko Kawauchi, Untitled from the series Under the same sky, 2020 
In April 2020, Rinko Kawauchi began photographing a swallow's nest near her home in Tokyo. As the human world lay still under lockdown, she bore witness to the ceaseless cycles of nature and the primal power of spring in all its chromatic glory. With beaks open in a warbling chorus or expectant for food, the swallow chicks in this image symbolise vitality and renewal. In documenting the rhythms of the swallow, Kawauchi felt "encouraged, and my emotions, closed and shut in, seemed to find release".
Christophe Maout, Untitled, Paris, France, 2020
Paris-based photographer Christophe Maout also reflected on the liberating potential of birds during lockdown. Maout combined a pair of binoculars with a compact camera in order to photograph the Parisian skyline from his apartment building, seeking to capture "the silence of the city, the presence of birds, the petrichor after the rain, the stretching of time". The resulting round images evoke those produced by the first Kodak camera in 1888, a fittingly "primitive" photographic form for this untitled series, which conjures up a timeless reverie of clouds, wings, and slender architectural silhouettes.
Terri Weifenbach, Untitled, Washington, DC, 2016
"Birds are disappearing, I don't hear them as much as I used to," says fine-art photographer Terri Weifenbach, who documents the secret lives and sundry characters of the city birds who frequent her garden in Washington, DC. They congregate above freshly fallen snow in this picture-postcard winter scene. By playing with focus (contrasting moments of sharpness with blurred details) Weifenbach draws us into their flickering, dynamic universe. "There is a sort of connection between us," she says of her subjects. "I don't try to rationalise it, but when I hear them chirping outside my window, I know I can go out and take photos and they won't fly away."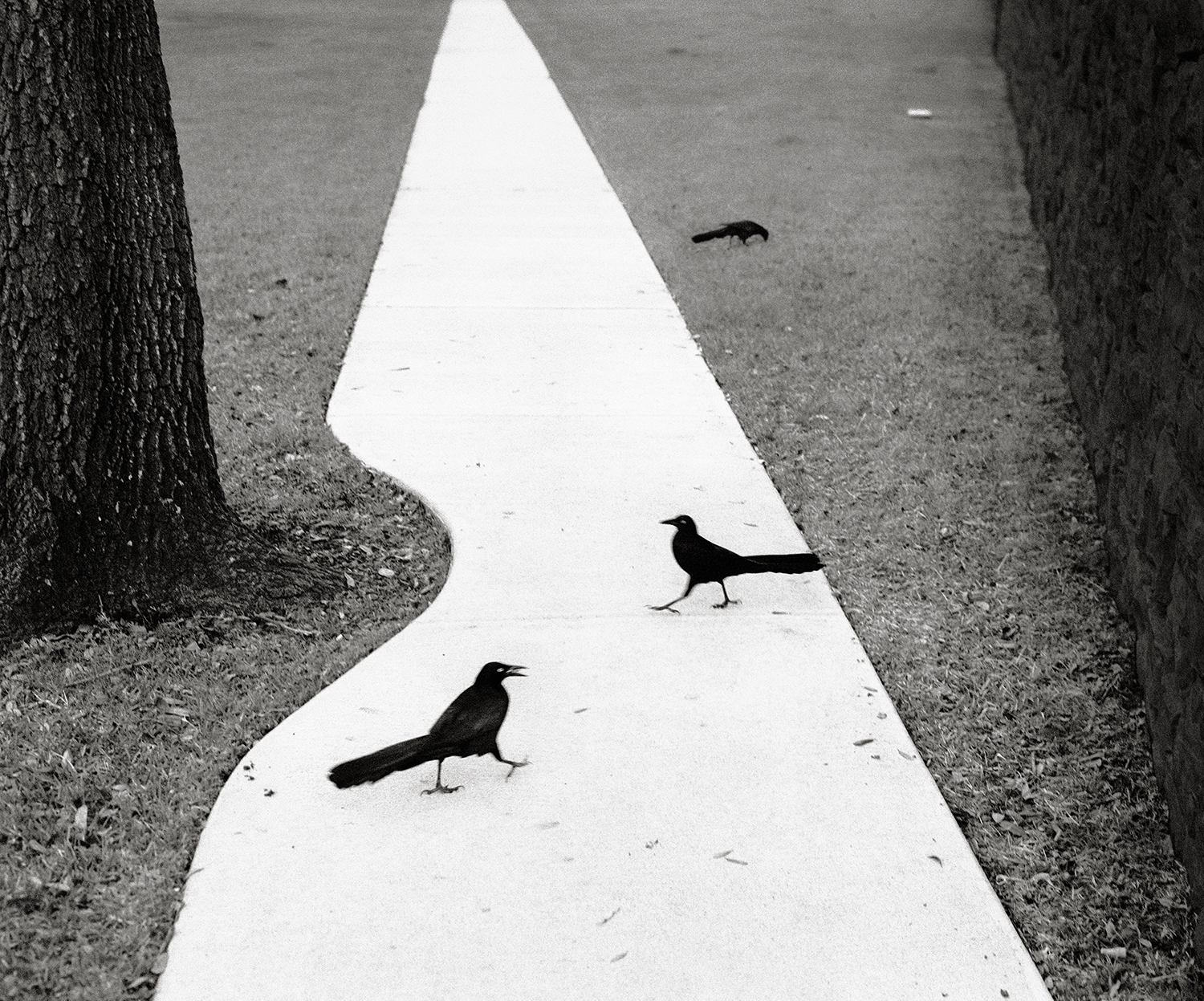 Pentti Sammallahti, Houston, Texas (two birds), 1998
Despite paying frequent attention to dogs, cats and other animals during his globe-spanning travels, Finnish photographer Pentti Sammallahti believes his work finds its true apotheosis in birds. Residents of land, sea and sky, birds always find their way into his field of vision. Despite the coolness of this image, an aesthetic mood evocative of Sammallahti's northern homeland, there's an anthropomorphic charm to these great-tailed grackles as they cross the paving stones like pedestrians.
Madeleine Pollard is a Berlin-based journalist specialising in culture and current affairs 
Des Oiseaux is at Galerie Le Château d'Eau in Toulouse until 21 August