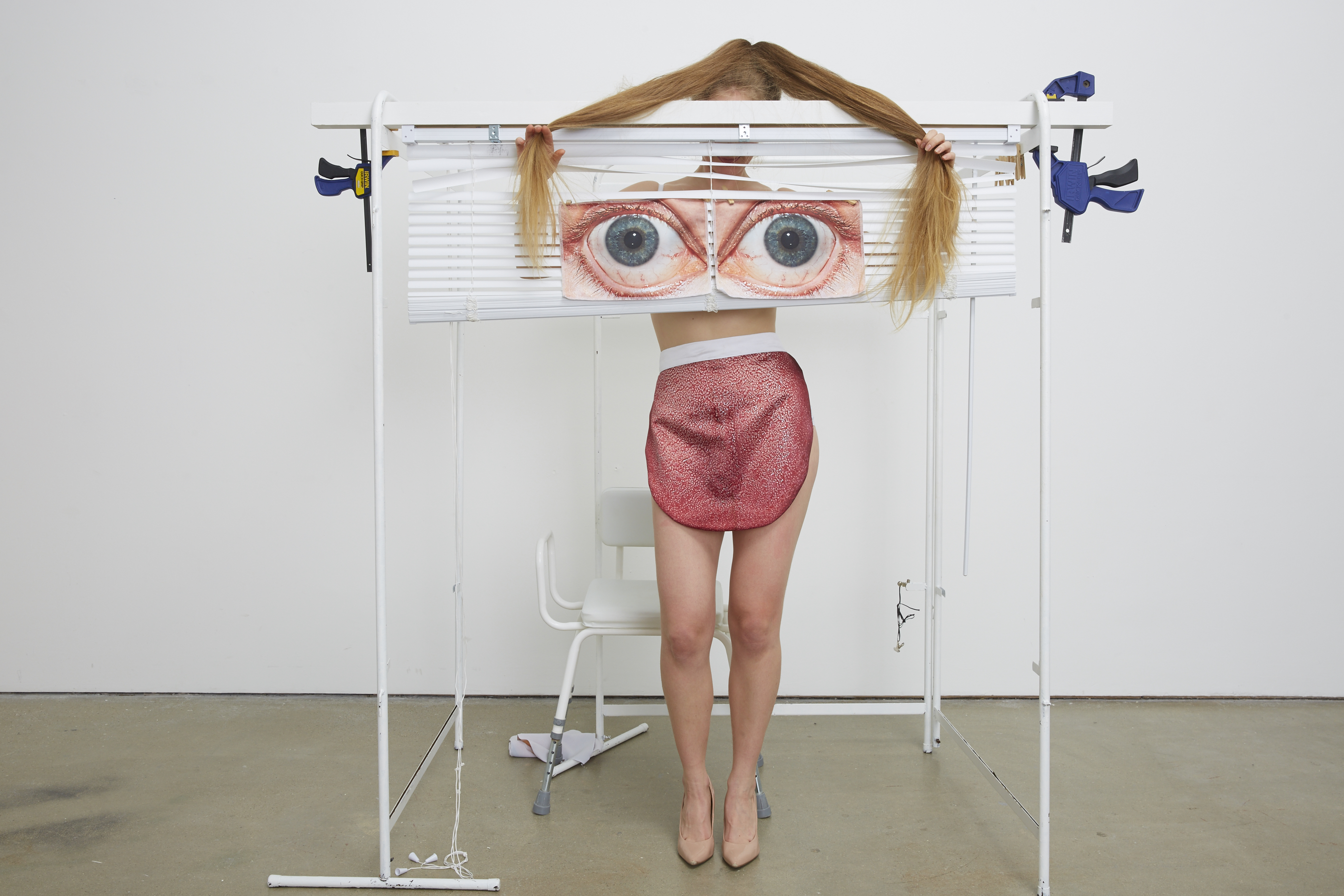 Ridiculous! presents eighteen artists who are not afraid to look stupid. "The true artist," goes the statement famously formed in neon by Bruce Nauman in 1967, "helps the world by revealing mystic truths." In the same spirit, here the true artist is prepared to work in an apparently ridiculous way or to appear ridiculous themselves. In doing so, they run the risk that we'll laugh at them as much as with them, in order to provide surprising perspectives. Better to fall flat on your face than play it safe.
I was tempted to include all eighteen artists below, but that would have made for a ridiculously long article. The following seven all capture this subject in a compelling way for me, but I'm equally pleased to be featuring Brian Bress, Jemima Burrill, Leah Capaldi, Liv Fontaine, Oona Grimes, Adam Hennessey, Rand Jarallah, Ansel Krut, Dale Lewis, Ryan Mosley and Anna Perach.
"Better to fall flat on your face than play it safe"
Questions their works might help you to answer include: "Why was I so ridiculously embarrassed as a teenager?" and "Who opposes Brexit on the grounds that freedom of movement is fundamental for a good fuck?" Underneath the show's witticisms you will find serious consideration of matters such as identity formation, epistemology, sexual attraction, class conflict and mental health.
Paul Cole
In My Shoes VII, 2019
There can be something inherently ridiculous about failure, especially if you keep at your task in the spirit of Beckett's injunction to "fail better". Paul Cole makes the most of failure through his series of sculptures made from his own rejected wall-based paintings, propped up on legs shod in his old paint-splattered shoes. The paintings are already a literal exposure of Cole's dirty linen: abstract-tending self-portraits using his family's old bedsheets as low value grounds that encourage guilt-free spontaneity and enable paint to be applied on both sides. The absurd shortcomings of the artist and his product are turned into entertaining work which looks a lot like success.
Karen Knorr
Peers of the Realm, 2015
"What amazing control of animals!" might be your first thought when you view this image, but a jibe at ludicrous lifestyles is more to the point. Karen Knorr's 1980s satirical documentary series of upper-class mores has been shown widely in recent years. Those works were disrupted by parallel texts, whereas her current, wonderfully fastidious digital insertions of wildlife into architecture allow the animals to disrupt scenes of luxury—even as they rather strikingly complement them. This is from a series depicting The Lanesborough in Belgravia, one of the most expensive hotels in the world. What sort of people can afford to live in such a fantasy palace, we might ask? And should they really be better protected than the fauna faced with extinction?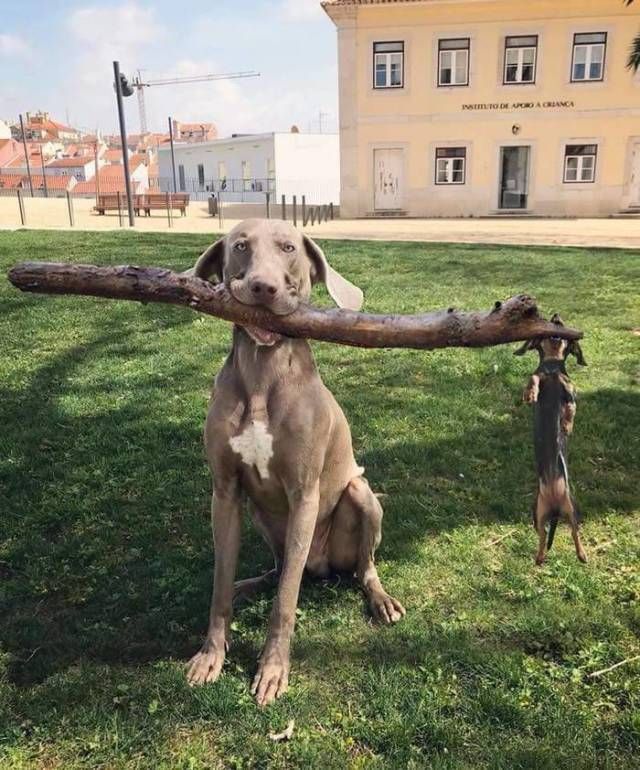 Mauro Bonacina
Images from @MAUROBONACINA, 2014–20
Instagram can be bad for art, encouraging the immediate, flat and colourful over the subtle, textured and intimate. But can it be used as material? Mauro Bonacina revisits the surrealist love of the found conjunction, presenting six years of his daily photostream at one second per image. You can only just keep up with the connections made between the 1,800 pointedly ridiculous images, sourced from the net using a sophisticated battery of search mechanisms. The title suggests that @MAUROBONACINA acts as a self-portrait of sorts. If so, that's quite a mind we're looking into, one which takes a limited attention span to its limit and challenges us in turn.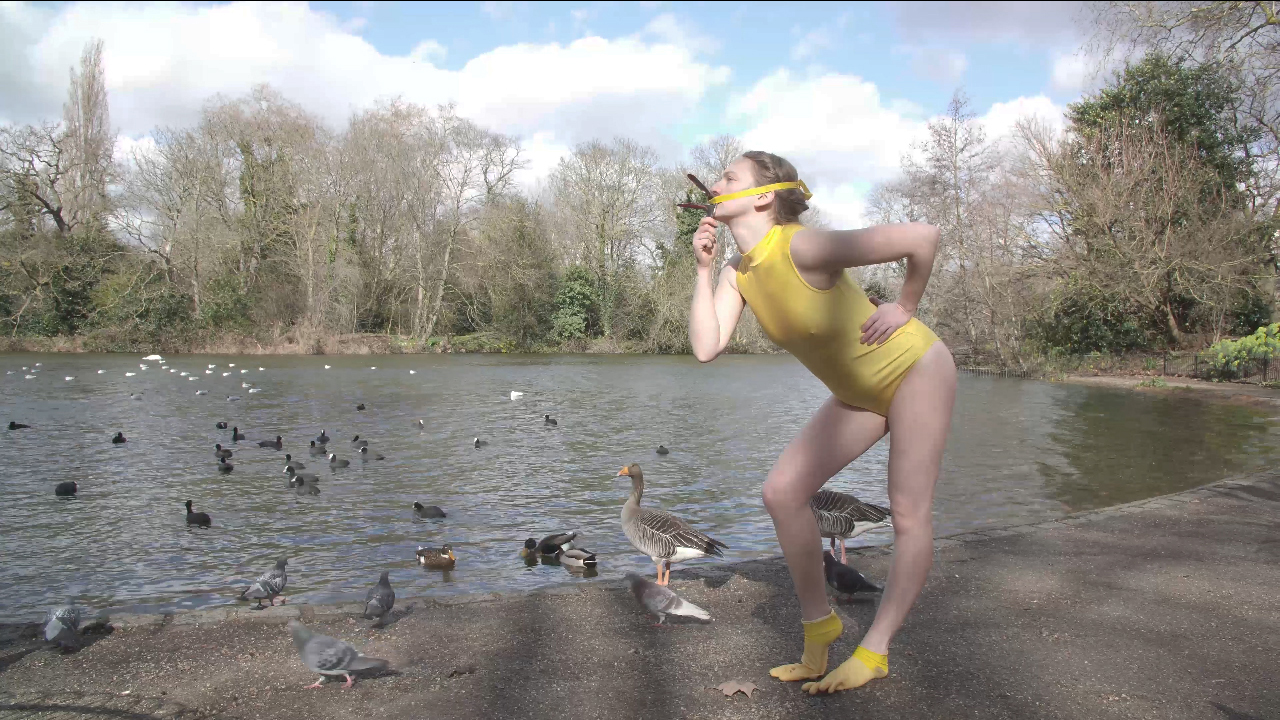 Rosie Gibbens
SeDUCKtion, 2019
Rosie Gibbens will be performing Side Eye at the opening tonight, with photographs of body parts printed onto fabric to create absurd collages on her body. She's also showing SeDUCKtion, which documents her pond-side attempt to attract some ducks using a speculum with lipstick as a beak, washing-up gloves as webbed feet, and repetitive dance. In the voiceover, a child reads online discussions comparing the sexiness of Daisy Duck and Minnie Mouse. Of course, it is an utterly ridiculous act—and an over-the-top pun. And yet it is paradoxically seductive viewing.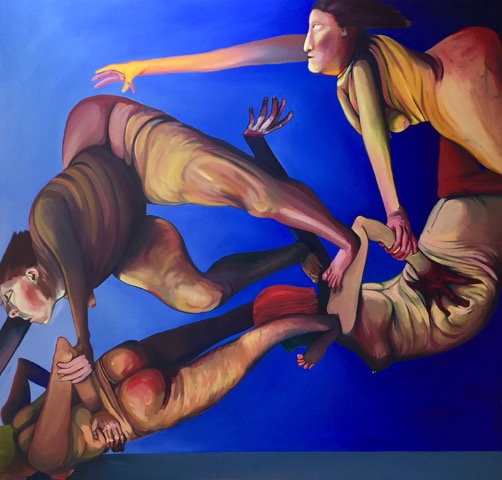 Emma Cousin
Double Garage, 2019
Four painters—Ansel Krut, Dale Lewis, Ryan Mosley and Emma Cousin—dominate the central space with figurative paintings as big as they are ridiculous. Cousin's people act out what she calls "the comedy of how the body works" through groupings which might fail. The implicit danger is evident in Double Garage, in which the figures try to use one another as a ladder to climb out of the canvas. "It is funny and sad," she says, "that even if the figures manage it some will be left behind with no one to climb on to reach the top." Moreover, the canvas has been turned to crank up the absurdity. All of which could stand for the aggressive way in which the ambitious may seek to use others as they climb to the top of the corporate ladder.
Andy Holden
Laws of Motion in a Cartoon Landscape, 2011–17
Andy Holden's hour-long animation is the centrepiece of the film evening on 14 January. Holden himself is the avatar who takes us through over 400 illustrative clips, drawing persuasive and witty analogies from a dizzying range of references—from cave painting to Futurism to Slavoj Žižek to quantum mechanics—showing how the apparently ridiculous rules followed in the golden age of cartoons can apply to us now. Law 1 states that "any body suspended in space will remain in space until made aware of its situation". That leads Holden to observe that "capitalism as a whole operates with nothing below it"—and, as the 2009 collapse of the banking system showed, it was "oblivious till it looked down".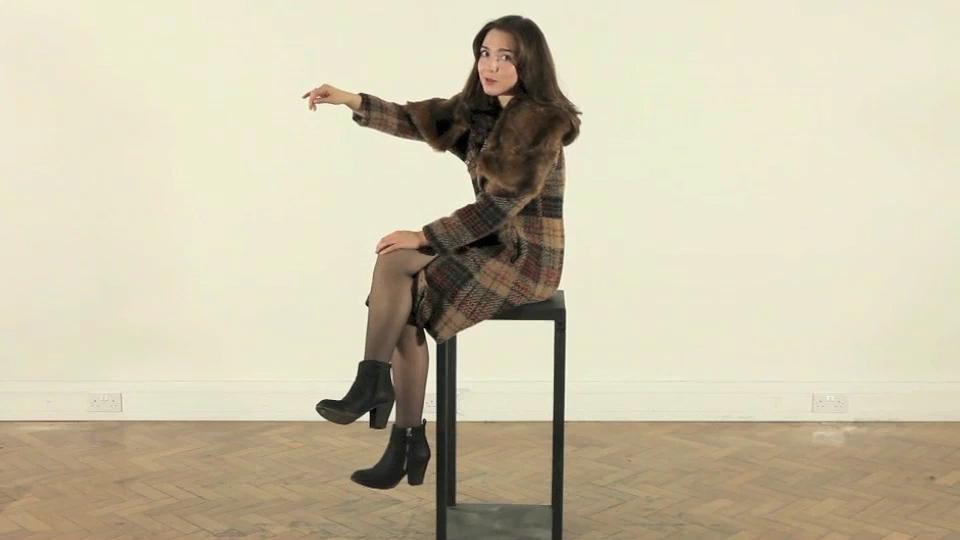 Katarina Rankovic
The Widow, 2015
Katarina Rankovic will be performing in a role she originally improvised in a coat she bought at TK Maxx and promptly returned after the recording. Her approach is to lure herself into "becoming someone else" to the extent that she starts to have thoughts or come upon turns of phrase that wouldn't occur to her own "personality". The results are ludicrous, yet wittily smuggle in sub-texts about the construction of the self and the making of art. In this case "the widow" describes, with something touching on relish, how her husband was not just cut in two but infinitely divided, eventually reaching a state she terms "hyper-existence".
Ridiculous!
Until 2 February at Elephant West, London
VISIT WEBSITE