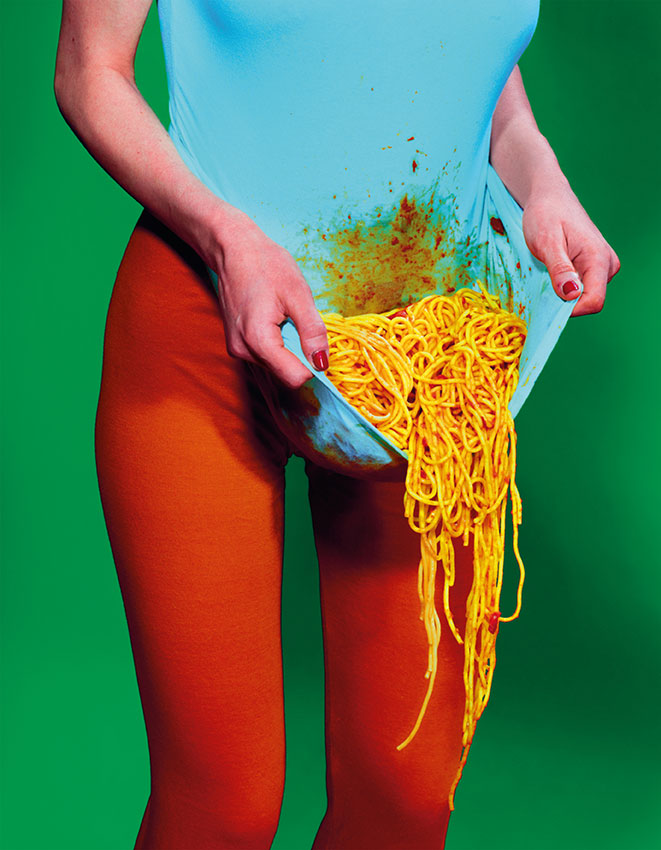 Some of the most beautiful pairings are those you least expect—marmite and peanut butter for instance; chilli and chocolate; or, say, Nick Cave And The Bad Seeds and Kylie Minogue. And at first, it would seem that the work of Martin Parr, renowned for his distinctive documentary photography style that merges intimacy with the curiosity of a social anthropologist, is an entity unto itself. He has made a name for himself by unmasking very British sensibilities around class, and the strange peccadilloes and eccentricities of the everyday, in images that at once tell us stories and make us question the world around us and those who inhabit it.
But for all the questioning and his carefully honed technical abilities and thematic frameworks, Parr's images are generally quite straightforward in their no-nonsense presentation of the ephemera of the quotidian. Quite unlike, say, Toiletpaper magazine, which delights in the bizarre, surreal and thoroughly maximal. The bold photographic spreads of the publication, created by artist Maurizio Cattelan and fashion photographer and creative researcher Pierpaolo Ferrari, are known for taking familiar elements and presenting them in bizarre and often disgust-inducing new ways that remove them from any sense of reality as we know it. Yet somehow, the two entities—the work of Parr and the aesthetics of Toiletpaper—prove to be a beautiful marriage, united in saturated hues and a keen sense of joyful irreverence.
Toilet Paper and Martin Parr
This is proven beautifully in a new book published by Damiani titled ToiletMartin PaperParr Book, which amplifies that maximal vibe and brings new meaning and visual curiosity to the images from both parties. Accurately described by the publisher as "a high-impact visual volume", thanks to the art direction by Micol Talso as well as the imagery itself, the book showcases a selection of the most iconic images from vast archives of Parr alongside those of Cattelan and Ferrari.
"Parr and Toiletpaper prove to be a beautiful marriage, united in saturated hues and a keen sense of joyful irreverence"
The publication presents 120 images in total, with Parr's bold but largely straightforward documentations placed back to back in combination with those from the Toiletpaper team. What this layout proves is the startling similarities in their approaches: both parties pack their work with wit, charm and an element of surprise that shows us entirely new aspects of things we'd thought to be entirely familiar. Objective reality becomes deliciously skewed, and the most basic of settings become almost sensual in their vibrancy and no-nonsense delineation of the joys to be found in even the simplest of things.
Toilet Paper and Martin Parr
Alongside that shared sensibility, a few common themes between the parties emerge, too: there's an apparent joint fascination with orange, processed, can-based dinners (baked beans, meet tinned spaghetti); sausages (though Toiletpaper's bizarre take on a restaurant setting is starkly different to Parr's hilarious yet bleak snap of a huge swirling bratwurst scattered with sweetcorn); and, most significantly, the utterly delightful, weird creatures human beings are.
Parr tackles these head on in his unflinching but affectionate portraits of Great British Eccentrics, leathery sun-worshippers or those who alter their bodies in ways that to most of us seem extreme and a little terrifying (oiled up bodybuilders for instance, or those who take tanning so seriously as to have their own tanning booth goggles). Toiletpaper amps up our collective weirdnesses into the territory of the sometimes beautiful, always very odd, but so stylized as to be completely fantastical.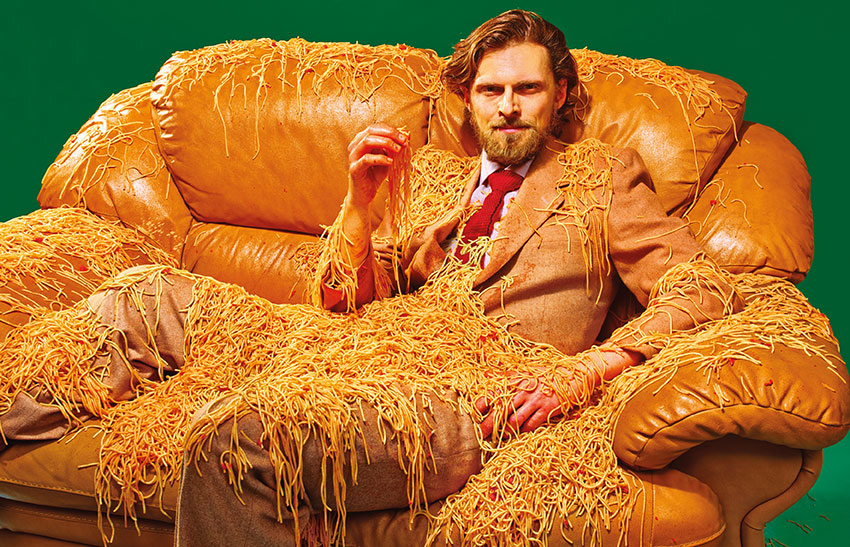 Parr's saccharine cupcakes become arresting in the shot's framing and the exaggerated pink hues; the Toiletpaper gang take a tea party and pop a cucumber into a cup and saucer like that's all completely normal. Parr's baked beans remain on toast, albeit in a superbly bleak, splattered manner; while Toiletpaper's spaghetti is poured all over a suited gentleman sitting on an expensive-looking sofa, staring into the camera as if he weren't, well, covered in spaghetti. It all comes together to make a book that's delicious, a little dirty and full of delirious disgust. Tuck in. 
Martin Parr, Maurizio Cattelan, Pierpaolo Ferrari: ToiletMartin PaperParr Book
Published by Damiani
VISIT WEBSITE