Even as contemporary art pushes countless futuristic boundaries, viewing everything from search engine optimization to artificial intelligence as a possible medium, a quiet surge of interest in prehistoric, pre-technological art is also taking place. From the Pompidou Centre's summer exhibition Prehistory: A Modern Enigma, to Franz West's big pink (metal) monolith Warum ist Etwas und Nicht Nichts (1997), the art world is keeping one eye firmly on the distant past. And it's not just the art world, the giddy delight of both tourists and seasoned New Yorkers at the sight of the "Manhattanhenge" phenomenon—in which the sun's alignment transforms the city's skyscrapers into something akin to an astronomically aligned megalithic circle—reveals a widespread sense of connection to those ancient monuments.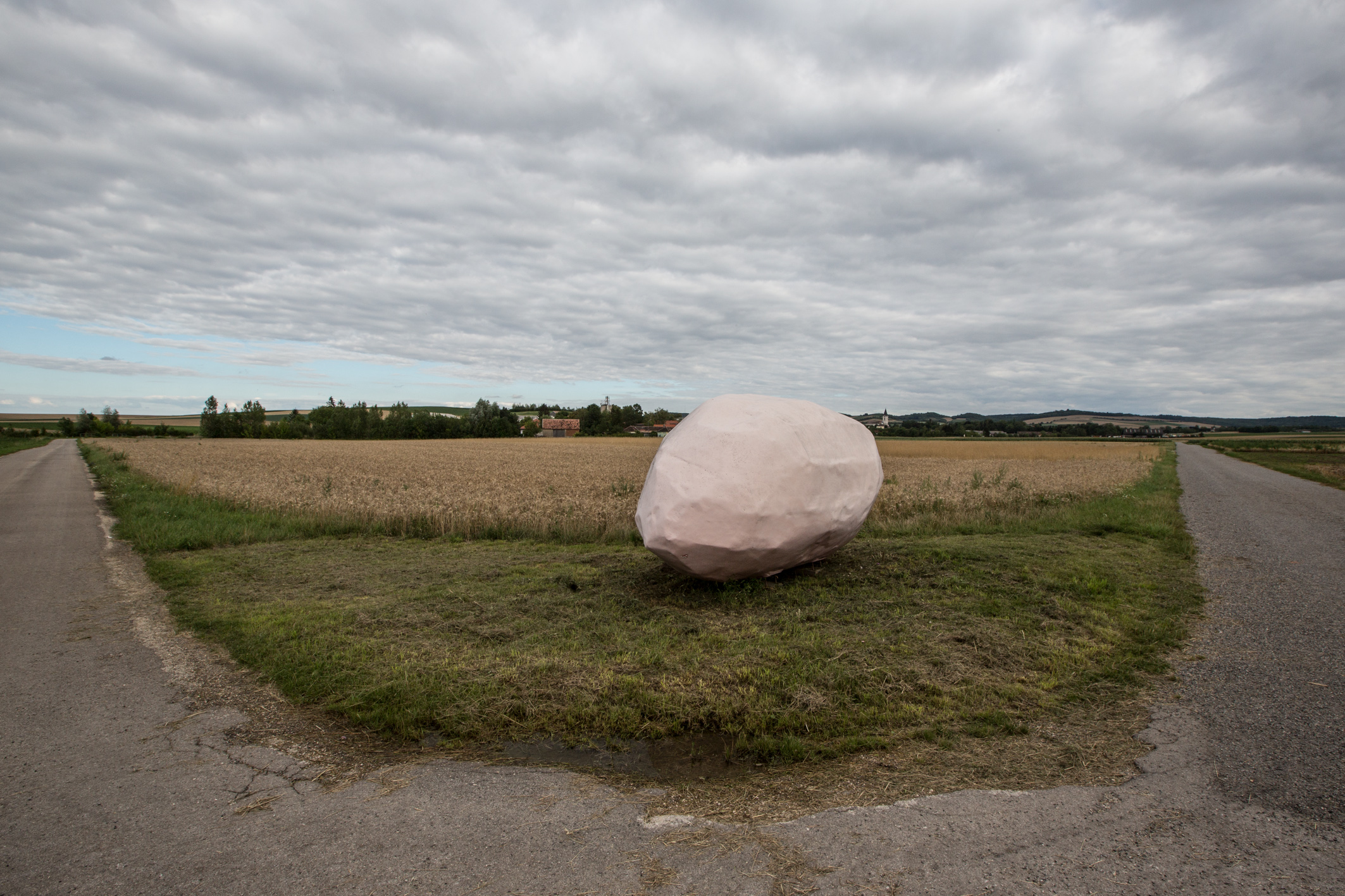 It's a simple counter-reaction, you might think; just nostalgia in the face of overwhelming tech. But can you be nostalgic for something so far beyond memory or experience? We don't really understand the first thing about Stonehenge or Avebury, or the people who erected them. The only thing we know for sure is that they weren't built by aliens—right? That being said, there is no better example of the megalith's enduring appeal than the iconic glossy versions found in Stanley Kubrick's visual masterpiece 2001: A Space Odyssey (1986). The enigmatic columns radiate significance, and their connection to the equally momentous standing stones of our ancestors is obvious.
"The physical presence of megalithic monuments is undeniably part of their appeal"
Our veneration of the shiny black totem is echoed in Mark Leckey's GreenScreenRefrigeratorAction (2010) which features a black refrigerator as the central catalyst for a coolant-induced transcendent trip. The monolith is a point of connection to something higher, or other, or bigger, or hidden. It points up at the vastness of the sky and allows us to commune with… something. Leckey is an extremely "archaeology conscious" artist, forever playing with archives and artefacts, as well as totems.
Mark Leckey GreenScreenRefrigerator, 2010. Courtesy of the artist and Gavin Brown's Enterprise
Leckey is also known for his towering arrangements of speakers, which channel vibrations into the audience in the same way that stone circles supposedly channel ley line energies. A similar all-encompassing experience was the goal of the Lux Prima (2019) installation at the Marciano Art Foundation, devised in collaboration with singer Karen O and producer Danger Mouse to accompany the launch of their album.
This immersive sound and light show centres around a large stone menhir, which stands its ground impassively, unperturbed by the lasers and the sparse yet intense soundtrack. The choice to site a monolith at "first light" suggests that contemporary interest might be less about nostalgia for the past and more about going back to some pre-time "beginning" as an opportunity to start over.
Jeremy Deller, another archaeology conscious artist, takes a more cynical approach to the far-flung past. He approaches it as a part of a British identity that needs interrogating and occasionally deflating, as much as preserving. His bouncy-castle version of Stonehenge was archly titled Sacrilege, and his recent collaboration with streetwear brand Aries features the slogans "Stonehenge: Built by Immigrants" and "Make Archaeology Sexy Again", in a call to re-evaluate our national narrative. His interest in Stonehenge and the Cerne Abbas Giant lies in romanticized "heritage" status, as much as in their formal impact.
Jeremy Deller x Aries, Wiltshire b4 Christ (various), 2019. Courtesy the artist and Aries
The physical presence of megalithic monuments is undeniably part of their appeal. Their scale and their frequently complex geometry reveal a level of unexpected sophistication and ambition on the part of their creators. Many stone circles align in some way with astrological, solar or seasonal patterns, as well as with the unique geography of their locations.
This deep engagement with the environment was re-established thousands of years later in the land art movement of the seventies, with monumental earthworks and landscape interventions like Nancy Holt's iconic Sun Tunnels (1976) which reiterate the scale and astronomical precision of Neolithic circles.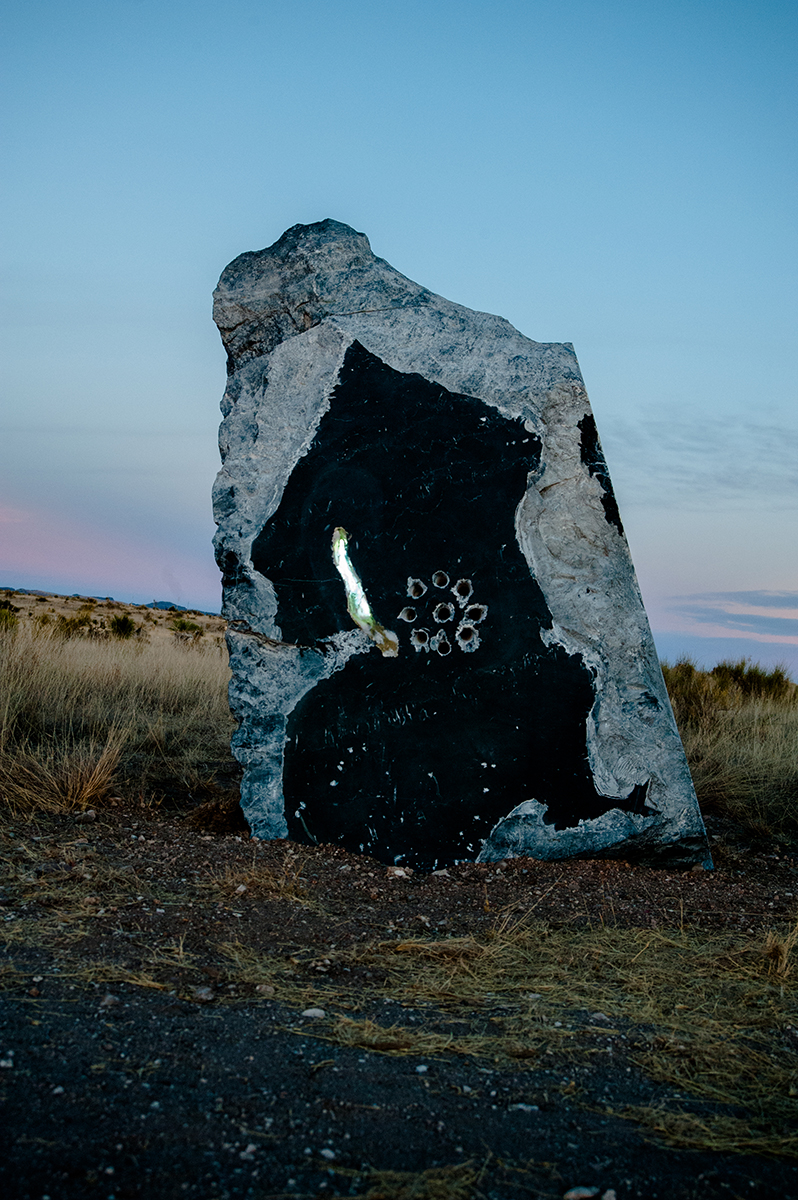 This tradition is continued in Haroon Mirza's recent addition to the growing collection of installations in Marfa, Texas. Stone Circle (2018) incorporates solar powered LEDs and speakers embedded in the stones to actively play out the relationship between the circle and the sun—bridging the gap between the viewer and the stars.
"We recognize the stubborn, visionary human will behind the deliberate, unnatural perfection of a circle"
The people who erected Stonehenge quarried, dragged, levered and otherwise manhandled massive lumps of rock—averaging twenty-five tons, with some sourced from over 150 miles away—into a circle. It's this reality, as much as any inherent mystical charge or patriotic heritage scheme, that gives these sites their power. We recognize the stubborn, visionary human will behind the deliberate, unnatural perfection of a circle; in the improbability of a 13-feet-tall stone standing on its end; and the skill involved in manoeuvring a 25-ton lintel into place with technology no more sophisticated than sticks and rope.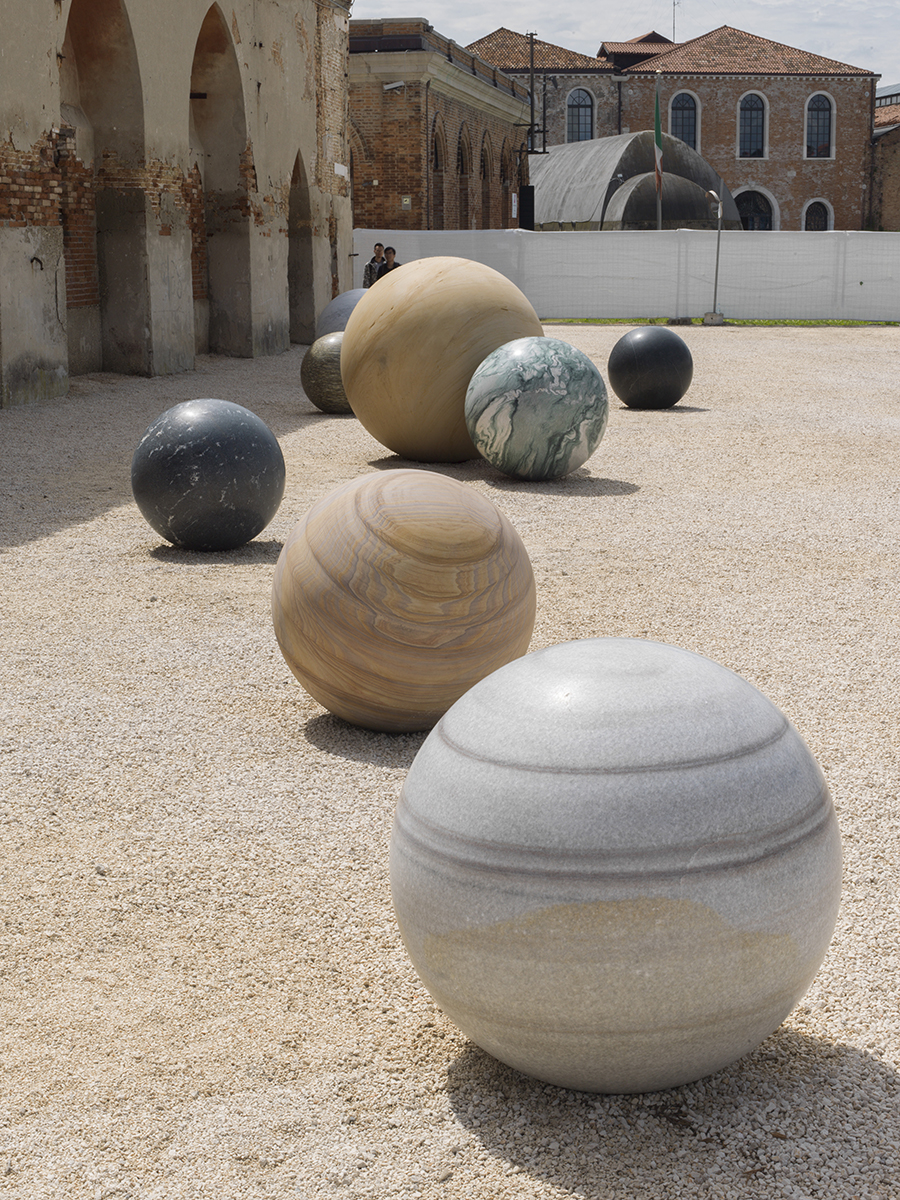 Alicja Kwade's improbably, precariously balanced spheres have something of the same effect. The smooth stones in works like ParaPivot (2019) and Pars pro Toto (2018) are as impressively geometric as the circular plan of Stonehenge. Their solidity is unquestionable and yet they are frequently suspended in mid-air. These megaliths are made possible through contemporary technology, and yet they echo many of the more magical qualities of stone circles.
The sense that a connection between the earth and the sky is being sought, along with the sheer visual impact and the intensity of purpose, has a primal effect on us all. Megaliths represent the absurdity, mystery and magnificence of all human endeavour, and in the face of an increasingly chaotic reality it's no wonder that artists—the high priests of that absurdity—are being drawn back to them.