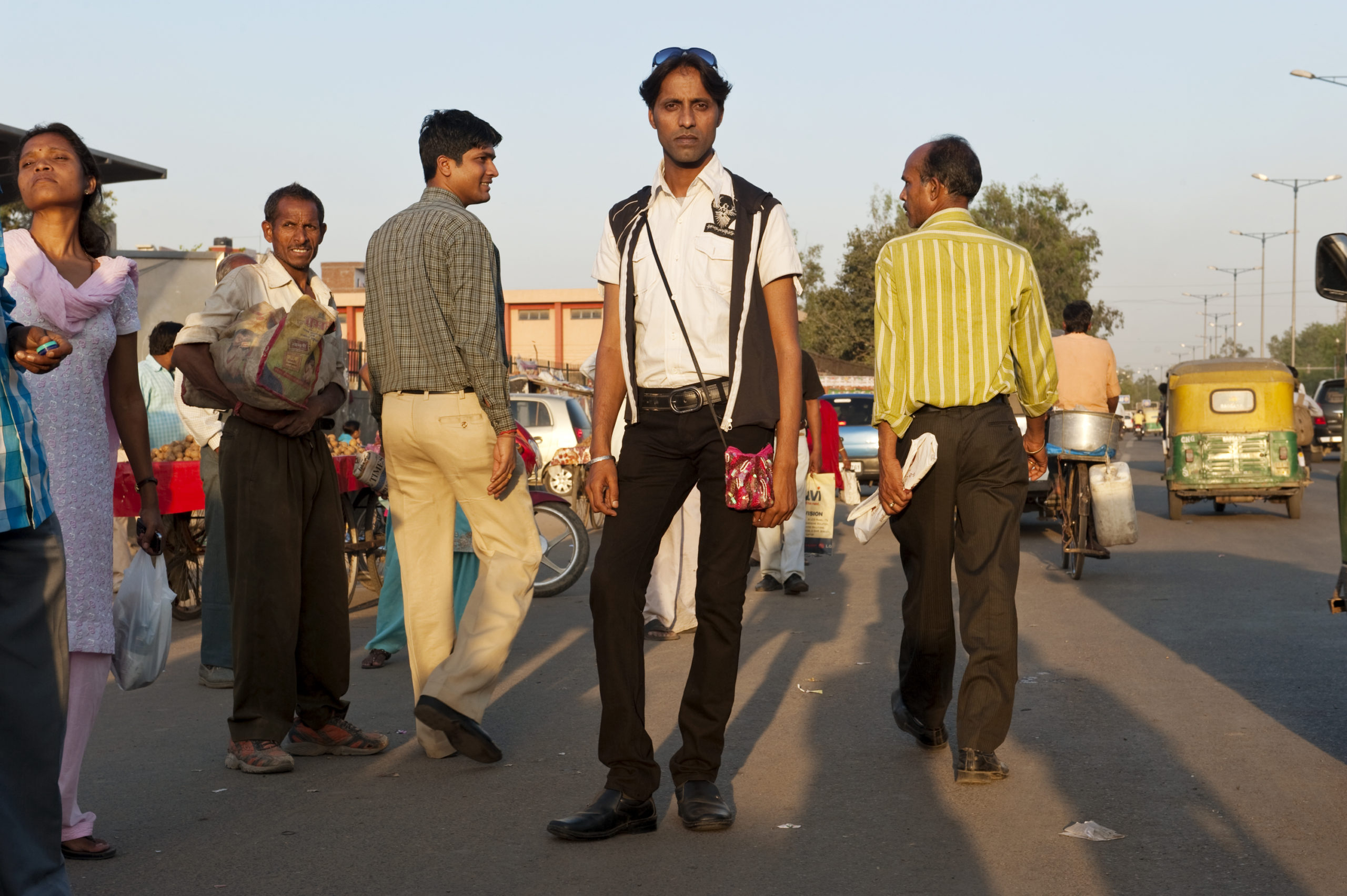 On a trip back to his native New Delhi in 1986, Sunil Gupta was troubled by the lack of visibility of gay Indian men. From the newspapers to the living rooms, discourse concerning LGBTQ identities and rights—let alone any formal organisation—was scarce. Gay sex was criminalised under Section 377 of the 1861 Indian Penal Code, a colonial hangover courtesy of the squeamish Lord Macaulay of the British Empire, who aspired to lump western ideals onto Indians through what he referred to as his "civilising mission". Although sparingly invoked in the courtroom, the rule persisted long after as a tool to harass, blackmail and stigmatise queer lives.
Spurred by his activist imperative to document a community that "just didn't seem to exist", Gupta mingled at cruising joints, befriending gay men—many of whom were pressed into heterosexual marriages, and pursued casual sex during small windows before or after work. In the resulting work, Exiles, we encounter a series of subdued staged photographs of anonymous volunteers enacting the rituals of gay life as confined in the closet; their averted glances and cropped heads suggest solicitation as well as furtiveness. This was a period in which AIDS had surfaced in the west. In India, it was brushed under the carpet. As one of Gupta's subjects stated: "Americans—talking about AIDS and distributing condoms. Nobody believes them."
"He occupies a space somewhere between performance and protest, lodging himself into the collective postcolonial nation-building"
In the mid-noughties, Gupta relocated back to New Delhi. Much had moved on; he found a younger generation of LGBTQ activists who, in stark contrast to the closeted men he had met whilst shooting Exiles, were willing to identify themselves. It was here that Gupta began organising screenings and workshops in his home to stimulate discussions around queer culture and representation. Homosexuality, after all, remained a jailable offence. Pushed underground and rendered invisible, these communities networked virtually as well as through "private parties". Gay club nights were always masqueraded as such, and typically signposted in a fictitious person's name to circumvent the law. Inspired, Gupta invited his queer-identifying friends to be photographed as part of his own "imaginary, coming-out party": Mr Malhotra's Party, titled after the "ubiquitous Punjabi refugee who arrived post-partition and contributed to the development of the city."
One of said "guests" was Manpreet. We find him in a 2011 photograph commanding a chunk of the road, residents and rickshaws in his orbit. Captured in contrapposto—a stance originating in Ancient Greek statues, designed to amplify the form's dynamism—he strikes a dauntless pose, unapologetically interposing himself in the middle of a roadside catch-up. By way of his illicit existence (in the eyes of the law), his outed, public presence gives rise to a subversive air. He occupies a space somewhere between performance and protest, lodging himself into the collective postcolonial nation-building which Gupta's photographic series tabled. Deconstructing a society's value-system can take generations, though what we see in Manpreet's piercing gaze is his faith in the here and now.
The portrait will hang on the wall in The Photographers' Gallery, London, this week as part of Gupta's first major retrospective, From Here to Eternity. From chronicling his coming-out whilst migrating to Montreal through to his battles with HIV in the 90s and beyond, Gupta's over 40-year-long career has revolved around what it means to be a gay man, and what this might look like through the lens. They are issues which Gupta first wrestled with in 1976 whilst studying at business school in New York City; bunking classes, he plunged into a gay community that was in full swing in the aftermath of the Stonewall riots—a revelatory find on the back of his conservative family upbringing. Cruising with his camera down Greenwich Village's iconic thoroughfare, Christopher Street, he snapped gay men promenading proudly in plaid, leather and double denim.
"Gupta's over 40-year-long career has revolved around what it means to be a gay man, and what this might look like through the lens"
The subjects of Mr Malhotra's Party, however, do not carry with them this same exhibitionist flair; with very little marking them out from their bustling backdrops, they are more inconspicuous and "ordinary-looking", as Gupta noted. By inscribing their presence within the heart of New Delhi's vernacular fabric—the spaces they live and work in, rubbing shoulders with the people they know—Gupta eschewed any pathologising effect from pointing his camera. This was as much his humanist drive as it was his political one, made even more salient by the series' inclusion of women, who were up until then much harder to reach. Here, they hang out at crowded markets and street corners, forming an indispensable fraction of Gupta's portrait of a contemporary, heterogeneous India that is of, and for, its people.
Following 24 years of back and forth in the Indian Supreme Court, Section 377 was struck down in a landmark 2018 ruling. It snipped away one more tether binding the country—and implicated queer bodies—to its colonial past. Pride parades bloomed up and down the land. Gupta tells me that, to this day, he receives requests from people wanting to be photographed as part of his series. They desire visibility and recognition as worthy subjects within art history—which, for Gupta, "seemed to stop at Greece and never properly dealt with gay issues from another place." Yet here is a history that is neither memorialising nor static, but rather kinetic and bearing a life of its own. Mr Malhotra's imaginary party has very much become a real one.
Snapshot is a weekly series that zooms in on a single photograph to explore the context of an image, the conditions it is created within and its wider cultural impact. 
From Here to Eternity: Sunil Gupta. A Retrospective
On show at The Photographers' Gallery from 9 October 2020 to 24 January 2021
VISIT WEBSITE