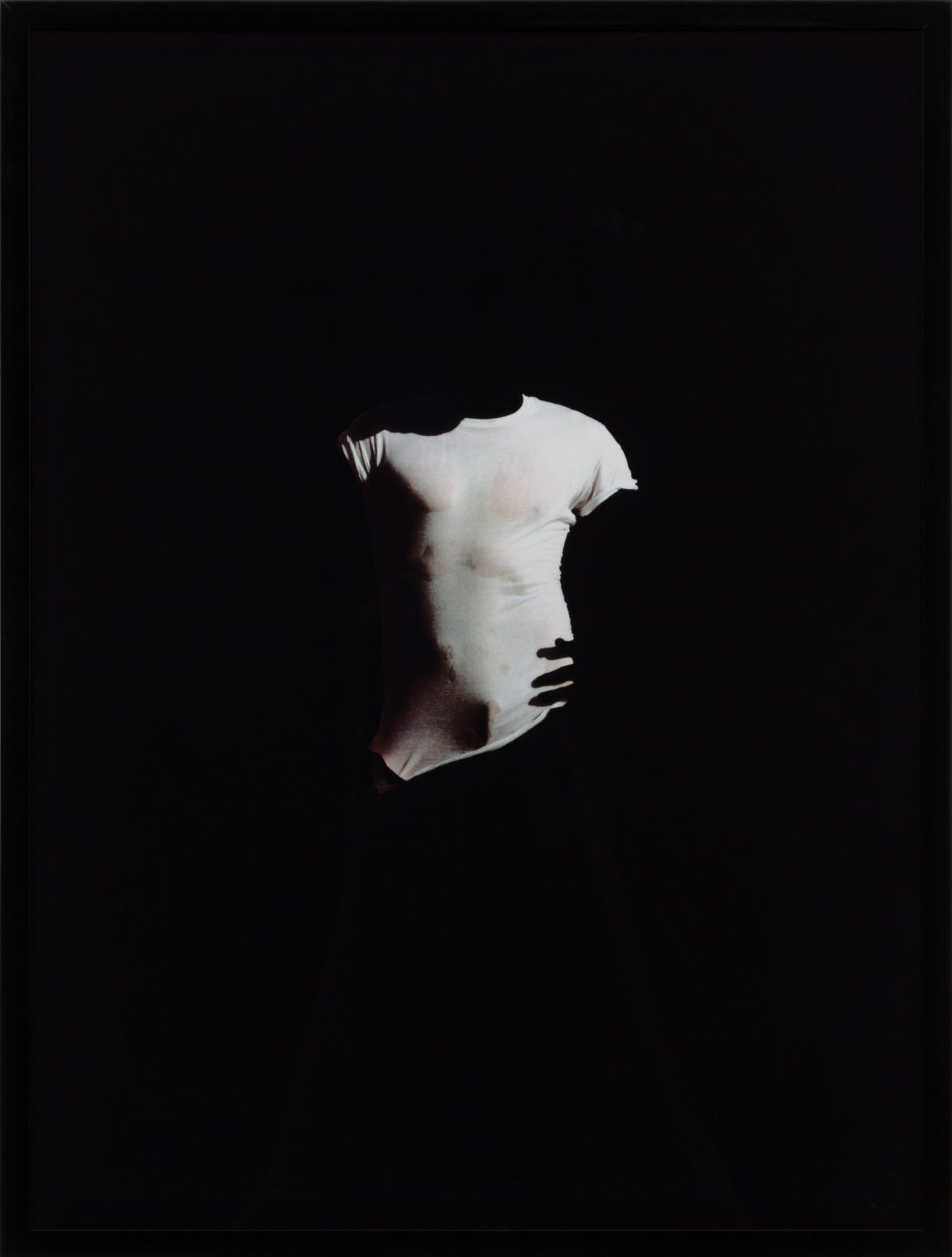 Under the Influence invites artists to discuss a work that has had a profound impact on their practice. In this edition Pacifico Silano, whose art is rooted in the reworking of vintage gay erotica, talks about Sarah Charlesworth's White T-Shirt.
Though I first saw White T-Shirt (1983) online while I was a student of hers in 2011, it wasn't until 2014 that I experienced it in person. I was struck by its palpable presence: an aroused man's torso, toned and flexed beneath a drenched T-shirt, like a Greco-Roman sculpture, wet drapery and all. The image (most likely sourced from a porn magazine) was meticulously cut by Sarah Charlesworth and rephotographed against a black void. For all the slick materiality of the cibachrome surface, the figure (limbs redacted and identity eliminated) felt spectral to me, a fragment of a history at once familiar and distant.
The work was made in 1983, when HIV/AIDS was becoming a global health crisis and gay men were dying in large numbers. In 1989, when I was three, my uncle passed away due to complications of HIV. With interpretations of appropriated imagery always subject to change because of our ever-evolving relationship to visual culture, we all bring our own histories to the reading of an image. This was the history through which I read Charlesworth's image of an erased, anonymous man.
Over a decade ago, I wanted to make a body of work that addressed the loss of my uncle, but, with no memories of him to recall or images to work with, I had to think more broadly. I started collecting vintage gay erotica—Blueboy, Honcho and Mandate—from the period between the Stonewall Riots of 1969 and the peak of the AIDS epidemic in the late 1980s.
These magazines were produced cheaply, distributed widely and an essential way of expressing queer desire. In tracing the evolution of gay representation during this stage of my uncle's life, I was able to explore the images that would have likely forged his and his community's identity.
"For all the slick materiality of the surface, the figure felt spectral to me, a fragment of a history at once familiar and distant"
Like her Pictures Generation contemporaries, Charlesworth was deeply engaged with how images function in the world and become embedded within our collective consciousness. This is best exemplified in her series Objects of Desire (1983–88), to which White T-Shirt belongs. It saw fetishised images from mass-media (gods, animals, female bodies) placed against pure, expansive colours. She laid bare the visual grammar of iconography, and in turn probed the ways in which values are constructed and ultimately sustained in Western culture.
The centre of the frame has always taken on an iconic status, which is what makes White T-Shirt so subversive, it turns everything back on itself. Having leafed through hundreds of gay magazines, I've become very conscious of reappearing clichés, from the lonesome cowboy to the leather-clad biker doing his best Marlon Brando. But these age-old masculine fantasies are not immortal but, rather, outmoded, as Charlesworth was trying to reveal through her radical dissections. And it was her sharp, critical approach to the world of images that was so influential on me in how I related to the material I was working with.
By cutting out the overtly sexual, centre-staged elements from these pages, I'm always drawn to what's happening in the edges: a furtive hand gesture, a cigarette pack on a nightstand, a cowboy's hat hanging off a tree branch. These silent, marginal moments often find their way to the centre in my pieces, blown up against a desert vista or baby-blue sky. I'm inspired by the regenerative properties of the printed image when it's rearranged. Suddenly, it becomes an entirely new thing, imbued with a complex, melancholic and frequently fraught history.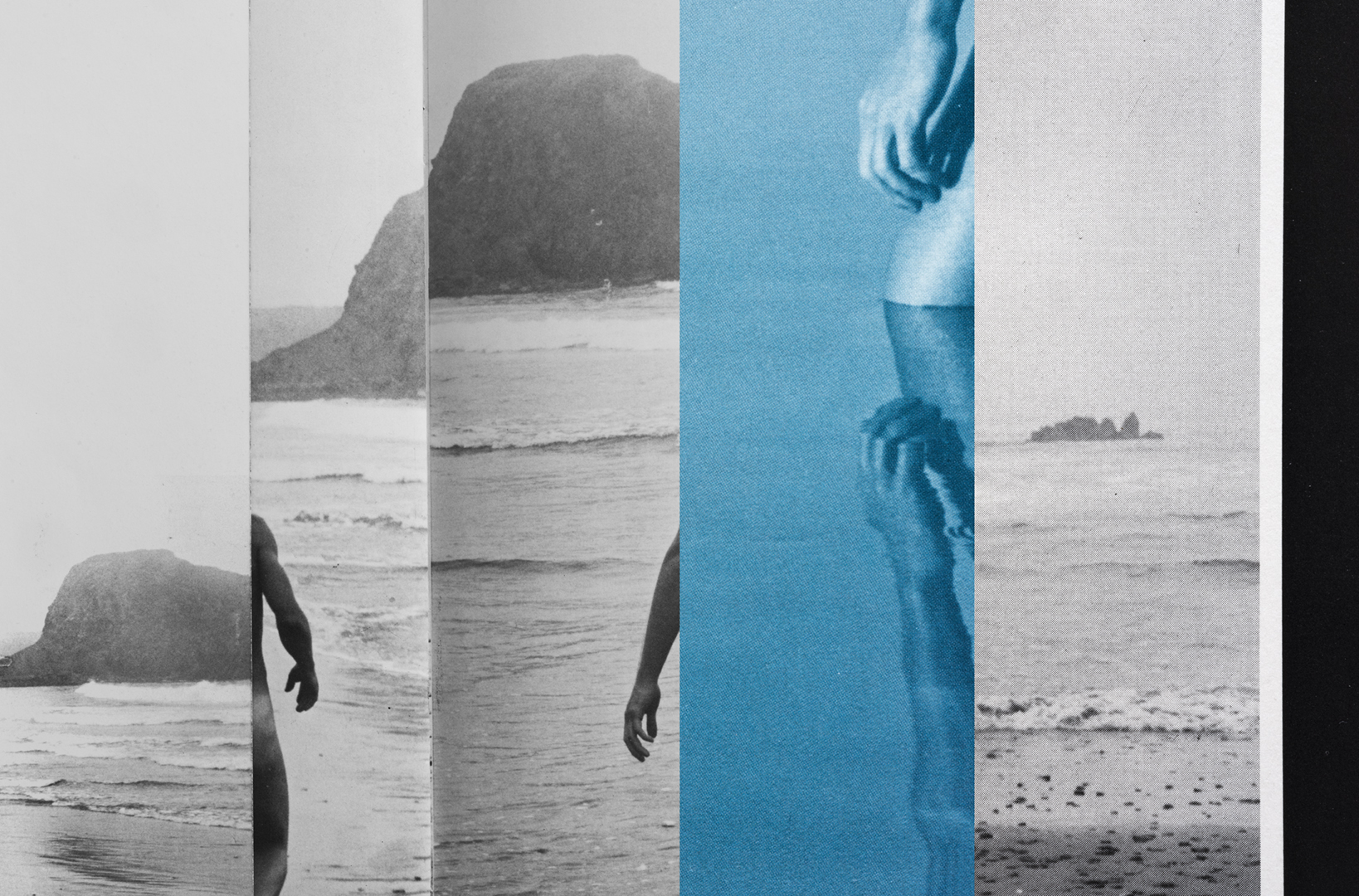 I often think back to Charlesworth's classes. I remember presenting a photograph of an empty bed that I had physically folded in half like a centrefold. She was excited by my use of the gutter, and encouraged me to explore the idea more because she saw something there that I couldn't. It took me years to return to the idea of the gutter, but now the use of the markers of the page—staples, crumples, dog-eared corners—is integral to my visual language.
Every time I look at White T-Shirt, I'm in awe at how Charlesworth retained the figure's seductive force despite completely uprooting it from its original context. The graceful contours of the hand-on-hip are so perfect in the way that they invoke this charged negative space, full of metaphor and meaning. Charlesworth showed me that the shape of death can also be the shape of desire. Or both, side-by-side.
As told to Alex Merola