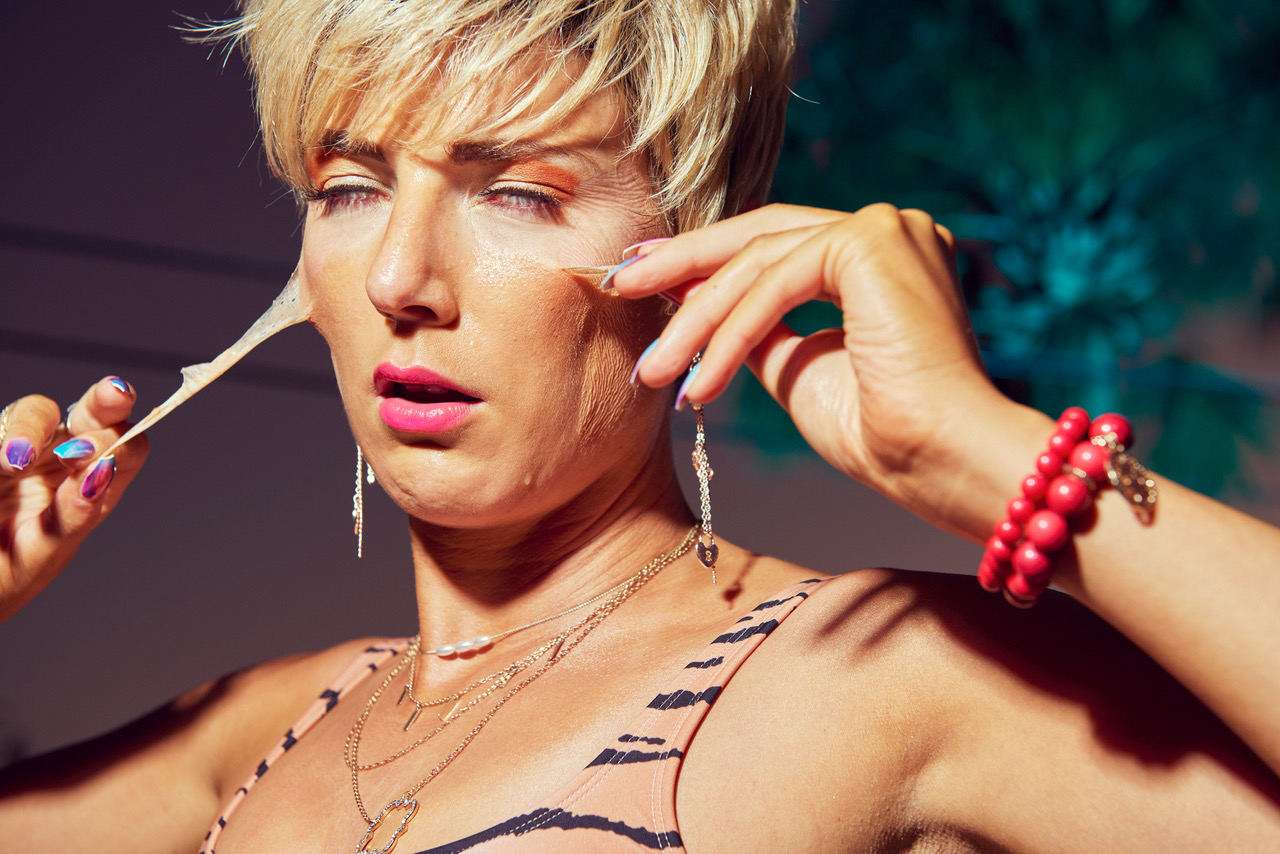 Who is Kourtney Roy? She is a rosy-cheeked cheerleader, posing with pompoms against a backdrop of snow-capped peaks. No, she is an entrapped housewife, peering through the curtains with a loaded rifle in hand. Or perhaps she is a lone cowgirl, roaming the desolate highways of Southwest Texas by foot? From princesses to air hostesses, she has been there and done that, traversing the time-worn inventory of female stereotypes. It is easy to get roped in by her chameleonic characters, but who is Kourtney Roy, really?
"I grew up between two distinctly separate worlds," Roy says. "My lumberjack father lived it pretty rough up in the mountains of British Columbia. My mother, on the other hand, lived in a small industrial town; she preferred running water, flushing toilets and peeing outside without the risk of being eaten by a bear." For a young, impressionable Roy, it was life in the mountains that sparked her intrigue for the cryptic rituals of self-transformation. "With my father, I was steeped into this 'old-school' philosophy of moulding one's own destiny in order to arrive at some sort of mythical existence. If you're frustrated with 'real life', you always dream of being 'other'." Having since forged a career specialising in autoportraiture, Roy has taken it to the next level: "I just become the 'other'."
The Tourist, 2020 © Kourtney Roy, courtesy the artist and André Frère Éditions
Roy's latest book, The Tourist, sees the Canadian let loose in the gaudy hotel resorts of Miami and Cancún, in the guise of her various bewigged selves. Inserting herself as the primary performer in a surfeit of kitschy mise-en-scène, Roy—director, photographer and subject all at once—enacts the episodes of a desperate dreamer going all out on her holiday of a lifetime.
"The guiding mantra in The Tourist is unapologetically skin-deep: fake it till you make it"
Acrylic nails, phoney bling and tanning sprays abound. The guiding mantra in The Tourist is unapologetically skin-deep: fake it till you make it. It is hard to dispute such a logic, for the protagonist's faux croc-skinned swimsuit would indeed look out of place were not for the dummy flamingos, mock temples and pea-green astroturf. "This is the world in which she can live her ideal, hedonistic self," Roy remarks. "She may be trashy, vulgar or bordering on what we might consider 'lowbrow culture', but she knows what she wants."
The Tourist, 2020 © Kourtney Roy, courtesy the artist and André Frère Éditions
Roy's images oscillate between high-key boredom and low-key eroticism; her tourist is caught in the seemingly everlasting act of poolside-posturing, as though awaiting some racy drama to present itself (or not). There is no shortage of skimpy-trunked hunks and silver-haired sugar daddies here. They too seem as vacuous as the settings they inhabit, and as interchangeable as the wigs Roy sports.
In one image, a bronzed bodybuilder reaches out to light the tourist's cigarette, yet her gaze is averted upwards; perhaps there is a bird or plane soaring overhead. Elsewhere, the camera catches her in a puzzling confrontation with a sharply-suited gentleman; she is on the front-foot whilst he stands his ground, arms extended as if to ensure a safe distance. It is unclear whether their entanglement is light-hearted play or some nefarious negotiation, but the fact that it is spied from an elevated balcony spot suggests the viewer is witnessing something they are not meant to.
The Tourist (2020) © Kourtney Roy, courtesy the artist and André Frère Éditions
It is one of the rare moments in which Roy's protagonist is pictured off-guard. Every now and again, the bubble is burst, and we become privy to what lies beyond the resorts' four walls: grotty apartment blocks, seaweed-infested beaches and unruly flocks of seagulls. With the inclusions of such "blips", Roy turns the book's photo album format against itself, in turn satirising the inherently filtered (and by implication fabricated) nature of the holiday snapshot genre. In an age when our insatiable compulsions for constructed self-documentation have been unleashed via photo-sharing technologies, Roy's images speak of a phenomenon that occurs both home and away.
"Haunted by the Instagram era, there are no bounds to the lengths to which users will go to land their 'perfect picture'"
Selfie sticks now seem like nothing compared to elaborate camera filters that can transform a humble-looking salad into a Caravaggio-esque chiaroscuro. Haunted by the looming anthem of the Instagram era, "pics or it didn't happen", there are no bounds to the lengths users will go to land their "perfect picture". Roy's protagonist is no exception; the cropped shot of her high-heels hanging off the pool's edge (a marked nod to one of the photographer's heroes, Guy Bourdin) is no doubt expertly crafted. 
The Tourist, 2020 © Kourtney Roy, courtesy the artist and André Frère Éditions
"This is my world… You can enjoy it, or you don't have to look at it," asserts Roy, who maintains that there is no single statement in her work. There might, however, be one lesson here, and one that is not exclusive to the deckchair-loungers of Miami and Cancún: the personas we invent are not imposed from on high, we perform them ourselves. The mark of their perniciousness is how easily they can hoodwink us. Whatever the camera giveth, it also taketh away, and therein lies the pitiless self-parodying streak that rampages through Roy's book.
We sometimes find the tourist alongside an older companion. On one occasion, she serves up two raw pork chops on a plate; her aged skin is scrutinised by the scorching sunrays whilst the tourist's face is shielded behind an orange-tinted visor. The image's poignancy is in its merciless evocation of the ravages of age and the inevitability of mortality. Together, they stare into the distance, and perhaps into the future. And what for the unsalvageable blob of ice cream that slowly dribbles down a clutched hand? In a year in which the sun-kissed dreams of hopeful holiday-goers have been squashed, it seems a fitting metaphor.

The Tourist, by Kourtney Roy
Out now with André Frère Éditions
VISIT WEBSITE