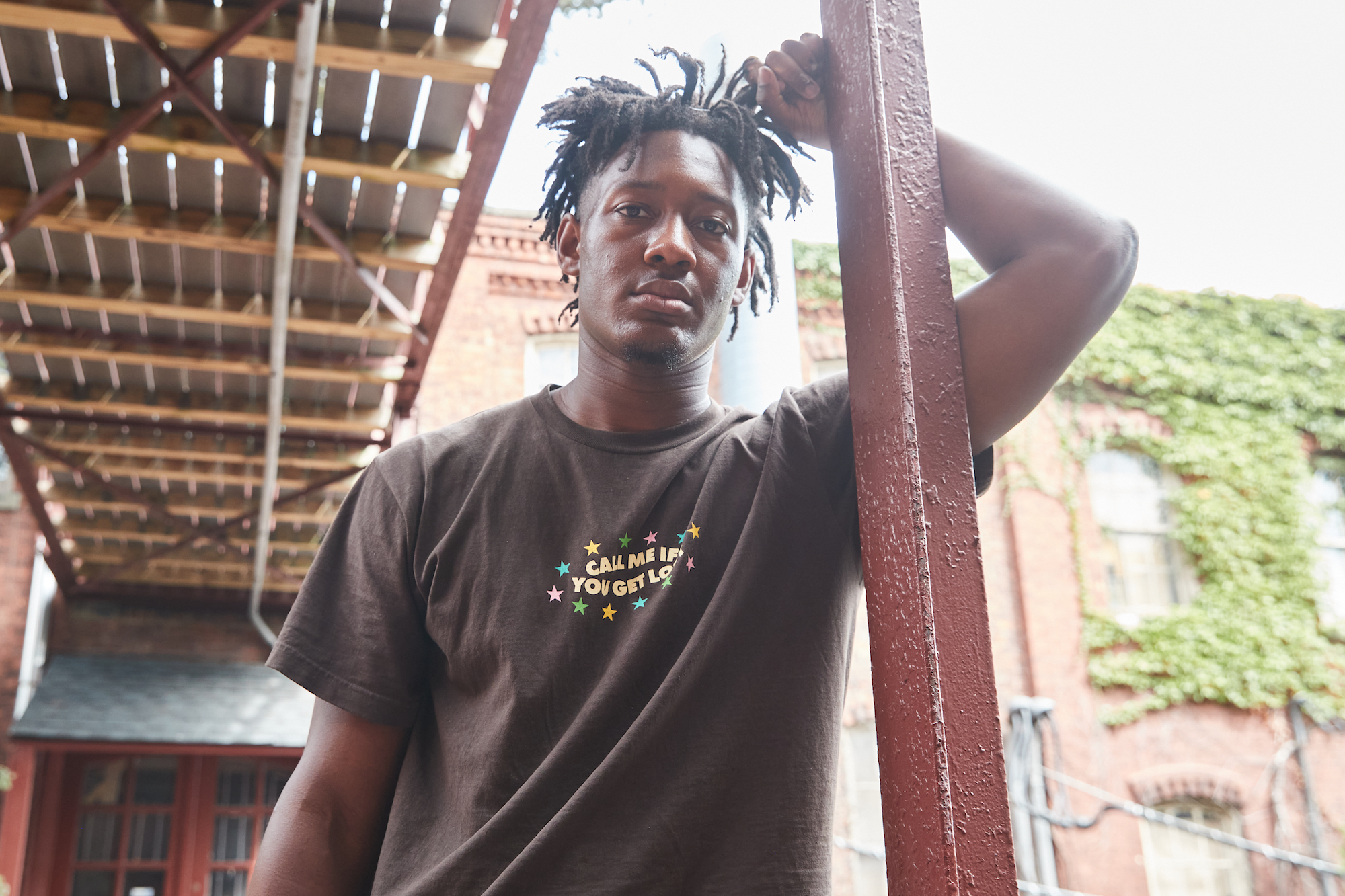 The people who appear in Omar Lawson's paintings could be out for a stroll on a sunny afternoon, or perhaps on their way to the market. From young to old, they are dressed casually and look into the distance, somewhere beyond the frame of the canvas. One wears a hoodie, another a bucket hat, one more a cropped top with jeans.
It is significant that Lawson's protagonists look like him. Growing up, Black faces were a rare sight in the artworks displayed in galleries and museums. Lawson's portraits are a riposte to this historic and ongoing underrepresentation, in both the arts and beyond. They are also a joyful celebration not just of Black culture but of the quirks of ordinary people. Zooming in on individuals, they are political and yet also deeply personal, observations of small, often unnoticed details that make each person unique.
Lawson recently completed a Liquitex residency in the United States. Below he discusses his experience on it, talks through his painting technique, and names some of his art-world heroes.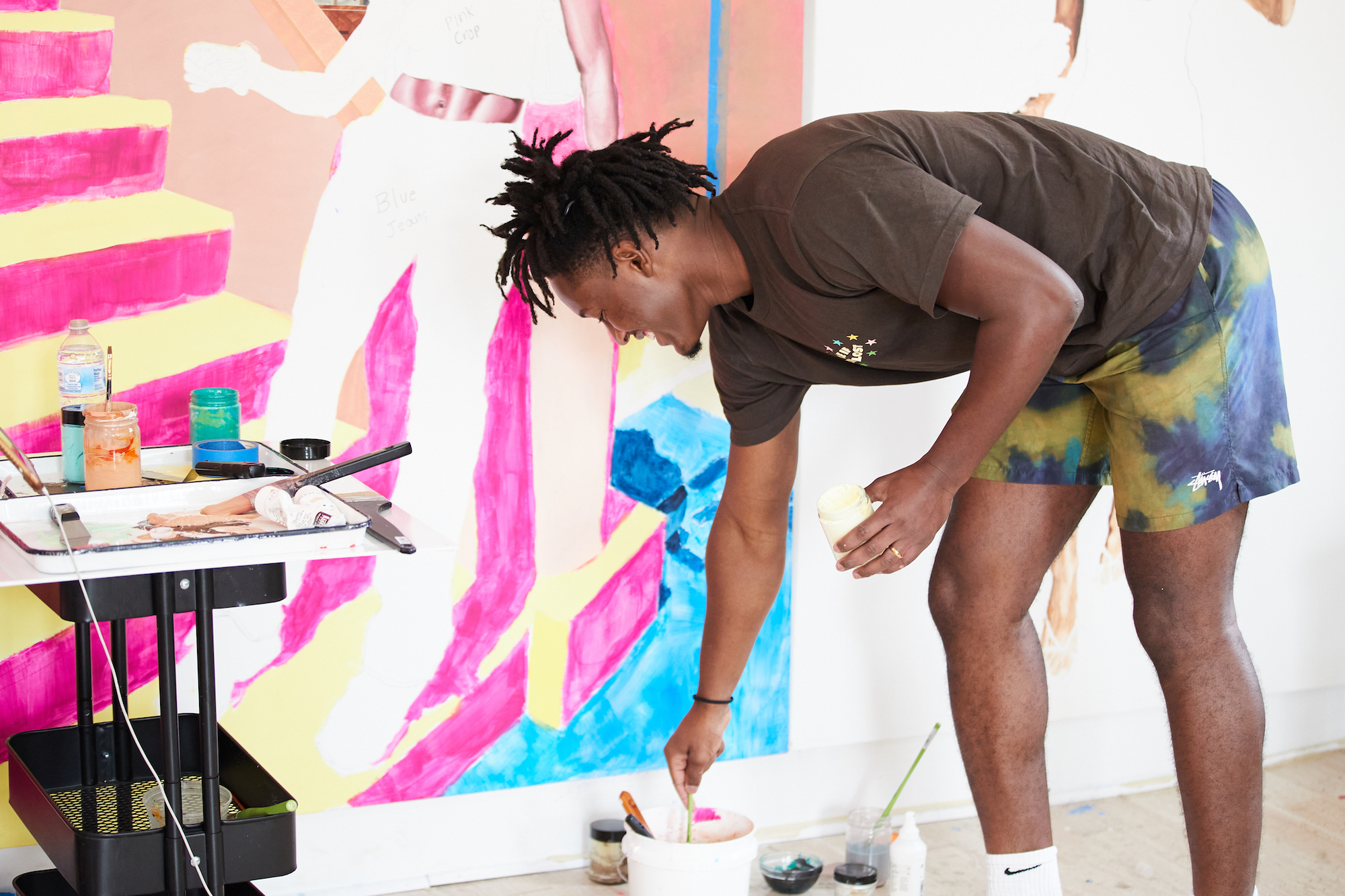 What have you been working on during your recent Liquitex residency?
I've been working on a series of portraits speaking on the cultural and individual value of dress to those in the Black community.
"I wanted to present those who haven't been shown much grace for simply making an attempt at defining themselves"
How did you develop the idea for this body of work?
It came from a personal revelation. The realisation that I had condemned the people within my community because I had made the decision to view them through the often distorting societal lens and not from a perspective that seeks understanding. I came to the conclusion that I wanted to present those who haven't been shown much grace for simply making an attempt at defining themselves.
Which art materials have you particularly enjoyed working with? Did any surprise you?
The materials I've liked most have been the new fluorescent paints, and the matte medium. My process consists of a lot of layering and the fluorescent paints provide very vibrant colour to use as an underpainting, which I would then paint over with another layer of paint which has been thinned with the matte medium. I can't really say that any of the materials surprised me for the simple fact that I've been using Liquitex products for years.
If you had no financial constraints, what are some other materials that you would love to try out in the future?
I'd like to work more with plexiglass. I've already begun to play around with the material in my paintings but it can get expensive fairly quickly. Without the limiting financial constraints, I'd really like to see how far I could take the pairing of the two mediums.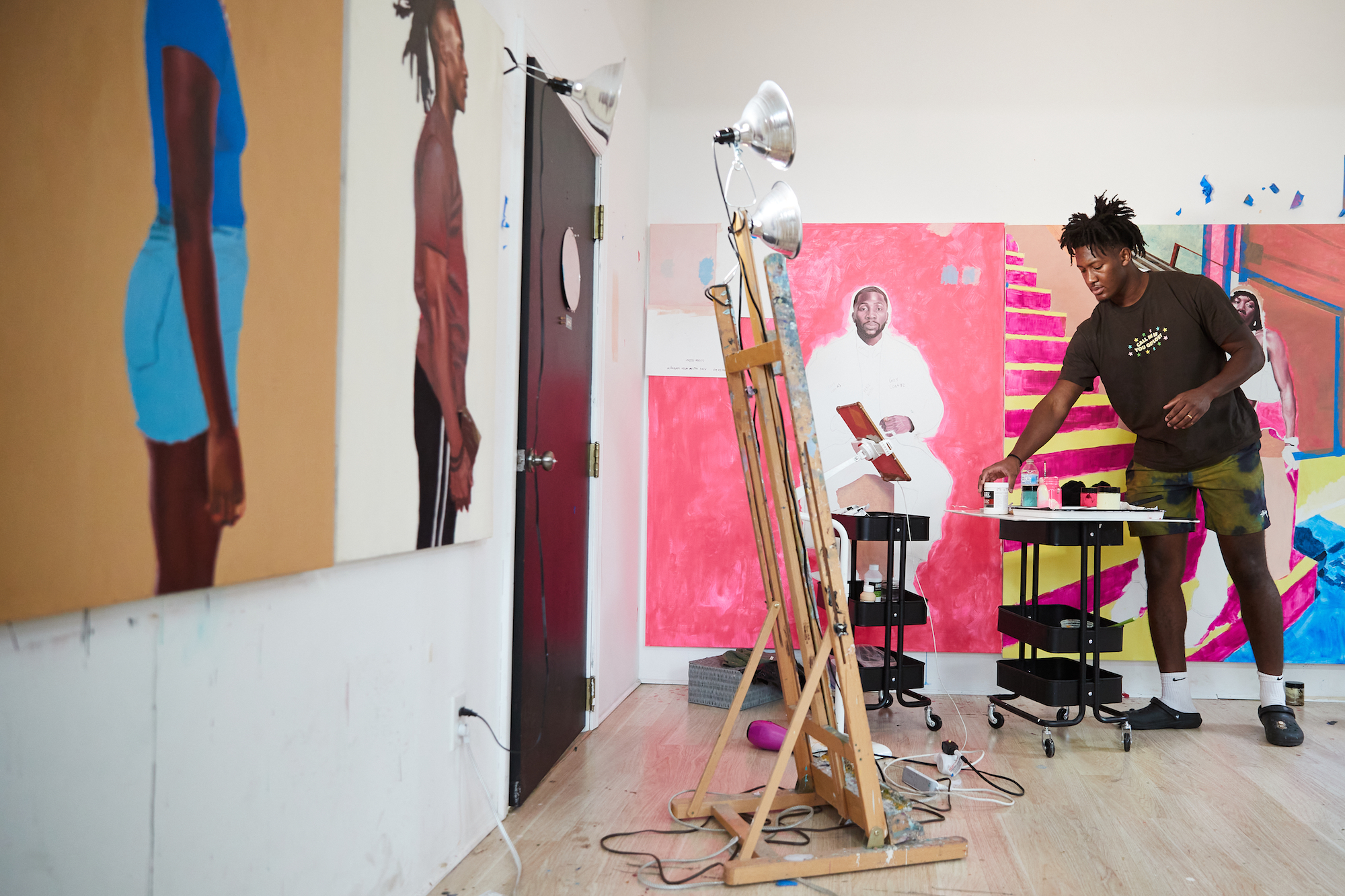 Who are some of the artists that have inspired you?
Throughout my short career, I've been influenced by many artists: Kerry James Marshall, Barkley L Hendricks, Kehinde Wiley, Kadir Nelson, Derek Fordjour, Kurt Kauper, Russell Craig, Debra Priestly, Deborah Roberts, Erika Ranee, Ellen Gallagher, Tschabalala Self, Afnan Rauf, Kwamé Gomez and Njideka Akunyili Crosby, just to name a few.
In times of growth within my practice I've looked to these artists to help guide me through to the next phase in my development. When I felt that my figures lacked life, I looked to Hendricks, Wiley and Kauper to warm the skin that I had left cold and opaque. When my concepts lacked a certain depth, Marshall and Craig taught me that layering my work with intention is just as important as doing so with paint.
"To be surrounded by a group of more experienced artists has pushed me into a place of greater confidence"
When I felt that my backgrounds left much to be desired, Priestly, Roberts and Self were examples of the volumes that negative space could speak. I'm not going to touch on every artist that I've listed but they've all been invaluable to my progress and I thought that they deserved to be mentioned.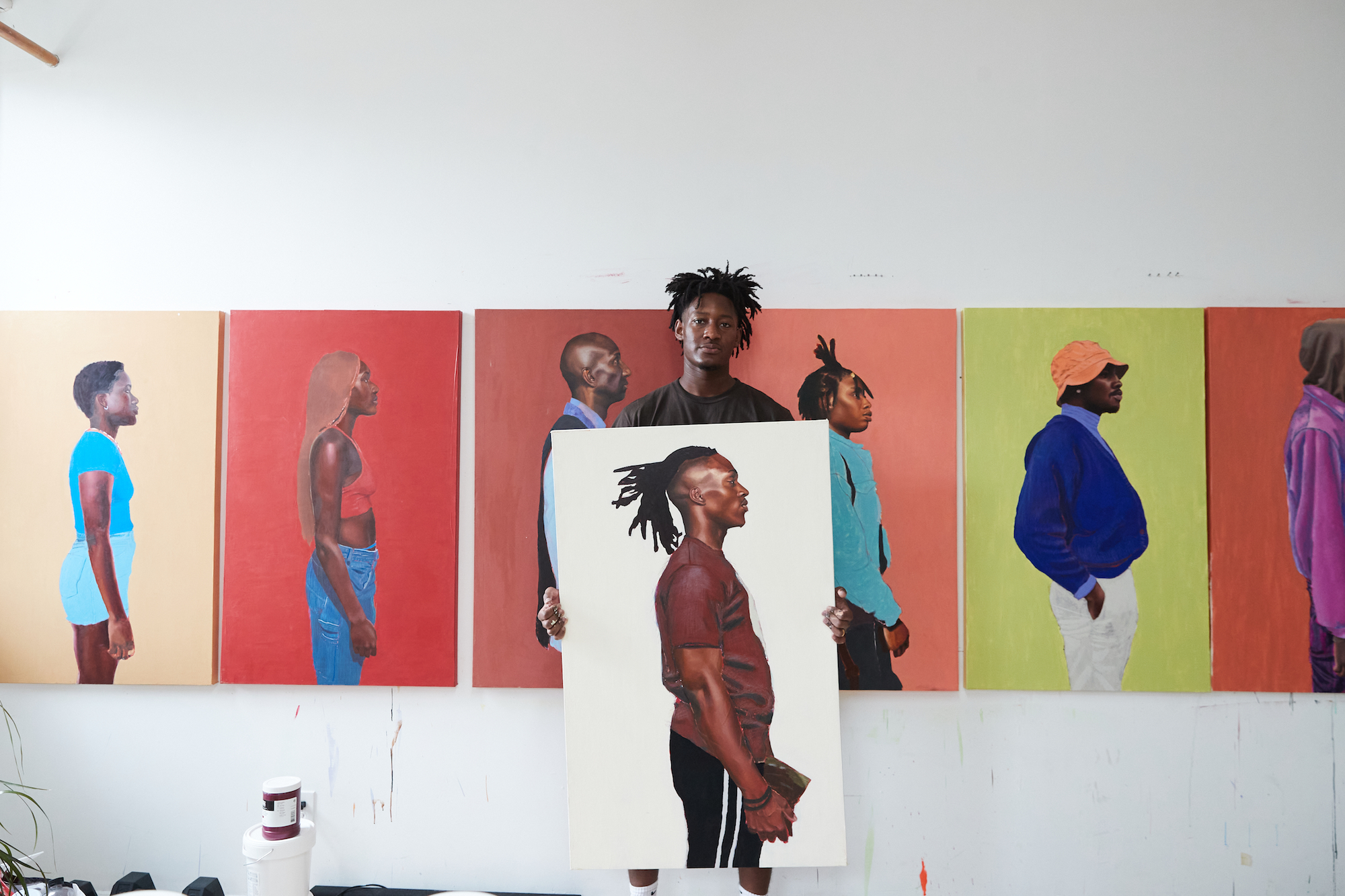 If you could choose any city around the world to do a residency in, where would it be?
If given the choice, I'd like to work in a residency program located in San Francisco, California. I've been considering infusing my more recent work with a bit of my perspective on the gentrification of Black communities and with San Fran leading the march in that department, I feel that it'd be a great place to start.
How has your experience on this residency influenced your wider practice?
The experience has certainly broadened my interests in materials and possibilities in terms of visual communication but I'd have to say that it's really reaffirmed the validity of my practice for me. I absolutely believe that there's value in what I'm doing but to be surrounded by a group of more experienced artists who take an interest in and liking to my work with such enthusiasm and willingness to share their knowledge has pushed me into a place of greater confidence.
Louise Benson is Elephant's deputy editor