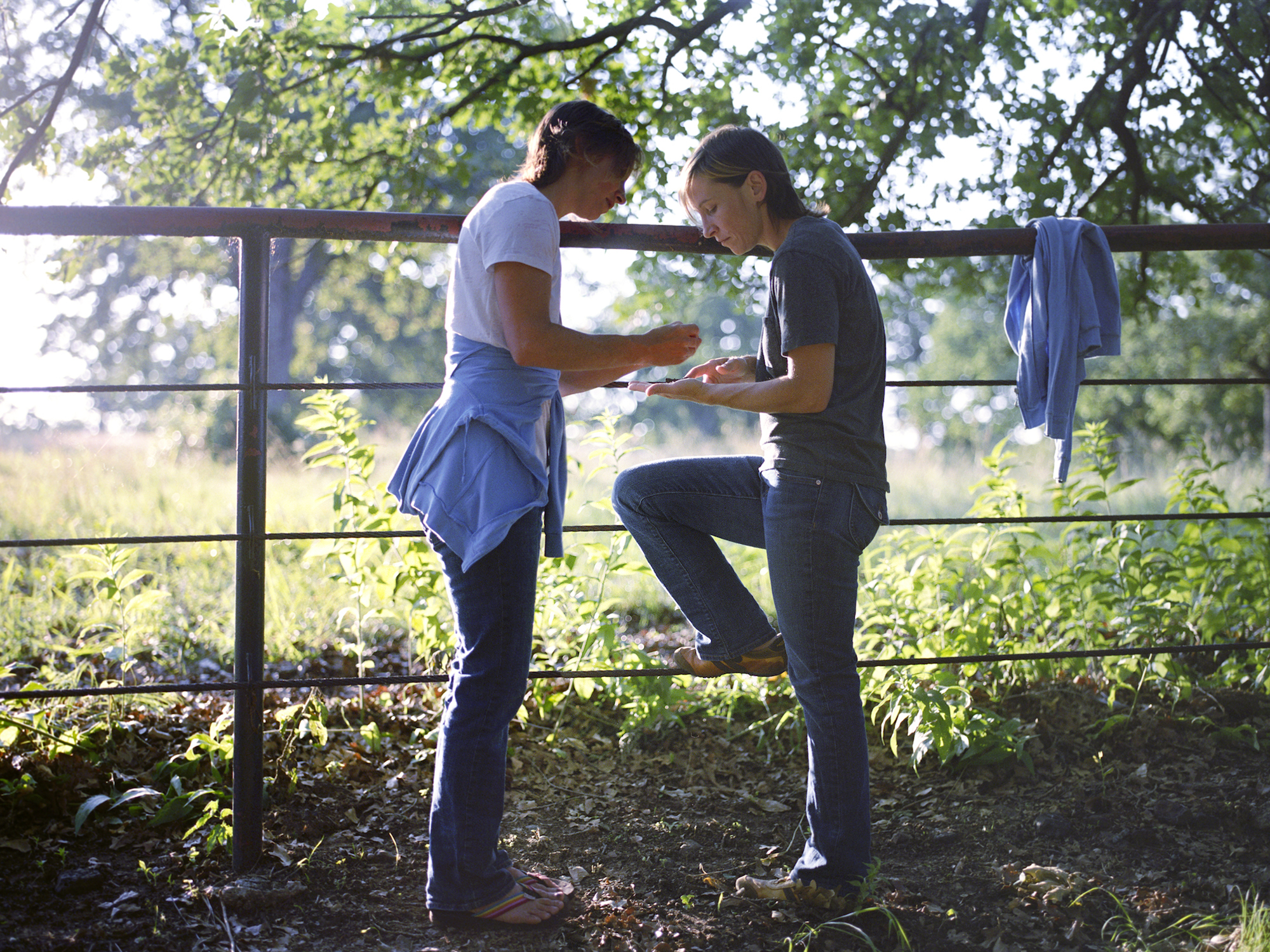 Kelli Connell's photographic series Double Life, currently presented at the Alice Austen House, New York, requires us to look twice to realise that the couple depicted are in fact the same person. For more than two decades, the American photographer has pictured model Kiba Jacobson performing two roles in a semi-fictive relationship. Their collaboration has become second nature: utilising a tripod and self-timer, the duo interact before the lens, take a shot, swap clothes, switch places and shoot again. Connell then manipulates the negatives digitally, fabricating composites of crystalline lucidity that feature two images of Jacobson.
No mere Photoshop embrace, Connell's early experiments in the 1990s emerged on the back of philosopher Judith Butler's interrogations of immutable gender identities, ideas which were concurrently illustrated by Catherine Opie in her photographs of lesbian friends donning fake moustaches. "It was also personal," shares Connell. "I began questioning my sexuality and thinking about the roles I played in previous relationships. At the gay bar, I'd watch people's body language and wonder how they'd even know if you were interested in them if you didn't have a 'code' yet. I was trying to figure out why we rely on labels, and how identity is formed."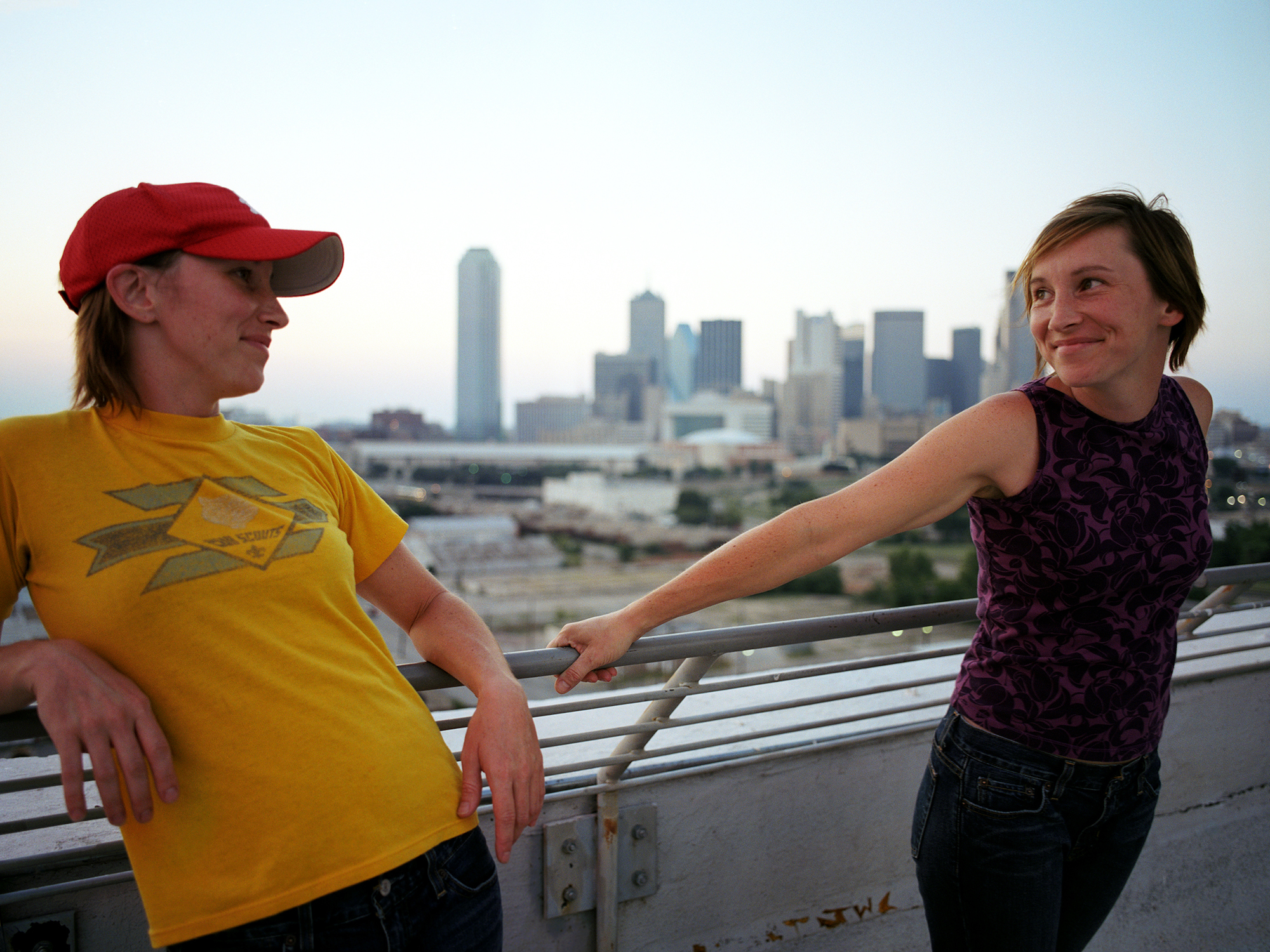 Connell's constructs confront the baggage of clichés that a viewer consumed by popular media might lug to them. Who is "butch" and who is "femme"? Who is active and who is passive? They resist resolution, though, summoning a space in which such rigid dichotomies dissolve. "In some relationships, I've been the more dominant one, and other times less so," reflects Connell. "I wanted these photographs to address the idea that partners can both mirror and contrast one another."
In the image The Valley, the women are in bed and close to caressing. The contours of their interlocking forms echo the geometries of an Escher tessellation, but it's unclear whether they're on the verge of completing each other or cancelling each other out. Equally ambiguous is the nature of their relationship: indeed, there are sapphic sparks, but also sisterly cues. However, to box them up as either lesbian lovers or identical twins is to read them through the fetish of fixity.
"I wanted these photographs to address the idea that partners can both mirror and contrast one another"
As the years roll, days spent sprawled in the sun and playing pool are replaced by more mundane acts, like drinking wine and going to bed early. They hold one another with the pent-up gravitas of women weighed down by destiny. Often they are beside windows—reminiscent of Larry Sultan's Pictures From Home (a key influence for Connell), in which he documented the domestic dilemmas harboured by his retired parents in their Californian home, looking out or looking in.
"What happens when something interior, something with depth, is externalised and rendered flat through the photographic object?" Connell asks rhetorically. It's a consideration of artifice that steers us towards the paradox of her practice: disassembling social constructs through constructs themselves.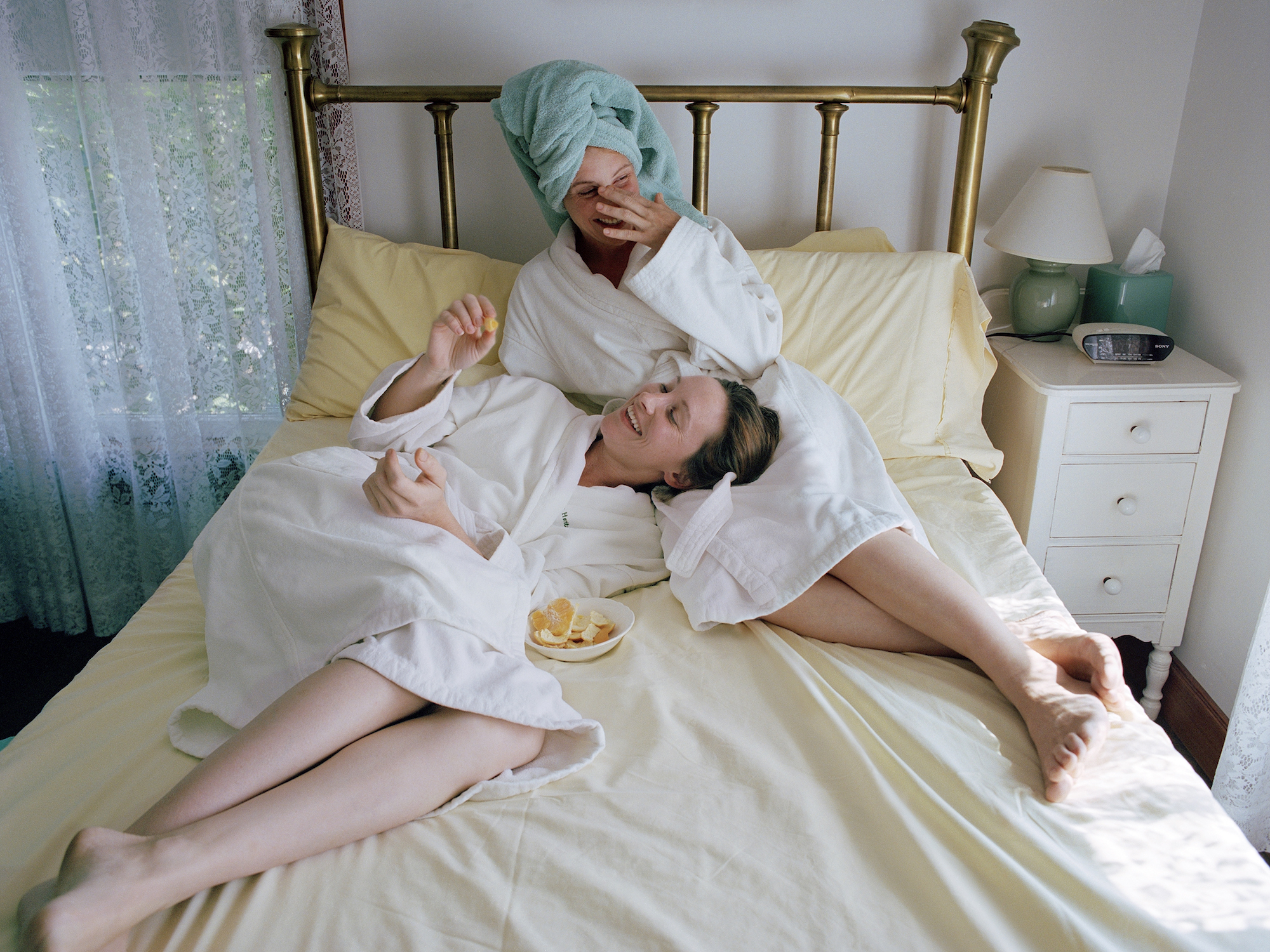 Yet, this is not to say that there is no truth inside these frames. Double Life's most truthful streak is its most subversive: the absence of a fantasy, "sexual awakening" moment. "I've always been disillusioned by these tropes," contemplates Connell. "The process of discovering that I was attracted to both men and women was a fluid exploration for me."
Though silhouetted, projected here is Connell's own parallel journey: one underpinned by vectors of queer longing and the quest to feel whole (albeit vicariously via Jacobson). In the end, we get the sense of something surpassing Connell's impossibly beautiful, stitched-up negatives: an impression of life refracted, and love transferred.
All images courtesy the artist