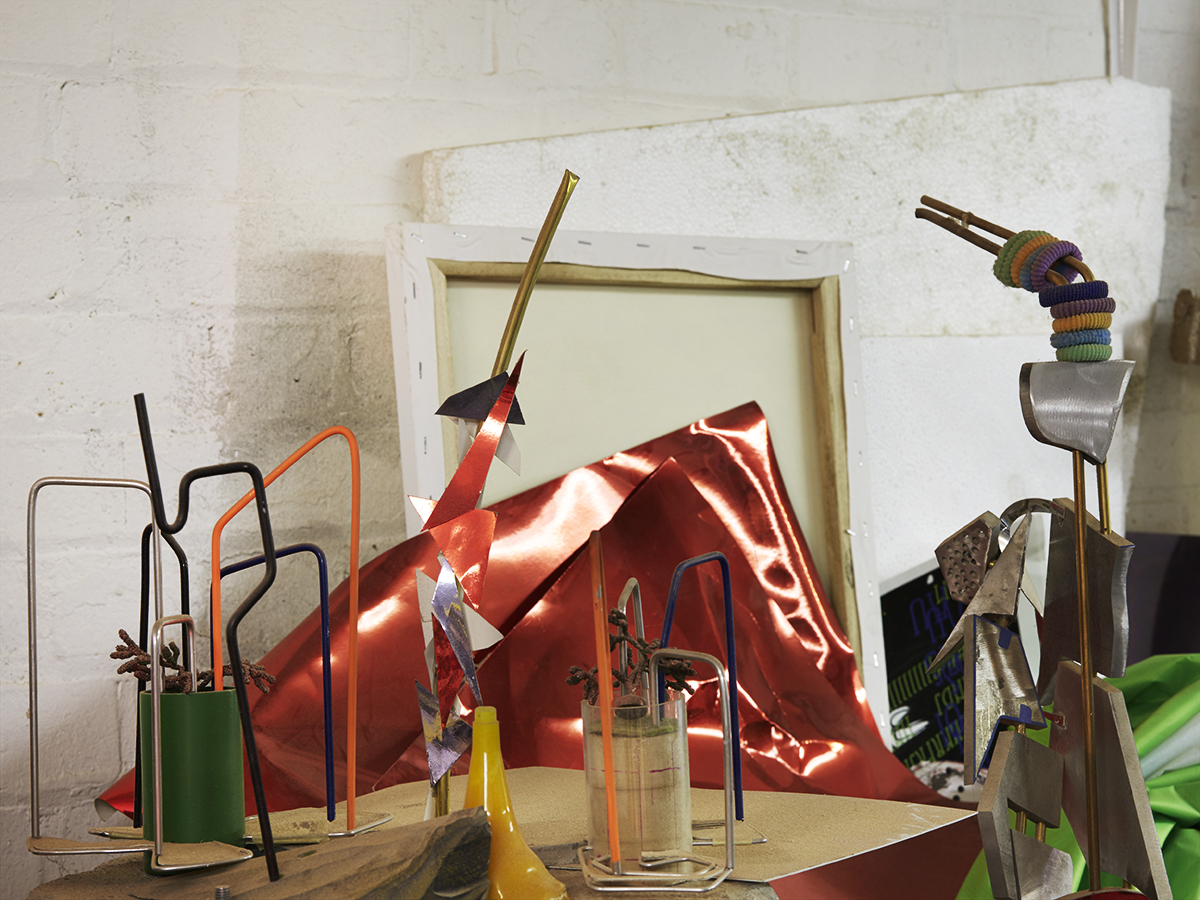 Will Colour Your City be the first time that you have shown drawings in this way?
I haven't shown drawings very often — only at the Tate, probably a while back now. I have always ended up keeping and collecting the drawings because I've never really had the space to show them as I have wanted to. I have created new drawings for this exhibition, but I have never really shown my working drawings alongside the sculptures.
Are the drawings usually quite close to the final sculptures?
They are normally very accurate to the final sculptures. They are very close to what gets made, even the textures and colours that are on the drawings. Sometimes a drawing will be sitting around for a long time before a sculpture is made from it. They all work in different ways, but in some ways they are the only thing that you can oddly have to yourself. I've never really touched them, I've always held them back.
Do you tend to have materials in mind when you're working on drawings for sculpture? Or do you find objects that fit after the initial plan?
I tend to find things that fit and work as I'm going along. I might then need something else to put into it, something found, but mainly it is cut and fitted and shaped to what I originally wanted to do. Obviously there is a lot of cast aluminium and shaping of polystyrene.
Are you drawn to materials because you enjoy working with them, or because of the final look that they'll give you?
More because of the language or the story of the materials. I'm interested in what they are discussing in their own weird depth. Where it comes from, where it has travelled from. There are a lot of bought materials, and found materials, or stuff that's been given. It's a whole mixture.
Is there a scale that you feel most at home working with?
A complete mixture too. Some are small, some are big, some are little wall pieces. They all vary, but I think it's nice to constantly have them juggling around in front of you. Colour and scale are simple points that you end up getting to when you start deciding how you're going to make a work. In some ways you always want to make them big. I've done a lot of interior work that is able to go inside, and I am starting to do a lot of these larger outdoor pieces, and getting that right is a whole different ball game with the weather and that sort of thing. Every time you get knocked back with wanting to use a certain type of material outside, you think maybe that is why they are all bronze and boring! Because no artist wants to deal with it, no one wants to deal with maintenance.
Do you ever hope for a work to react with the environment in that way?
Well, I think they always do. That's the unfortunate thing when you make sculpture, you can make it so harsh and so tough, but even if you look outside, those buildings are six or seven years old and you can see how tatty they have become. There are all of these nice materials that appear over the years, but eventually they all start fading or degrading. You do get slightly narrowed and funnelled because you start thinking about the outside.
What have you created for your outdoor work at Frieze?
For Frieze there is an outdoor piece called Dreamy Bathroom, which is a large sculpture. That piece has already been made, I completed it last year and it's been on show at Cass Sculpture Park. I think they're keeping it in Regent's Park as well until January, so everything is going and there will just be that piece left there. Indoors there are the sculptures Made Like a Laptop and A Palm Tree.
How did you first get into art, was it something that you always knew you wanted to do?
Really early on. I did some paintings early on, but before foundation even really I started to make things and put things together. I went to Goldsmiths and did a BA, and that's it. Damien and Tracey were a bit older than me, there's a ten year gap there between us and that lot. But I grew up hanging out with all of them, I knew them all well on the art world scene. We were just around at that time so grew up with that, going to all their openings and shows and that was my art world in London.
Do you feel there has been a noticeable shift in the way that the art world functions since then? 
Yes there is a constant moving. Obviously with the credit crunch the art world was really affected. But maybe that's what is good to the financial downside, that a lot more people have been whittled away as well. Before it was mad times in the art world. I definitely went through the good times of it. Everyone was selling, from medium successful, to new artists, to big ones. Across the board it was people buying work, whereas now there's much more looking at the stock market, and how people are doing at Sotheby's! The world has changed in that kind of way. I hope we get back to loving and just really enjoying the work.
I've heard your work referred to as a 'tongue-in-cheek look at modernism'. Would you say that's a fair assessment?
It's much more spiritual, it's much more gutful. There's a spiritual depth to it that I'm wanting to connect with. They usually have some kind of meaning that I don't fully understand myself. I'm often trying to push that visuality of something that I don't quite understand myself. But trying to put it together with that faith in the language of material things, that open up different stories and depth in their own way. There is an abstract nature. They aren't all so abstract, but they definitely don't try to relate too much to things that you might have around you.
Occasionally there are functions too, you have an area in Greenwich that children can play on.
Yes, there is the children's play area in Chiltern Park. The kids love it, they play on. It would be nice to do more of these things, but that's a whole area that's really growing. More councils are giving artists great visual opportunities in public spaces. There is a growing connection in sculpture in general to make interactive work and public work.
Colour Your City opens at Society of Illustrators, NY on 13 October. Frieze London runs from 14-17 October. Photographs © Tim Smyth.