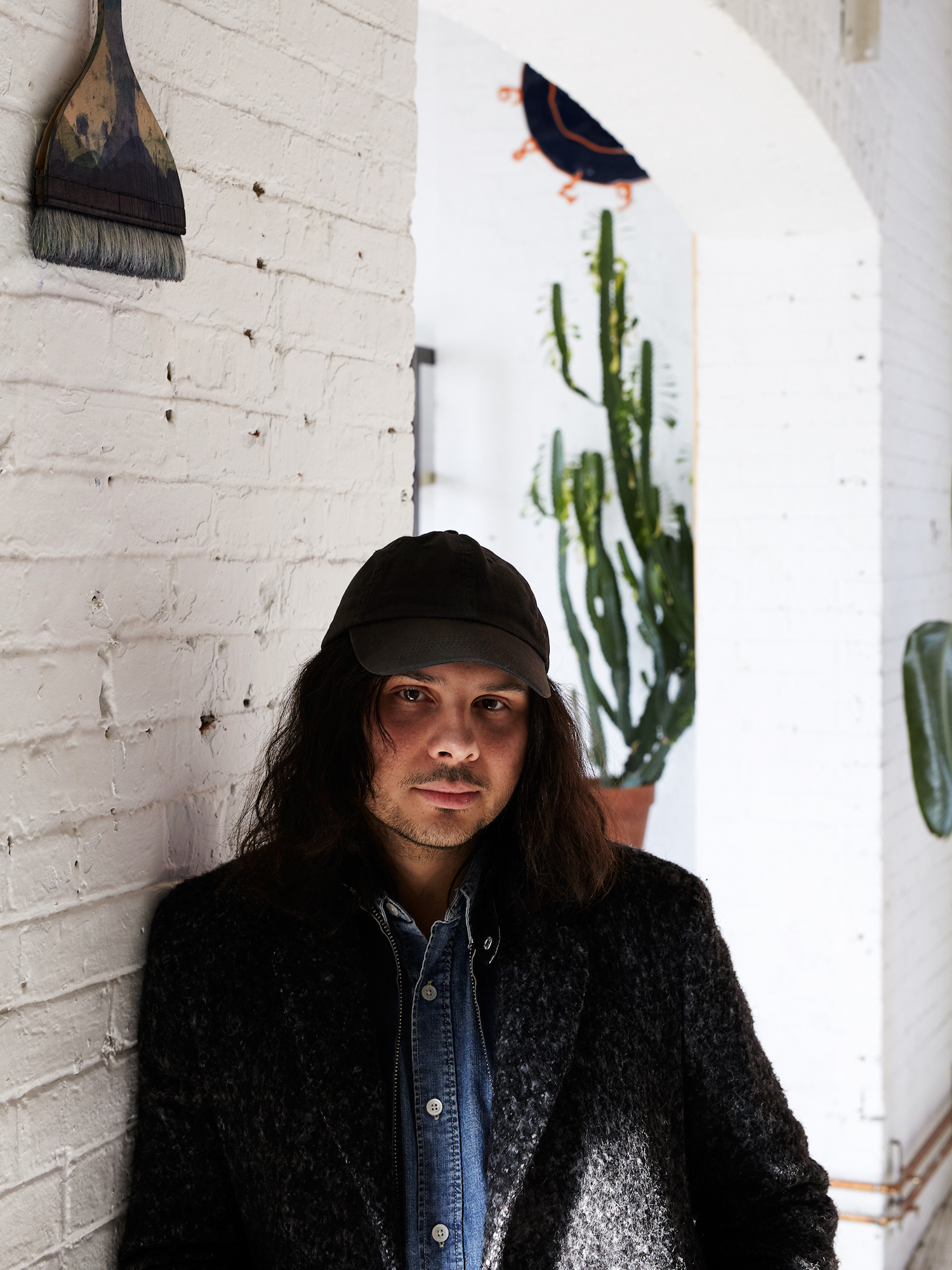 In explanation of his paired down aesthetic, reminiscent of colour field painters like Helen Frankenthaler and Morris Louis, Landon Metz points to his time growing up in Arizona. His ink-stained canvasses, often arranged around a space in a sequential installation, have a precision and lightness that reflects his airy Brooklyn studio. There is a sense that Metz is not trying to create singular pieces of work, but open out new ways in which one looks at and exists within a particular space.
You currently have an exhibition on at von Bartha in S-chanf, Switzerland. Can you tell me a little about it?
The exhibition at von Bartha is set in a small mountain village called S-chanf in the Engadin valley in Switzerland. The space is a perfectly proportioned cube constructed inside an old farmhouse with three consecutive walls of the same length and one interrupted by a heavy-set doorframe. What immediately struck me about this space was its stage-like arrangement, which inspired the exhibition title, Fourth Wall, which refers to the implied barrier between the work and a viewer. The exhibition unfurls as a painting installation based around this premise, with the fourth wall mounted on the exterior of the structure, suggesting that once present in the space the viewer is "on stage" as an active constituent of the work rather than a passive passerby.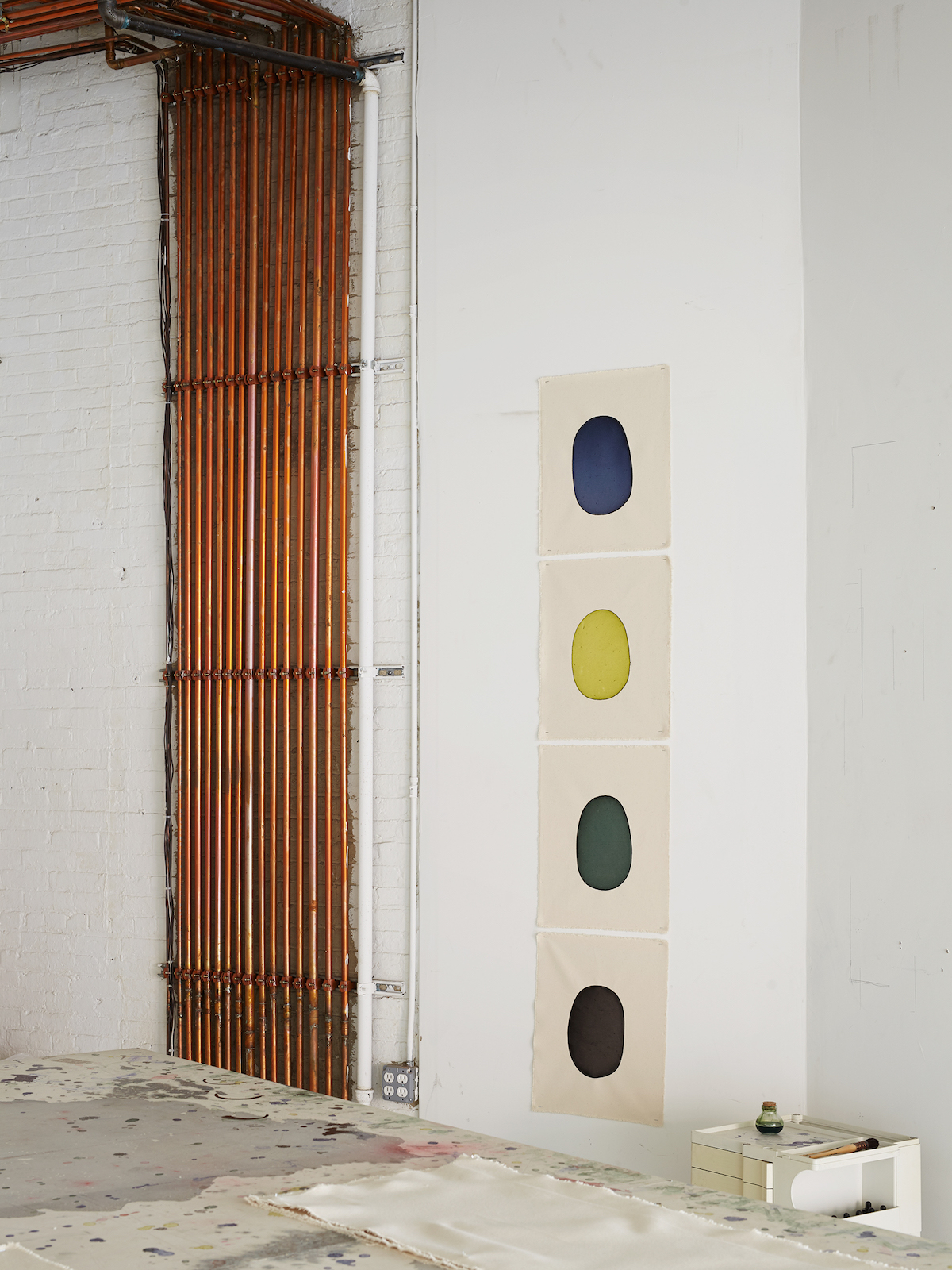 You work on flat canvases and with sculpture. Would you describe your work as site-specific, or is the way it plays with the gallery space something that comes after its creation?
With the same intention of acknowledging the role of the viewer as imperative to the work, I hope to extend a similar gesture to the space by means of installation. I use painting and sculpture to draw attention to the idiosyncratic qualities inherent to a given environment. The objects I create are meant to imply their own periphery rather than being entirely self-contained, always reaching outward. I'm always very much aware of the given space prior to the creation of a work and it certainly plays an important role in the execution of an exhibition.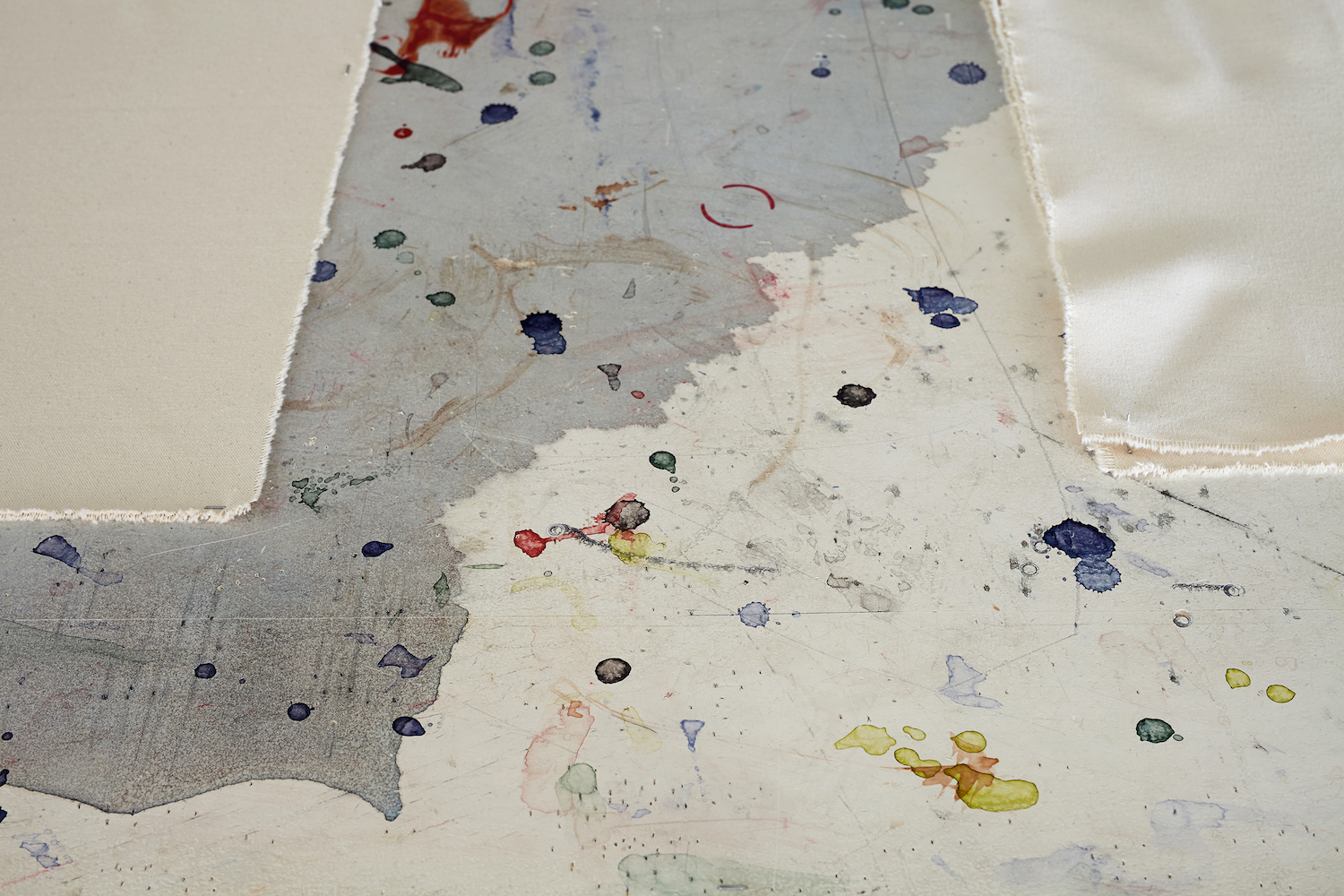 The way in which you use ink reminds me a little of Helen Frankenthaler's soak-stain paintings—would you say there's a relationship there? Who have been your visual influences?
The decision to use a medium with such low viscosity comes from a desire to allow my tools to have a certain authorial intent of their own. The way raw canvas and pigment respond to one another during the staining process relinquishes my control to their own nature. For me, the relationship to colour field painting isn't paramount but I'm very much open to this as an entry point for a conversation. I would say we share a curiosity for the relationship of the image and object, but this is still only a starting point for my research as an artist.
"I grew up playing music and often find myself returning to its form as a way of decoding visual language as well."
Is your work informed by the space it's created in? How far does the studio or New York become a part of the work?
The studio is certainly an important aspect of my practice. I find a specific headspace necessary to make work, and the studio has become a delicate refuge to reach this. I also like the relationship of private and public performance, and I often play with this by using studio photography in publications and online. The idea of seeing repetitive tasks which are often considered a means to an end as an end in themselves is something that comes up quite often in my work, and this often manifests as documents from the studio.  
How far would you say your painting is about control, how far is it about relinquishing control?
Ultimately my work is meant to create a subtle container that points beyond itself. The control I do have is only what I find imperative to create works that allow their surroundings to seep in, so what's not there is equally or more important than what is. I work with a lot of intention, but I would hope my practice is flexible enough to live without the need for full control.
"A large portion of my aesthetic, including palette and economy of form, is rooted in my upbringing in the desert of Arizona."
You tend to stick to fairly muted tones: moody blues and greens. What informs your decision to use these colours?
My aim is to recognize all inherent constituents in the creation, exhibition and experience of a work of art. I want my personal taste or tendencies to manifest as simple poetry with nothing more than the intention to imply my presence as the artist. Form, colour and composition are the necessary components that establish a painting as such, but self-expression plays only a minor role in my practice. I would say though that a large portion of my aesthetic, including palette and economy of form, is rooted in my upbringing in the desert of Arizona.
Do you listen to music while you work?
Music is a great companion while working on certain aspects of my practice, such as stretching and sketching, but when I paint I prefer silence. I grew up playing music and often find myself returning to its form as a way of decoding visual language as well. Silence, rhythm and repetition, for example, are all heavily influential in my work and stem from my relationship to music.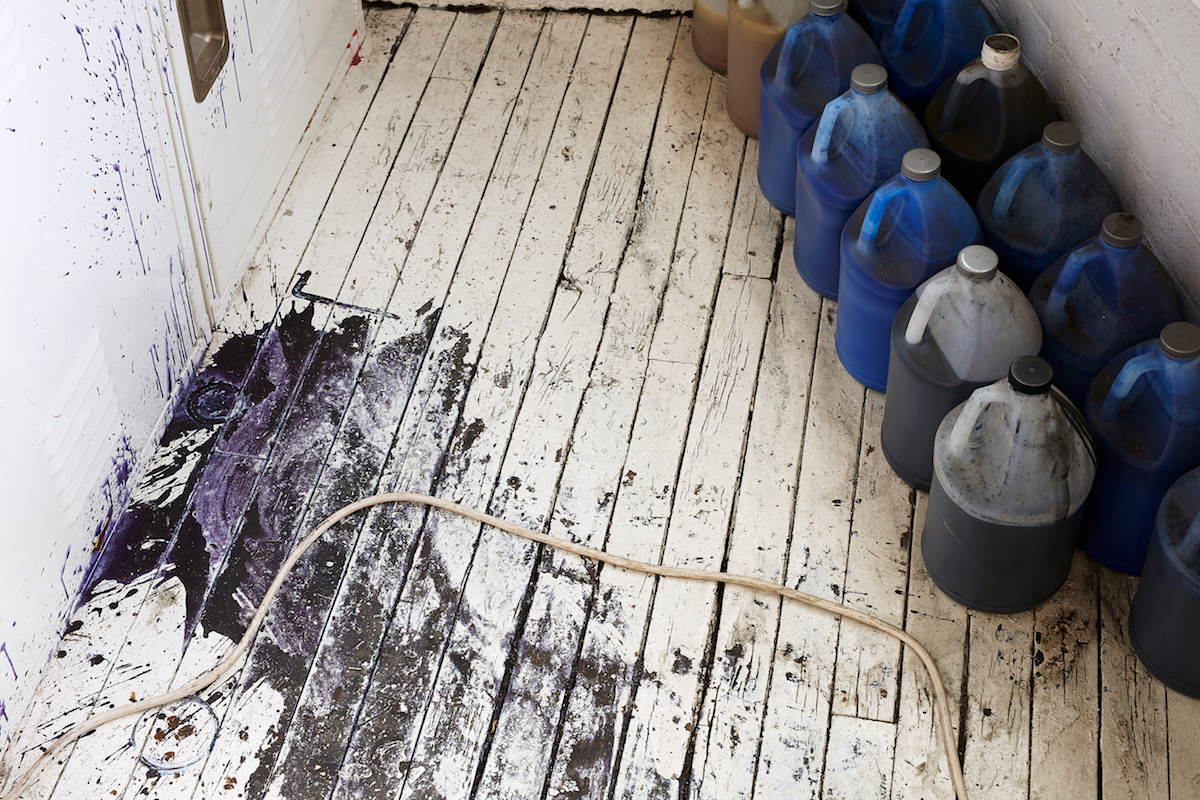 Repetition is characteristic of your work—do you become obsessed with a particular shape and feel compelled to reproduce it?
Seriality is used as a tool to value totality over individual uniqueness, so gestures extend beyond my hand to the surrounding ecosystem. I see repetition as having a tangible connection to nature and utilize it to emphasize a certain view of time and antihierarchy rather than necessarily a personal obsession or infatuation.
Does philosophical or theoretical reading influence your practice?
Absolutely, looking at things "as they are" is a central theme for me. Every aspect of my practice carries some form of metaphor or points towards a simple way of seeing, but this is perhaps better reserved for a longer conversation.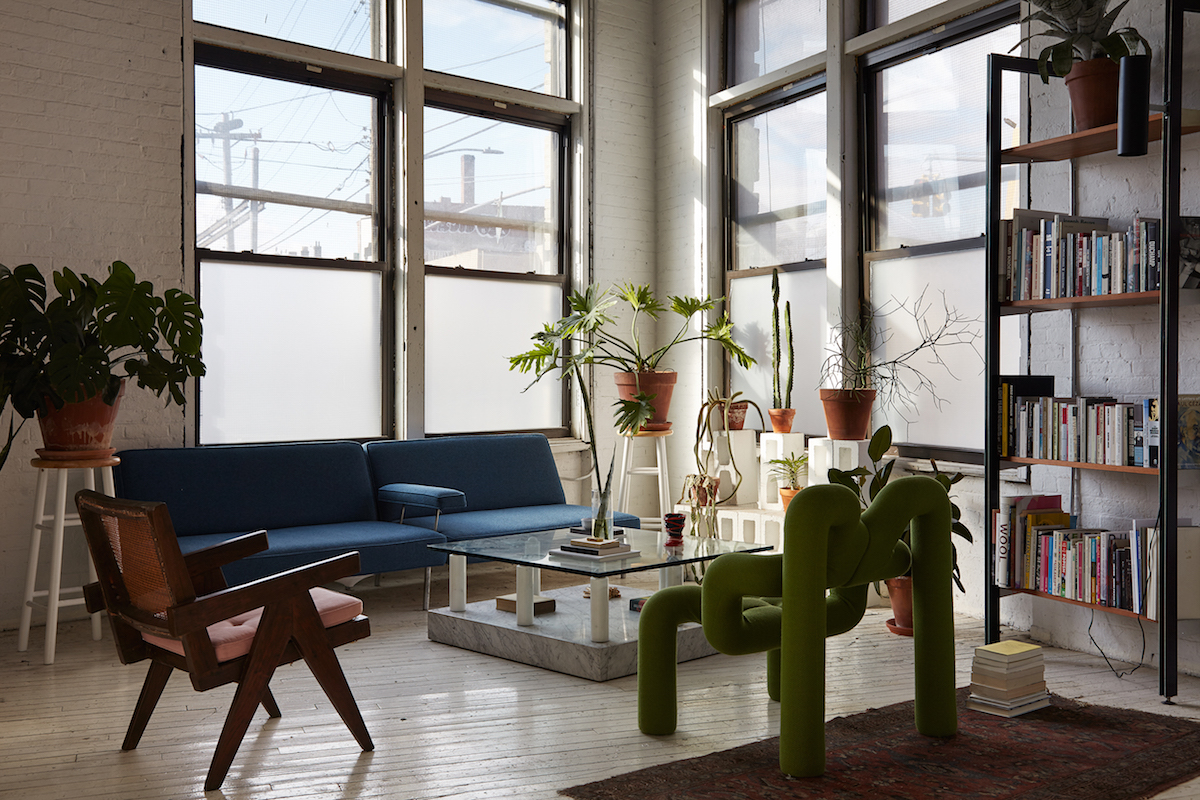 Photography © Tim Smyth
Landon Metz: Fourth Wall
Until 24 February at von Bartha, S-chanf
VISIT WEBSITE