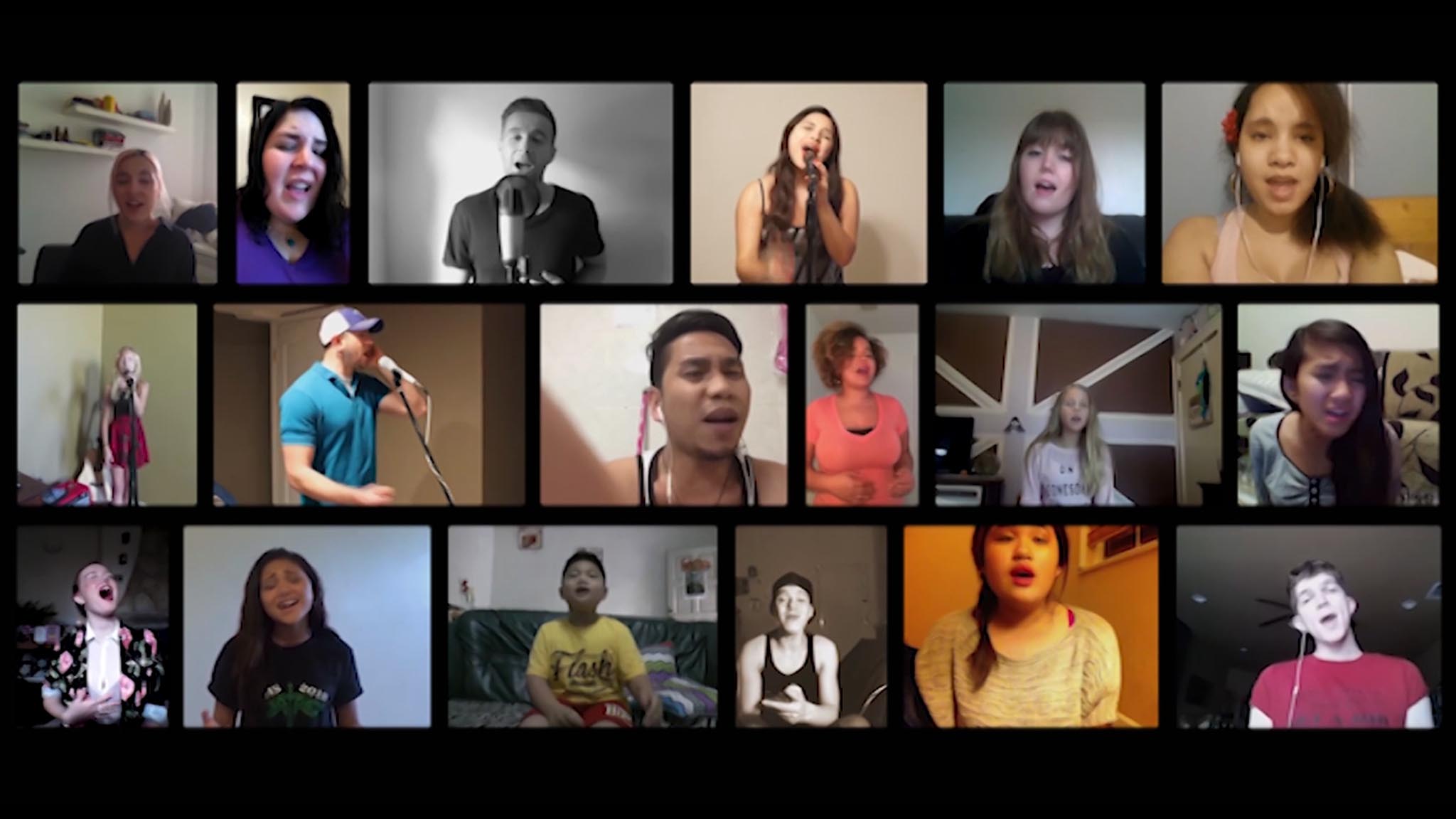 Fraenkel Gallery's current group exhibition, titled I'm Not the Only One, promises visitors (both physical and virtual) a therapeutic, and somewhat curative, experience at a time when the world seems more torn apart than ever. From Robert Adams's photograph of his wife, Kerstin, lazing with their dog in the desolate grasslands of Colorado to Sophie Calle's voyeuristic snaps of a stranger whom she invited to sleep in her bed, the works on display reveal the manifold ways in which loneliness and the longing to connect have crossed paths through the lens.
The exhibition takes its name from Mishka Henner's 2015 single-channel video, which acts as a linchpin for the accompanying 50 works. In it, the Belgian-born artist digitally stitched together 18 found YouTube covers of Sam Smith's heartbreak hit, I'm Not the Only One, to form a mosaic of solo performances, which, in unison, inadvertently recast the song's angsty wails into a stirring—though pitch-imperfect—virtual choir.
"In vying for virtual validation, they become contestants in an attention-geared economy"
Having witnessed the meteoric rise in popularity of televised talent competitions such as Britain's Got Talent and The X Factor (the latter of which propelled Sam Smith to fame), Henner became enthralled by the aftermath. Wannabe internet sensations—dazzled by the fantasy that anyone from anywhere can find stardom seemingly overnight—took to YouTube in their droves. "I was staggered to encounter thousands of amateur performers of all ages from all over the world singing covers of songs and uploading them onto the internet", said Henner. "They'd be on their own in their bedrooms, bathrooms, in their cars or on buses, singing into their webcams or phone cameras." 
As Henner saw it, the emergence of talent competitions exposed a more frightful aspect of the infrastructures underpinning our world: "They turned the cathartic euphoria of singing into some kind of ruthless blood sport". The YouTubers from this mash-up sing from the same hymn sheet—literally and metaphorically. In vying for virtual validation, they become contestants in an attention-geared economy, in which the currency is one of views, shares and likes. As the track draws to a close, the cells black out one by one, leaving a final performer signing out to her invisible (or maybe imaginary) audience. "'Like' even if it was horrible!" she implores. "Comment what you thought! And subscribe!"
In a year when the coronavirus pandemic's implacable advance across the globe has brought about the elimination of chunks of collective "real-world" activities, Henner's work bears an uncanny—and spookily prophetic—resonance. From on-cam cocktail parties to pixelated "Covid choirs", the sight of a medley of faces on a single screen has become a quotidian affair for many. The online experience can no doubt be a dissonant and jarring one, hence the addition of "Zoom fatigue" to our pandemic lexicon. Though, it must not be taken for granted that such technologies—despite proffering an illusory propinquity with people who are, technically, no more than a keyboard's distance away—are a lifeline for those who feel cut off and alone.
By today's polished standards of Zoom etiquette, there is something surprisingly nostalgic about watching these performers in their humble, makeshift studios. There are no meticulously-curated mantlepieces, and no outlandish backgrounds teleporting bedroom-dwellers to swanky villas or tropical seaside spots. Instead, we find fingertip blotches, wonky crops and, on one occasion, an intrusion by an unawares video-bomber. Through the endearing amateurism of such slips, we get the sense that these hopefuls harbour a yearning that is more fundamental and low-key than the glitz and glamour of celebrity. After all, is simply being seen and being heard—whether by millions or just a fellow solitary soul at the other end of the internet—really too much to ask for?
"The sight of a medley of faces on a single screen has become a quotidian affair for many"
On an opposite wall at the gallery hangs Lee Friedlander's 1962 photograph of a television set lighting up a blandly furnished hotel room; a baby's face flashes across the screen, a spectral human companion for the roving photographer, who is perched on the made bed. The work comes from Friedlander's seminal series, The Little Screens, which sought to document the television set's nascent dominance within an increasingly sheltered-in, and subsequently isolationist, America.
Though screens have since become littler and littler, perhaps the medium, in all its myriad shapes and sizes, signals something even scarier still in 2020: the prospect that it may be the only remaining place (or non-place) to connect. Yet, in Henner's I'm Not the Only One, the message that ultimately beams beyond the screen, through the cacophony of cries, is a more comforting one. If we are alone, we are alone together—albeit, for now, at varying bandwidths, resolutions and frames per second.
I'm Not the Only One On
At Fraenkel Gallery until 23 October
VISIT WEBSITE