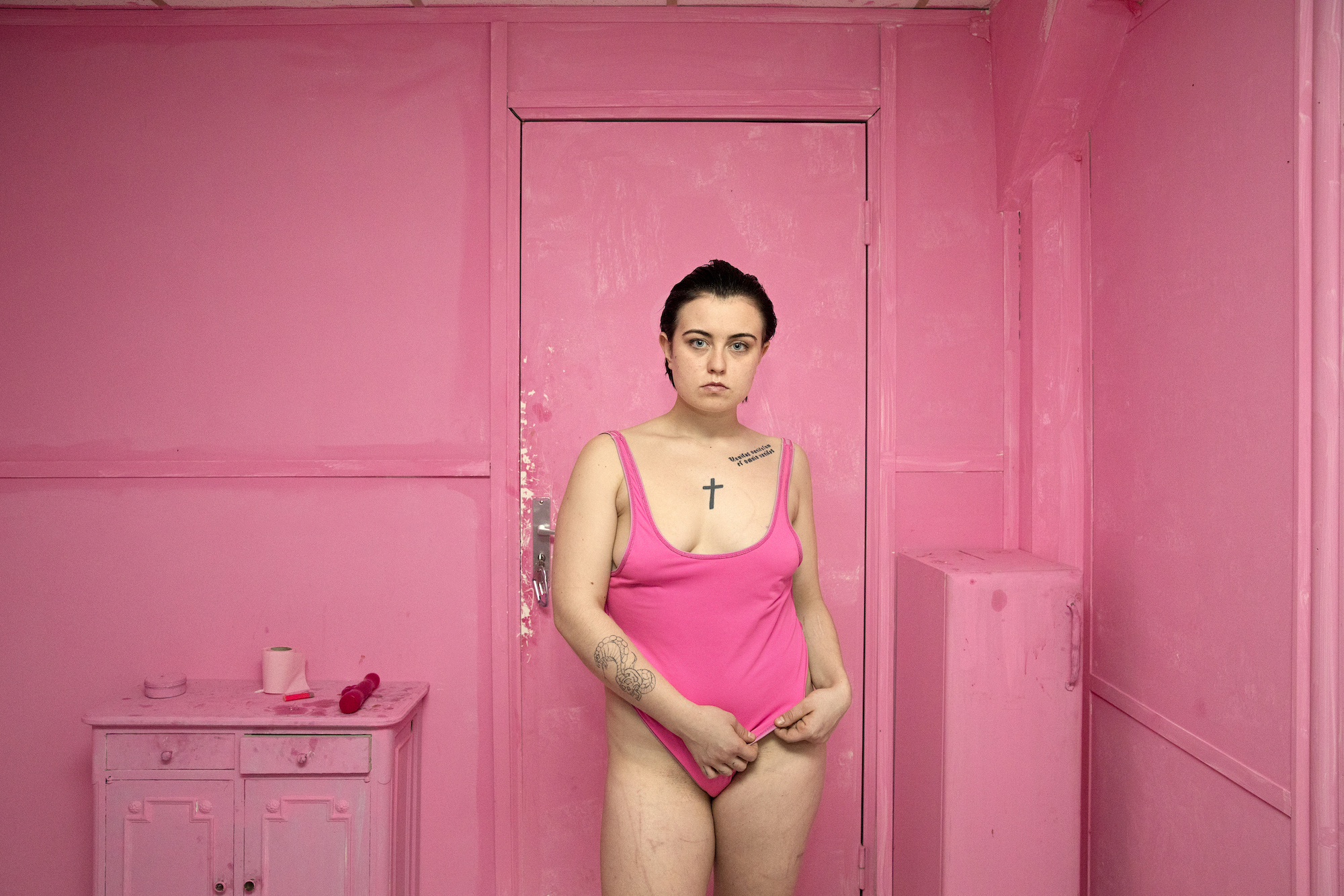 Bieke Depoorter met Agata Korbus at a strip club in Paris in October 2017. "Only untameable curiosity could have brought you to that place," writes Korbus, who became a close friend and collaborator of the artist, in a letter that is reproduced in Depoorter's new book, Agata. Depoorter doesn't agree, arguing that she only went to the club because the bouncer invited her in.
It's a push-pull that runs throughout Agata, which is divided into chapters and includes images by both Depoorter and Korbus, hand-written notes, type-written letters, and old diary entries by a woman called Germaine. Some of the images are documentary, others show Korbus posing, very much aware of the camera, embodying a central theme of the book, the question of identity, fiction, and the power of both the image-maker and subject.
Korbus is far from a silent muse, her texts pushing back at Depoorter's photographs, questioning the way she's presented, and musing on her part in shaping her own image. Towards the end of the book, she contributes a hilarious, perceptive letter critiquing the art world, and arguing her case for a different path. "The institutionalised art world did not seem to contain any of the transgression that art itself evoked in me," she writes. "I was not rich, so I had to become a rebel, because I did not want to be like sheep."
"Some of the images are documentary, others show Korbus posing, very much aware of the camera"
Depoorter is a successful photographer and artist, represented by Magnum Photos and exhibiting her work at venues such as NRW-Forum in Düsseldorf and FOMU in Antwerp. But her projects are characterised by discomfort with the power imbalance between the photographer and subject. Agata returns to this theme and has an unusual structure which opens the possibility of multiple narratives: half the spreads are freely visible, but the alternate ones are sealed, only accessible if the reader chooses to tear them open.
The visible pages mostly show portraits of Korbus plus some landscapes and typewritten letters between Korbus and Depoorter. One chapter, titled Germaine and dated 28.11.1928, shows Korbus wearing clothes belonging to a woman of that name, who once lived in the house she squatted in Paris, and whose belongings were left behind in it.
The hidden pages contain what Depoorter describes as "the content that doesn't fit the character of Agata I want to create, and probably of myself", a messy, anarchic stream that includes Korbus' hand-written notes, 'fake' photographs, Korbus' holiday photographs, and fragments hinting at the 'real' Germaine, including pages from her diary.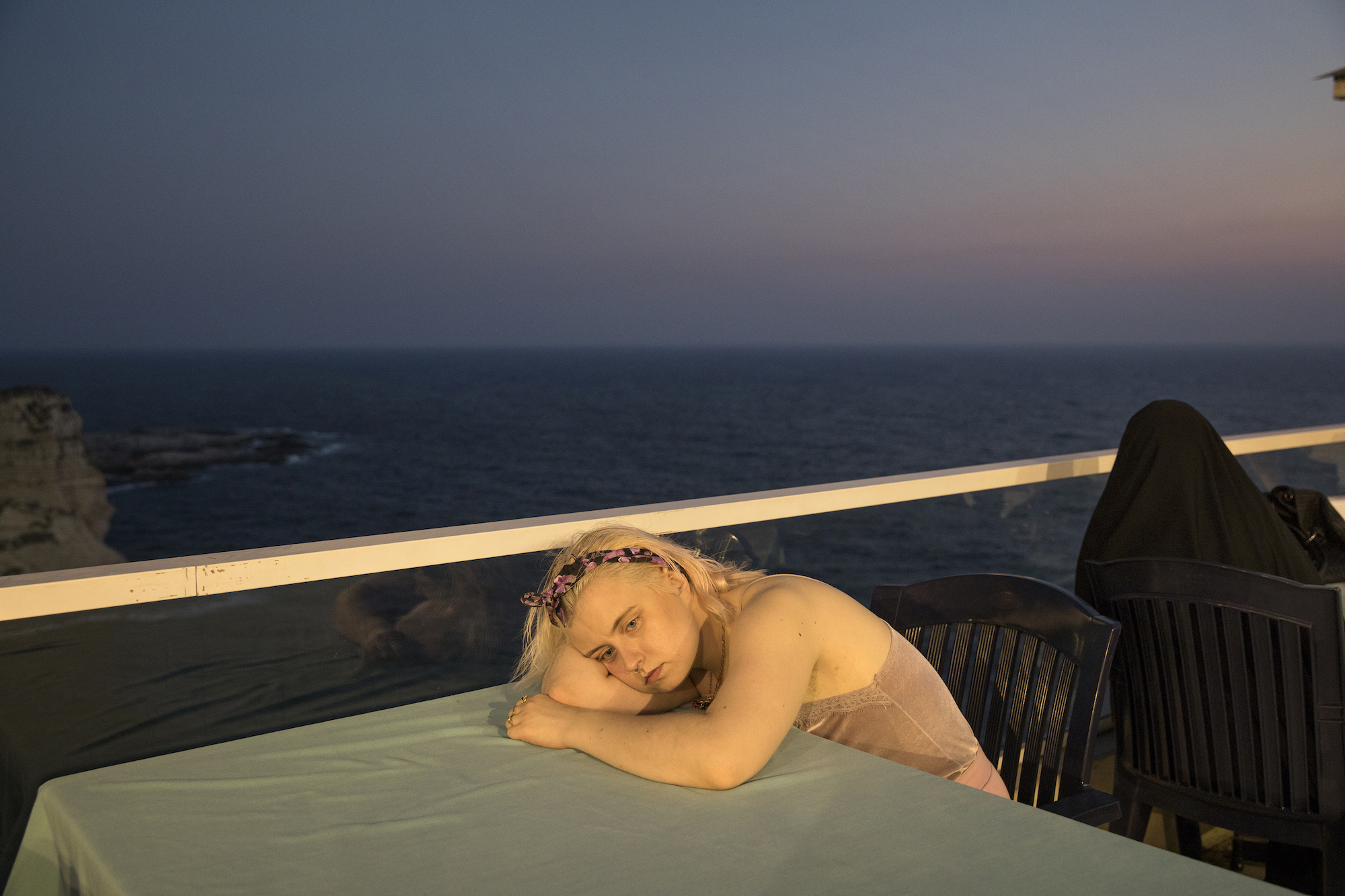 The hidden pages also include Korbus' erotic work and encounters, images which Depoorter initially didn't want to show. They're in the book because Korbus wanted them to be, and because Depoorter recognises they speak of her power, or position, or maybe collusion with what she shoots. There are photographs of Korbus giving a lap dance to a man in Paris, for example, as well as images of Korbus taken from a distance in Athens, dancing erotically. Depoorter writes she wasn't sure if the latter dance was for her or for the two men present, who she somehow kept out of the frame. There are images of Korbus kissing an older man in Beirut, in which both are clearly aware of the camera.
"The institutionalised art world did not seem to contain any of the transgression that art itself evoked in me"
When she first exhibited her work with Korbus, Depoorter showed only one shot from this sequence – an image in which neither Korbus nor the man looked at her. Here Depoorter has chosen to show multiple images of all of Korbus' intimate scenes, presenting them small, as if on a contact sheet, in doing so revealing her uneasy fascination. "I usually don't take so many photos of one single moment," she writes of her shots of Korbus with the older man. "I am excited and intrigued by the situation. At the same time, I also hate it. I am repulsed by the sexual appetite of the man. I am confused by the way Agata lets herself be touched. I am confused by her gaze, and by her question: 'Did you get "the picture"?'."
When she ends the project, by letter in October 2019, it's partly because of this sense of responsibility, this worry that Korbus will do things for her to photograph. But she adds it's also because of her own confusion, and her fear for herself. "There are no boundaries any more," she writes, "and I'm not sure that's good for me." Ultimately, the entire book pivots on uncertainty, which sounds like it could be a mess, but reads like sophistication, a radical acceptance of multiple perspectives.
All images courtesy Bieke Depoorter