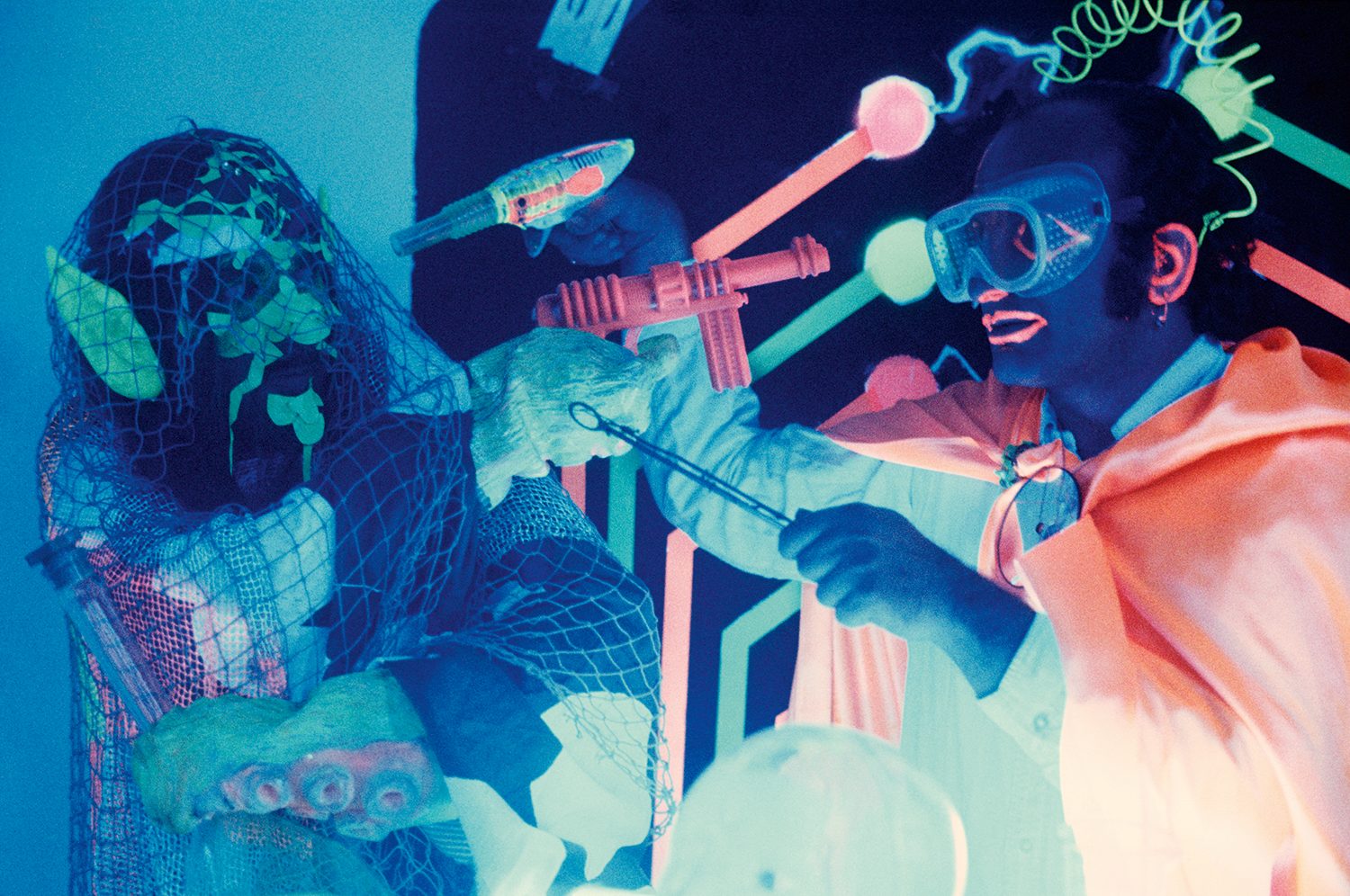 Sometimes with art—and indeed with many other things—it's the ideas that appear to be the simplest in process that produce the most profound effects. Such was the case with William S. Burroughs and artist Brion Gysin's Dreamachine, an illuminated, spinning perforated paper tube that aimed to induce a dreamlike state in viewers sat directly in front of it, eyes closed, using light waves emitted at between eight and thirteen hertz that mimic the brain's alpha waves.
This simple mechanism, used for its supposed transformative qualities, was shared by peer and friend of Burroughs Ira Cohen, who created the "Mylar Chamber" from his loft studio in New York. The name might sound pretty esoteric; but "Mylar" is in fact just another term for polyester film or plastic sheeting. 
Au Harem © The Estate of Ira Cohen, 2019
Cellophane Maja © The Estate of Ira Cohen, 2019
Cohen worked across poetry, photography and filmmaking; he made a name for himself through a series of images shot between 1968 and 1971 in his aforementioned chamber. The room used boards hung with reflective Mylar film, created with artist and set designer Robert LaVigne. Among Cohen's impressively glittering list of chamber subjects were the likes of Jimi Hendrix, film director Alejandro Jodorowsky, actress Petra Vogt and Burroughs himself. Cohen's direction for all his guests was simply to use the space as somewhere to "play with another self"; and in their doing so, he created an entire original, utterly captivating mode of portraiture.
A beautiful new publication from Fulgur Press draws together Cohen's work from the series, presenting, as Life Magazine put it, his portrayal of the "euphoric distortions of hallucinogenics".
The Three Faces of Alejandro Jodorowsky © The Estate of Ira Cohen, 2019
Kenji © The Estate of Ira Cohen, 2019
But they're not just fantasies and fripperies: Cohen looked to use his work to explore ideas around identity and its relationship to image. In an interview that opens the book, Cohen describes the "Mylar experience" as "all part of the 1960s experience…It was all in the air, people were body painting and face painting."
"It's like opening up a Pandora's box of Cosmic Imagery"
The artist goes on to describe his images as drawing heavily on both theatricality and comic books in his use of heavy makeup and stylisation: "…as I look back on it, the imagery that we were working with in some sense [contained] icons and archetypes… it's like opening up a Pandora's box of Cosmic Imagery."
The images in the book are frequently presented as dazzling gatefolds; more than seventy works are shown in total that demonstrate the strangeness and breadth both of his process and the people he photographed. The images were digitally restored from the original negatives by Cohen's friend and collaborator Ira Landgarten, a fellow photographer and Indian classical music scholar who had worked with Cohen on his film Kings with Straw Mats (1986). 
Alongside the images, Ira Cohen: Into the Mylar Chamber features excerpts from Cohen's poetry and an interview with the artist, as well as writings from Allan Graubard and Ian MacFadyen, art dealer and writer Timothy Baum, dancer and choreographer Alice Farley and musician Thurston Moore, best known for his work in Sonic Youth.
William Burroughs and His Gilded Cobra © The Estate of Ira Cohen, 2019
Vali Myers © The Estate of Ira Cohen, 2019
Born in the Bronx, New York, in 1935, Cohen had a fascinating life; brought up by deaf parents, he went on to study under Vladimir Nabokov at Cornell University before dropping out. He later travelled to Morocco, where he lived in Tangier for four years and literary magazine GNAOUA, which focused on themes around exorcism. He published Beat-era prose and poetry by the likes of Gysin, Burroughs and Harold Norse; as well as showcasing work by performance artist, photographer and filmmaker Jack Smith.
"The photographic image is never static and never simply a memento. It is the image of metamorphosis"
The trance-like feeling of Cohen's Mylar images feels like a direct reflection of his main interests throughout the disciplines he explored—his work, in whatever medium, appears to be resolutely focused on the states of mind we can never quite explain. These are experiences that we often never truly "see" in an ocular, traditional way. A few years before producing the Mylar photographs, he had produced Jilala, field recordings of trance music by a sect of Moroccan dervishes made by composer and author Paul Bowles and Brion Gysin, which was originally released in 1965.
In a Mist of Emperors [Ira Cohen and Rosalind Schwartz] © The Estate of Ira Cohen, 2019
The Unholy Trio © The Estate of Ira Cohen, 2019
Indeed, the work does feel trance-like, but also playful and almost pantomimic; which is part of its DIY joy. It breaches the territory between otherworldly and "I could make this at home"—two of the most joyful things when it comes to a pure, playful sense of creativity.
As Allan Graubard surmises, among the "charms that the photos retain" are that they "seem as if taken just yesterday… the photographic image is never static and never simply a memento. It is the image of metamorphosis and the metamorphic image. It is the image of a moment that surpasses itself."