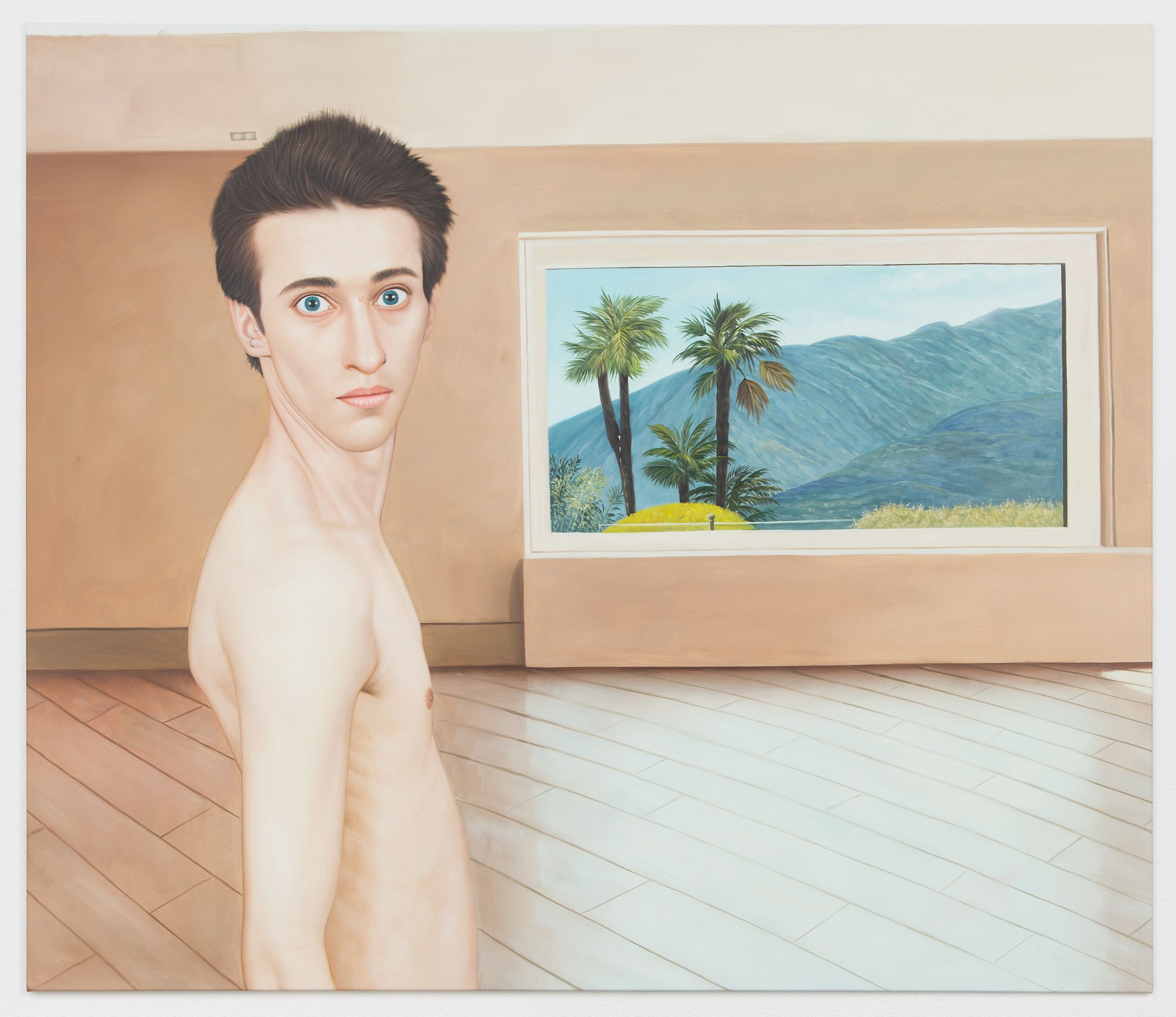 Many international boutique fairs have taken on hugely characterful and irregular buildings—think the excellent Paris Internationale, which enjoyed its second edition alongside FIAC last October in a warren-like four storey mansion, or Liste in Basel, housed last June at the higgledy-piggledy Burgweg 15—in a clear move away from the white-blocked alleyways that define the larger fairs. Independent Brussels, which has its last day today at the city's graceful Vanderborght Building, instead goes for simplicity of space, with vast glass windows, plenty of natural light and almost identical levels surrounding a central atrium.
"Dzama is one of the only artists I can think of for whom a heavy influence of surrealism doesn't pull the work into a cliched territory"
In stark and effective contrast to the clean nature of the space itself, within this structure, much of the work has a decidedly peculiar spin, with many pieces touching on uncomfortable areas of the subconscious without falling into kookiness for the sake of it. This is led in no small part by Marcel Dzama's group exhibition at David Zwirner, The Mask Makers, where the works of a terrific range of artists including Rose Wylie, David Altmejd, Peter Doig and James Ensorare are mounted on Dzama's specially designed wallpaper. Dzama is one of the only artists I can think of for whom a heavy influence of surrealism doesn't pull the work into a cliched territory and this is reflected throughout his display.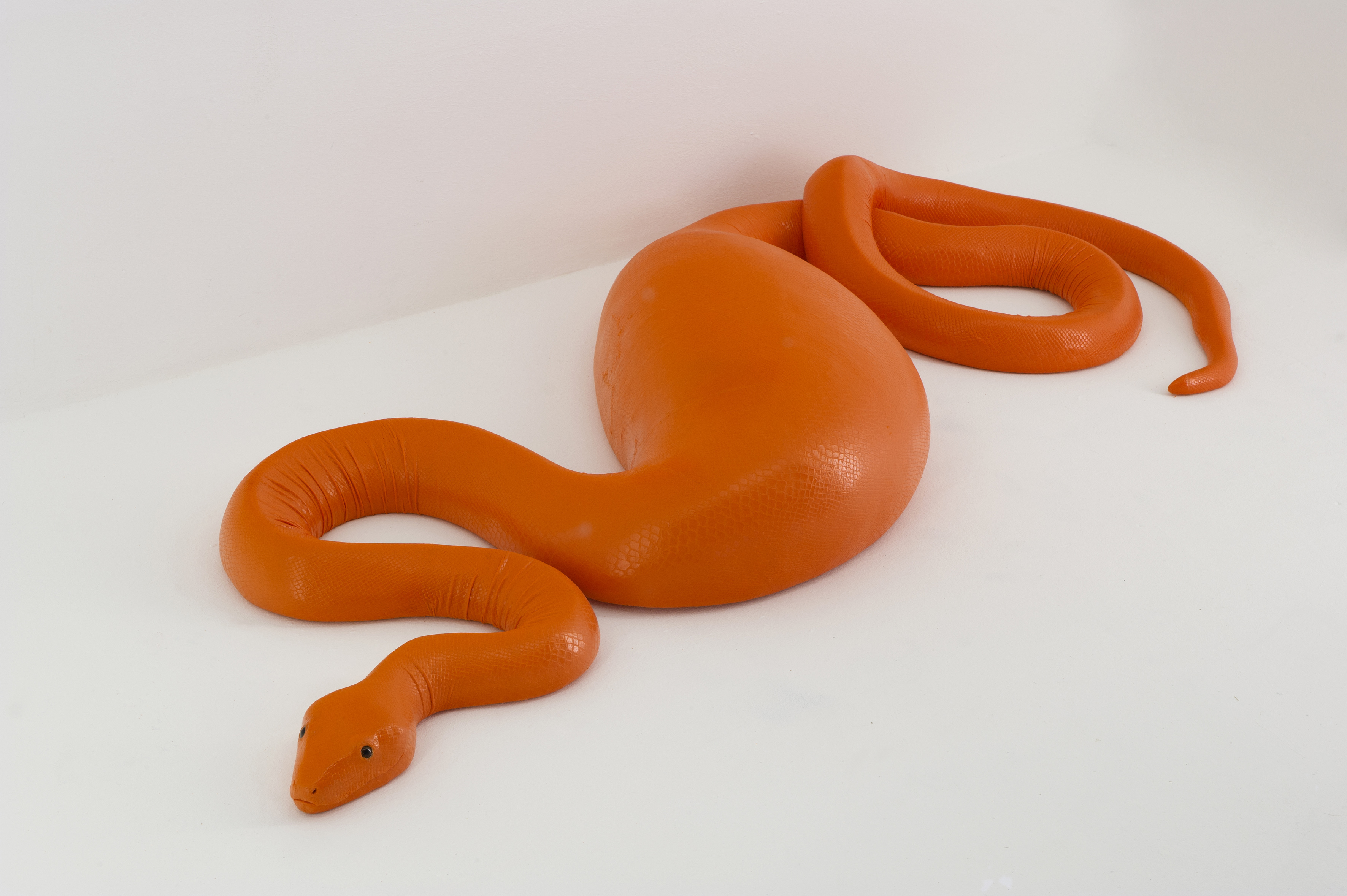 Air de Paris have a subtly unnerving selection of works too, with Carsten Höller's fat, orange Snake curled up in the middle of the booth, apparently post-meal. He's smooth and cuddly looking but also oddly life-like, the stuff of bad dreams stripped here of any wider context. A painting by Eliza Douglas has a similar sense of gentle unease, as a skinny topless chap turns his head, owl-like, to stare down the viewer. Apart from his bulging blue eyes, the surrounding scene is tranquil; a flesh-toned wall reflecting gently off polished floorboards and a mountain-scape shown outside through a neatly framed window. Douglas's Follow Me is eerie too, a whirlwind of Mr Tickle-esque arms in pastel striped sleeves meeting with a pair of pasty hands at the centre.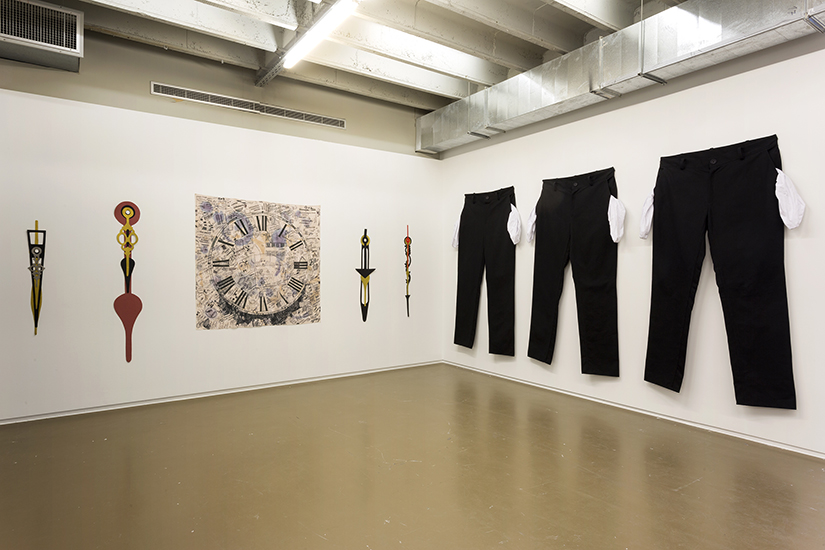 Amanda Ross-Ho's installation at Praz-Delavallade, from Paris and Los Angeles, appears to speak of another dimension entirely, with three pairs of enormous trousers, pockets inside out, hanging side by side on the wall and reaching almost from the floor to the ceiling. A selection of clock face images, drawn into with maniacal black-toothed grins, scribbled out words and series of numbers give an even greater sense of falling down the rabbit hole.
White Columns, from New York, whose director Matthew Higgs is Creative Advisor at Independent, has gone full acid trip, with a solo project from Brussels-based artist Alex Morrison who is showing work alongside pieces from The Catherine Vertige Collection. The collection contains a series of works from the 70s and 80s by curator Sonia Dermience that are comprised of cut-outs from fashion magazines and catalogues. Dermience stored these by category in specially made boxes. In Morrison's original works, grey fungus sprouts from castle-like structures on the floor and dead-eyed figures walk through black-skied, giant mushroom sprouting landscapes in digitally created wall-hung pieces.
Kati Heck's disembodied Schutzengel of Painting at Tim Van Laere Gallery, from Antwerp, looks how one may feel towards the end of the aforementioned trip. A huge velvety head, cut off at the neck, lies on one side with eyes wide open, an enormous purple nose, crumpled mouth and white slumber cap sat on the top of the hair. Next to this, a torso with only one full arm is propped up drunkenly on the floor, the second arm cut off at the bicep revealing the soft insides of the piece. It's both horrific and funny at the same time.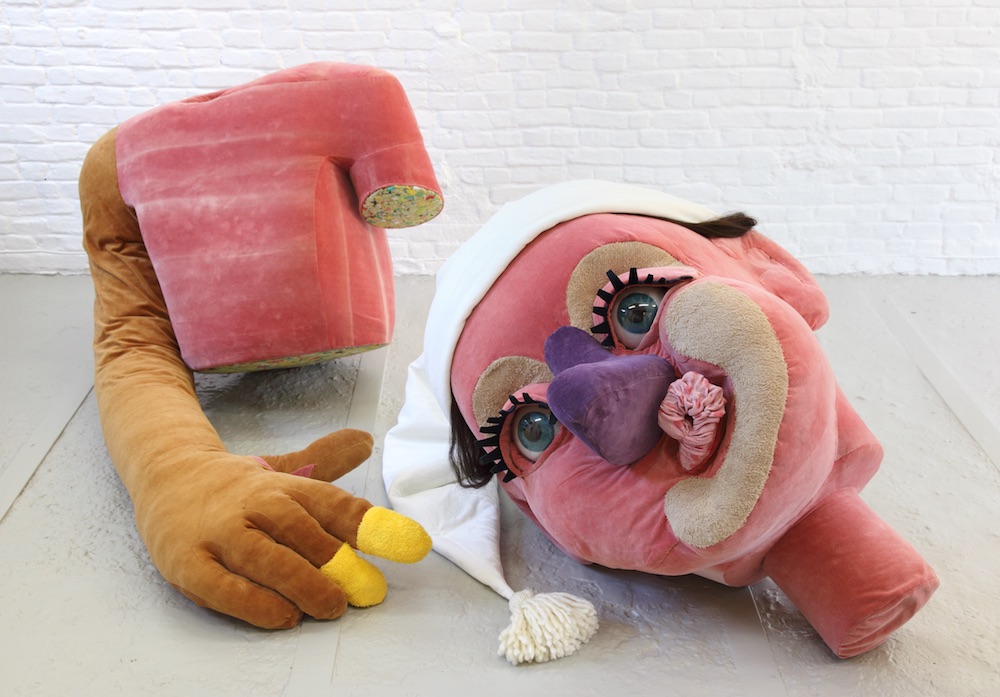 The ever-whimsical Liz Craft makes odd lightness of the body too, presenting a goofy gold sculpture of a lady lying on her side with one leg straight up in the air (calling to mind Victoria Beckham's much ridiculed #chilled side splits upload to Instagram), with Truth & Consequences, from Geneva. 
In all, Independent Brussels offers an unusually tranquil space in which to encounter a lively and dynamic selection of works–from large-scale to charmingly discreet. Don't miss Martos Gallery's minor plumbing issue on the first floor, who are also showing a hilariously miserable party scene, in the form of Sofi Brazzeal's Untitled (pink group with glass and clogs).