One Sweet Day features four years of work, hundreds of collaborators, Fra Angelico's paintings, saints, a papier mache cave and Freddie Mercury, Michael Jackson, Stevie Wonder and George Harrison. Warren gives new meaning to the word "mash-up" in her multi-dimensional work, the corollary of being a performance artist, director, erstwhile photographer and co-host "with my good buddy Matt Roche" of a fake public access, non-profit TV show, Whoop Dee Doo, in which Warren and Roche travel the US with a troupe of artists and performers in tow. It's a big party and everyone's invited when Warren is involved.
"My general style of directing these projects has been to go in knowing a painting I want to recreate, and a pop culture icon I adore who I would like to pay tribute to," Warren explains. Each of the four videos shown at The Hole was made during residencies in San Diego, Raleigh, NC, Brooklyn and Manhattan between 2014 and 2016, with non-professional groups from 3rd-grade students to adults. Working with communities has always been a central aspect of Warren's practice for the past decade and it's one of the things that keeps yielding surprises in her larger-than-life, carnivalesque work. "Creating everything and having an open studio to the public is such a complicated but wonderful way to work. I generally come in with the basics laid out and open up the process to whoever would like to collaborate and/or contribute ideas and characters, which often makes the outcome very bizarre, which is sort of my favourite part about it."
The most recent of the four video works, after George Harrison, shot in New York last year (as part of her residency at the NY Abron Arts Center) is an example of that weird and wonderful Warren magic. "That piece was more of an experiment–it was a re-creation of an Egyptian Papyrus painting and then a re-creation of Harrison's music video to the song "I Got My Mind Set On You", which was a video that terrified me as a child. The taxidermied animals come to life in the middle of the video and begin singing with him, so in my video, the animals and symbols slowly come to life as well, singing along with me, until the end where it is basically a giant party where each part is a moving puppet."
"I wish we had good documentation from behind the scenes, because this was filmed in my living room with a dozen puppeteers behind this cardboard wall who were completely smooshed and likely very uncomfortable, but also laughing the whole way through and drawing a ton of hilarious graffiti on the back of the set. It was a crazy night, but you would never guess it by watching the video," she tells me. "That is a big reason why I love to organize these projects—they are always these stressful and bizarre challenges that make for really memorable and wonderful experiences with all different groups of people. It's really amazing."
The centrepiece at The Hole is a cave. With the help of her crew, Warren spent ten days building the set in the gallery, based on a Fra Angelico painting from the 1400s, and acting as "a portal to the full installation where you find giant saints with red glowing eyes, vomiting deities carved into the cave, peepholes with skeletons, the graves of my central characters and the most recent video piece titled One Sweet Day–which starts off as Part 1 with four child actors recreating a nightmarish episode from the American 80s sitcom Punky Brewster–embedded into the main cave inside the church."
Medieval paintings are hardly the obvious choice for engaging high school children, or anyone who considers art history a fusty, dusty subject, but Warren makes it fun by connecting the symbols and motifs of then with the contemporary experience of idols and iconography. "I think that working with the different age groups and different communities of people, the paintings are a great starting point—using an accessible image to build from but still acknowledging that we may not have any knowledge of the painter, the painting, the era, etc, and being able to fill in the blanks of the story with things that excite us. I love showing kids that in this work, you can make this history up and no idea is too ridiculous."
Inside the cave, Warren's newest video work is installed among trees, 8ft saints and puppets. One Sweet Day brings Angelico's Studio Reconstitution of The Thebaid  vividly to life in the Pop present. "The painting itself has a completely morphed perspective, which I tried to convey in the installation." In the film, Warren reincarnates as Prince, David Bowie and Amy Winehouse—a homage to fallen icons. The cave will also be the set for her biggest performance to date, on 17 August. "The costumes are going to be incredible—a lot of handmade patterns on fabrics and giant headless characters, mixed of course with my regular, more contemporary favourites."
Each Warren production is an enormous undertaking and on top of working a full-time job Warren admits she's pretty exhausted, but it's not going to stop her. "I am very excited about the costuming and we are doing a lot of handmade work that is often hard to recognize–such as the greenery patches in the installation that look like a ton of silk plants, but they are thousands of hand-made, hand-painted leaves. I hope some people who see it in person can notice these things—it's such a huge part of what makes it great!"
It's clear that Warren and her entourage are having fun making these works but they're not only about the laughs, there's a murky, spooky—even macabre—attraction in her resurrection of dead icons and ominous creatures who hide behind the trees. But perhaps I've been watching too much Fargo lately, set in the Midwest, where Warren is from.
"The Midwest was always a badge of pride for me until Trump. Now I realize I had impenetrable blinders on about certain aspects of my community, about my family, about way too many things. I lived in the Midwest until I was thirty-three years old. I associated my family—owners of a biker bar—with Wisconsin, and the Midwest in general with happiness, friendliness and maybe a bit of naivety (both good and bad), myself included." Warren reflects. Not long ago Warren moved to New York, which is now her home. "I feel incredibly different now and I feel so honoured to be able to live in a city with such activism and social awareness and diversity and what I feel is overall love for every single one of its people. No city is perfect, but I feel like New York is so, so beautiful to its core, and I feel so incredibly privileged to be here and to try to learn about all that I can every day that I am here."
"Everything that is happening right now in the wake of this President has been very painful for so many, and on my end has really torn my family apart, but I feel so incredibly lucky to be here and can only hope that I can continue to find ways to contribute as an artist in the most sincere and meaningful ways possible."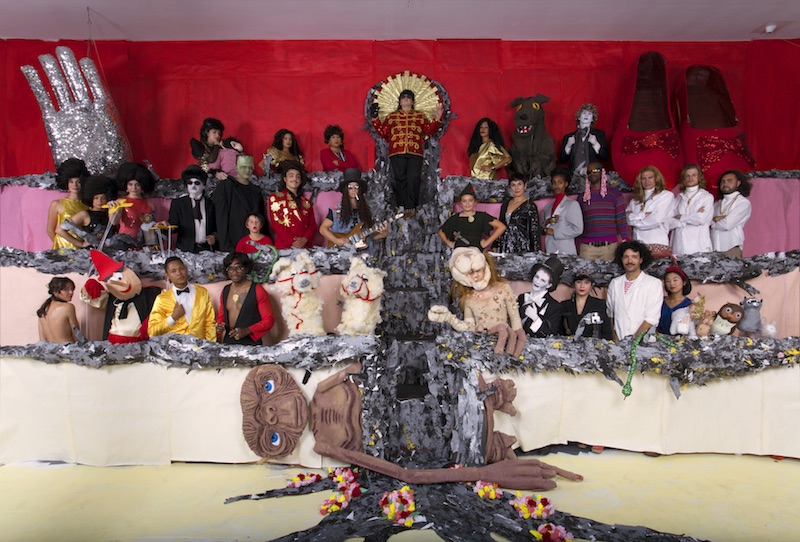 "One Sweet Day" shows at The Hole NYC until 3 September.