Subscribe to Elephant Magazine and receive two issues a year, full digital access and exclusive gifts!
For more than a decade, Elephant's innovative and imaginative print issues have connected our readers with the biggest names and most exciting emerging talents from the world of visual culture.
Our Spring/Summer 2022 issue featured performance art icon Marina Abramović on our main cover, and 2022 Turner Prize nominee Sin Wai Kin with 2019 Turner Prize winner Tai Shani on our special cover. Other recent cover stars have included musician Laurie Anderson, artist filmmaker John Akomfrah, and Ghanaian painters Otis Kwame Kye Quaicoe and Kwesi Botchway. The roll call of art world stars featured on our pages has included Theaster Gates, Ai Weiwei, Tracey Emin, Kahlil Joseph, Ayana V Jackson, Carrie Mae Weems, Faith Ringgold, Tim Walker and many more.
Each issue contains a diverse selection of interviews, profiles and must-read Elephant series, such as This Artwork Changed My Life, Paper Gallery and Snapshot. Each issue invites you to explore the most exciting new book releases and shows around the world, artists' go-to recipes for working late in the studio, first-hand accounts from the art world's unsung heroes and shopping wishlists full of the most desired new artist creations and designer collabs.
Subscribe to Elephant for all this and more.
Students! We offer 20% discount on your subscriptions!
Apply for your discount by sending your student number and proof of student status to [email protected]
Why not give Elephant as a gift?
Nothing says "I love you" like a year's worth of beautiful, thoughtfully curated pages dedicated to the joy of art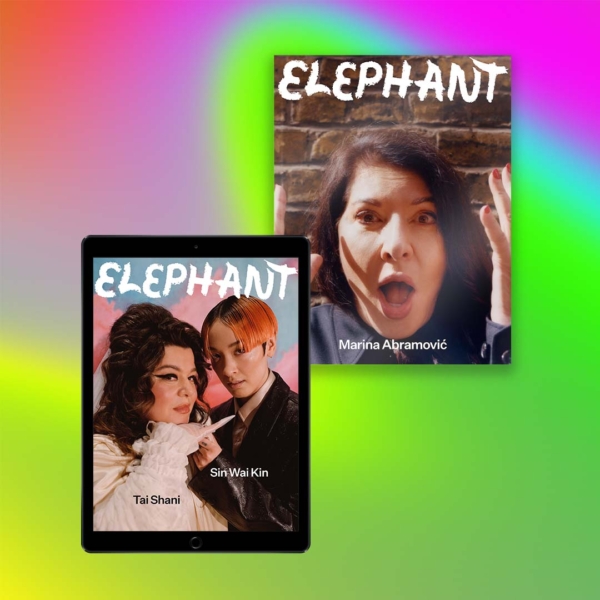 Students! Don't forget that we offer 20% discount on your subscriptions
Apply for your discount by sending your student number and proof of student status to [email protected]