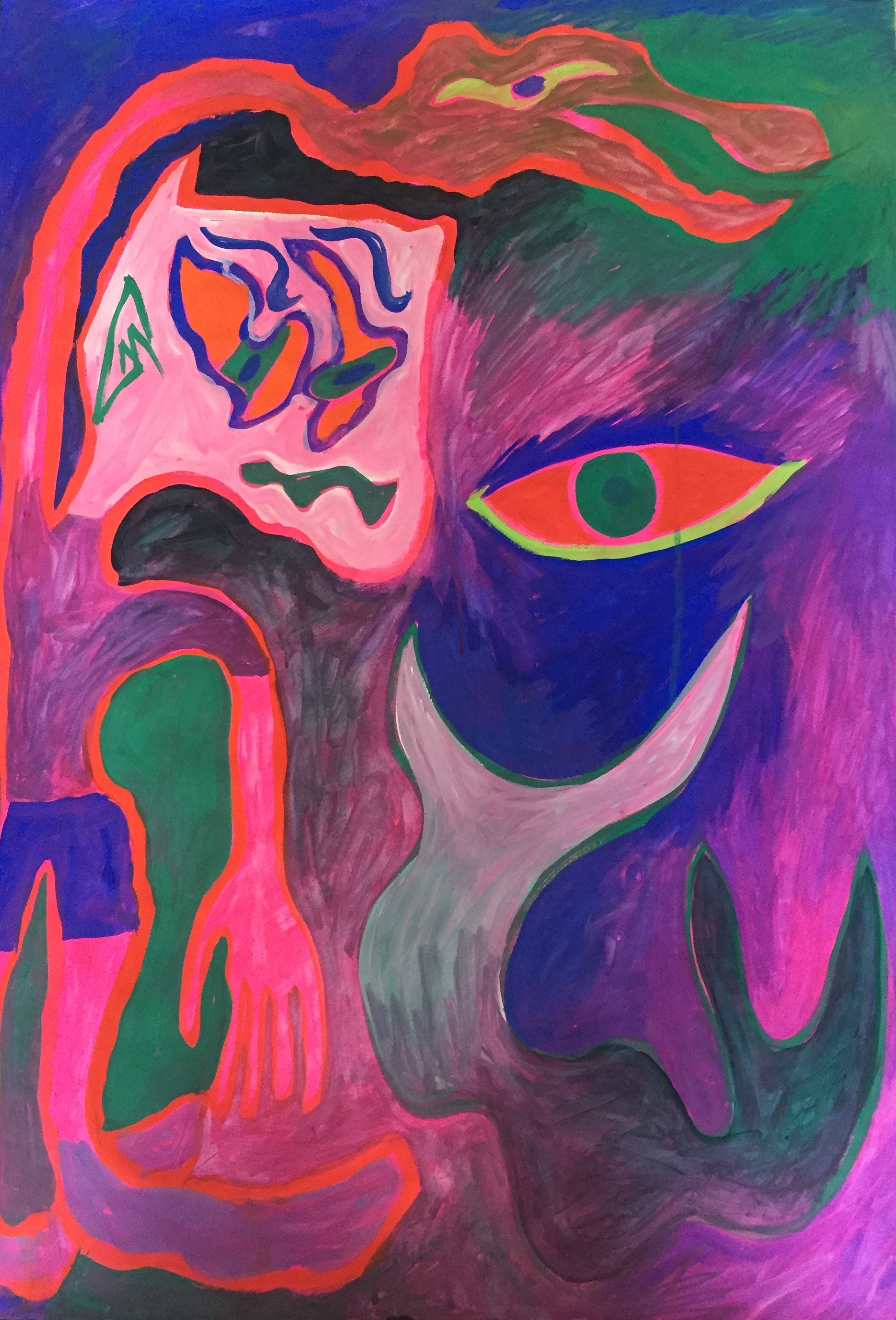 Drawing from comic books, hip-hop, folk art and art-historical figures such as Matisse and Florine Stettheimer, the artist's subjects are often young adults with impossibly long limbs who melt into backgrounds filled with everything from everyday interiors to mystical forests.
Your upcoming show at Marlborough is titled Juicy after Notorious B.I.G's 1994 single. Can you tell us about your relationship with hip-hop and the way its sensibilities have influenced your work? Is the music ever visible on the canvas?
The title of the show makes a nod to Biggie's 'Juicy', but also the song that gives 'Juicy' its hook, Mtume's 'Juicy Fruit'. Biggie and Puff took the 1982 sex funk jam and turned it into Rap's most iconic come-up anthem. It is a perfect snapshot of the birth of the economic and cultural dominance of Rap and a celebration of a young man bringing his family and community out of poverty and onto the stage of world art and culture. They were brilliant to name the song 'Juicy' (the word Juicy appears nowhere in Biggie's song), as it gives shine to the hook material and at the same time the word is so evocative of the spirit and content of the song. I always picture a peach about to pop or a girl blowing big wet bubbles of Juicy Fruit. The ability and freedom with which rap artists repurpose and revitalise music of the recent past has made major impressions on contemporary art. Rap music and culture is a huge influence on me. Specific rappers and depictions of Rap milieux have shown up in many of my paintings and sculptures. Rap is in an extremely vibrant period. Right now, I am listening to a lot of 21 Savage, Chief Keef, Kodak Black, Famous Dex, Future, Gucci, Katie Got Bandz, Rae Sremmurd, Soho Dice…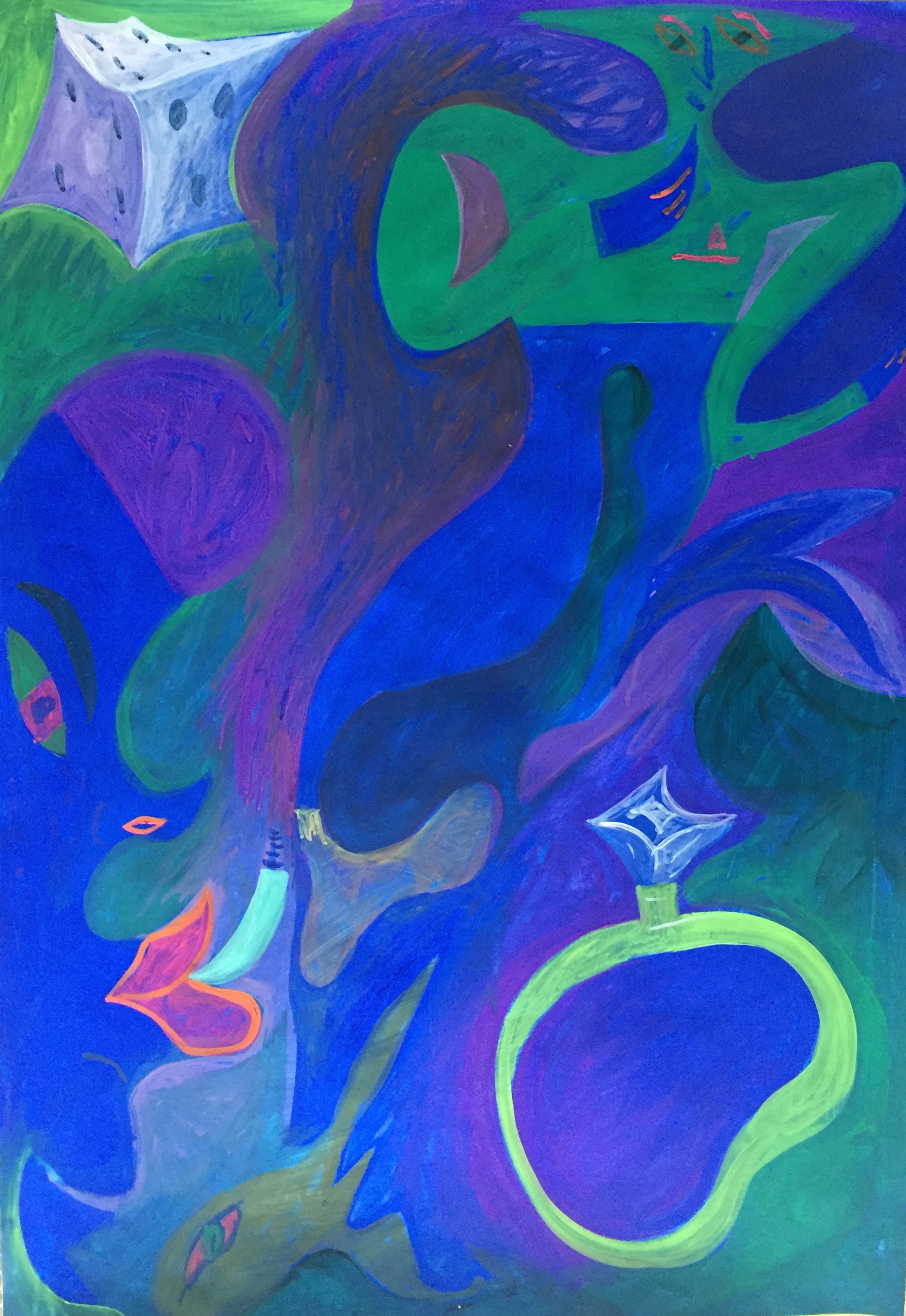 Your style really varies, but my favourite pieces of yours are those with many bodies in a busy landscape—the style reminds me a little of Florine Stettheimer (who's a very different influence compared with Biggie Smalls). Why are these really complex compositions so appealing to you?
The line is the constant that runs through the sculptures and different approaches to drawing and painting. I have always been too scatterbrained to move forward with one aesthetic approach. There tend to be two or three modes that I work in at a time. Stettheimer is amazing, I love the way she tilts up the plane to show more figures, elongates the figures and manages to employ such a buoyant and recognisable palate. James Ensor is a similar artist in the way he deals with crowded space and colour placement. I am not quite sure why I tend to fill up the picture plane but it is a compulsion that has always been there for me.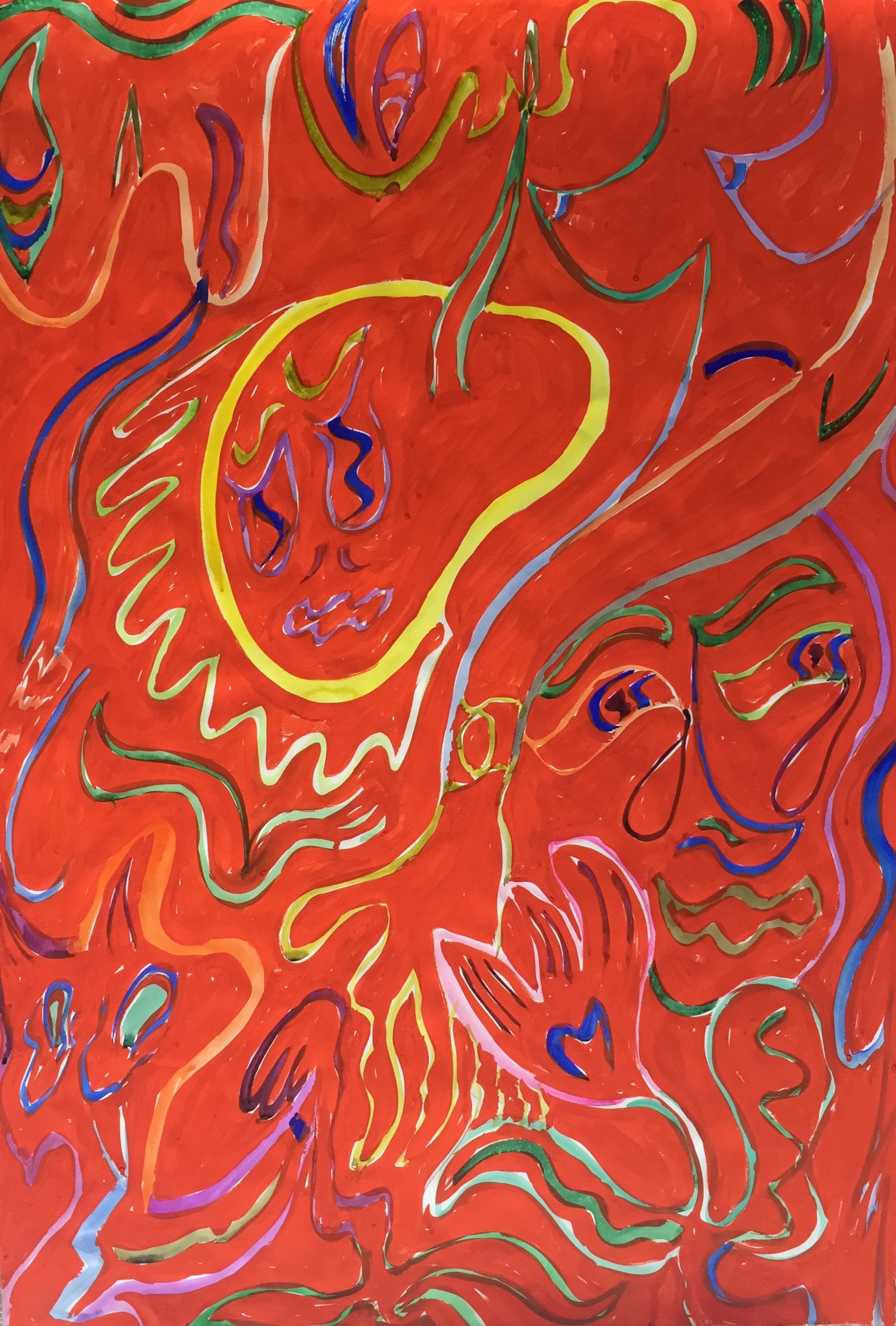 There are elements in some of your paintings that are quite disturbing – I'm thinking mainly of the woodland trolls and mythical creatures that exude a kind of threatening sexuality. Some of them are depicted having sex with human women. It's funny, but it's also quite dark. What's behind these?
The little green man stands in as an avatar for base male sexuality. It is not violent, all of the women are enjoying themselves. I want them to be funny, sort of laughing at the hungry dog and pathetic perversion of men, myself included. I am a big fan of the erotic Edo prints' ability to be hot and weirdly comical at the same time.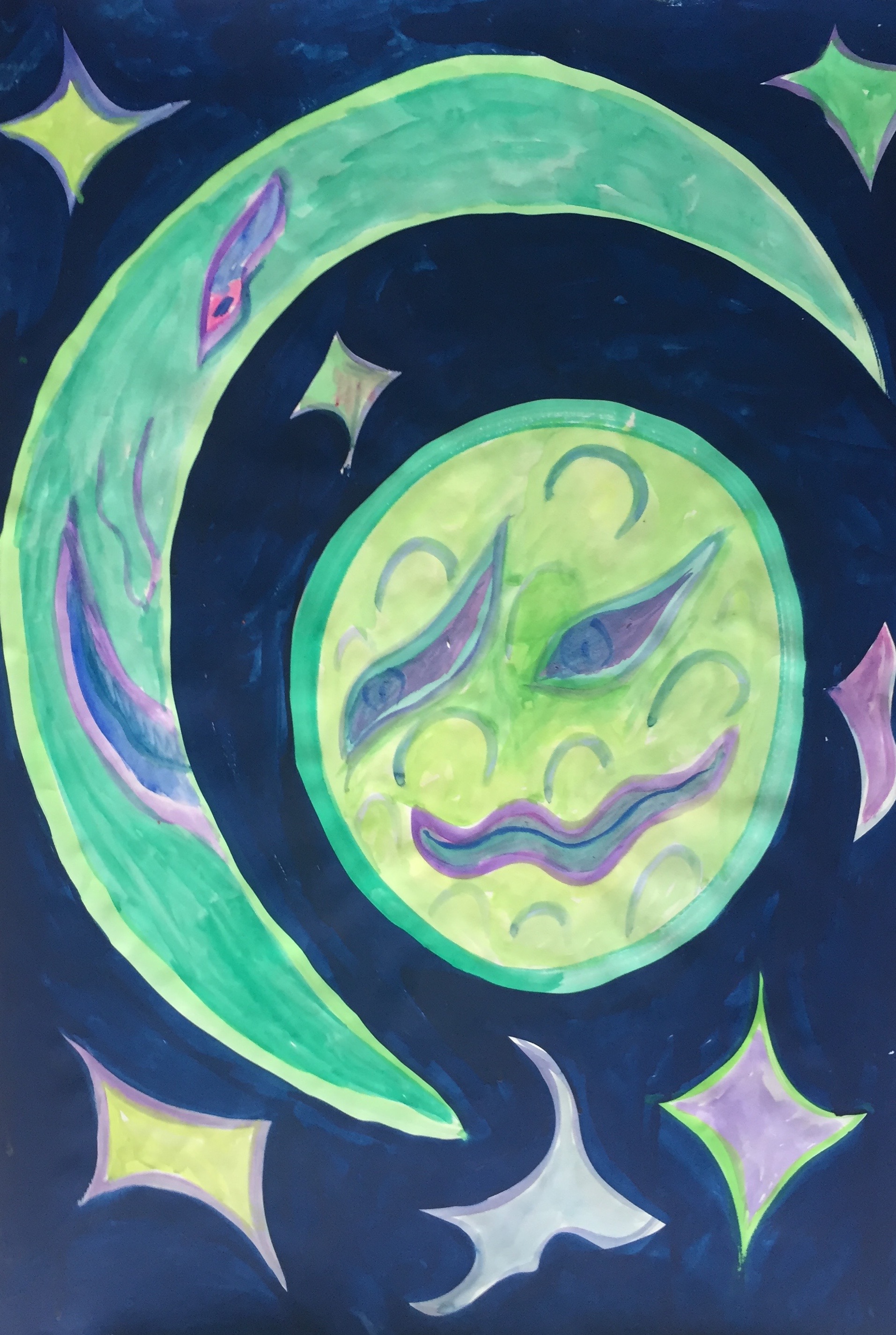 The works in Juicy are going to be hung 'salon-style'—filling the room from top to bottom. This format is an entirely new direction for the gallery, but (I guess not incidentally) it's a style that can be seen depicted again and again in the paintings you were making around 5 years ago. What is it about this type of presentation of artwork that interests you? How do you think it will change the experience of those who come to visit the show?
It democratises the work, everything is on the same value plane. Normally there is one wall that is particularly stunning and you put the best work there. I have always loved Watteau's The Shop Sign of Gersaint and those Rococo Salon paintings. Paintings in paintings is a good device, and the depiction of art commerce is always fun to see. This will be the first IRL version I have done.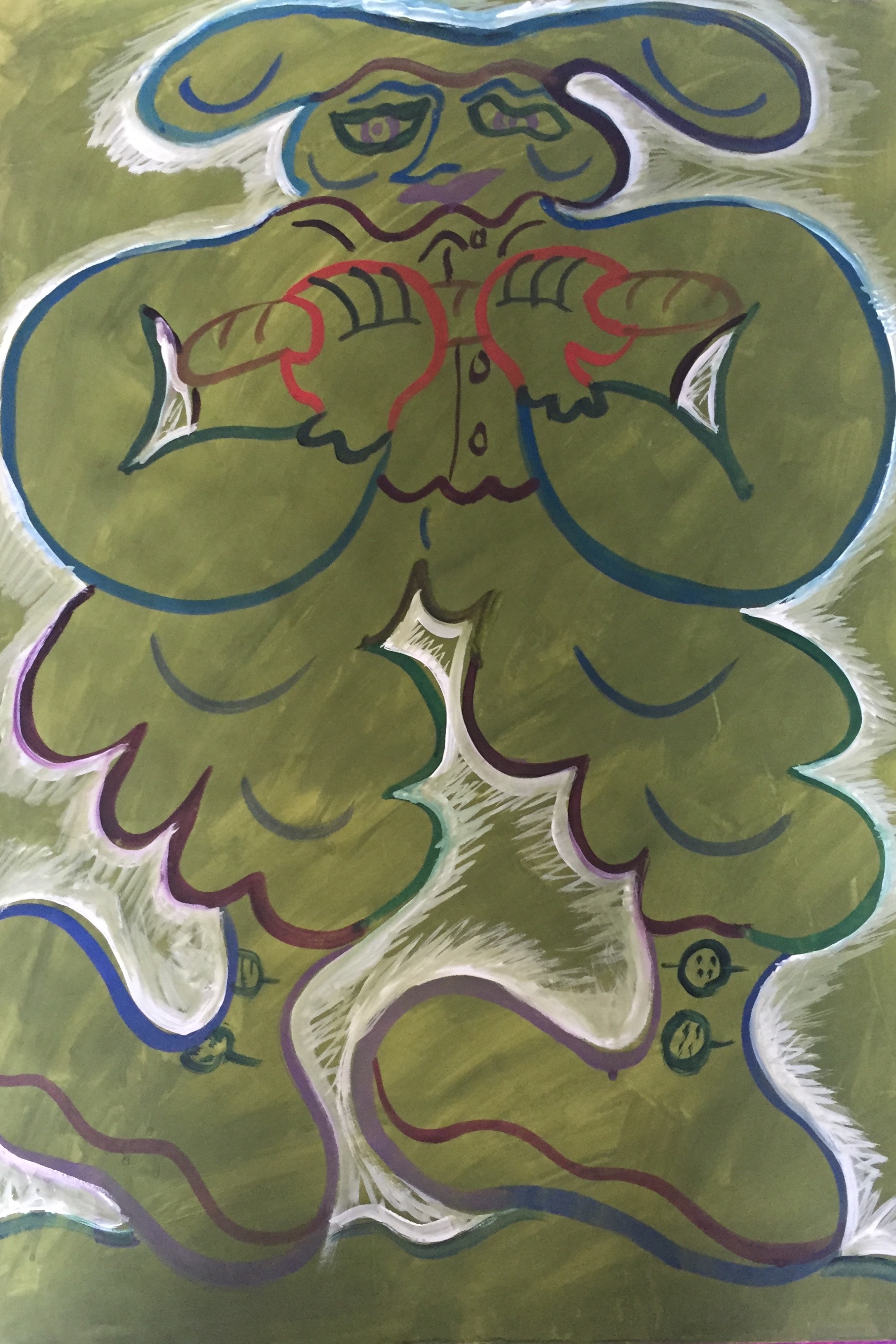 What have you got coming up over the course of the next year?
I'm working with my partners Chris Rexroad and Watts at GIFCWORLDWIDE to continue producing exhibitions and parties, bringing larger scale events to NYC and London. We are working on our first instalment in the GIFC Apparel line working with artists Jeanette Hayes and Kristian Touborg on clothing collaborations. I plan to do a show with David Risley Gallery next year.
'Juicy' shows at Marlborough Contemporary until 7 January 2017