Our content focuses on the intersection of visual culture and society at large. Our subject matter
spans many topics through the lens of art, including discussions on health, identity, sexuality,
finance and more. Below are guidelines for pitching online stories to us; articles for print are
commissioned separately.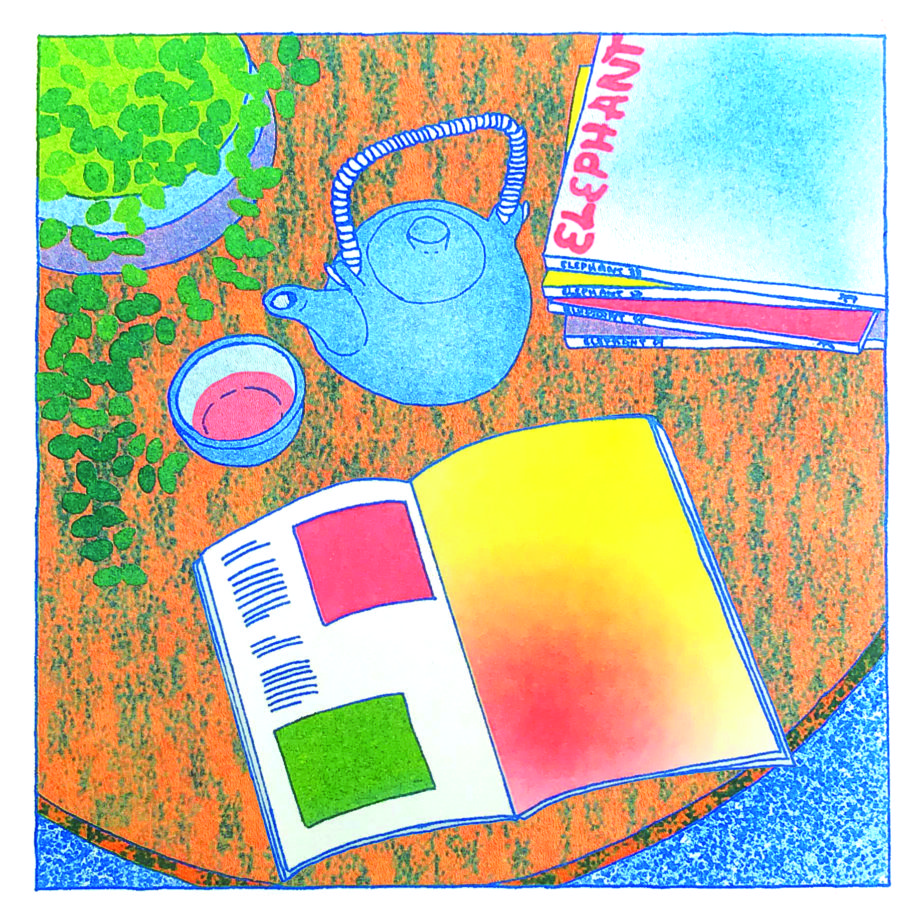 What We're Looking For
We are seeking original stories with a clear visual arts angle. When pitching, please consider what makes this story unique, and why you would be the right person to tell it.
The writing that we publish is knowledgeable, personal and wide-ranging, but it must also be inviting and accessible to a non-art audience. At Elephant we believe that art and visual culture should be open to all, and while we value expertise, we are looking for writers who can also effectively communicate their ideas to a diverse readership.
The following article types and editorial series are open to pitches.
Opinion
We are looking for bold new perspectives on issues that relate to the visual arts, written from a clearly articulated first-person perspective. Here are some examples: "The Problem with Women's Networking"; "How Coronavirus Ate the Art School"; "Should We Stop Celebrating Artists Who Were Sexual Abusers?"; "Queer Artists Are Having a Moment, But Is This Truly Radical?"
Observations
In these pieces, writers choose a theme or trend to explore through numerous works of art, as well as in other forms of culture, such as television, cinema, fashion and music. Our Observations pieces often make unusual or surprising connections between seemingly disparate artists and the wider world. Please note that the selection of artworks in these pieces must be focused primarily on the contemporary scene. Some previous examples include: "The Artists Proving Felt Tips and Colouring Pencils Aren't Just for Kids"; "How Ecosexuality Found Fertile Ground in the Art World"; and "The Bathtub in Visual Culture".
Investigation
Our investigations take a look at aspects of the creative industry that are rarely considered, bringing together a range of perspectives from multiple interviewees. Some previous examples include: "Does the Art World Have a Drinking Problem?"; "This Is What It's Like to Be Paid by The Government to Make Art"; "Why Can't the Creative Industry Get Enough Sleep?"; "What It Means to Make Art in Prison"; and "This Is What It's Really Like to Be a Gallery Attendant".
This Artwork Changed My Life
In this series of personal essays writers discuss their transformative encounters with art. You can view the entire series here.
Secret History
These stories explore rarely-told pieces of visual history, often from outside of the mainstream, bringing surprising, remarkable and against-the-odds journeys into the light. These could be anything from the story of Kewpie, South Africa's unsung queer icon to "bag lady artist" Lee Godie.
What We're Not Looking For
Unlike other art magazines, we don't publish reviews
Please don't email us asking to review a current or upcoming exhibition. However, we do accept pitches for pieces that take a new exhibition as a starting point to explore a wider theme—this piece on mushrooms in art is a good example.
Please don't simply forward press releases or press trip invitations with a request to cover these.
It is likely that we will have received the same release. If you would like to send a pitch based on a press release, please consider what your angle will be, and what makes it an original story that will work for Elephant.
We don't consider pieces for publication that have already been written.
Instead, we work with writers from the point of pitching and commissioning, in order to shape the story and ensure that it is right for our audience.
How to Pitch
Please make sure that your email is clearly labelled "Pitch" in the subject line, along with a suggested headline for your piece, and flag if it is a time-sensitive story.
Keep your pitch to a maximum of 200 words. If you are unsure of how to structure your pitch, we suggest following this template:
Working title:
Pitch:
Article type:
Section (Art / Design / Life & Culture / Photography):
Key artists/interviewees:
Relevant links:
We ask that all writers supply copyright-approved images to run alongside their text. Please consider how you might source these images, and specify this when pitching.
Email us at pitches@elephant.art.
We look forward to hearing from you.