In her use of temporal materials and photographic images, Motto's practice is a playful exploration of time and digital and physical space: where she uses nets and threads, her work appears like floating line drawings, where she uses pixelated prints, her work appears like screens that have been crushed and folded. Often installing straight into a space and using materials, like dough, that will alter over the course of an exhibition, Motto's approach to sculpture is a lot about knowing when to let the materials get on with their lives.
Since graduating with a BFA in Fine Art from The Ruskin in 2014, Motto has exhibited at a number of galleries and institutions, including the Tate Modern and the ICA, and is currently installing work for an upcoming show as part of the Art Licks Weekend.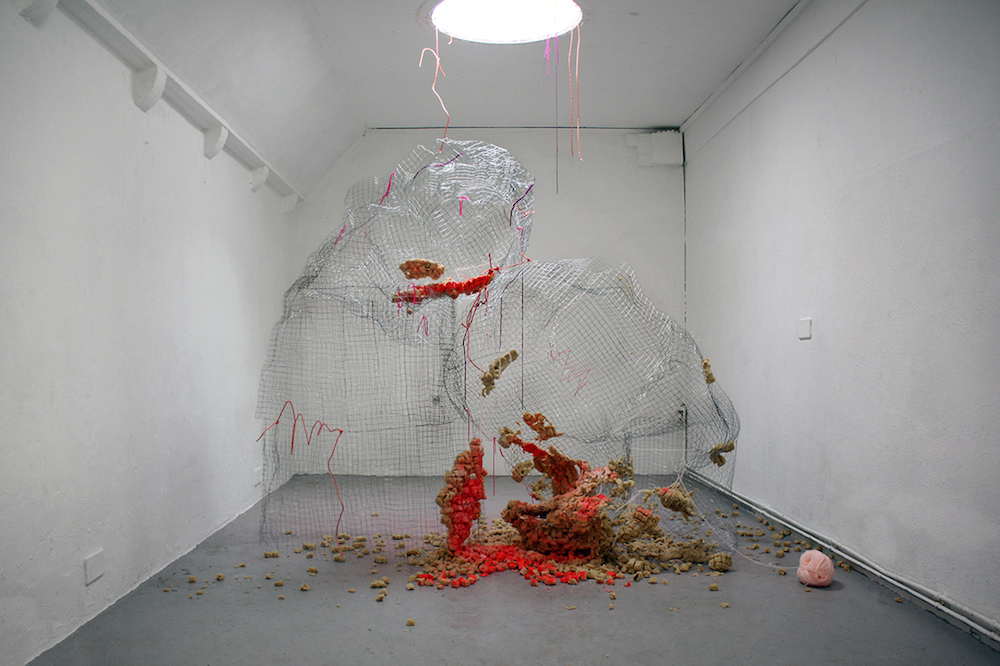 Your work is materially very rich, and you utilize materials like dough which of course cannot last forever. Is this transience important to your practice? 
Yes definitely. The materials I've used are often in processes of physical change, so whenever they're seen, they're different. I really like that about the dough I've been making and using – that it has this temporality that you can see so visually. It has all these dependencies on the atmosphere around it – the temperature, humidity, and the way it's been mixed and shaped, that its surface and form is able to capture. With a bodily capacity, by the end of the exhibition, the extruded dough had faded to these desaturated colours, and developed solid crystals all over the surface. It had a completely different tactility from the opening.
You often incorporate images into your sculptures: scrunching and rolling photographic prints. What drew you to this way of working? 
When working in Beijing I met a photographer who helped me print some really enlarged digital photographs onto giant sheets of mulberry paper, which had this strange suede-like texture when saturated with gradients of ink at that scale. I stitched those prints into this bulky shape that I took with me around the city, and I wanted to bring it back home for an exhibition, so squashed it in my suitcase! When I took it out it was all crumpled and worn, and had picked up these lines from the folds, and rips from the journey – but I was fascinated by the resilience of the pixels in the images, and this other plane it was referencing, which was still so clear. I loved that it could be flat-packed too. That was the start of the postures I began making. The forms in that show were physically very fragile and delicate – but at the same time carried these surfaces of almost-images – shadows and contours and lines that were resilient, durable, regardless.
These images vary from pixelated abstracts to photographs of smiling faces. How do you choose them? 
Mostly based on formal elements of the photographs – a combination of the colours, shadows and compositions of shapes in them, and chosen quite instinctively. And they've always been of people in some way. I am fascinated by how much space we fill and consume, and how that can be perceived. The 'abstracts' are just abstract because of their scale. It's fascinating how images can be communicated between digital and physical material, and how that content then functions when used to create voluminous forms again, disrupted and reintroduced into a tangible and palpable realm, and on a larger-than-life scale.
How do you know when a work is finished?
Sometimes leaving something and returning to it, or living in a space with it for a while – or sometimes seeing if something else that's brought into the space – can complete it in some way. At the studio I've been working on recently, I've found that these kinds of assemblages have been building in that way – combinations of objects falling into place, hoarded objects waiting to be used, and half-constructed forms that have been replaced by something else, or ended up being used to lift or support something new. What's important in lots of my work is that you can see the making, and the physical relationships that allow these things to come to be seen as they are – that's where they get their energy from. It's also about being a little lazy sometimes, using what's already there, and leaving some gaps – room to breathe and step into. I think leaving something 'almost' finished is often a great finishing point.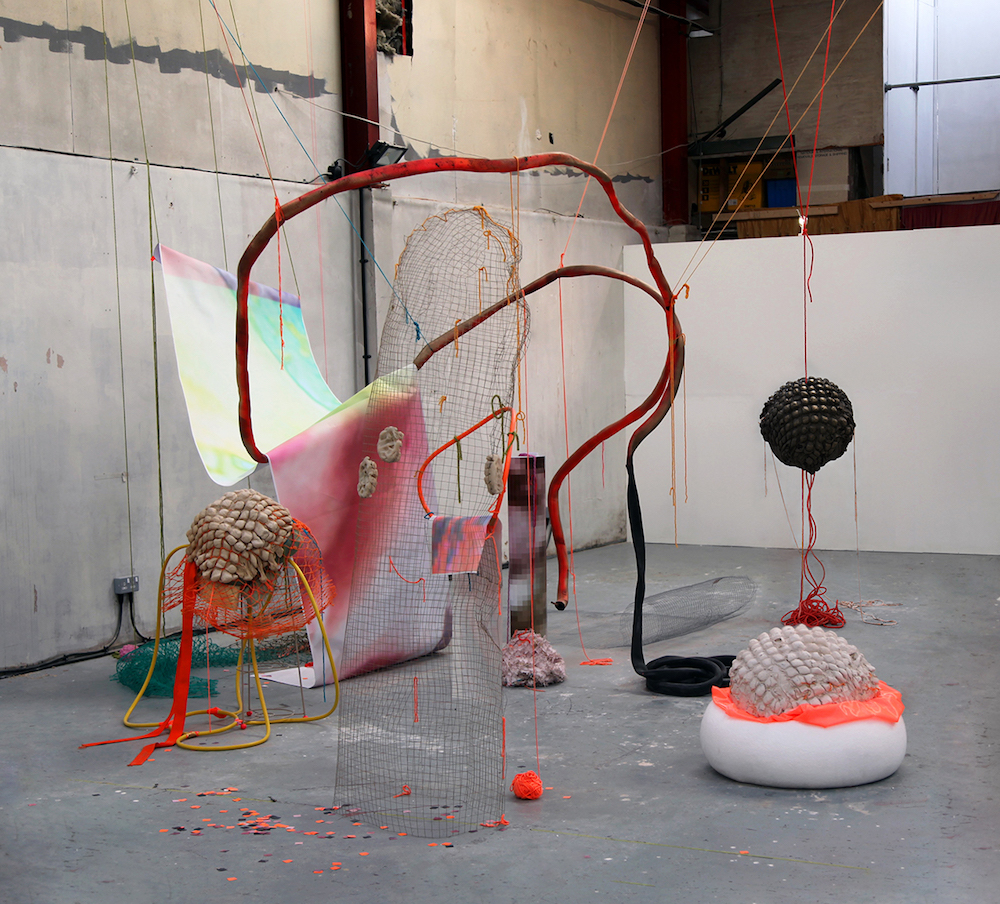 Do your installations and sculptures usually start off as drawings, or is there more of an element of chance in your working process?
I do a lot of doodling of potential structures which often stem from something that's happened or fallen or been made when playing about with materials – but those usually turn into something quite different when it comes to making. It's a symbiotic process, and a practice of physically trying things out, being open to things unplanned. I love drawing independently of that work as well, although those kinds of lines and compositions definitely feed into ways of assembling and gathering structures and clusters in other things I make too.