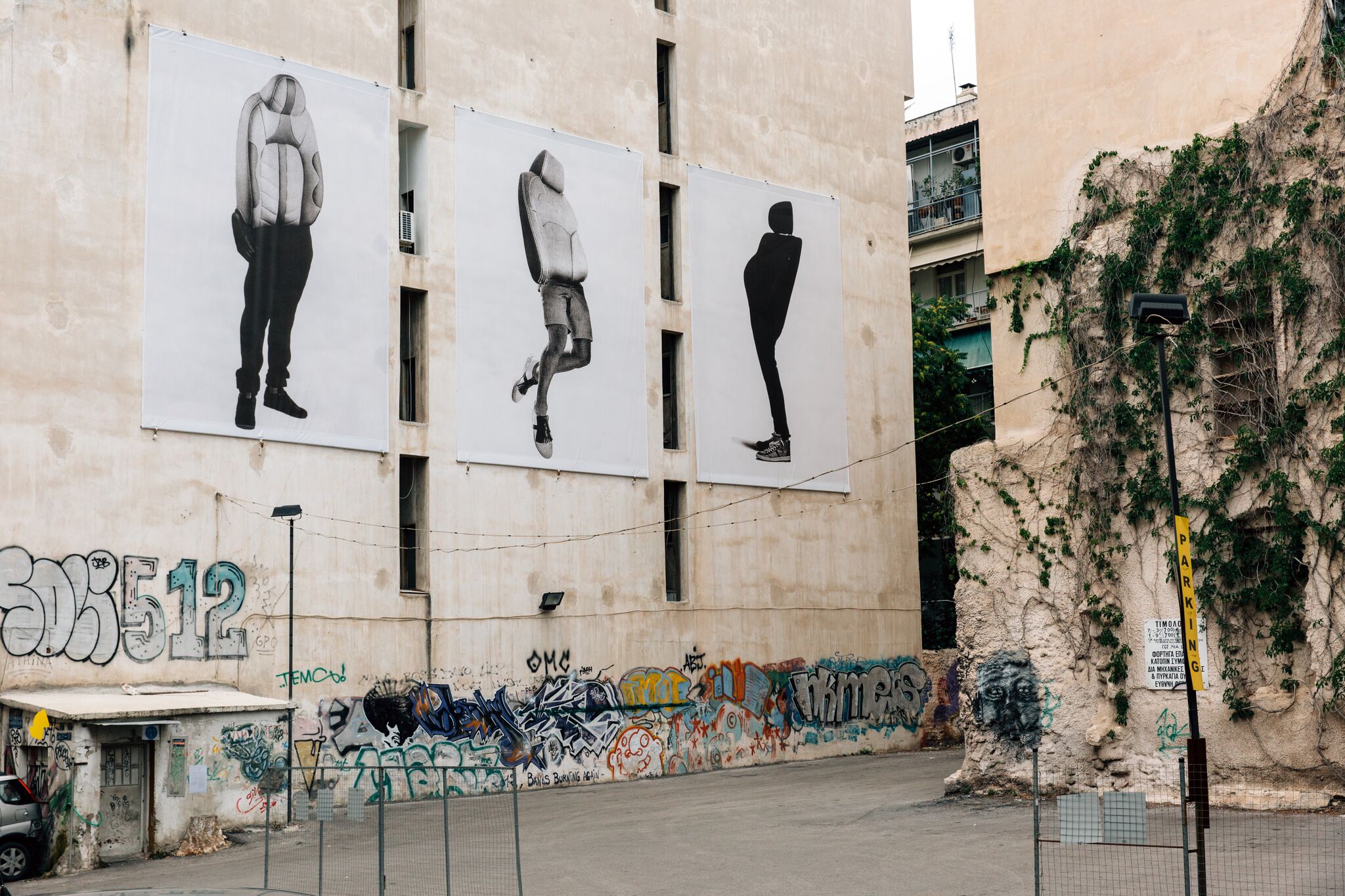 The exhibition, created in collaboration with Fondazione Prada and Qatar Museums, features eleven site-specific installations from artists working in a range of media, from abstract sculpture to found objects and tech-led installations involving smart-lamps. Appearing around Exarcheia in various spots including a café, disused shop fronts and advertising boards, Driftwood, or How We Surfaced Through Currents seeks to bring about a dialogue around significant issues that are bound up with late-capitalism: globalization, the flow of money and people, borders and national identity. Artists include Larry Achiampong, Meriç Algün and James Bridle.
Globalization, more specifically the free flow of capital in contrast with the increasingly restricted flow of humans, is a central theme of Driftwood, or How We Surfaced Through Currents. How directly does the work reference the current state of things?
The aim of the exhibition was to juxtapose certain realities that are currently accelerating in a way that is exponentially dehumanizing, though broadly accepted, deemed normal and not generating of proper attention or revolt. The participating artists engage with these underlying absurdities and approach them with a distinctive subtlety without losing the urgency that is so poignant now. In general, we suggest how people are only allowed freedom of movement if they embody economic value, if they almost become commodities themselves–think of the distinction between expat and economical refugee.
There are several undercurrents that run through the exhibition: they come to expression in the works individually and create reciprocal connections as a whole. Issues such as cultural identity, which can be self-governed or imposed, occur in the works of Eva Giannakopoulou & Persefoni Myrtsou, Larry Achiampong and Meriç Algün. The latter also engages with the circulation of objects (a remarkable collection of EU memorabilia) and the hypocrisy over where they are produced, which brings us back to how advertising covers up exploitative processes of the capitalist system, as expressed in the works of Jeremy Hutchison.
The exhibition flows around the area of Exarcheia in Athens, surfacing in surprising places like a café, an empty shop and a garage. What is the significance of the exhibition's location in this particular neighbourhood?
After my first visits to Athens, I became more and more aware of the notorious image that Exarcheia holds in the city; a place for protests, strong political debate, activism and, therefore, "trouble". It was for this reason that I felt the relevancy of installing this exhibition in this area, since its whole set-up was equally aimed at igniting a dialogue, at putting issues on the table and having a diverse crowd engaging with it. As I learnt over the course of the exhibition preparations, however, the protests and manifestations in Exarcheia actually aren't always ideologically fuelled or constructive in nature.
In any case, in this era of both online and offline echo chambers, filter bubbles, self-righteousness and criticism based on assumptions rather than researched insight, I do still find it exceptionally interesting to have the exhibition presented in this kind of symptomatic context.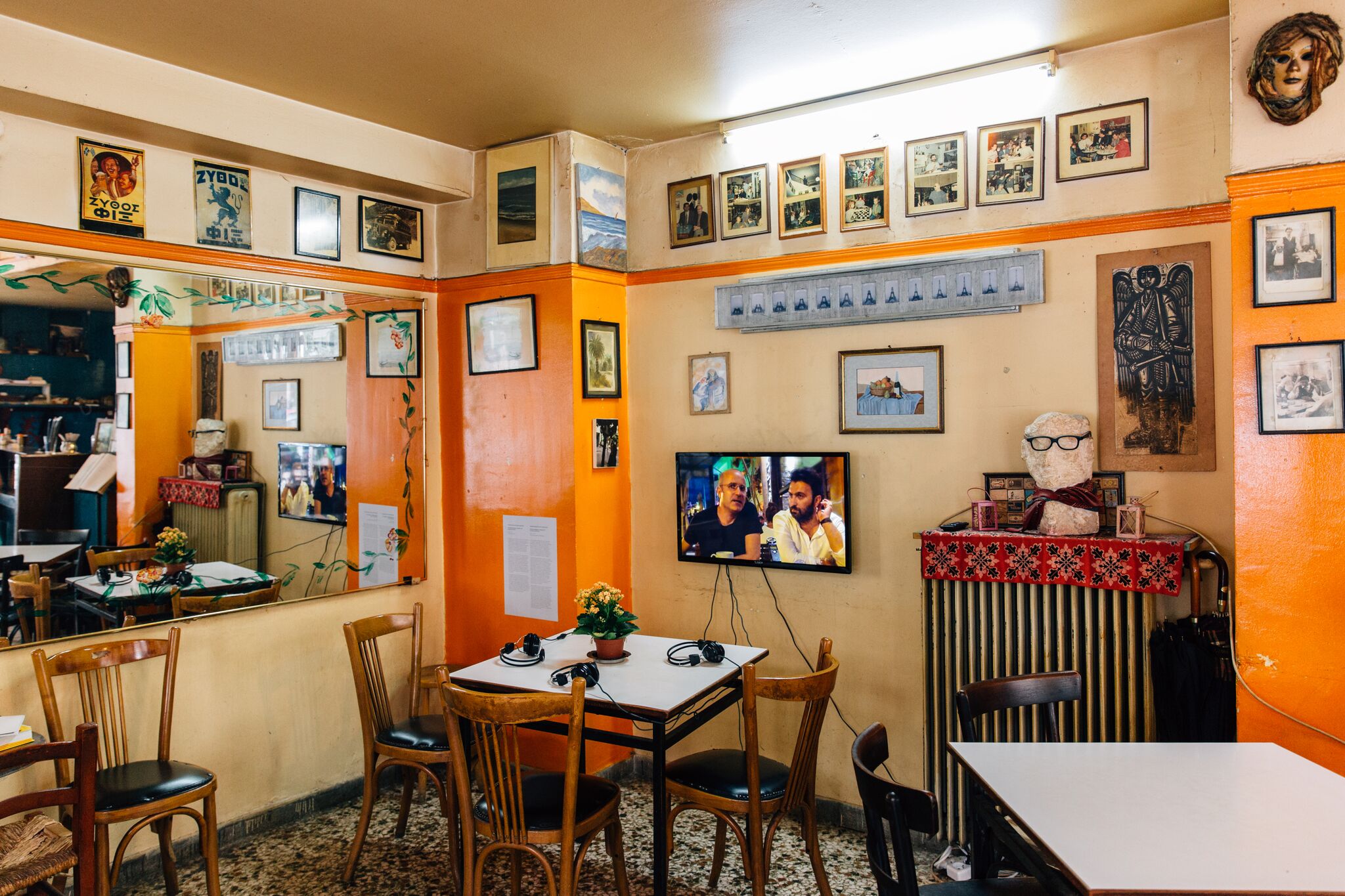 How do you hope for residents, as well as visitors to Exarcheia, to engage with the work?
The engagement of the residents of the area already became apparent while we were installing the works. Some of the artists worked in-situ over the course of two to three weeks, and we had the same people coming by every day to check up on things, challenging them with unexpected questions or reactions. During the opening, most of the shop owners were present, and the ones who couldn't make it notified us, which for Ilektra (Kalaitzaki, my Greek colleague in charge of production aspects) and myself was proof that people were actually interested.
Rather than expecting a structural outcome though, the setup of this exhibition was more of an experiment to see the extent to which people still engage with and debate through art. By eschewing an artistic context where you're basically preaching to your own choir, the goal was to ensure an open outlook in order to address broader and more diverse audiences, naturally, without reducing the artworks on display to conversational pieces. Many inhabitants appreciated the reactivation of the shops with humorous, playful and poetic installations.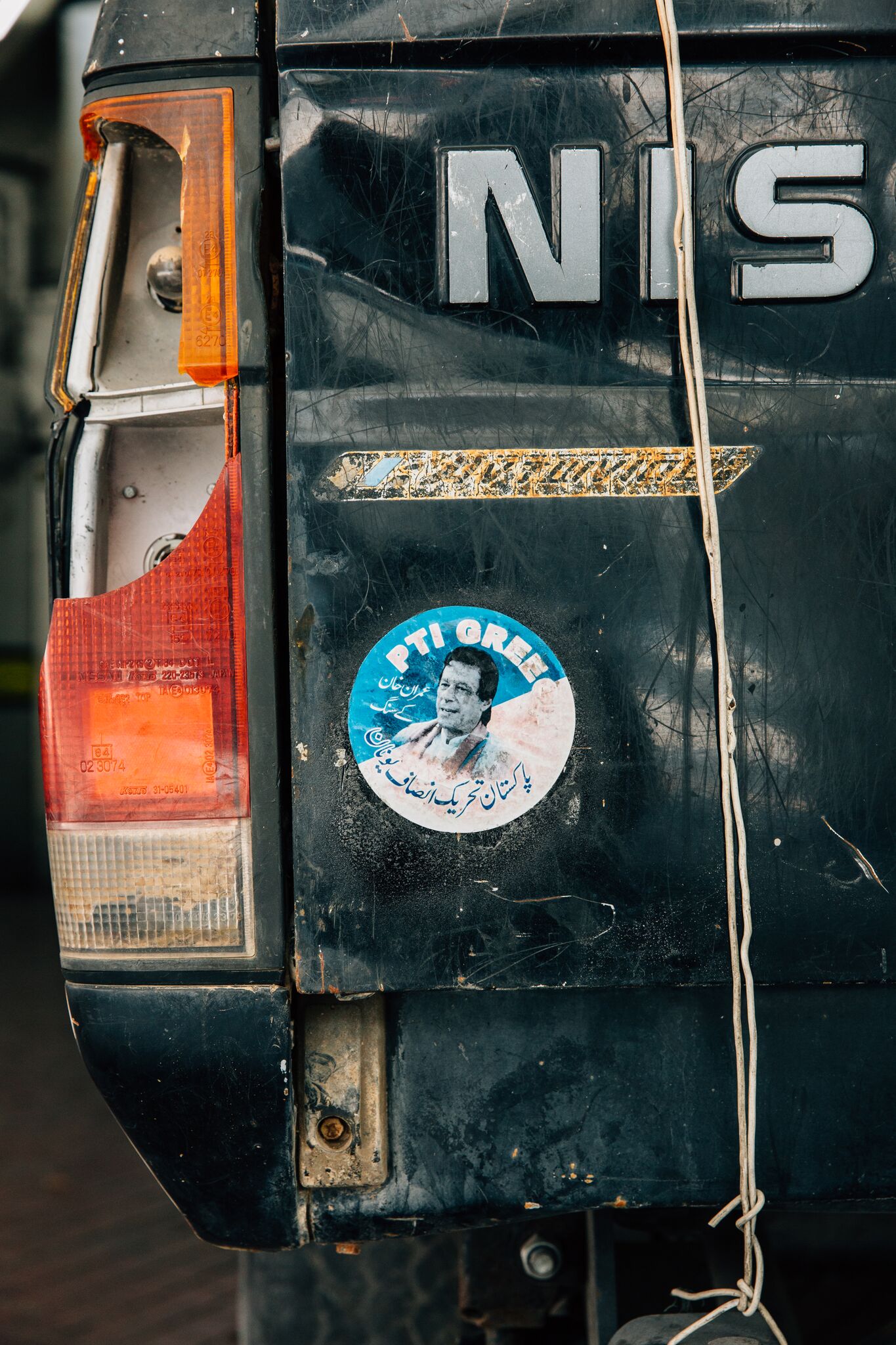 The artists included in the exhibition work across a wide range of mediums, from digital collage to sculpture and audio installation. Can you tell me a little about the curating process?
I generally don't allow myself to be guided by medium or aesthetics when I'm putting together a list of artists. Driftwood, or How We Surfaced Through Currents includes works that vary widely in style: from the handcrafted and poetic to the slickness of advertising campaigns. The fact that the set-up spans eleven solo presentations made it possible to not be limited by aesthetic coherency.
More important is the fact that each of the artists included in the exhibition creates art that visually expresses or performs the actual intentions of the work. So rather than having a distinction between what you see and what the work is trying to communicate, the works basically do what they are trying to raise awareness about: Lara Ögel created a ruinous domestic setting with semi-precious gemstones and live grass to generate a sense of belonging, James Bridle's automated smart lamps actually obey labour laws and Larry Achiampong's soundscape has a very spiritual and moving effect to reflect upon religion and intuition.
Although the work raises heavy political issues, the title of the exhibition sounds somewhat hopeful. Where did this come from?
The metaphor of driftwood arose from the reflection that, in general, we only seem to be able to passively engage in what society is dictating to us. It actually takes a little effort to be critical of the dominant narrative, to avoid being paralyzed consumers complying with the neoliberal capitalist agenda while blaming immigrants for the inequalities that structure our society. Driftwood, or How We Surfaced Through Currents, therefore, tries to evoke a sense of urgency to make these issues negotiable, rather than continuing to blatantly accept and participate in the corruptness.
'Driftwood, or How We Surfaced Through Currents' runs until 22 July at various locations in the neighbourhood of Exarcheia in Athens. Artists shown: Larry Achiampong, Meriç Algün, James Bridle, Hera Büyüktaşçiyan, Jeremy Hutchison, KERNEL, Chrysanthi Koumianaki, Persefoni Myrtsou & Eva Giannakopoulou, Lara Ögel, Maria Papadimitriou and Lloyd Corporation. All images courtesy of the artists (unless stated), photography by Paris Tavitian. fondazioneprada.org