She is an unusual artist, since many of her artworks might never even be noticed. They often seep into or protrude out of surfaces, but so seamlessly that you're often not quite sure if they have been there all along. Even more unusual, perhaps, for a sculptor that works with such delicate materials and forms, is the fact that she often intervenes outdoors, placing her ceramics on the sides of buildings, walls or in doorways, abandoned, neglected and sad spaces that she feels deserve more attention.
The Oslo-based artist has now been invited to Copenhagen to recreate a work that she originally presented at Dublin Castle in 2014, a flurry of porcelain creations that look like paper or tissues blown astray by the wind. If that's not poetry, what is?
I caught up with the Norwegian porcelain poet as she prepared to unveil her one-kilometre-long work in Denmark, as part of CHART art fair in September.
How did you come up with the idea of creating porcelain sheets and placing them on the streets?
I initially came up with the idea for a site-specific exhibition in Dublin, Ireland. While visiting, I was shown amazing rooms and buildings as possible venues. However, in the courtyard of Dublin Castle I noticed an archway; a space where nobody dwelled or paid attention to but drifted through, moving from one place to another. There seemed to be a constant wind blowing through and this was one of the aspects that inspired the piece.
In response to the weight and endurance of the structure, as well as the history contained within its walls, I created an installation of paper-like porcelain sheets, paused and motionless, that clung to the corners and crevices of the archway. The lightness and fragility of a transient moment, and the potential–of that which is not yet recorded–that lies in blank sheets of paper, serves as a contrast and a comment. Giving the pieces an ambivalent character, they are made with a subtle textile texture and softness.
For CHART I am reimagining this work for a route that stretches one kilometre, filled with buildings, water, bridges, infrastructure and boats. Each porcelain sheet is shaped by hand, modelled to fit onto the specific places.
How fragile are the sheets—is there any concern about them being broken or stolen? 
They are quite fragile and can easily be broken. At least half of them will be placed out of reach, but many will be placed so they can be viewed closely and touched. I expect that some will be broken, either by accident or ill will, but I hope that most will stay in place. Either way, this fragility and vulnerability is a part of the work, and it will be interesting to see how it fares.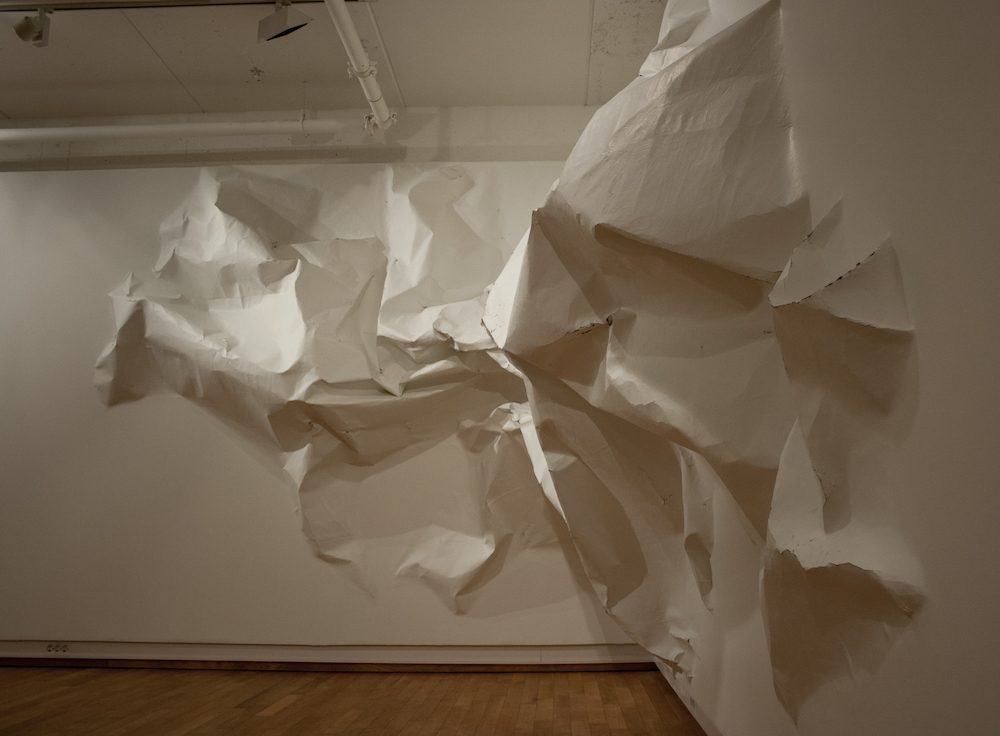 It's quite unusual to see ceramics as public artworks in this way—what do you like about taking your work outside?
I like it when my work meets people where they are. When happening upon a piece of art on your everyday commute, you respond differently than when you actively seek it out. There's an aspect of surprise, a possibility of discovery and an opportunity to experience and see the surroundings in a different way than usual.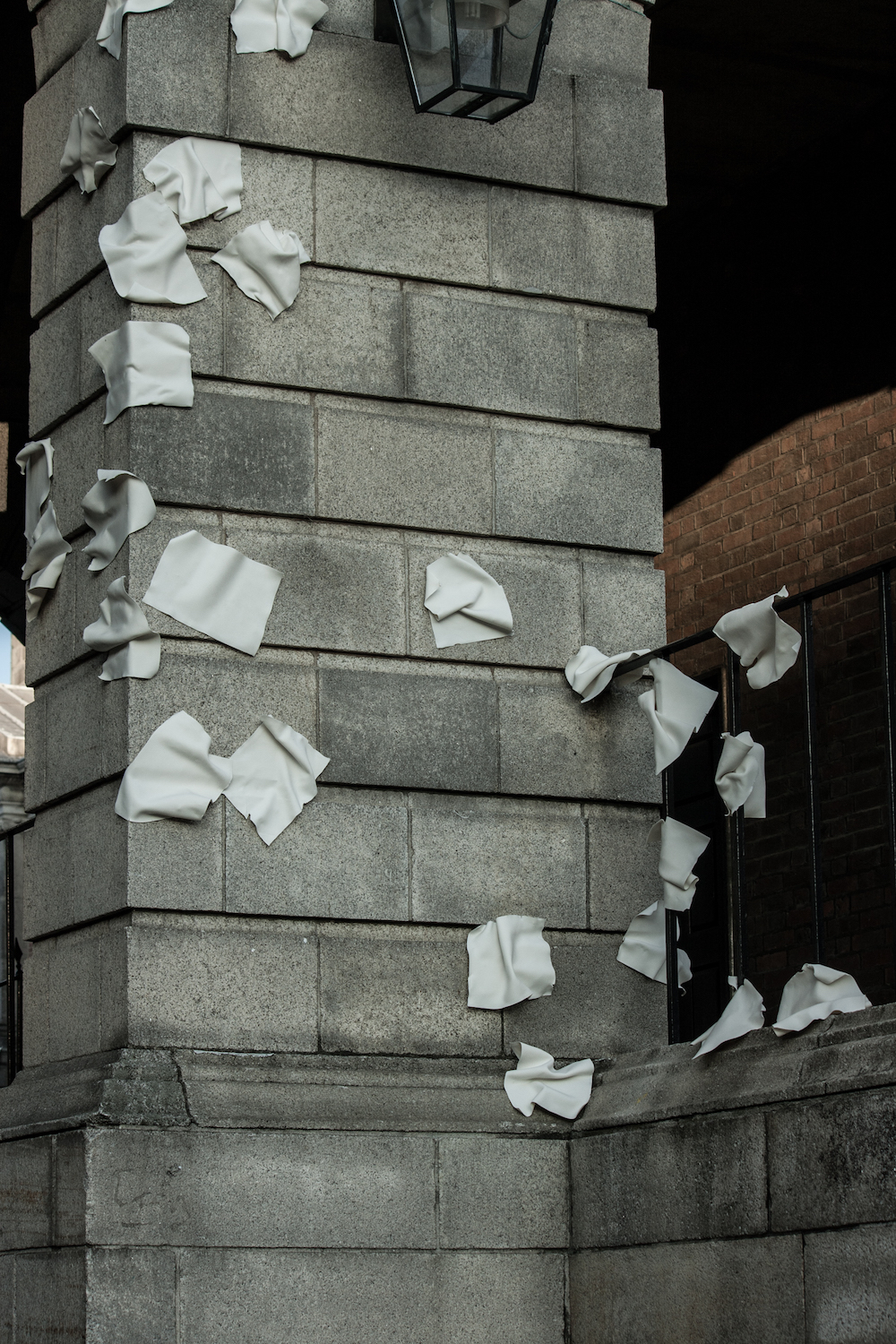 The route joins the old and new parts of Copenhagen, and passes over the river—was there something you were particularly drawn to along the way?
Walking up and down the route quite a few times, I imagined the wind blowing from Copenhagen Contemporary to Charlottenborg Kunsthal, and scattering the pieces on the way. I sought out structures and surfaces where it could make sense that the sheets would get caught and where I could play with compositions in varying fields of vision. I chose some places where the porcelain pieces can stand out noticeably from the background–as well as some that won't be immediately discovered.What else inspires you?
I get inspired by shapes, colours and glazes, materiality, textures, processes and ideas. And most of all I get my inspiration from spaces; the way they are used/not used, the structures, surfaces, their history, how we perceive and experience them.
Chart Art Fair runs from 1 to 3 September 2017. chartartfair.com