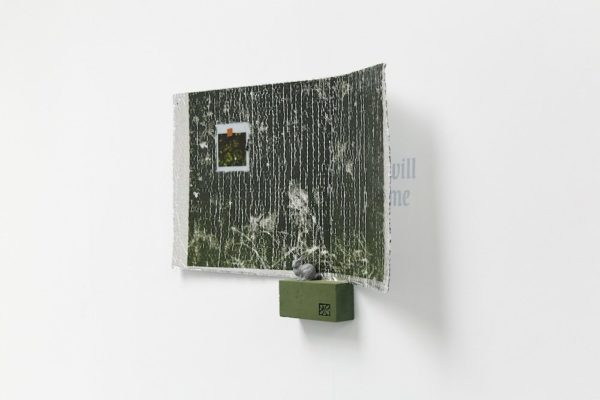 Yarker's MA show this summer felt like an oddly harmonious blurring between the coldness of technological hardware and the warmth of natural life. At its crux was his first publication Bíta; a poetry collection that throws chronology to the wind and encourages readers to come up with their own configuration. Combining rural imagery with allusions to online communication, his language is enigmatic but with a rhythm that keeps you slipping through his words.
Your piece in the RCA MA show had a subtlety about it. Can you tell me a bit about the work?
The work at the show was an amalgamation of scraps and fragments of materials, images and words. I often feel like a scavenger in the way I create work, finding and repurposing discarded material. I'm not sure if subtlety is something I aim for, more it's a by-product of creating work with fairly inconspicuous themes. I feel like an observer to a fast, fluid and speeding landscape, and I'm not sure if I have the right words to determine that as a theme. Rather my work is a verge, like a grass verge at the edge of the road, running alongside, straddling themes. The sculptural and printed works I have made recently have all used materials that possess this sense of being in-between: Oasis, aluminum tape. I wanted my pieces to emulate barriers or building blocks with a semi-permanence to them, like the hedge that cleaves land and blockades yet is porous enough to allow certain wildlife through.
Can you explain a little about your writing process?
Writing is central to my practice and is usually my starting point, and poetry has become the form I use most regularly. I write and make notes constantly on my phone and eventually begin to compile the scraps together when I'm in the studio. For the show my main focus was creating my first substantial publication. Writing and designing this was a long process. I'm grateful to Kia Tasbihgou who helped me typeset Bíta and finessed some of the ideas I wanted the type to display. It's my first collection of poetry: not a typical collection or one long ballad/poem, but a fluid work with many fragments the reader can amass in their own configuration.
"We all tell ourselves, and one another, a mythology of our lives, and this happens through the nature of language and our perception."
The title means to bite or split. This idea of splitting and biting seemed to be a way of trying to discern something, a way of ingesting while seeing the inside of the process. Bíta is a reflection of my perception of how poetry operates. Currently, I'm working on some new poems and text towards a show for Art Licks with Bunkhouse, a new residential project space. I'm trying something a little different with it, trying to develop some of the initial thoughts from Bíta.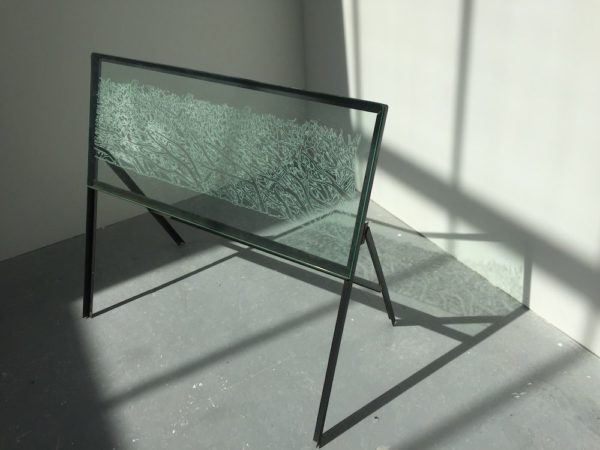 References to dogs seem to feature pretty heavily in your work. Is there a significance of this animal to you?
The dog references in the work stemmed from an obsession with the phrase "this will dog me". It dogged me in terms of it running around my head. It became a sort of theme, and with Bíta the image of a dog biting rose to the forefront of my mind. The flowers and plants in the work were also linked to this dog theme. I wanted to feature flora found in the hedgerows around the country, and I found that a lot of plants had dog as a prefix. "Dog" is usually bestowed to plants that are poisonous or considered inferior. The dog rose (rosa canina) was even considered a cure for the bite of a rabid dog in classical times. The way I work is reflected by the phrase–I obsess about particular images, fragments of text or past experiences when writing. I'm not sure dogs hold a particular significance to me, they just seemed to keep cropping up when I was writing and researching.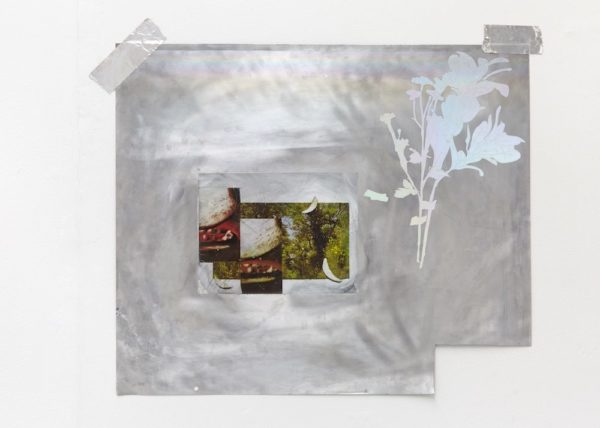 What drew you to use Oasis foam in the work?
I used Oasis to tap into a sense of stasis and artifice. When looking at the flowers it was something which popped up, and immediately I found it interesting as a constructed material which is created to extend the life of something. It struck me as a conceit, a trick to creating a beautiful arrangement. The brick shape also helped me build across the space, acting as shelves.
On your website you write "I want to explore the creation of a Mythopoeia". Can you expand on this?
I wrote the text on my site around three years ago so its significance to my work has shifted somewhat. What's still relevant in terms of creating a mythopoeia is I think we all do this in our lives. We all tell ourselves, and one another, a mythology of our lives, and this happens through the nature of language and our perception. I chose the term after reading an essay by J.R.R. Tolkien On Fairy-Stories where he writes that we should perceive modern language as a disease of mythology. This intrigued me and struck me as being bound up with a need to explain and escape. The disconnection between what is said and how it is said, language, control and artifice, are where my eye and thought lie. Yet language as a disease still sticks in my mind and feels relevant and troubling. I would change that statement to not say I want to create a mythopoeia rather that I am, and do not choose to do so. Or not mention it at all as it will happen regardless.
George Yarker features in "Moon, When the Calves Grow Hair" at Bunkhouse and "SWAP" at SET Space in London as part of the Art Licks Weekend from 29 Sept to 1 Oct. artlicksweekend.com