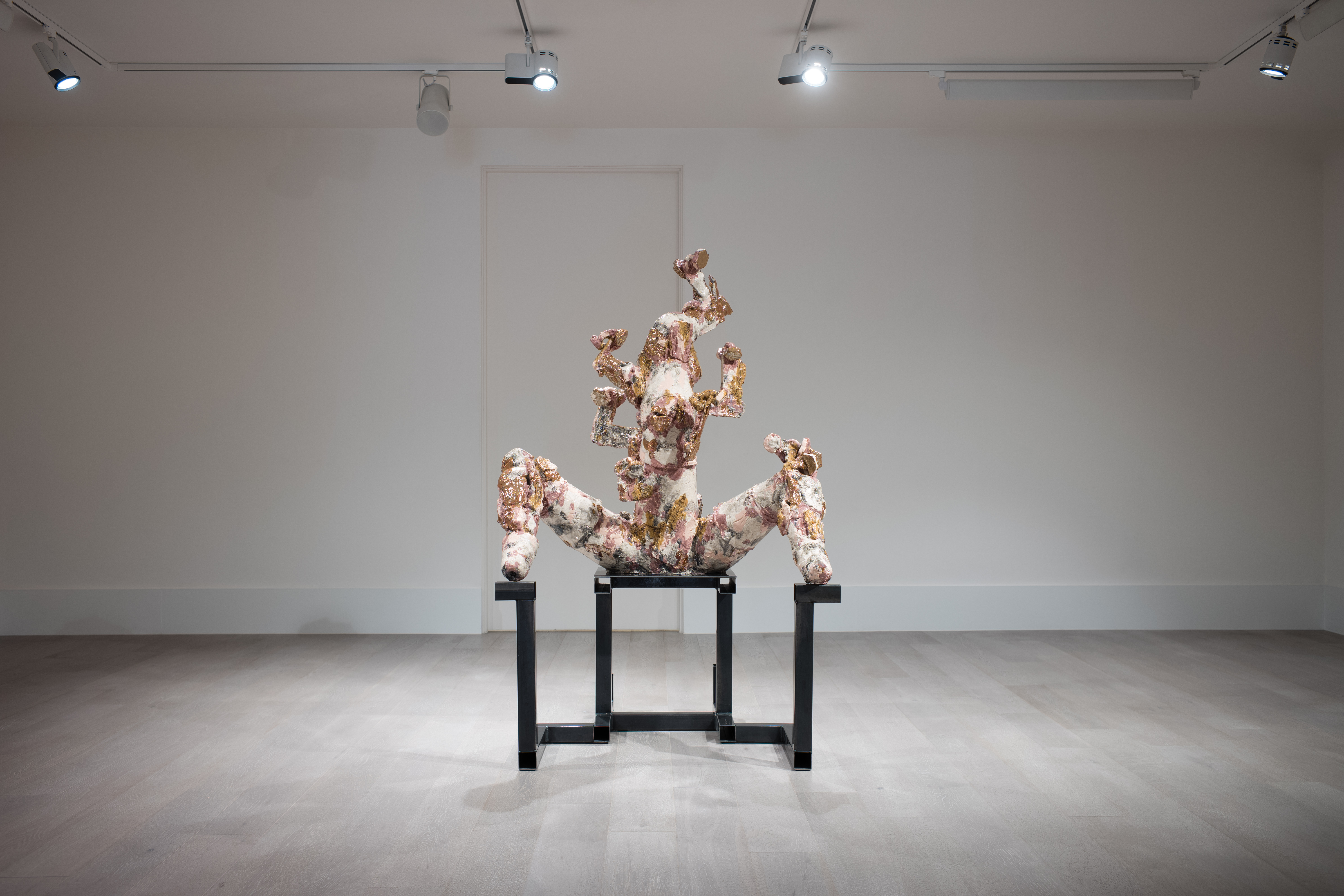 Floppy tongues, bouncing breasts and spread legs abound in Brovall's mixed-media work, but ultimately subvert their eroticized connotations to convey a certain delicacy to the artist's process. I spoke to her ahead of her solo show Man Drawer opening at the Uppsala Art Museum in Sweden early next year.
Why do you confront sexual taboos head-on in your practice?
I am interested in undoing the dominant narratives behind our understanding of sexuality—one that is largely bracketed by what is frowned upon and what runs the porn industry. One of my recent sculptures features a butt that is presented to the viewer like a gift. It's perceived as an overly sexualized position but it can also be a very liberating and voluntary position. In using provocative sayings like "fuck here" or "stick your dick into this hole", I'm not interested in big dicks literally fucking my sculpture, but rather unpicking a dynamic of desire I already see happening in society. How do you digest that narrative, how do you find a way out?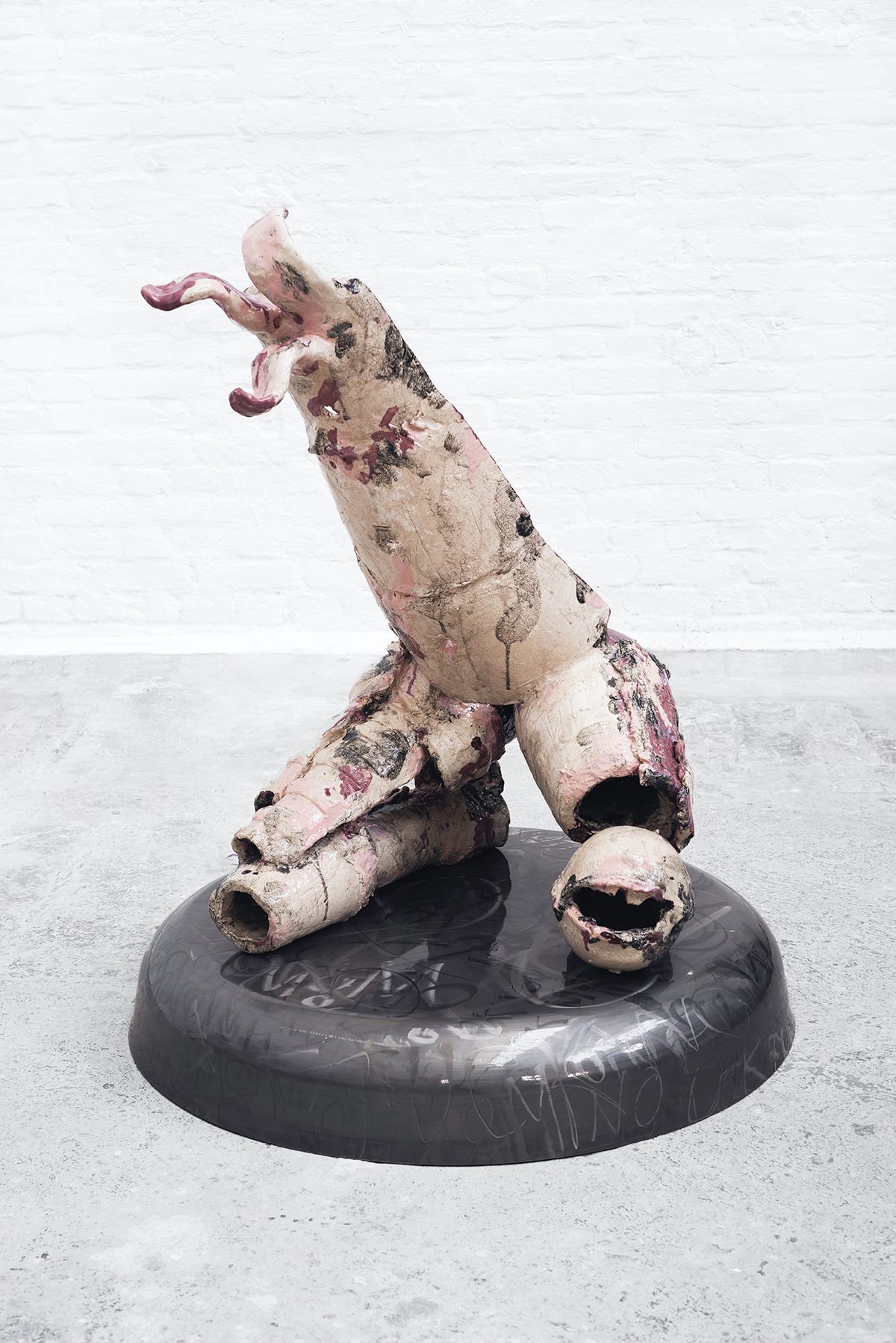 How does your diverse material toolkit—I'm thinking specifically about your use of ceramics and steel together—reflect these ideas?
The physical and tactile quality of these materials, how they stand in contrast to each other, and the process in which I work, all embody the particular tensions I'm interested in exploring in my work. For instance, working in clay is this muddy, senseless frenzy in which you are really at the mercy of the material—you don't feel elegant while doing it.
The suppleness of rubber and plaster, the violence of welding or engraving hard steel—in your mind, you read that difference in materiality as something sensual. It makes the work more complex and playful.
Is there a different reaction to your work when presented within an institution in Sweden versus a private gallery in West London?
At my solo show Wear the Heat this past summer in London, people really responded to the sexual aspects of the work. It was a little bit surprising, as for me, I feel the topics of violence or the uncanny are more immediate… I mean, these works were included in shows about death in Sweden. But in London, people were like "Ahhh, I wanna fuck that sculpture!" I suppose how the works were presented, particularly with the gallery lighting, dialled up their glossy materiality and transformed them into something incredibly desirable; there was a real pin-up quality about the sculptures. Perhaps the international audience is just more turned on?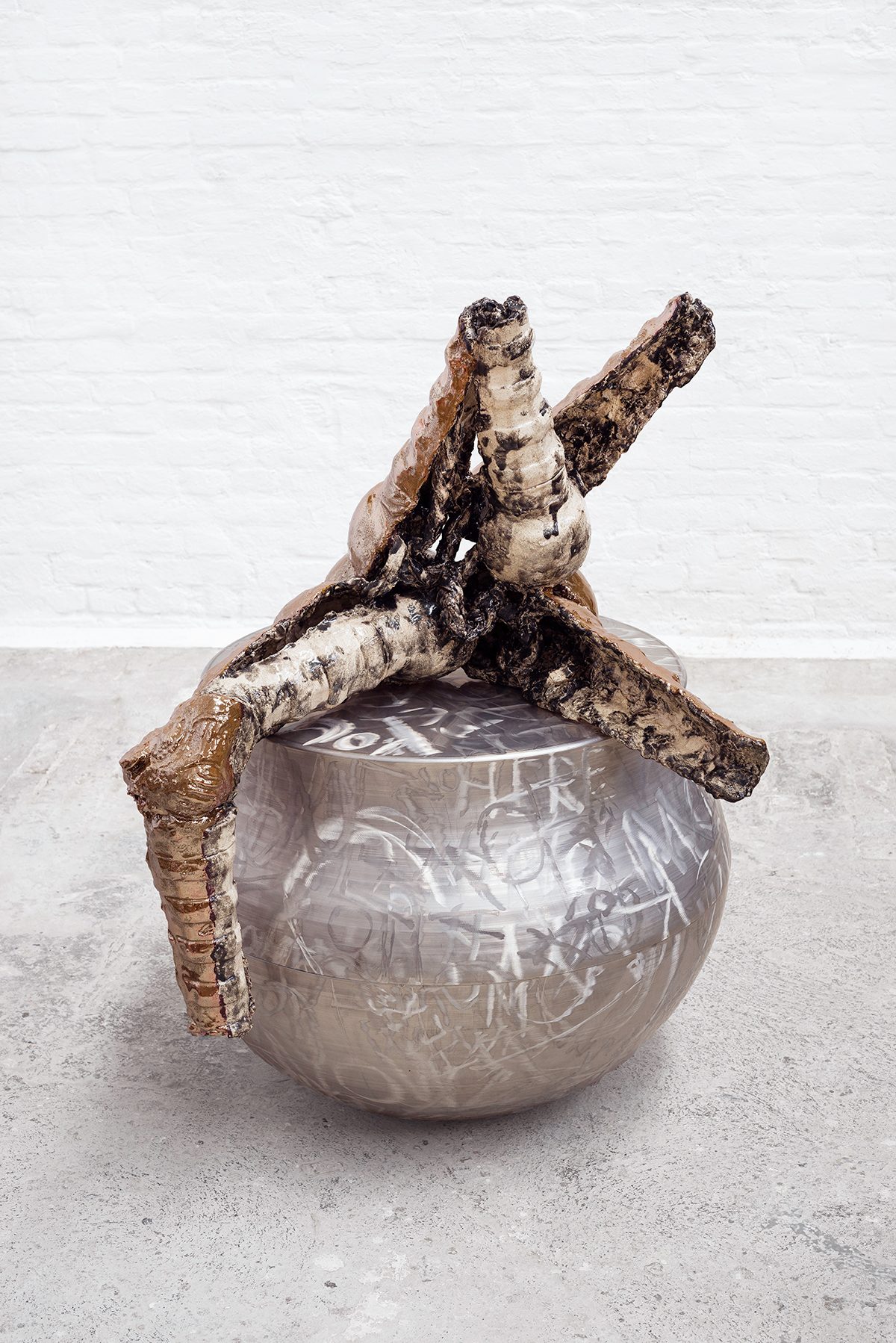 How do your own ideas of sexuality relate to those expressed by your work?
The ideas I present in my work are not necessarily my own beliefs—and people are always going to read into it as such. This is a problematic thing about being a female artist, everyone assumes your work (particularly if it's about sex) is personal. But what goes on in my work is actually the result of a long research-led process: I've done my reading, and I also want to explore them through formwork. Ultimately, I make the decisions. I mean, do you just want to use references that people think are smart and good? What happens then? You end up repeating the same ideas. But what happens when you use something so inherently subjective as sexuality as a reference point? Something murky happens, that sliding perspective gives way to a more experimental process rather than a form of reasoning.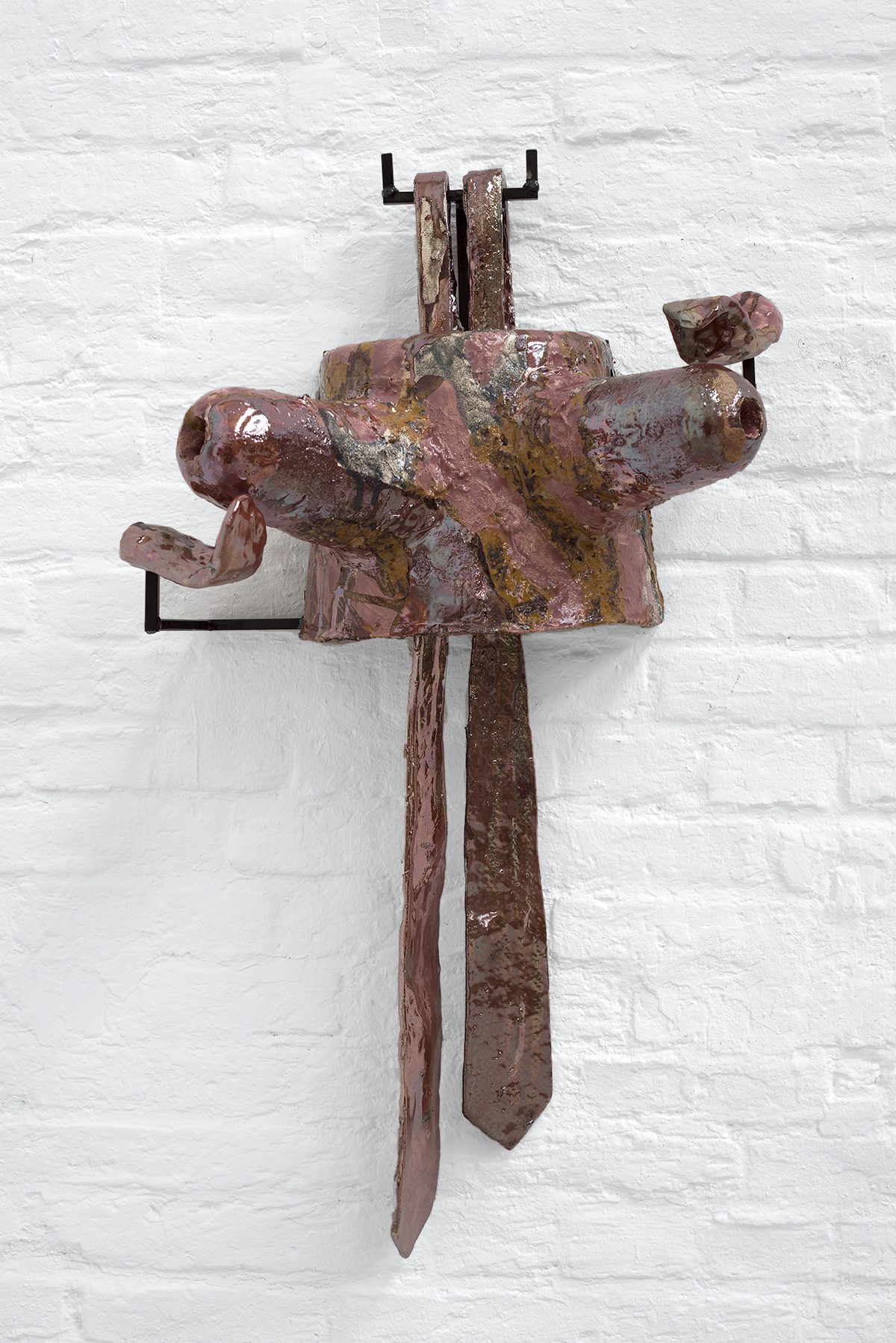 Can you tell me a little more about your upcoming Man Drawer exhibition? The title sounds like a step away from the female focus of your recent exhibitions.
My work has always been about men; it's interesting that people are saying my work deals more with the female sexuality now—probably because of the poses I'm including.
Man Drawer focuses on another type of paradox: how despite the #MeToo movement and recent advances in feminism, men are so present in our society right now—with the rise of alt-right politics and men's rights activists. There is a grotesque portrait worn by this group: one of the suffering man and the man as a victim, scared by women on the TV and radio and his place of work.
"I see myself as a grinder, a machine, a social processor"
I'm not making a show about finding a solution to all the problems with men, but taking all these symbols—symbols of war, weightlifting, politics, a very existential panic—and using them in an open space to say something. It's a drawer that goes beyond critique; if you become too critical, your voice becomes dependent on the project at hand. I see myself as a grinder, a machine, a social processor. This is my man drawer: both a shoe box and a big thing, with many unsolved problems inside.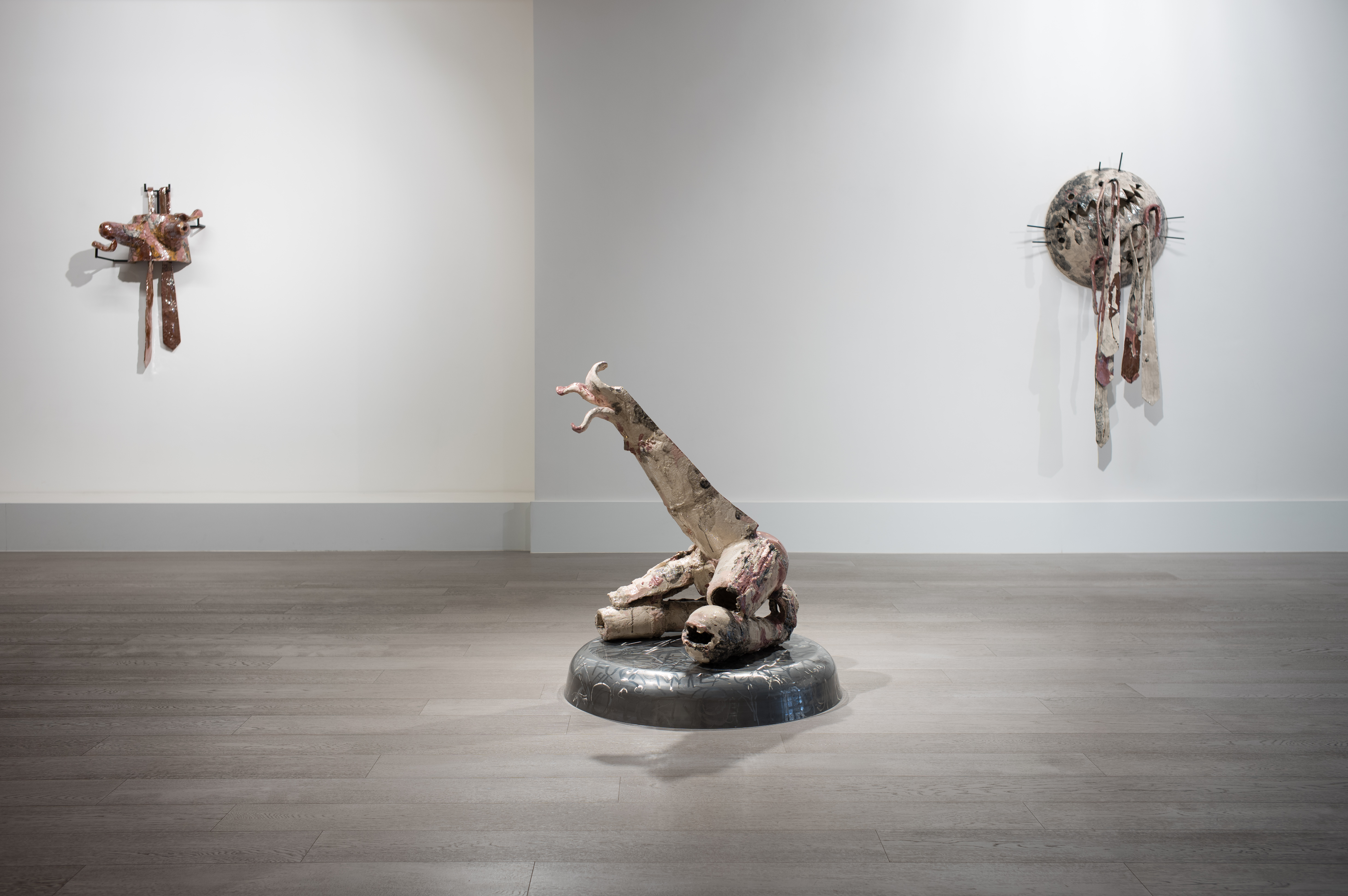 All images courtesy of the artist and Sophia Contemporary