Without wishing to sound too Patrick Bateman-deconstructs-Phil Collins, for me this isn't the best Blur song. It's not even the best song on 1998 album 13 (that goes to the desolate, despairing Caramel; or maybe the equally heartbreaking, dynamic-shifting Trimm Trabb, as decided by my emotional twelve-year-old self.) But it's undoubtedly one of the best Blur videos, and features probably the most famous milk carton in the world.
The song, one of the few penned and sung by Blur's guitarist Graham Coxon (among his other bylines are the superb 1997 track You're So Great), is something of a paradoxically downbeat yet chirpy, Britpoppy number, said to lyrically detail Coxon's struggles with alcoholism—as well as, undoubtedly, his struggles with being in Blur. The video itself is very much a work of art, and a product of a time when music videos had truly peaked as a marketplace for bands: remember, this was 1999, when we still watched chart shows, MTV et al—and long before YouTube was born in 2005.
Bands had already realized the power of bringing in the big guns from the worlds of film and advertising to create their videos: the same year Coffee and TV was released also saw Chris Cunningham's film for Bjork's All is Full of Love, Mike Mills's video for Run On by Moby, and, er, Flat Eric's Flat Beat, the creation of Mr Ozio, AKA musician/director Quentin Dupieux. Say what you want about the floppy yellow fella, it's a great piece of character design and a beautiful example of the crossover between music, film and advertising—little Eric was originally the product of a Levis ad by Dupieux.
Blur brought in Garth Jennings and Nick Goldsmith's production company Hammer & Tongs— which had previously made videos for the likes of Pulp and Eels—to direct Coffee and TV. It was a good year for the duo: they also directed Supergrass's Pumping on Your Stereo and Fatboy Slim's Right Here, Right Now videos in 1999. Jennings went on to direct a number of videos for Radiohead—a band with feet firmly in the visual world—as well as feature films including 2005's The Hitchhiker's Guide to the Galaxy and Son of Rambow in 2007.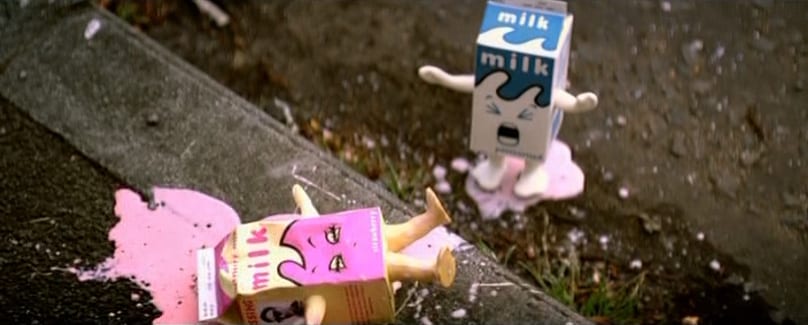 "What's so enchanting about the video is the mixture of brilliant character design, knowing English sitcom vibes, cleverly crafted narrative and surrealism"
But the Coffee and TV video is veritably the pinnacle of Jennings and Goldsmiths achievements together, telling the story of "Milky" the sentient milk carton who goes searching for a missing Graham Coxon. Indeed, it's Coxon whose face appears on the carton's side, and his worried-sick (actor) family who open the video looking glum, even when a dancing milk carton does a turn on the breakfast table. Milky, with his little arms and legs, goes on a suburban adventure, facing adversaries including a gardener, a furious prostitute, a small child and a dairy-guzzling bloke. As with all good stories, this is a love story too—and one that doesn't end well (or does it?)
Shot across London and Bromley in four days, the video won several awards in 1999 and 2000 including Best Video at the NME Awards and the MTV Europe Awards. A 2005 Channel 4 poll ranked it as the seventeenth greatest pop video of all time (Michael Jackson's Thriller hit the top spot).
What's so enchanting about the video is the mixture of brilliant character design, knowing English sitcom vibes, cleverly crafted narrative and surrealism: we're invested, completely, in a milk carton, and suspend our disbelief for a good six minutes. As with all great Blur videos, there's a snippet of live-band action too (it'd be daft not to include that, in Albarn's physical heyday, says my "twelve-year-old self"), and the whole thing succeeds in feeling utterly of its time while remaining just as compelling nearly twenty years on. Do they still make videos like this today? Probably, but also probably not—it's hard to match the charm, sweetness and underlying tragicomic narrative (just wait until the final organ peals at the very end) of this late nineties gem.