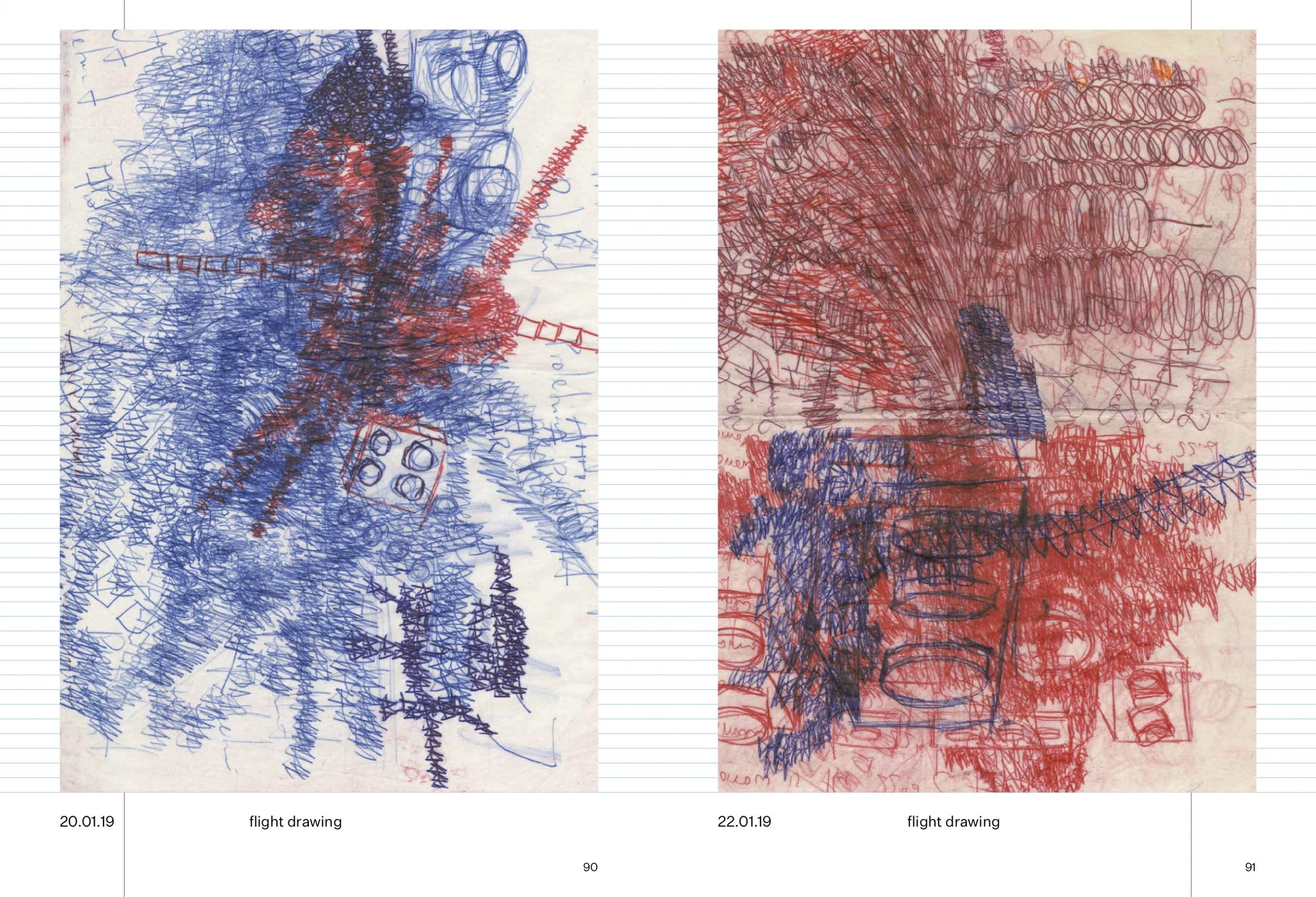 In 2016, the Colombian-born multimedia artist Oscar Murillo tore up his British passport on a flight to Australia as a protest against the impenetrableness of some borders to people from certain parts of the world.
ARTnews recorded what he later said about the need for "a valid and open conversation that transpasses [sic] the current still-dominant colonial situation in which we still live".
The perhaps accidental coinage "Transpasses" is an eloquent expression of what Murillo's work does: it seeks to disrupt, to trespass borders, but at the same time to have the freedom to belong. The word seeks, like the artist, to move past the idea of one place or another. To pass for inhabiting two places.
"Travelling is fundamentally the desire to go against a fixed identity and position"
"I travel a lot", the joint-Turner Prize winner said in a conversation at the start of 2019, "so sometimes when we speak or share images I'll suddenly be in Colombia, or some other part of the world."
In a different conversation in the same year: "Travelling is fundamentally the desire to go against a fixed identity and position. It is important, then, through these individual encounters that are happening, to literally travel and be in multiple geographies."
This book, By Means of A Detour, documents that year. In his forward Murillo describes the book as an attempt to capture a "frenetic" 2019. We see the installation of a show in Shanghai, then the next month his Turner Prize-winning Kettle's Yard show in Cambridge (produced by Kettle's Yard, this book is half catalogue, half travelogue, all memory palace).
There are photographs of performances on the streets of New York and in an art space in Zagreb, at the seafront in Margate and by a river in Aspen. His effigy sculptures appear in the backs of trucks and on trains.
Many pages are given over to his Flight Drawings, done in transit. Sometimes these seem both architectural and abstract at once. They suggest something cartographic: a mountain rises out the page, or landscapes and thoughts appear to have been overlaid as they are passed through.
Mainly, though, they are a blur of motion, and of the artist's physical energy expelled, scribbled text underneath a mass of circles and crowded hatchings in black, red and blue that echo the "Drawings Off the Wall" series that made him famous in 2013.
It is now disorienting to contemplate Murillo's level of pre-pandemic travel. If a successful artist can seem to be everywhere at once, then it is also true that the artist and the art have to get everywhere in the first place. The art needs to be installed, handled, assembled. The transportation is often part of the making for Murillo.