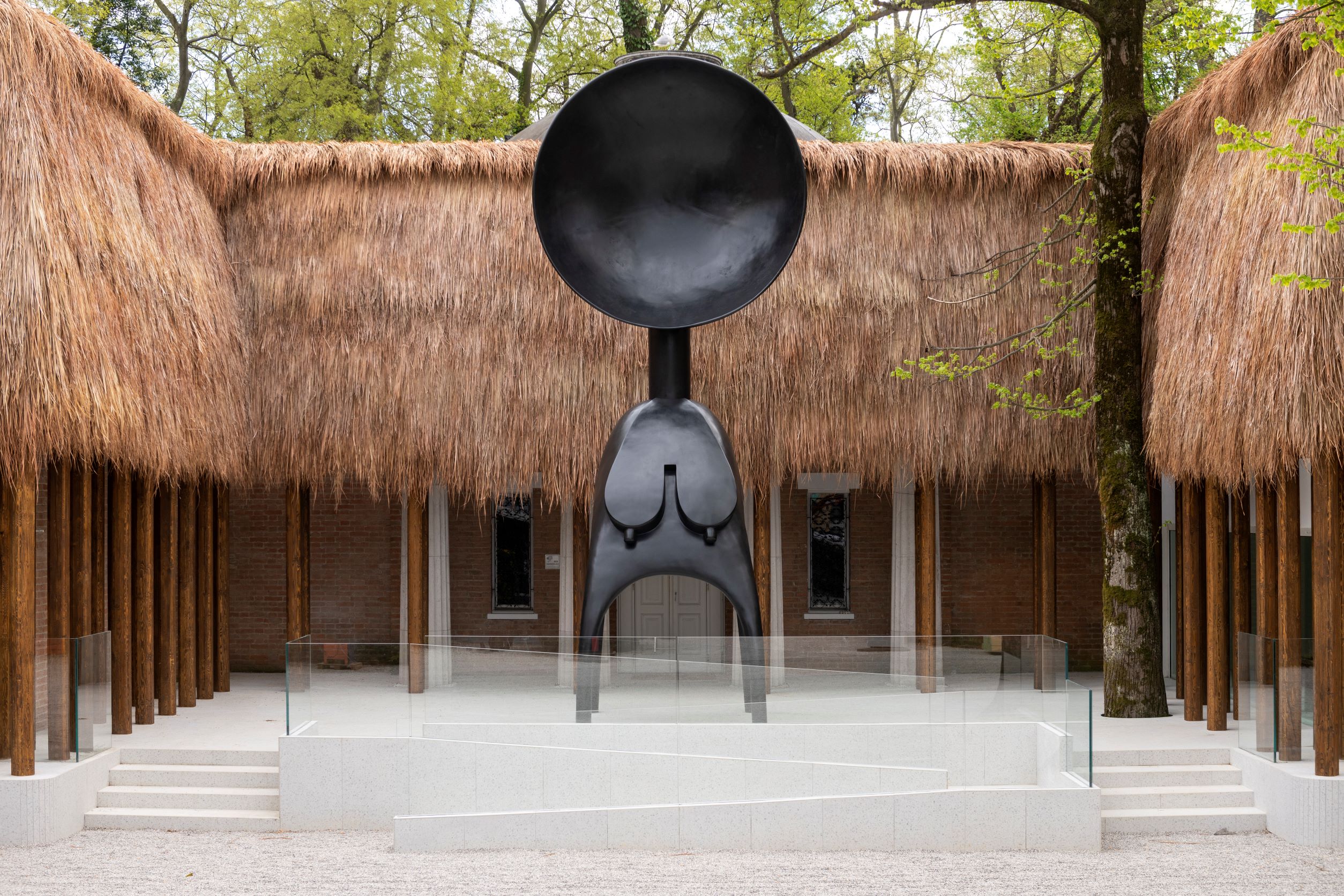 There's something deliciously sinister about the title Milk of Dreams, as though a wayward babysitter had drugged a child's nightcap, sending them into a wayward and unpredictable realm. Cecilia Alemani, curator of this year's Venice Biennale, borrowed her title from a collection of bedtime stories told by surrealist Leonora Carrington.
Carrington was a mama with a naughty streak: her stories brim with caca and pipi, strange hybrid creatures, and bodies that behave like machines. This dreamland translates into themes that flood through Alemani's Biennale, celebrating the fundamental stuff of earth, monstrous bodies and cyborgs, as well as storytelling itself.
Soil plays a starring role. Delcy Morelos' Earthly Paradise (2022) is a tightly packed intervention made of sweet earth infused with spices, tobacco and cassava starch. You walk through it like a maze, so high it blocks off a huge segment of space, leaving staircases stranded uselessly, and columns half submerged: it either suggests the Arsenale as an excavated archaeological site, or offers a glimpse into the future, at a Venice buried under silt following centuries of flooding.
Precious Okoyomon at the Venice Biennale, 2022. Photo: Louise Benson for Elephant
A rolling topography, planted with sugarcane and kudzu, and studded with figures wrapped in raw sheep wool and coloured yarn, Precious Okoyomon's To see the Earth Before the End of the World (2022) presents the soil itself as an exploited and colonised substance. Half concealed by vegetation, Okoyomon's figures might be the ghosts of those whose blood once fed the soil, or protective spirits come to reclaim it.
"You walk through it like a maze, it blocks off a huge segment of space, leaving staircases stranded and columns half submerged"
Ali Cherri's Of Men and Gods and Mud (2022) explores mud's foundational role in early civilisations. Watching a film of workers producing dried mud bricks (adobe, a supremely environmentally-friendly building material) we are reminded of how the sticky, slippery stuff oozed its way into creation myths: tales of the first humans formed from mud, and a great deluge that spread silt and goo across the earth. Adobe has also been used to monumental effect by Gabriel Chaile, who has constructed a series of monstrous ovens, each representing a member of his family.
Informing all this earthy work is wisdom acquired over centuries living in balance within the environment. Such indigenous knowledge extends beyond respect for the soil into kinship with growing and breathing things. The realm of 'monstrous' bodies in Milk of Dreams extends in many directions, encompassing mythic hybrids and animating spirits.
Chilean artist and poet Cecilia Vicuña is celebrated in a huge display including a suspended installation strung with objects found around the fragile environment of Venice. Surrounding it are paintings, many dipping between dreams and ancestral stories. Paro Nacional (1977-78) recalls the events of the National Strike in Bogotá, Colombia, in 1977, with Vicuña reimagining the workers defying the police as sacred animals: black panthers, jaguars and wild buffalo.
Vicuña is one of many artists whose work demonstrates the failings of the term 'surrealism' when limited to a movement with European origins. Dreams, visions, and hybrid bodies are important to cultures around the world: they don't need a French intellectual to legitimise them as 'art'.
"The realm of 'monstrous' bodies in Milk of Dreams extends in many directions, encompassing mythic hybrids and animating spirits"
Beyond the central exhibition, indigenous knowledge (and struggles over land use and animal husbandry) takes centre stage at the Sámi (formerly Nordic) pavilion. Máret Ánne Sara's work is rooted in the kinship between the Sámi people and the reindeer they herd. Her suspended sculptures include stillborn calves and dried material from reindeer stomachs hanging between fragrant grasses. Clouds of suspended plant fibre are infused with odours evoking the current threat and future hopes of the Sámi reindeer herders: one is a sharp, shocking smell, like adrenal urine; another is sweet, like good pasture.
View this post on Instagram
There are hybrid bodies of other kinds. The cast of Marianna Simnett's The Severed Tail (2022) are hybridised by furry, puppy-play and other fetish costumes, delving into fantasy lives that pivot on the power dynamic between human and animal. Following the adventures of a piglet whose tail has been severed, Simnett takes the appendage as a symbol that separates animal from human.
P.Staff's powerful (if almost unbearable) On Venus (2019) uses modified footage of animals being processed for food, fur, urine and leather. Set under hot yellow lights above a reflective floor, the work yearns for a world (perhaps the titular Venus?) in which the identity of bodies, as 'animal', 'trans' or 'disabled' is not defined by the relative value placed on their lives.
Dotted throughout The Milk of Dreams are pavilions of historic works, largely by women artists, held up by Alemani as (often forgotten) antecedents. The first celebrates artists (including Leonora Carrington, Leonor Fini, Remedios Varo and performer Josephine Baker) who invoke the occult and spiritual. Others look to texts influencing artists in our present moment, among them Ursula K Le Guin's The Carrier Bag Theory of Fiction (1986) and Donna Haraway's A Cyborg Manifesto (1985). Proto-cyborgs here include robotic performance costumes worn by Karla Grosch in 1929, and extraordinary facial prosthetics made by sculptor Anna Coleman Ladd during the First World War.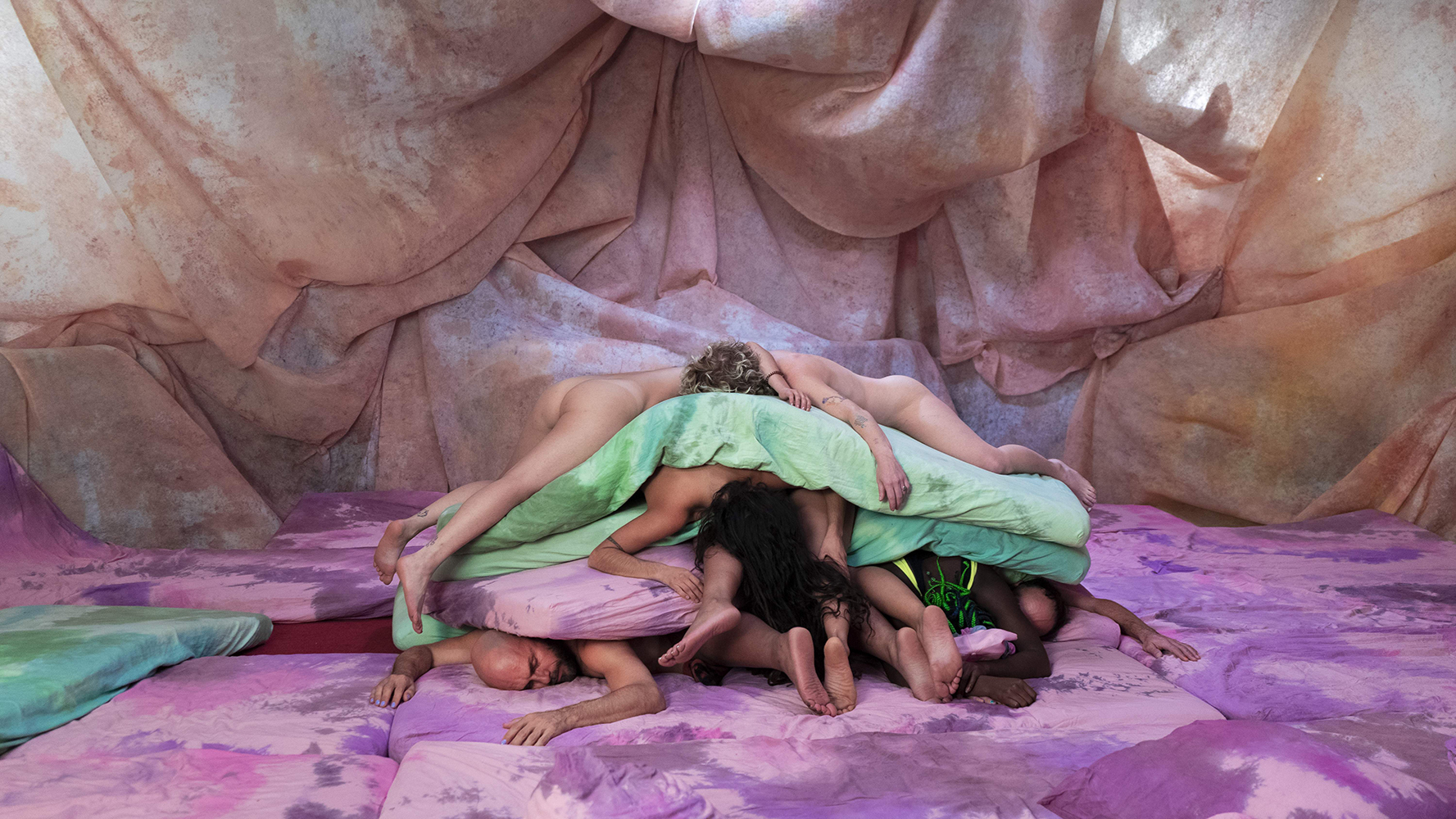 The space between life and machine is explored in work that ranges from the unnervingly grizzly, to the digital, to the elegantly post-human. Mire Lee's kinetic sculptures pump water thickened with pinky-red clay through squirming rubber tubes that recall twitchy disembodied nerves and viscera. Gorgeous, creepy sculptures by both Julia Phillips and Hannah Levy match swooping metal armatures to fleshy substances (plastic, ceramic, silicone) inviting our bodies to meld with them.
"Geopolitics is embedded in the bricks and mortar of the Biennale, with the historic powers each represented by a national pavilion"
The Milk of Dreams might also be balm for the soul, yearned-for comfort after the pandemic. Work by Melanie Bonajo in the Dutch Pavilion, and Adina Pintilie for Romania both explore the politics and taboos of touch, while Sonia Boyce in the British pavilion celebrates the power of Black women's voices to provide an emotional soundtrack to our lives.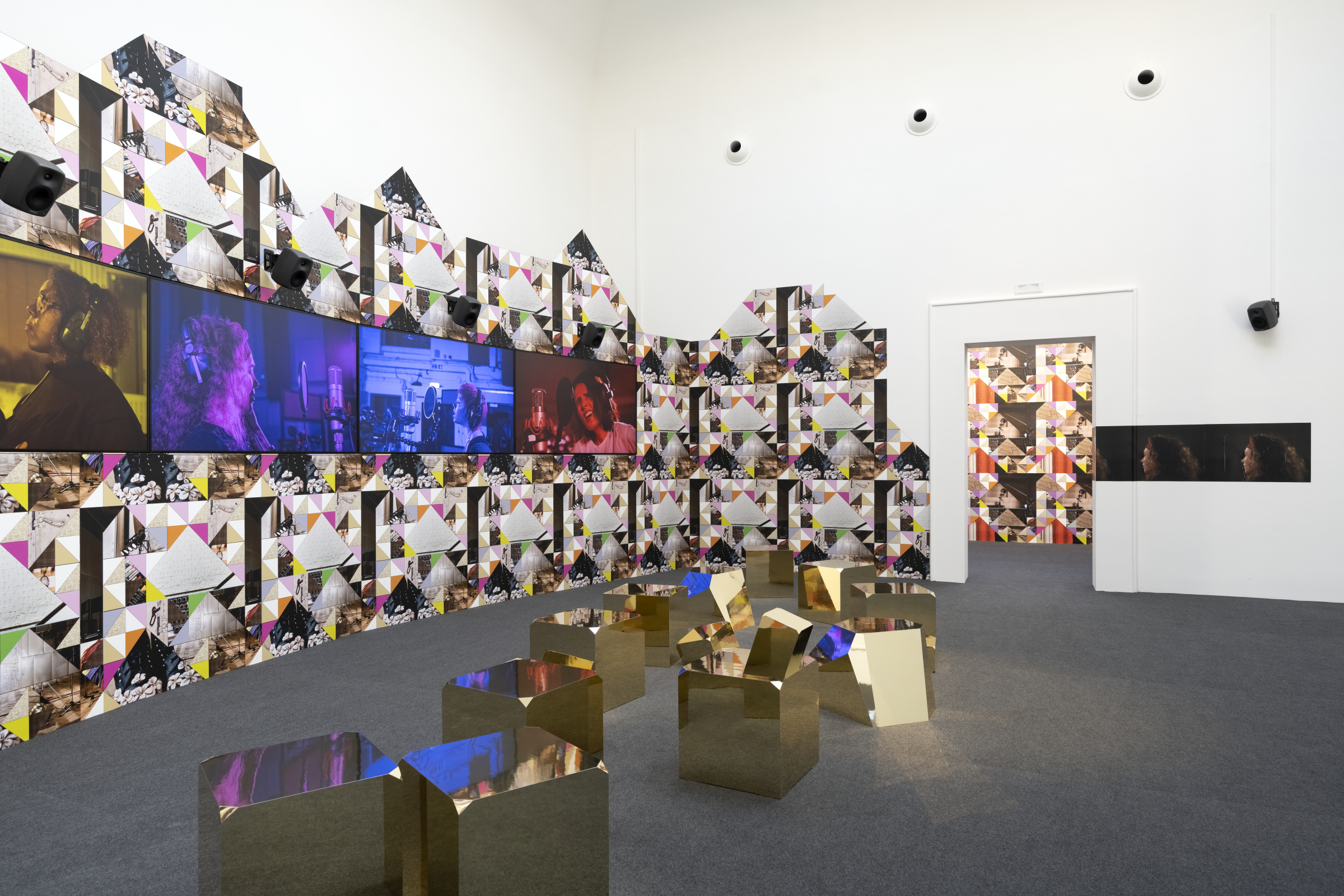 Geopolitics is embedded in the bricks and mortar of the Biennale, with the historic powers each represented by a national pavilion in the Giardini. Simone Leigh evokes connections to earlier expressions of power and nationhood, specifically the Paris Colonial Exposition of 1931. Her monumental ceramic sculptures are housed in the neo-classical US Pavilion, which Leigh has clad in a thatched roof and wooden columns recalling representations of colonised West African countries in Paris in 1931.
There are necessary fractures in this dream world. The Russian pavilion stands locked and empty. News has just arrived that Ukrainian president Volodymyr Zelensky will address the Biennale. Artists of Ukraine past and present are honoured around Venice, while at the centre of the Giardini a tower of sandbags stands outside a pavilion showing art made by those living through a war, not so far away, that is unfolding alongside the Biennale.
Hettie Judah is a freelance writer, art critic and journalist
The Venice Biennale, from 24 April until 27 November 2022