Elephant and Artsy have come together to present This Artwork Changed My Life, a creative collaboration that shares the stories of life-changing encounters with art. A new piece will be published every two weeks on both Elephant and Artsy. Together, our publications want to celebrate the personal and transformative power of art. 
Out today on Artsy is Will Shank on Lorenzo Ghiberti's Gates of Paradise.
According to my old notebooks it was at the very end of a long lecture, on a Thursday afternoon just after Spring Break, that I was first introduced to Agnes Denes and her confrontational intervention at the Battery Park Landfill. I can tell it was the last slide of the day because there are no notes, just the title of the artwork and a lot of exclamation points in red. Apparently we picked up the next week with another of her works; she had clearly been used to round off a prolonged discussion of the Land Art movement. The notebook doesn't, however, reveal the full impact this otherwise nondescript and academic encounter had on me. This is presumably because, instead of scribbling things down, I spent the next few hours excitedly arguing with my long-suffering classmate, who was also my roommate and therefore had no hope of escape. Luckily she likes art.
I had already seen the famous image of Denes standing with Old Testament arrogance, staff in hand amidst a shining golden field, towers of Manhattan in the background, but I hadn't ever had a sense of its scale. The 1982 piece saw her plant a two-acre field of grain in the shadow of the Twin Towers, just a stone's throw from Wall Street. Six weeks later, the wheat sprouted. More than 500 kilograms of the wheat were harvested, which then traveled to 28 cities around the world in an exhibition called the International Art Show for the end of World Hunger (1987–1990), and provided people with seeds to plant.
The ploughed landfill, the time capsule of existential musings intended for the year 2979 and the seed-bank element of its exhibition history all added exciting layers to the impact of the work. It was comprehensive and considered, reaching out tendrils in multiple directions and carrying multiple meanings, not accidentally but with intention.
Wheatfield - A Confrontation: Battery Park Landfill, Downtown Manhattan - Golden Wheat (Close-up), 1982 Copyright Agnes Denes, courtesy Leslie Tonkonow Artworks + Projects, New York
"It was a welcome change from the cheap nostalgia for the imaginary 'wilderness' that I had become accustomed to"
At the core of my excitement was a sense that I had found an answer to a problem that had been bothering me since splitting my concentration between art history and environmental science: what to do about human "art" when it often seems, on the surface of things, to be the problem. There's hardly a dearth of environmental art in the world. Some of it aims to be the solution to the problems of humanity; some illustrates or reveals points of impact; and some suggests actual responses to the crises facing the earth and its inhabitants.
I have long been troubled by how much of this work replays the old man vs nature binary. For someone who, as a child, prayed for the annihilation of all the humans for the sake of the planet, and who had subsequently spent a great deal of time and energy unlearning and unpacking that destructive impulse, the commonplace acceptance among environmental artists that "humanity is the poison" was unsatisfying.
Denes' Wheatfield – A Confrontation: Battery Park Landfill, Downtown Manhattan, was refreshing. To encounter a piece of land art that also explored labour, and which allowed for cyclicality and generation rather than just linear entropic decay, felt refreshing. That it explored the environment—urban, entropic, agricultural, natural—through a critical lens that was at once contemporary, political and drenched in symbolism, meant even more to me. It was a welcome change from the cheap nostalgia for the imaginary "wilderness" that I had become accustomed to in contemporary galleries and museums.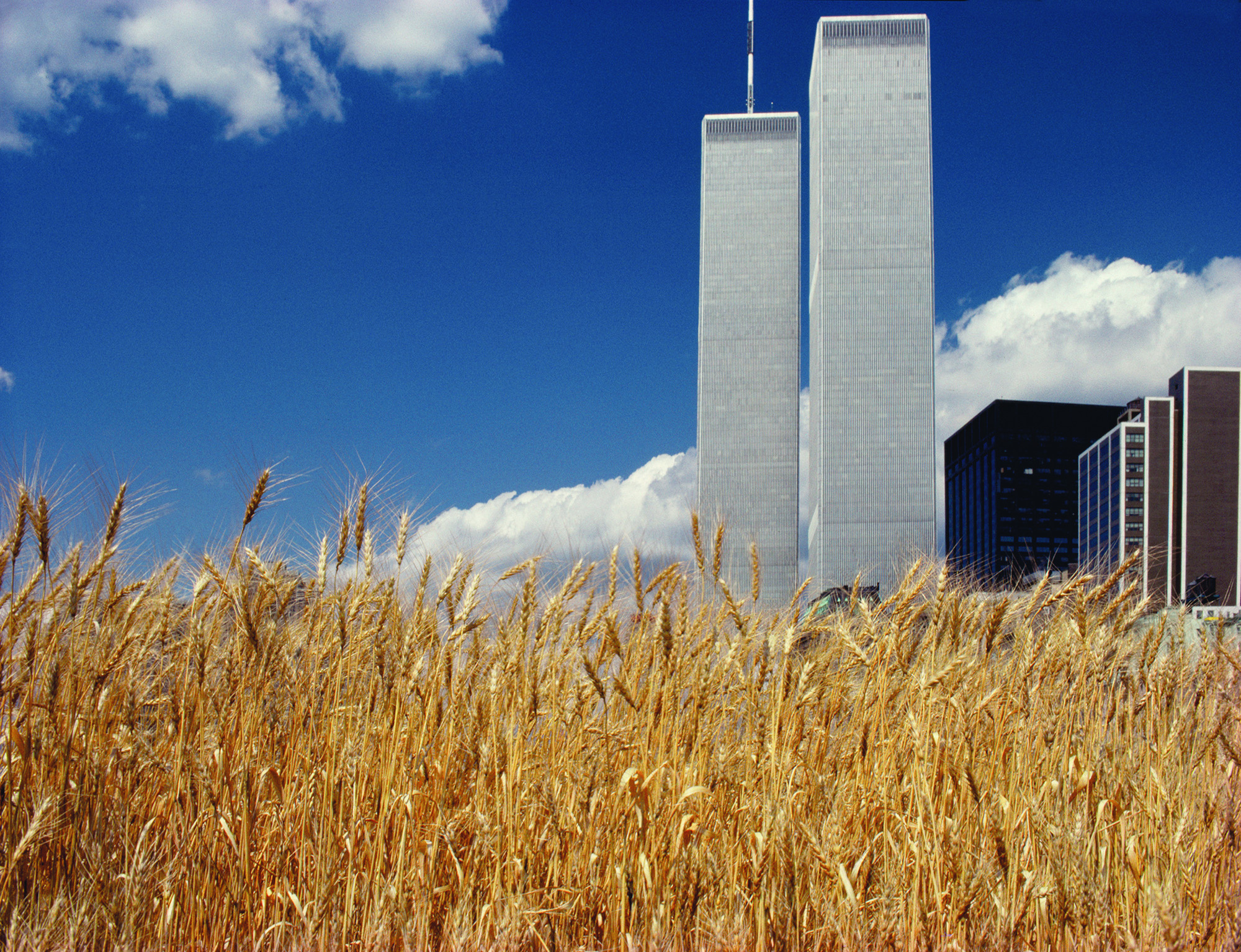 It is imperfect, of course. Questions remain, and will always remain, about the true universality of wheat as a symbol; about the potentially simplistic reading of land rights and ownership on occupied American soil; and about Denes' subsequent work, which tends to shuck the embodied vitality of this one in favour of abstract and universalising intellectual impulses. But for a student struggling with the value of art, in a world which seemed to need other kinds of labour so much more, Wheatfield was an important touchstone.
Wheatfield, true to its title, confronts the idea of a human-free idyll with the fact that humanity is here. We generate waste; we must be fed; we will inevitably impact the environment through our labour. It also confronts the idea of a human-only idyll: the improbable skyscraper city, the absurd fantasy of economics and value, the portioned out concrete, imagining itself inviolable and isolated. With one arm Wheatfield tossed human hunger and survival at the audience, even as it lobbed the weighty insanity of private property at their heads with the other.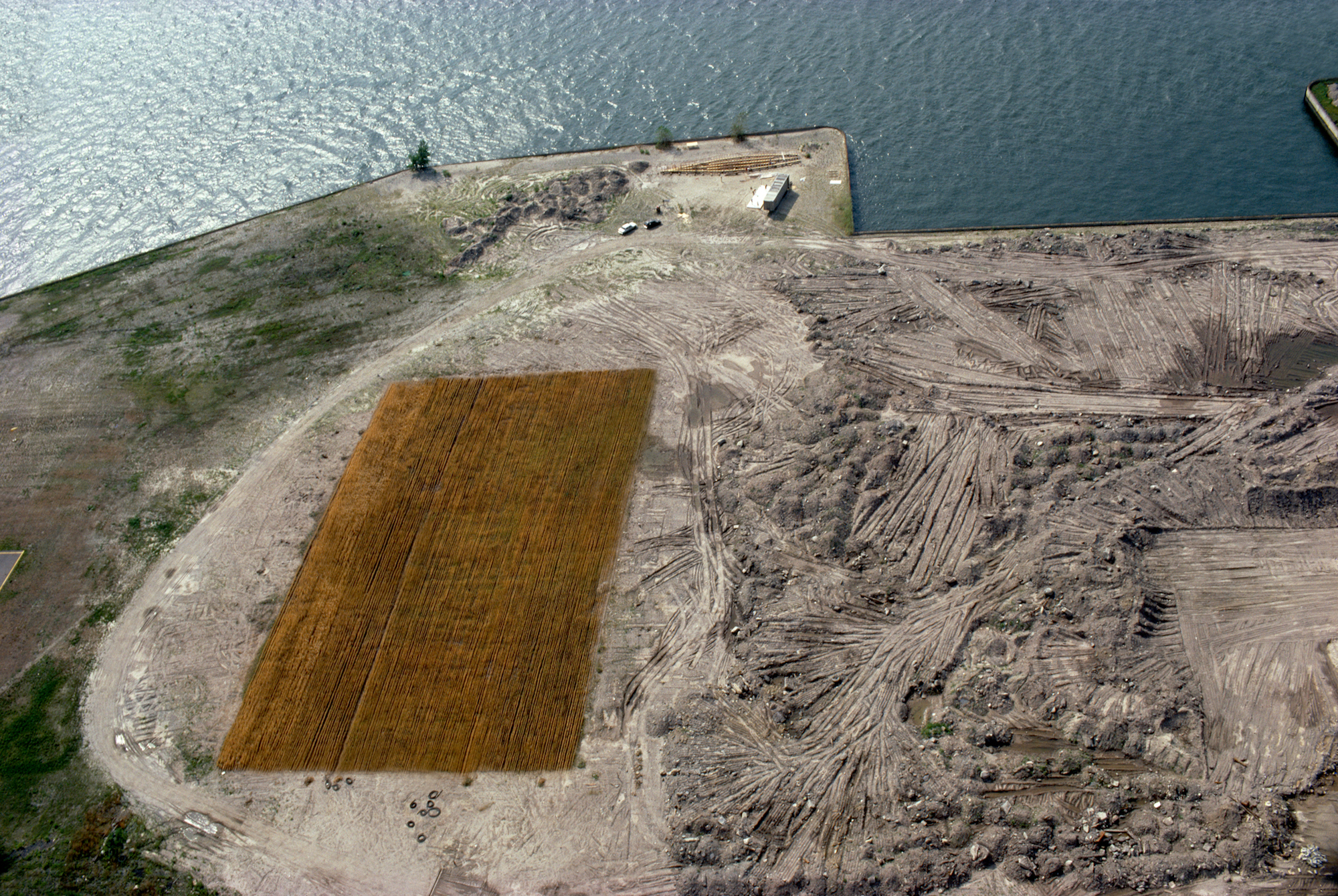 "Many have increasingly reflected on a world with reduced human activity due to global lockdowns, while memes circulate about 'nature returning'"
In other words, this work showed me that what I was looking for in art, environmental art and environmentalism was really the same thing. They were united by an ethic of care and a clear eye. I wanted examples of work in all fields which was holistic, which foregrounded barriers to sustained balance, and which in some way "did the work" from a descendant-conscious position. In subsequent years this touchstone has repeatedly helped me to hone in on theorists, activists and artists whose work strikes a similar chord, from Kathryn Yusoff to Mierle Laderman-Ukeles.
It is very easy to respond to an incomprehensibly large and chaotic upheaval with paralysis, passivity or the urge to obsessively document. It is as though placing yourself in the position of observer or helpless victim can insulate yourself from what a tutor of mine once called "the terror of history". Wheatfield, for me, confronts (among other things) that impulse, and pushes its audience back to the importance of critically engaged labour and embodied care.
Over the past couple of months, many have increasingly reflected on a world with reduced human activity due to global lockdowns, while memes circulate about "nature returning". Works like Wheatfield come to mind again and again as humanity explores new visions of the future. It is time to ask new questions about what we want and how we get there.
Did an artwork change your life?
Artsy and Elephant are looking for new and experienced writers alike to share their own essays about one specific work of art that had a personal impact. If you'd like to contribute, send a 100-word synopsis of your story to office@elephant.art with the subject line "This Artwork Changed My Life."
Head to Artsy to read their latest story in the series, a piece on Lorenzo Ghiberti's Gates of Paradise
READ NOW