Few fashion designers have been as original and compelling as Alexander McQueen. Where a 2011 documentary by Louise Osmond focused primarily on the designer's complex relationship with mentor and patron Isabella Blow, this new film, co-directed by Ian Bonhôte and Peter Ettedgui (son of Joseph Ettedgui) and scored by Michael Nyman, tells the story of the designer's life through his successive shows, illuminating their intensely personal and even confessional aspects and, in turn, going some way to explain both McQueen's hallucinatory creativity and his untimely end.
With great emotional sympathy and artistic fluidity, the film traces the arc from McQueen's very first irreverent, playful clingfilm and bin bag dresses to the intricate digital prints and art performances of the jaw-dropping, other-worldly later shows, from "a sweet boy from the East End looking to make money" who listened to Sinéad O'Connor on his Walkman to the troubled, drastically slimmed-down figure who described "pulling horrors out of [his] soul and putting them on the catwalk" and mused about a possible finale to his last collection, where he would rise out of the catwalk encased in a Perspex box and blow his brains out.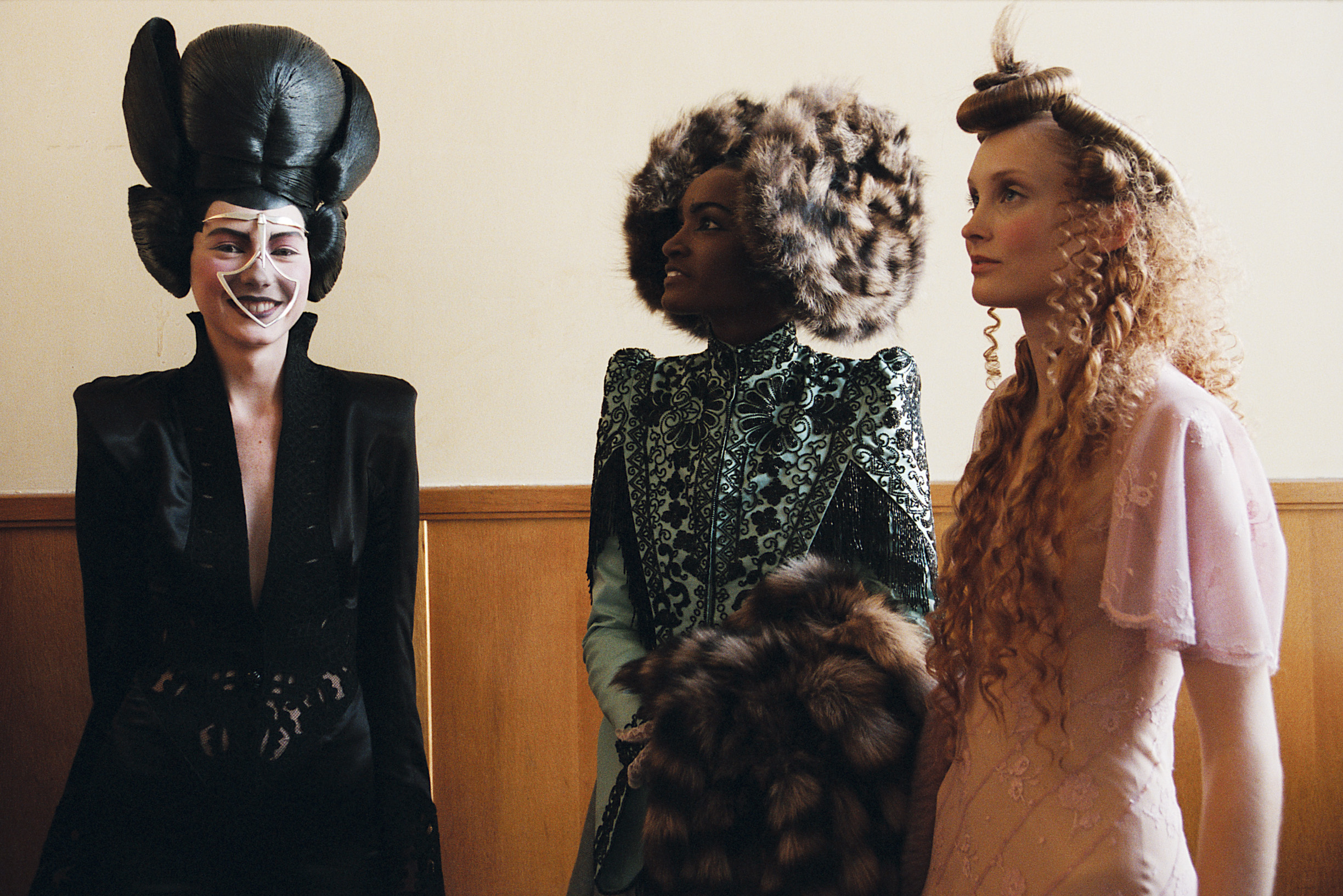 There are numerous interviews with close friends and family, and previously unseen home-movie and behind-the-scenes footage provided by Sebastian Pons (McQueen's second-in-command for many years). This prevents the film from expressing a mere fascination with glittering fashion imagery, anchoring it in the defining and sometimes troubling contexts of McQueen's families—both his biological one and the one formed by his close-knit team of collaborators, including set designer Simon Costin, stylist Katy England and powerful mother/sister figure and fashion "face" "Izzy" Blow, whose premature death by suicide (after being diagnosed with terminal cancer) was possibly one of the blows McQueen could not withstand.
"Lee had this very strange CV," says one of the designer's friends, and indeed the drama is lively, leaping from McQueen's apprenticeship in Savile Row and later Romeo Gigli in Italy followed by his MA at Central St Martins (subsidized by McQueen's aunt Renée's savings) before his dramatic translation to the august house of Givenchy in Paris. There's never a dull moment: we see the cars (used as props but still full of petrol) that accidentally caught fire during a show, threatening to wipe out the cream of the fashion industry; McQueen and Blow flying falcons at her house, Hilles; Kate Moss as a hologram rising evanescently before the astonished front row. It's an incredible ride, but throughout, the beauty and terror of McQueen's artistry is underscored by the relentless melancholy of his face.
Elephant Rating: 🐘🐘🐘🐘 (4/5)
SaveSave