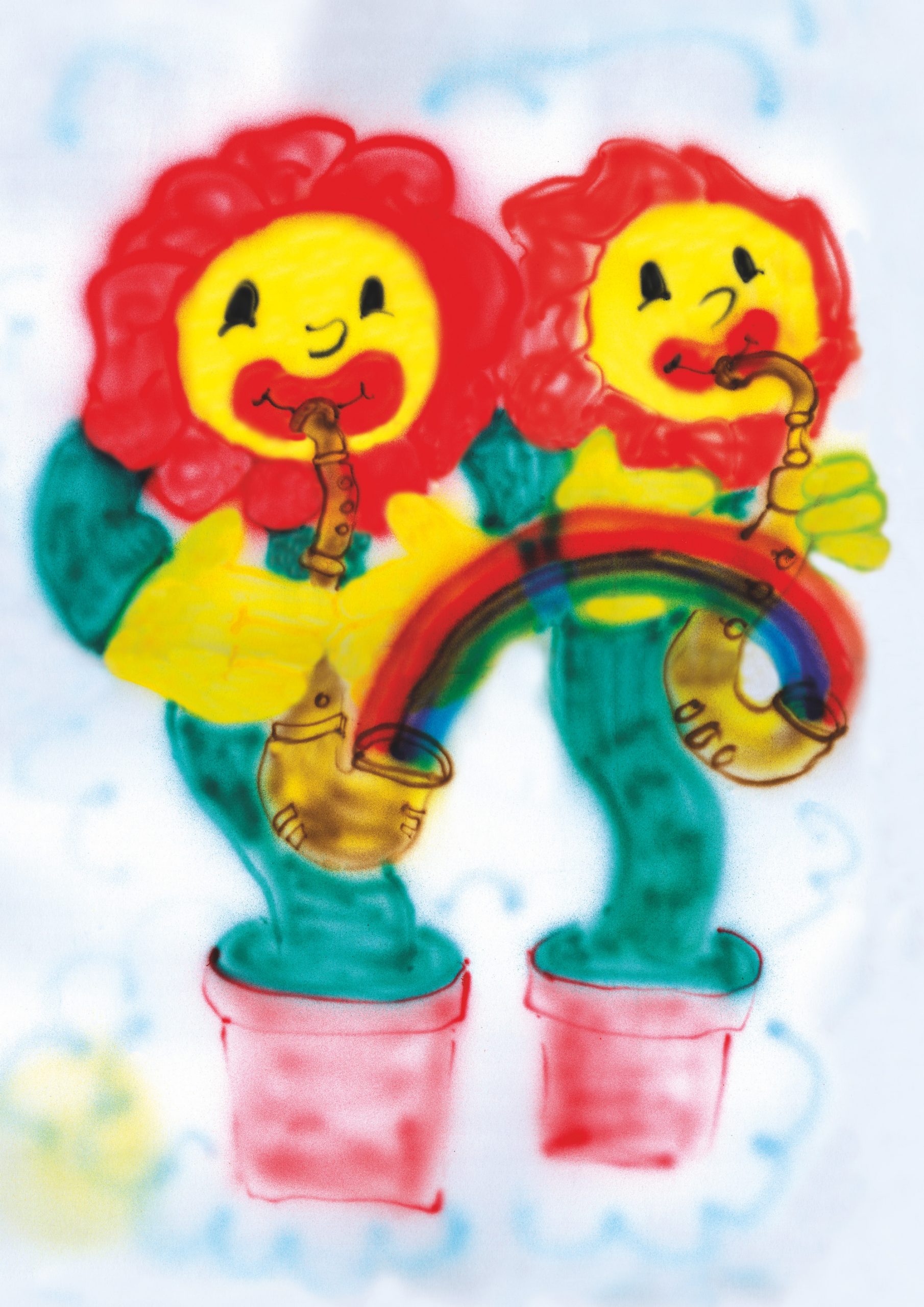 Absurdist humour abounds in the work of Anna Hofmann. The cast of characters in her drawings includes a dog with a shower head for a tail, sheep in fishnets, and a pair of sunflowers playing the saxophone. Vivid primary colours and an airbrush effect lend these scenes a childlike quality with a whiff of 1990s and early 2000s nostalgia, in other words, catnip for a new generation of digitally immersed, retro-leaning teens.
It's not difficult to get caught up in Hofmann's playful, freely imaginative world. She has a knack for anthropomorphising almost anything, from symbols such as hearts and the peace sign, to seemingly any animal under the sun. You can find yourself suddenly cheering on a rogue dog in a pink bowtie, or oddly moved by a pair of cats canoodling on a striped bed.
The German artist has also recently collaborated with Celine Homme for their Summer 22 collection and ventured into experiments with sculpture, including a series of piggybanks that stay true to her off-kilter vision. To adopt one of her own work titles, her work is sure to give you all the 'feelies'.
If you could save only one item from your studio, what would it be?
I think it would be the simplest item in the world: my pencil. The one with the eraser on the end. Every little sketch helps me to build an idea of what I will draw or build next. And doing sketches helps keep me going further because it's always the beginning of new things.
What was the last art material you bought to use in your work?
I just bought some colours for my airbrush. It's acrylic ink which is super suitable. Because I use a pistol which needs only low pressure from the air compressor, the pigments should be be super fine. The airbrush allows me to do thin lines from 0.35 mm to thick spray clouds. I just love the soft surface of spray-painting.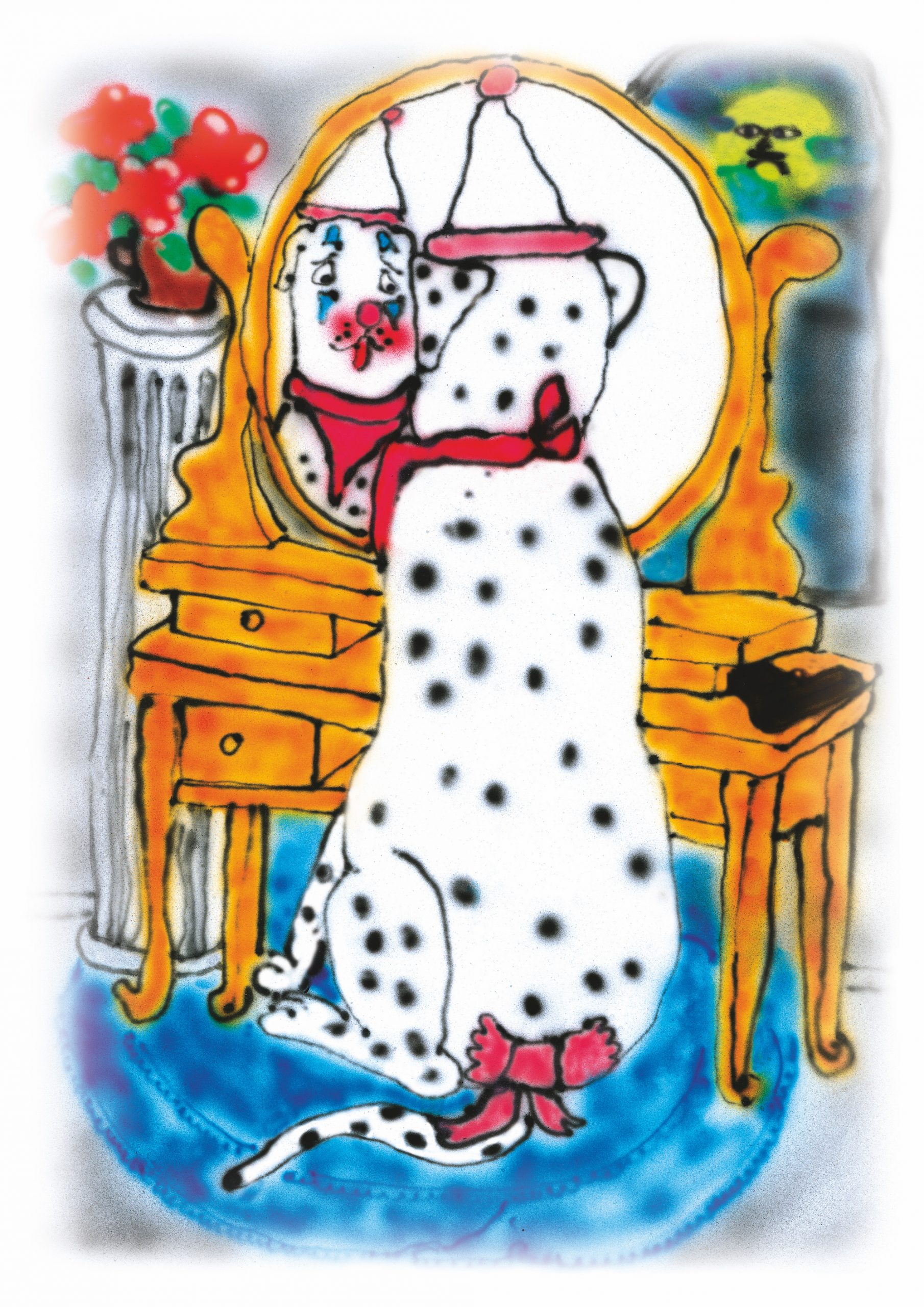 What is your go-to song when you're working in the studio?
There's not one special song. Since my work has a lot to do with interactions and relations, I like to listen to dramatic music that touches me and that I can sing along with loudly, but it depends on my mood and how I'm feeling about my work. Could be something pushing or dark. Music affects me a lot. Frank Ocean comes on over and over again, for example. Nikes or anything Frank Ocean does!
"Every little sketch is helping me to build an idea of what I will draw or build next"
Which single work of art would you choose to live alongside in your home?
Right now I'm a big fan of Ariana Papademetropoulos. I saw her work at Breeder Gallery in Athens in 2020. The spectacle and dreamlike qualities of her work just amazes me, from its colour to what I think it's saying.
"I'm a big fan of Ariana Papademetropoulos. The spectacle and dreamy work just amazes me"
If money was no object, what would you most like to experiment with in your work?
I'd like to have all the time and space to learn and experiment with everything that I enjoy. And I think it would be nice to work with recyclable materials.
Tell us a pet peeve of yours when it comes to the art world.
I would like to see more social security for people who work in the arts.
What is your favourite gallery or museum space around the world?
Although I, of course, haven't been all around the world, the art galleries that impressed me a lot so far were the Ruttkowski 68 and The Breeder gallery. They just have fantastic curation and great premises.
Louise Benson is Elephant's deputy editor
Listen to all the go-to songs picked by our 5 Minutes With artists here. 
The work of Anna Hofmann appears as part of Celine's S/S22 collection
VISIT WEBSITE