Puppetry, dolls and larger-than-life costumes populate the images of London-based photographer Annie Collinge. Visual trickery abounds, as if Alice had just stumbled upon a magic potion in Wonderland, with scale (the very large and the very small) frequently distorted. The human body becomes a foil to its surroundings, offsetting imaginative surroundings that conjure the escapist storybooks of childhood. A head appears amidst a mushroom patch, or else a gloved hand clutches at a disembodied head. Like the best fairytales, these images carry as much menace as they do whimsy.
Collinge has been commissioned by magazines such as Luncheon, as well as working on assignment for brands like Gucci and Kenzo, bringing her theatrical flair to commercial and personal projects alike. The power of suggestion, even in a single high-heeled shoe or maraschino cherry, is teased out before her lens, upending the usual order of things to focus on the little details within the frame. As the curtain is drawn up, the magic of Collinge's stage comes into full focus.
You often make use of props and elaborate set design to tell stories through your images. How did you develop this way of working, and what kinds of places do you tend to source props and materials from?
Objects are the start of the image making process for me; that's why I rarely work with set designers, as usually the actual object is integral to the story, and it would be strange for me to have someone else choose it. I spent my life before Covid on a constant loop of charity shops and car boot sales; now I look at eBay obsessively. I'm particularly drawn to things from the 1930s or 50s, but it's really anything that I find aesthetically pleasing, jewel-toned and a little sad.
Part of a series for Luncheon magazine illustating the different stages of a meal
"I'm particularly drawn to things from the 1930s or 50s, but it's really anything that I find aesthetically pleasing, jewel-toned and a little sad"
Shifting between scale and perspective is an important part of your work, from the very big to the very small. Why does this playful form of visual trickery recur as a motif in your work, and how do you relate to the artificial nature of photography in this context?
I've always been slightly obsessed with things out of scale, like those giant scissors that people use to snip a ribbon when they are opening a new supermarket. When I was a child I collected miniature things. I used to obsess about the tiny plastic balls in pen cartridges; I would literally lie awake thinking about them. I was a very spacey child because I was always lost in a miniature world daydream somewhere. All these visual influences are basically cemented in childhood, and as an artist you spend your adulthood trying to dig deep to find them again; I think some people never do.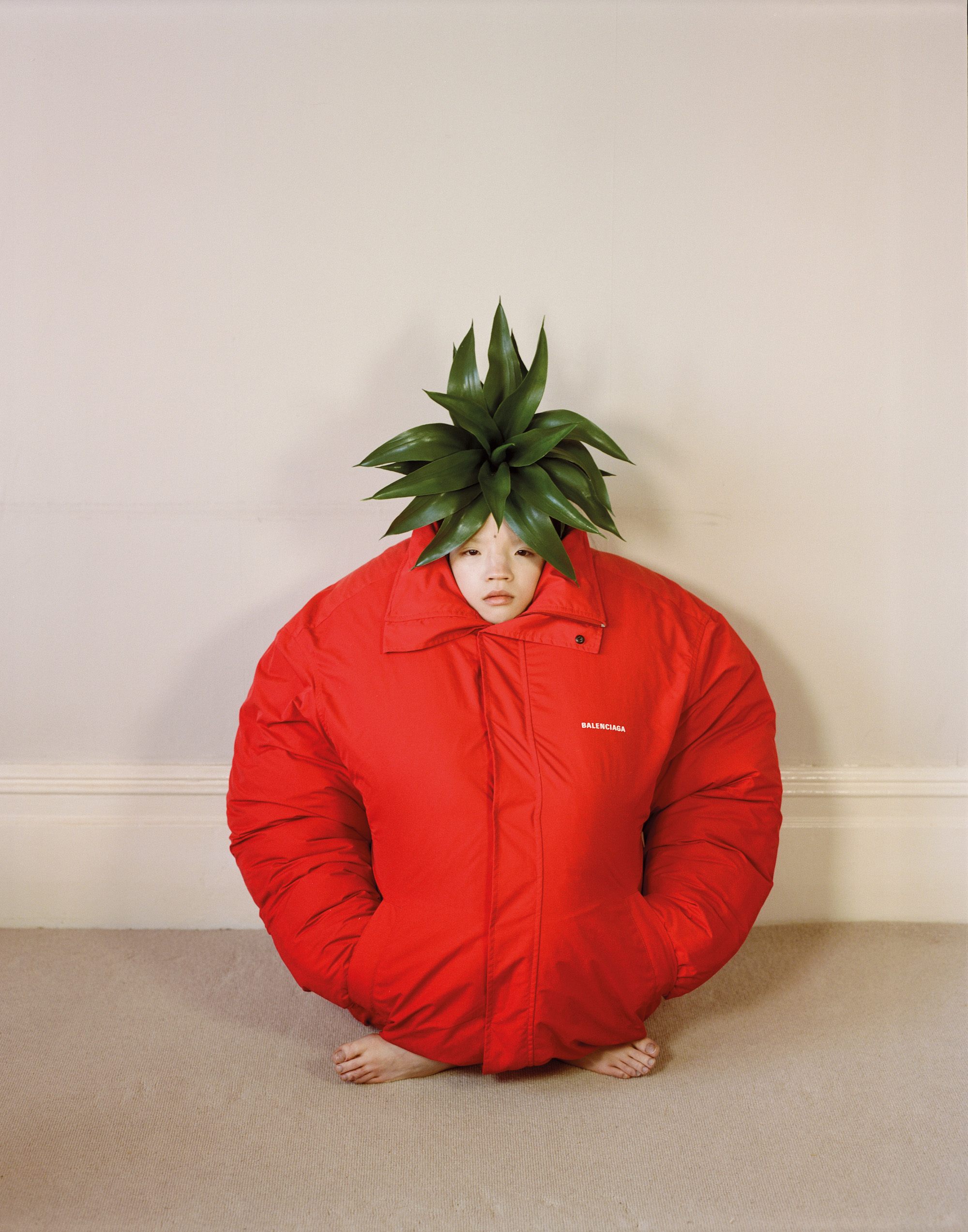 Bright colours and an element of kitsch are important facets of your work. What are some of the influences behind this aesthetic?
Definitely the books I read as a child; my mother is American and so I had a lot of her books from the 1930s, 40s and 50s. My great aunt, Quail Hawkins, wrote children's books throughout the 1930s and 1940s. I remember visiting her every year in the old people's home in Pacific Grove and leafing through the yellowing pages of the books she'd written. I was always drawn to the anthropomorphic characterisation of objects, like a sad little house where the windows became eyes and the blinds are eyelids. I loved books like the Snuggle Pot and Cuddle Pie by May Gibbs, with the terrifying Banksia men which are based on the Banksia tree pine cones. 
Mari Doll part of the publication Five Inches of Limbo
You straddle the worlds of art and fashion, creativity and commerce, in a manner that feels natural and unforced. Do you see a separation between your work within these realms, and how do you reconcile the two?
I've not really sought out shooting fashion, it's just kind of evolved that way because of the way I work. I don't really have any separation between the different realms, I just ask myself whether I'm proud and happy with the result of what I'm making. I like working in the constructs of making fashion imagery because it's kind of problem solving, and also gives you a starting point.
I feel like I spent a long time in my early career as a photographer second guessing what I thought people wanted from me, and then feeling very unhappy or even in some cases ashamed of the result. Now I'm much more confident in being honest with my own image making process I hate things being over produced, as for me as soon as it happens, it loses some of the humour and soul of the image. I like things to look almost as if they are shot in reality and that I've just kind of happened upon them.
"All these visual influences are cemented in childhood, and as an artist you spend your adulthood trying to dig deep to find them again"
The body is an important anchor in your work, offering a recognisable element in an image even when everything else in the frame has been upended. What does the recurring presence of the human form in your work mean for you?
Sometimes I find photographs of objects on their own a bit visually dead. I guess, when I break it down, most of my images are about the interaction between humans and objects, and that is why I think I have, in the last few years, ended up shooting more fashion images. It also helped when I met Rottingdean Bizarre (AKA James Theseus Buck and Luke Brooks) because it's one of the few times in my life I've met people that I feel very creatively in tune with when we are making images together. The way they use fashion is completely different to any other stylists I've worked with, and every piece of clothing is considered for its exact aesthetic and its contribution to the image as a whole.
It's not about making someone look "stylish", it's about making an artwork using fashion as one of the elements. I think that when I do make images of objects on their own, they have to take on a slightly human quality, so that the image holds onto some mystery. That is the most important part of a successful photograph, in my opinion.