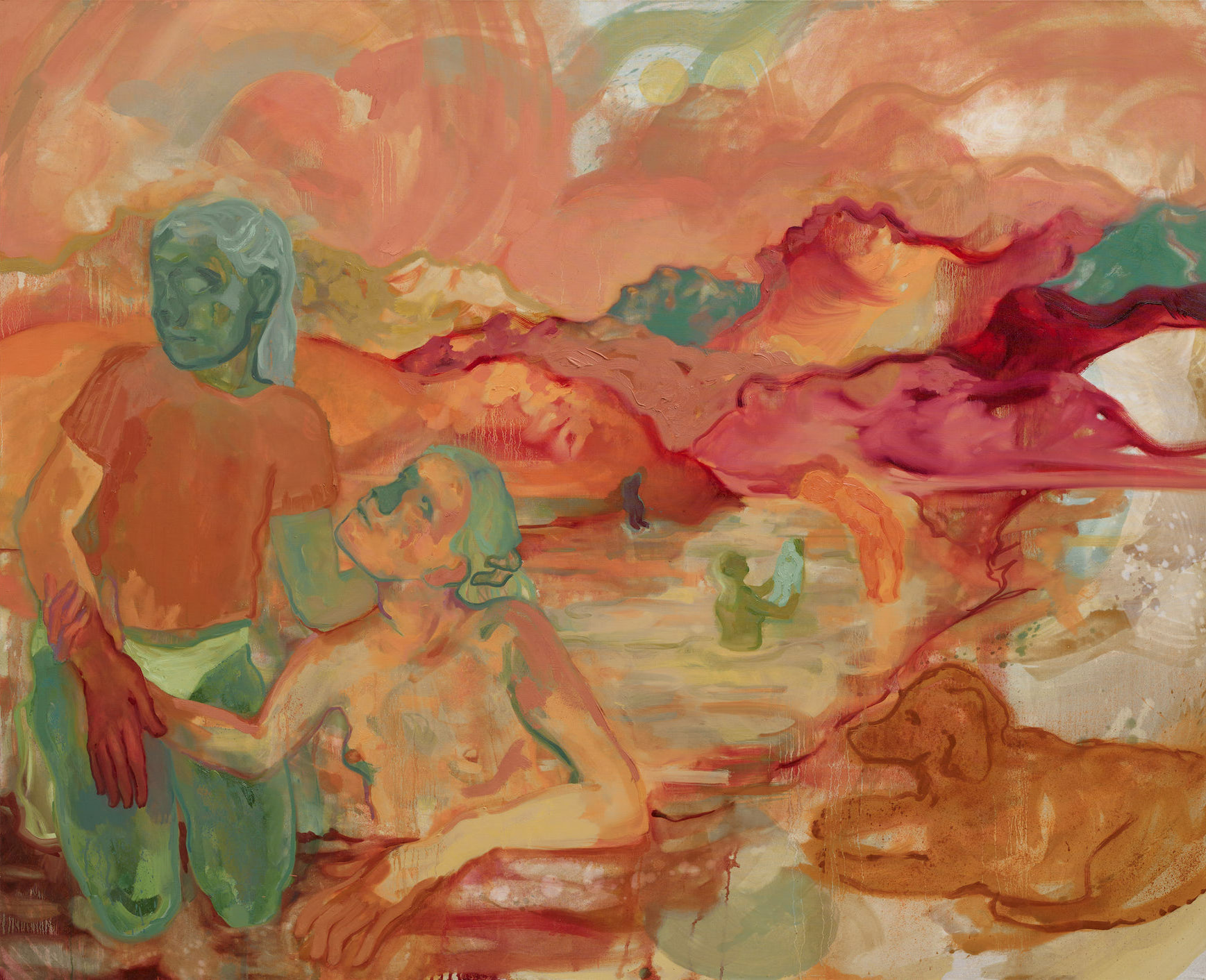 Three figures emerge from a wash of colour as if from the haze of a dream. These are the imaginings of British painter Antonia Showering, whose narratives flickers across the canvas like sputtering gas lamps. Illuminations come in the form of tender embraces and wandering dogs, strange landscapes and rushing water. Her paintings swell with human emotion, and the criss-crossed paths of chance meetings and missed connections, as stories within stories unfold.
Look closer, and you will see a detail that at first you missed, two children disappearing down a hillside, or an apple discarded just so on a plate. While these moments of the unexpected tremble in her languid scenes, there remains an unspoken rhythm to Showering's paintings, as if a drum were being beaten just out of the frame in an endless march.
There are no main characters in Showering's stories, no glossy spotlight upon one individual. Instead she depicts an ever-renewing cast of many players, acting out their worries and their whims. Much like life itself…
If you could save only one item from your studio, what would it be?
Roger! My dog, he curls up on his bed keeping me company while I'm painting. When I say the word 'studio', his head tilts to the side and he gets super excited. I think he must have been an artist in a previous life.
What was the last art material you bought to use in your work?
It wasn't an art material per-se, more a prop. I was eating an apple while coming towards the end of my most recent painting, Generations. The bottom of this image depicted an empty plate, which I was struggling to decide what to do with.
Formally the image needed something to punctuate this space, and when I held this half-eaten apple in front of this section of the painting the image felt a lot more balanced. It also added to the painting's atmosphere with the personal, cryptic symbolism attached, so I painted it!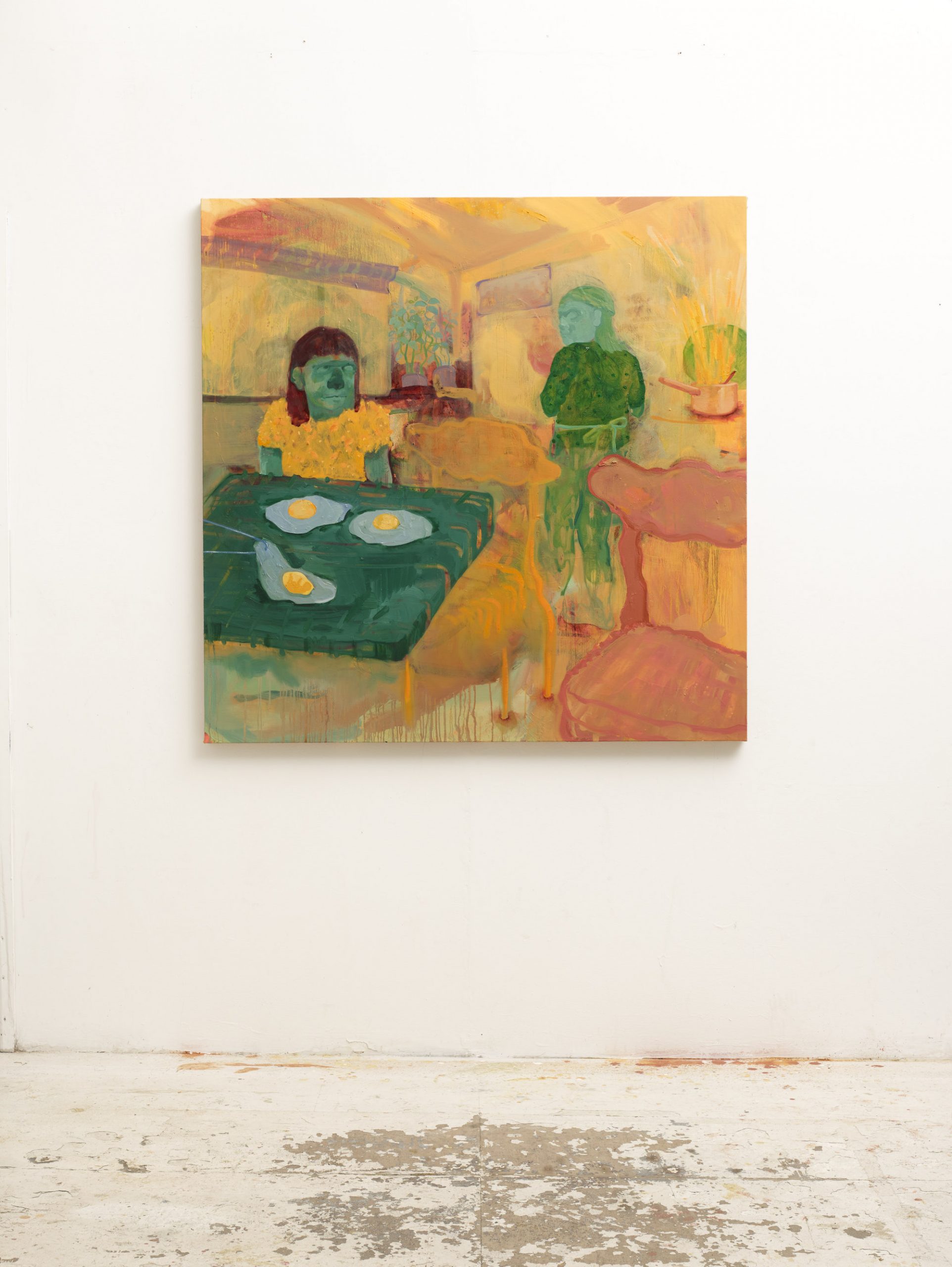 What is your go-to song when you're working in the studio?
The song I have been gorging most on in the studio recently is called Stumblin' In by Suzi Quatro. It's upbeat unlike most of my go-to songs but I think that's because I thought the opening line was "Our love is a lie", when actually it is "Our love is alive", but the melody is brilliant and I was hooked before knowing this.
Which single work of art would you choose to live alongside in your home?
Paula Modersohn-Becker's work is even more potent and beautiful in the flesh. I feel so much from her subject matter. The colour choices, texture and physicality of the paint is mouthwatering. I'd love to be able to see Girl With Child every morning, evening and moment in-between.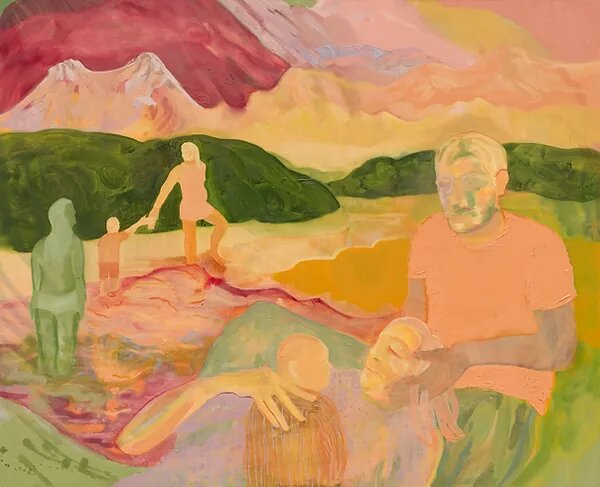 Top three art or photography books?
The Complete Stories of Leonora Carrington; Alice Neel: The Subject And Me; Frida Kahlo: The Complete Paintings book.
If money were no object, what would you most like to experiment with in your work?
If money were no object I'd have Old Holland, Cadmium Lemon Yellow on tap and a Modigliani hanging in my studio!
Tell us a pet peeve of yours when it comes to the art world.
Emails: I'm so slow. I want to get back to everybody and I always do, eventually, but sometimes it takes a while. I can do 14-hour painting shifts and my hands don't hurt but after replying to five emails I start thinking I need to get the Voltarol out.
"If money were no object I'd have Old Holland, Cadmium Lemon Yellow on tap and a Modigliani hanging in my studio!"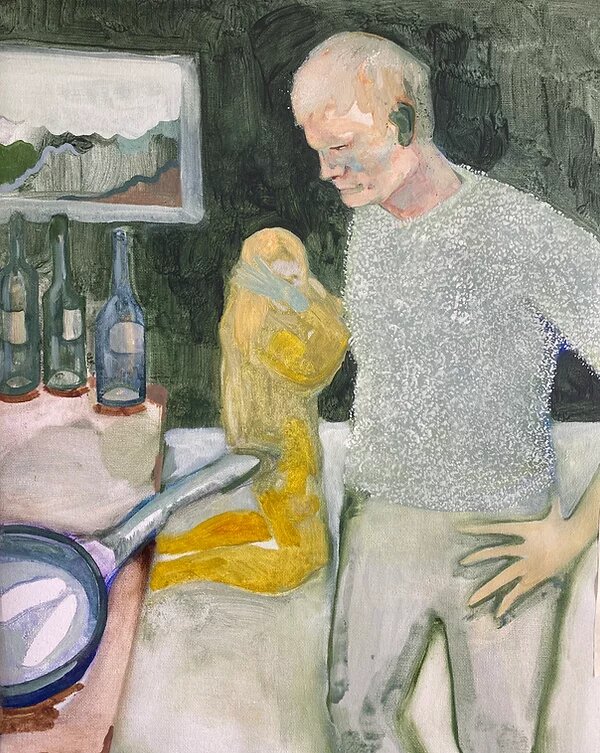 What is your favourite gallery or museum space around the world?
Celia Paul's painting in Tate Britain's All Too Human exhibition moved me like I've never been moved before. The work is called Family Group and it is of her mother surrounded by herself and her siblings.
Although drawn from her reality, the emotions depicted are deeply universal. There are so many other treasures in their permanent collection and that is why Tate Britain is one of my favourite museums.
Louise Benson is Elephant's deputy editor
Listen to all the go-to songs picked by our 5 Minutes With artists here.