For Arco Madrid's 37th edition the fair hasn't chosen a nation or region as its focal theme, but rather a concept: the future. Curated by Chus Martínez, Rosa Lleó and Elise Lammer, the themed section brings together twenty galleries each presenting solo shows. The works are geographically and temporally diverse (from Salvador Dalí's fashion designs of 1965 to post-human premonitions of 2018), yet they are all tied together by the overarching theme. The concept of the future extends beyond the content and effects the section's design—for which any overwhelmed fairgoer will be grateful. Architect Andrés Jaque has created an area closer to a curated exhibition, which lacks individual stands and instead promotes a more fluid movement through the space. Could this be the art fair of the future?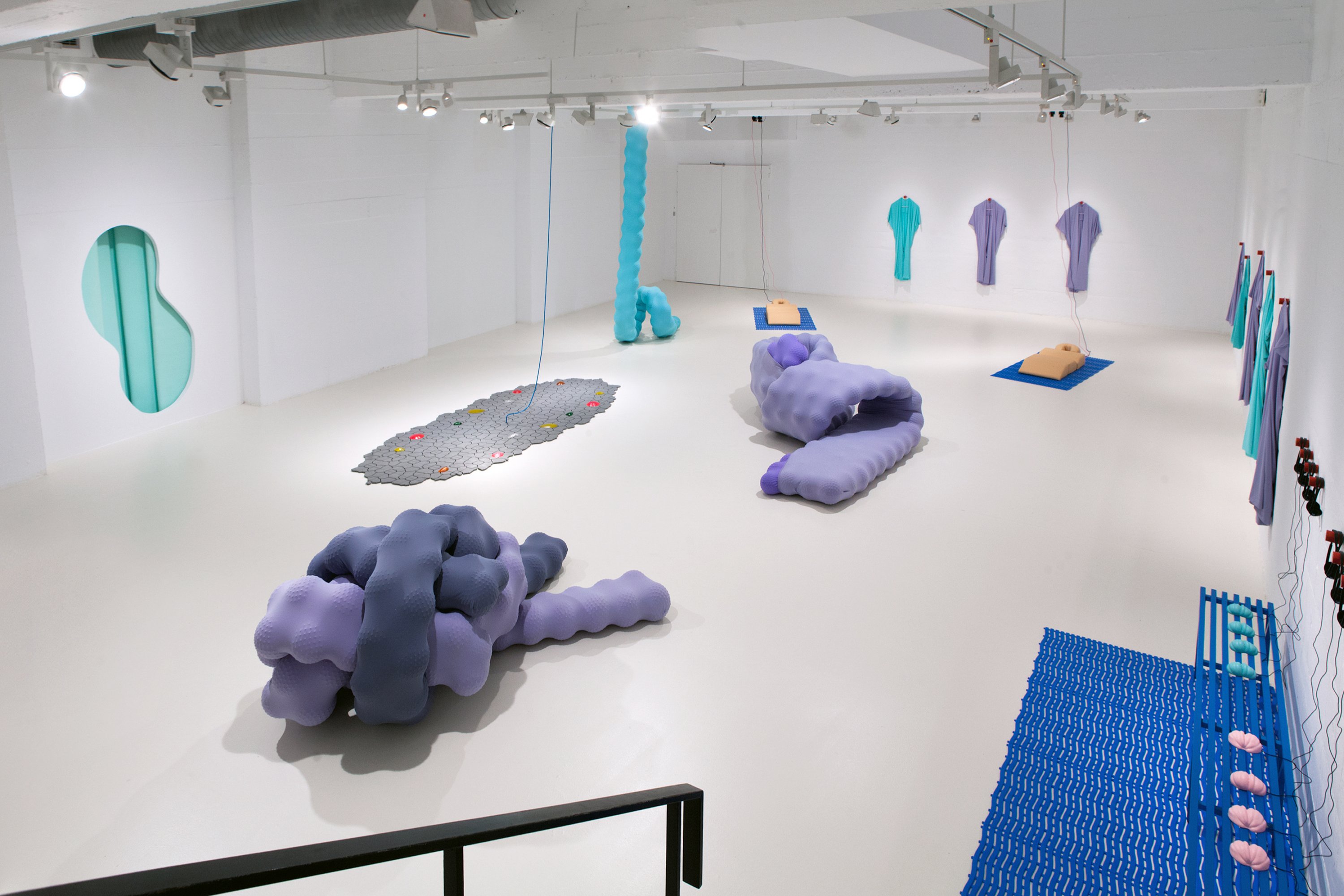 Arco's future is certainly playful. The walls and floor are a shocking green. At one end of the section is a functioning ping pong table (Július Koller, GB Agency), at the other, is an interactive installation by Spanish artist Eva Fàbregas. Three snake-like sculptures flop sensually across the lurid green floor; protruding from their pastel-hued surfaces are turgid bulges, dotted with a low-relief pattern. The first snake bundles in on itself, the second lies prone across the floor and the third climbs up a lofty beam to then droop, temptingly. During my visit, a passerby lunges at the form, almost bringing it down with him—the snakes beg for somatic exploration. One of Tenderpixel's gallerists hands me a pair of headphones attached to a control (also wrapped in something squishy) and tells me to get comfortable on one of the snakes. As I sink into its fleshy matter, a disembodied voice whispers into my ears, "I don't know how you do it—I'm so glad you've taken the time to take care of yourself today." I feel calm and understood, like I'm in a concept yoga studio. Fàbregas explores the culture of wellness in her work. Her installation presents a utopian ideal antithetical to capitalist work ethic today, one which prioritizes relaxation and self-care. The voice whispers again, "How difficult is it for you to locate boundaries of your own body?" By asking us to question where our flesh begins and the snake's flesh ends, Fàbregas interrogates the threshold between subject and object, human and non-human.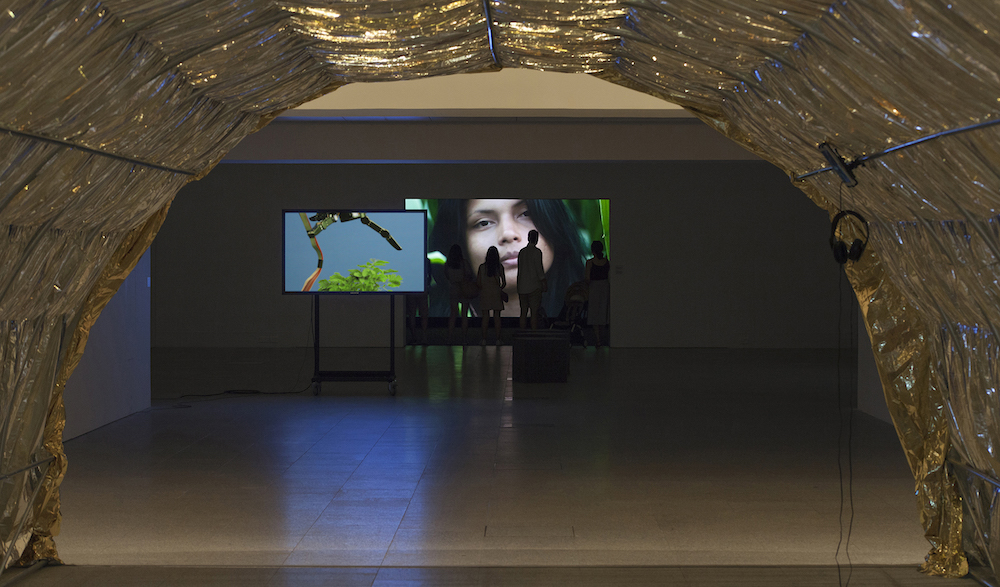 A common theme in Arco's future section is a devotion to Donna Haraway's essay A Cyborg Manifesto (1984). Like Fàbregas, Haraway asks us to forget our rigid boundaries: why separate "human" from "animal", "human" from "machine", "man" from "woman", "me" from "comfortable snake-like structure"? Haraway criticizes traditional forms of identity politics and feminism, instead calling for a move beyond gender and the advent of a posthuman world. Galerie Crevecoeur presents Ad Minoliti, who paints abstract interpretations of posthumanism. Galerie Emanuel Layr presents work by Lili Reynaud-Dewar, in which gold grills become a Segway in conversations on race, identity and cyborgs. Her film ends with a performance of A Cyborg Manifesto in a futuristic amphitheatre in Memphis, Tennessee. Galleria Umberto di Marino shows a film by artist Pedro Neves Marques, YWY, a Androide (2016), which is set in the agricultural interior of Brazil. It opens with shots of rustling cornfields, followed by a cropped face of an indigenous woman with cyborg eyes (imagine Apple's spinning wheel of death imposed on her irises). In addition to being a primary food source for the region, corn is of specific spiritual significance, often used in religious ceremonies. The indigenous android begins a conversation with the crop, "We are sisters." Here, alongside a posthumanist outlook, Marques introduces a more ancient belief system—animism. By charging the corn with agency the cyborg asks us to question the human's status as primary. The android continues to draw parallels between the GMO crop and herself, "We have a right to our bodies." Marques not only explores the way we exploit other cultures and nature, but asks if this might predict future behaviours towards cyborgs. The film's tone becomes foreboding—the android talks about the Swedish botanist Carl Linnaeus, often referred to as the father of modern taxonomy, who wanted to "make nature in his image". At the risk of creating even more subordinate entities, is it wise to continue in our quest to play God?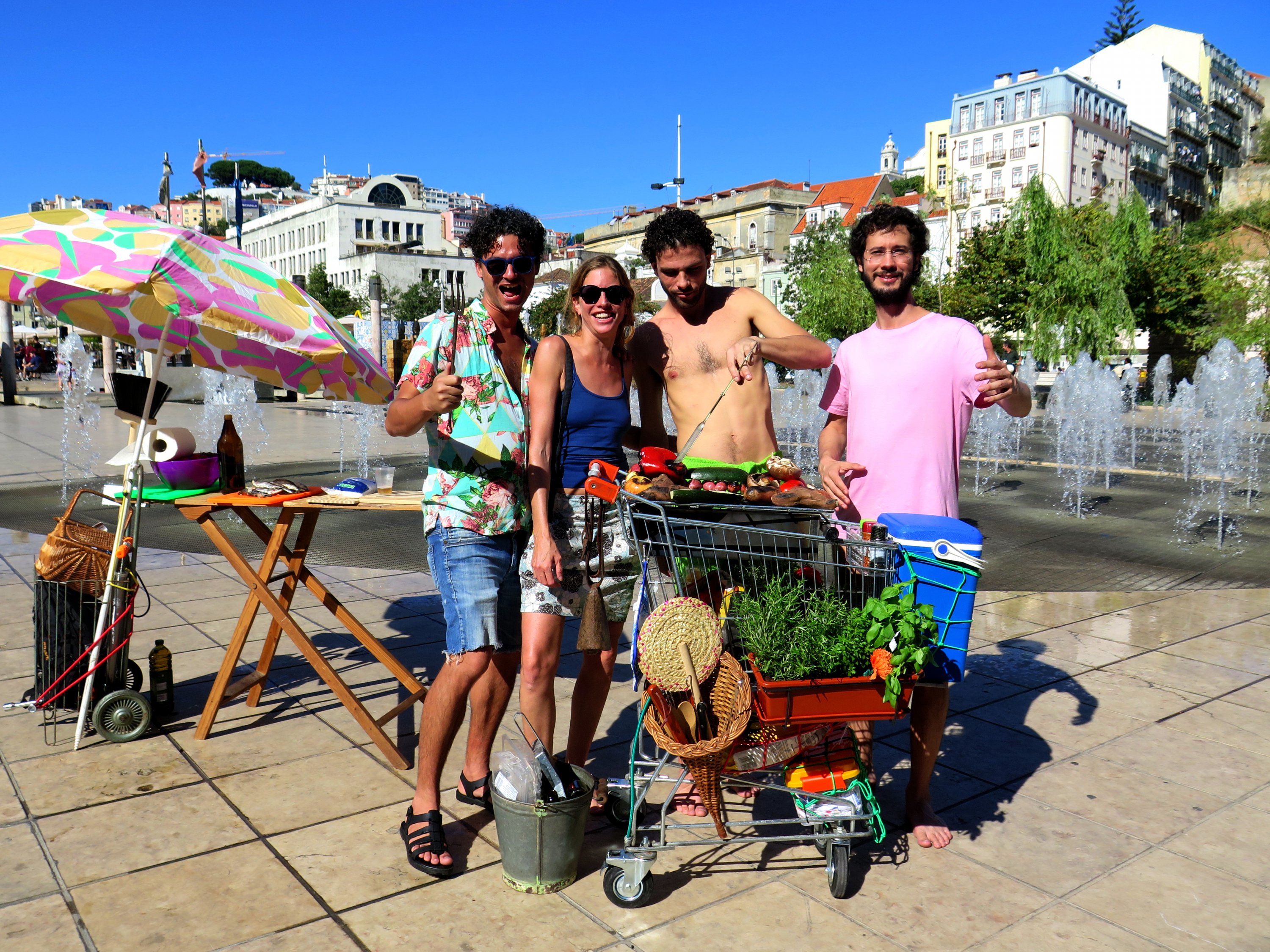 At A Gentil Carioca, Opavivará!'s visions of the future are rather more cheery. A shopping trolley laden with fresh fruit and bottles of wine converts into a functioning cooking station, complete with a grill and chopping board. Another bricolage is the perfect party-emergency toolkit—a foldout table is loaded with a huge speaker, parasol, bicycle pump and broomstick. On the streets of Rio de Janeiro, the portable sculptures (Transnômades, 2016) pop open and become public art, which mirror the carts of the city's street vendors. Reminiscent of Caractacus Potts's eccentric creations in Chitty Chitty Bang Bang, the sculptures are silly and joyful. But like Fàbregas's utopia, they also imagine a future in which new priorities are prized. Here, it's the qualities of resourcefulness and collectivity. At another Brazilian gallery, Galeria Nara Roesler (there are thirty-five Latin American galleries at the fair, of which fifteen are Brazilian), a series of weird doodles are on view next to a chopping board, stacked high with stock cubes and vegetables. A few meters away, a large-slow cooker sits on the floor. Someone tells me me that if I come by at 5pm the artist, Eduardo Navarro, would chop up his drawings (rice paper, edible ink), add them to the broth in the slow-cooker and serve us all doodle soup. Navarro's practice is also collectively and experientially focussed—as we eat the art, we are also altering the internal makeup of our bodies. Navarro not only imagines a future but also proposes that we should take control of it—we must be prepared to work collectively to undergo changes as both individuals and as a society. Unfortunately, I missed soup-time. Maybe that's why I'm still as confused about the future as ever.