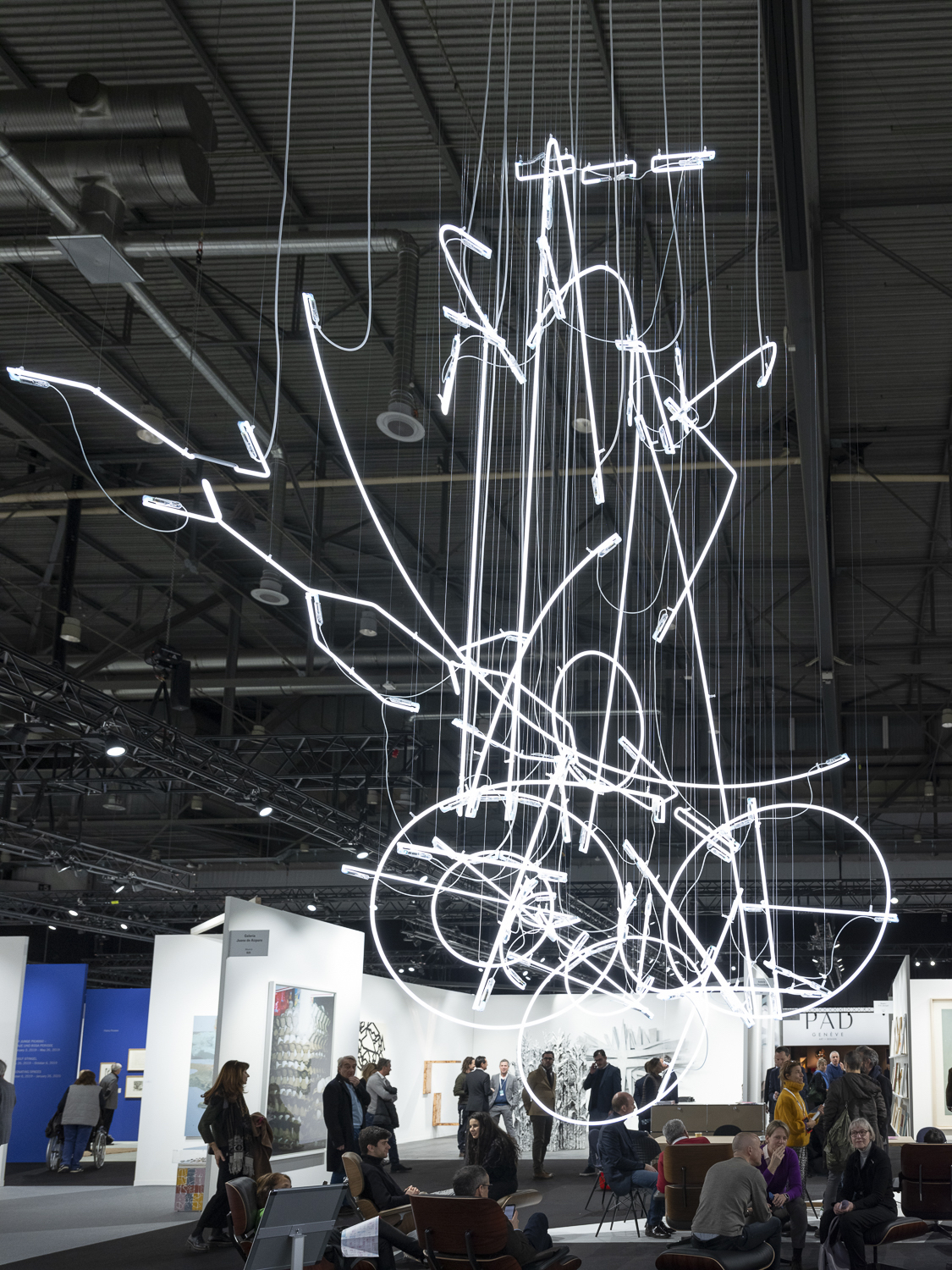 Geneva is a famously secretive and guarded city, highly reluctant to show off its treasures. But there is one revelatory way into its art scene: the annual salon d'art Artgenève, held in the city's Palexpo centre. Since 2012 artgenève director Thomas Hug's distinctive strategy has been to stage an ambitiously and rigorously curated event that combines bespoke museum-style exhibitions by art institutions, exceptional opportunities to see works from ordinarily inaccessible private collections, and the usual impressive roll-call of blue-chip international galleries.
Chris Burden at artgenève 2019, photo by JulienGremaud
When I visited, one of the fair's highlights was its Estate Show, which each year presents a monumental work by a historic artist. This year it was 40-Foot Stepped Skyscraper (2011) by Chris Burden (1946-2015), an artist known for his performance pieces informed by physical danger and his vast engineered sculpture installations. Made entirely out of small Meccano-like components, Burden's imposing ziggurat, with its spiral steps beckoning the viewer to climb to the top and, beyond that, possibly to stumble vertiginously downwards, stands, alone and alien, in a large space fenced off by tall black curtains—inviting a reflexion on what lies beyond, the "non-place" that is Palexpo, the hangar-like exhibition centre temporarily animated by events such as Artgenève.
Other high points included Pop Art-inflected works by Swiss artist Valentin Carron loaned by the Ringier collection, underscored by the sound of bells; a beguiling selection from the Gandur Foundation, with ancient archeological artefacts juxtaposed with paintings by the likes of Soulages and De Staël; Lausanne-based artist Maya Rochat's marbled, richly sedimented, multiply-processed installation; Belgian artist Hans Op De Beeck's powdery-grey cabinet de curiosités (Galleria Continua); Denis Savary's majestic Augustes—a scattering of bodiless and somewhat elephantine heads, presented by the Fonds Cantonal d'Art Contemporain; Cameroonian artist Barthélémy Toguo's beautiful and troubling ink-blue watercolour of armless African drummers (Galerie Lelong & Co); the sensuous, rhinestone-studded work of African-American artist Mickalene Thomas (Galerie Nathalie Obadia). Particularly witty was Galerie Nicola von Senger's offering: Nici's Bar, a dark and immersive dive installation by Swiss artist Beni Bischof.