Zurich- Albert Kriemler first encountered 'the trapezoid', the unofficial symbol of the Swiss fashion house Akris, looking at a building floating over his head. In the Jinhua Architecture Park near Shanghai, a tall glass pavilion suspended over a footpath had been designed by the Mexican architect Tatiana Bilbao. Kriemler was enchanted, and today, this geometric shape is central to the Swiss fashion house's visual vocabulary. As creative director of Akris, Kriemler's collections have often paid homage to art and architecture, his collections have been inspired by the likes of Franz Kline, Ian Hamilton Finlay and Félix Vallotton. And now the Museum für Gestaltung in Zürich has staged a new exhibition, curated by Karen Gimmi, titled Akris. Fashion. Selbstverständlich which puts the designer's work side by side with the artists who have inspired and collaborated with him.
The museum's exhibition space, with its high ceilings and echoing acoustics, is church-like and divided into rooms by a trapezoid of paper walls, each corner displaying part of the Akris history. But the majority of the exhibition is devoted to Albert's artistic collaborations. 
In 2014, Kriemler created his Fall/Winter 2014 collection in collaboration with Thomas Ruff. If you are familiar with Akris, you may remember the finale of the Fall/Winter show, when the lights went out, and the audience sat in darkness to watch a series of dresses laced with lights make their way down the catwalk. Kriemler had been planning that moment since 2012 when he saw a retrospective of Ruff's work at Munich's Haus der Kunst. His collection reproduced the blurred light, the tunnel vision and distant surveillance of Ruff's photographs.
Initially, Kriemler approached Ruff with his idea and over the years that followed, the two met every month in Ruff's studio in Düsseldorf, where they would review sketches and experiment with fabrics and shapes. Kriemler says Ruff's work has always fascinated him because, despite its variety, "you can always tell that Ruff created it." The pieces that resulted, created in alpaca wool and silk crêpe, bear his mark. The eerie otherworldliness of Ruff's Nacht 21 III (1995) is reproduced in the dark folds of a floor-length coat, and to recreate Ruff's disorientating pictures of space, Kriemler worked with Foster Rohner in St. Gallen to develop their now trademarked "e-embroidery" which allowed Kriemler to light up the darkened runway in LED lights. 
Across the gallery is a space dedicated to Kriemler's collaboration with Japanese architect Sou Fujimoto. Kriemler describes the immediate recognition he felt when he encountered Fujimoto's work at the Serpentine Gallery in 2013, sensing Fujimoto's desire to create spaces where people, nature, and construction could exist together. Kriemler and Fujimoto worked closely to create Akris's Spring/ Summer 2016 collection. And rather than just decorating clothes with references to Fujimoto's buildings, the pair sought to recreate works of architecture on the human body. Like Fujimoto's buildings, the resulting garments draw attention not to the fabric but to the negative spaces within them. Using spacious embroidery, Kriemler recreated Fujimoto's opaque and transparent architecture. 
The exhibition shows the lengths Kriemler has gone to accurately reflect the nature of these artworks. When he discovered the colourwork of abstract painter Imi Knoebel, Kriemler made clothes from glow-in-the-dark fabric. He wanted the audience to view the collection with the artist's single-minded focus and appreciation of colour. When describing the work of Romanian multimedia artist Geta Brătescu, he is again struck by her sensitivity to colour. "It's not just pink that she uses in her work. It is this incredible, brilliant pink." Kriemler painstakingly transferred this palette to the runway for Akris's Spring/ Summer 2019 show, which he created in collaboration with Brătescu.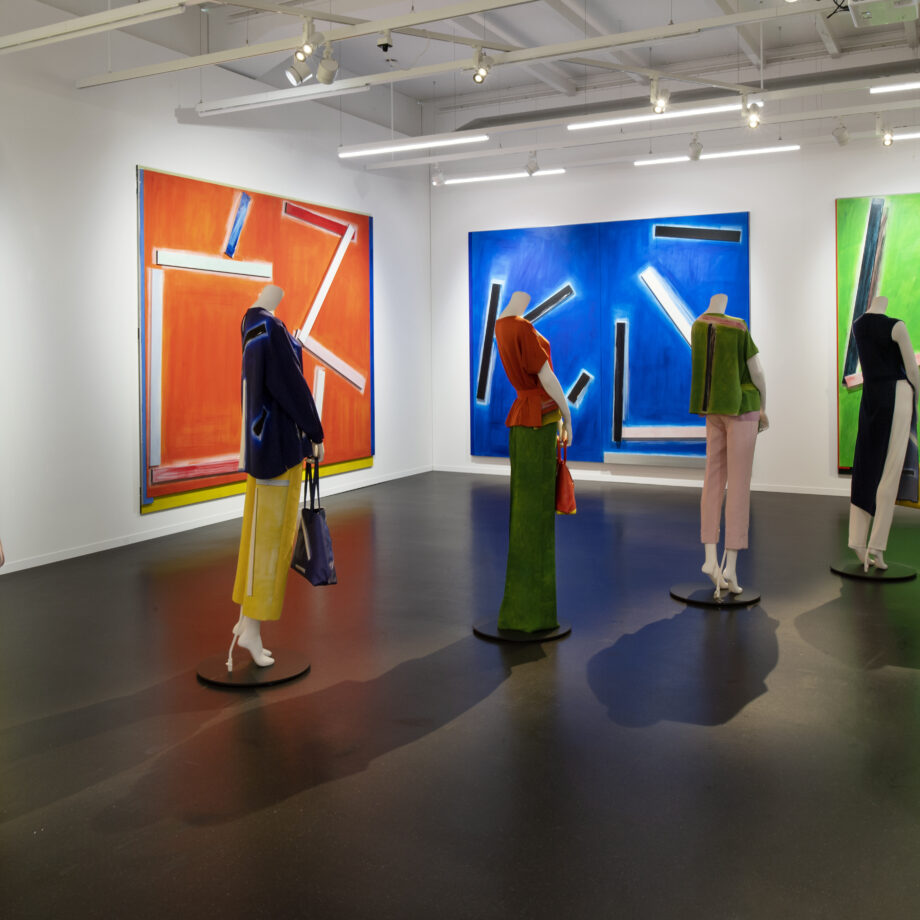 By placing the art and clothing side by side, this exhibition takes on any possible criticism that Kriemler is merely appropriating the art. It makes clear the relationship of artist to designer, from canvas to garment. Kriemler describes the process of choosing his artistic collaborators as entirely intuitive, and when working with an artist, he says he never wishes to "take a work of art, toy with it, and then reclaim it as one of my designs." Instead, he says, "It is an open collaboration where I share the full design process out of the utmost respect that I have for the art and artist."
He recounts anxiously tracking down Canadian artist Rodney Graham to propose the idea of a collection to him. The result is displayed in the exhibition, a series of coats inspired by Graham's 6-part photographic installation titled "Der Mantelanzieher" (2015) and a lightbox work "Coat Puller (Der Mantelanzieher)" (2017). And when asked whether the artists in this exhibition had any reservations about lending their work to this exhibition or demanded any specific curatorial terms, Kriemler notes that the artists involved trusted him implicitly with their work.
It is easy to see why. Kriemler has been collecting art since he was twenty years old. He spent years visiting art galleries every evening after work and whenever he travelled. When he speaks about art now, he is visibly moved. He describes the first piece that he ever owned, a watercolour painting he found in a furniture store in St. Gallen. At the time, he didn't know what the image was, but years later, when he visited Le Corbusier's chapel in Ronchamp, he discovered the same bird in the stained-glass windows. 
Today, Kriemler fondly refers to this bird as Sisyphus, "a symbol of daily life, flying forwards, and sometimes backwards." This recognition of art's ability to embody a personal philosophy has inspired Kriemler ever since. 
Words by Emily Burke