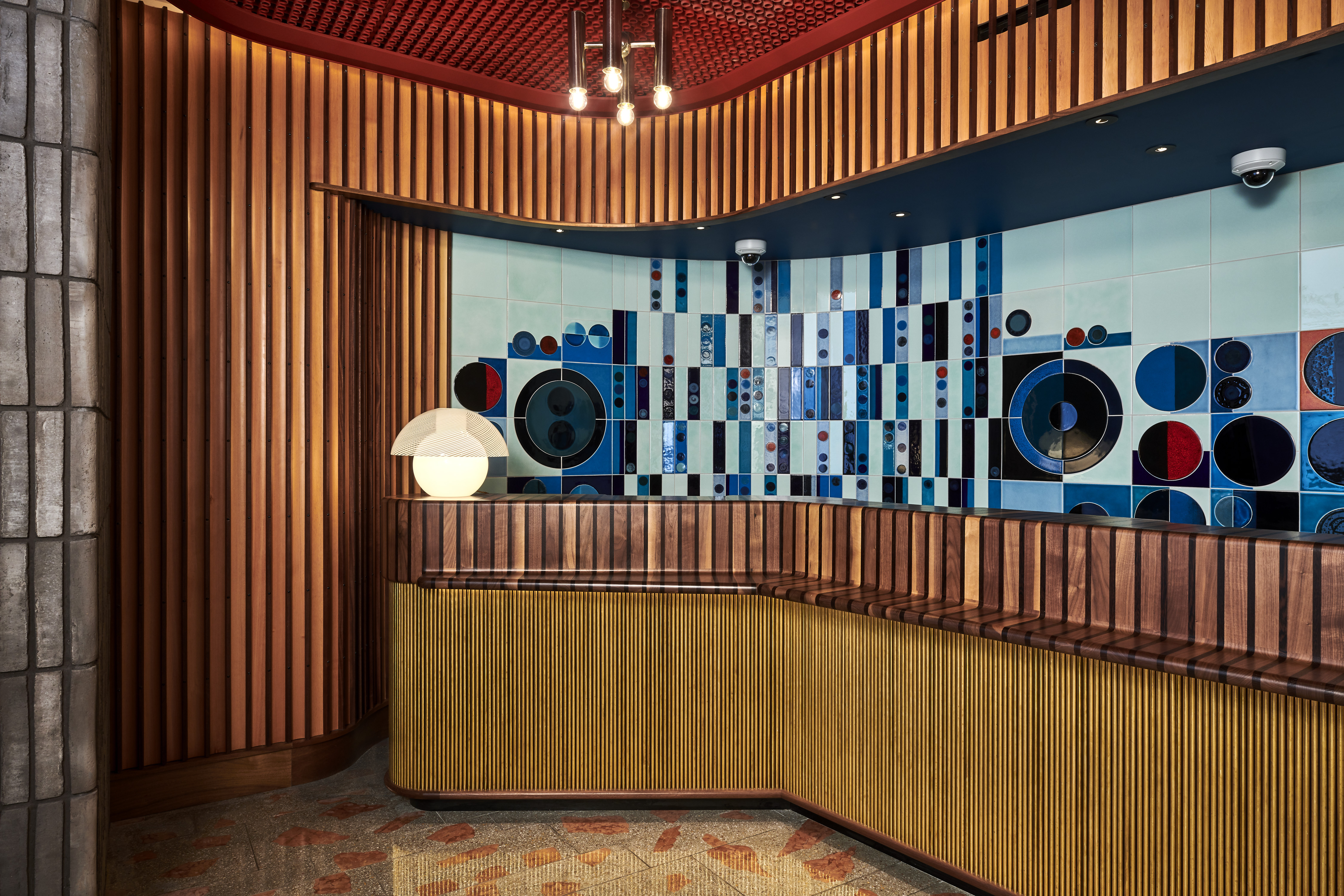 Tanzanian-born, British-based artist Lubna Chowdhary pushes the very limits of tiles and ceramics, using a typically traditional and hands-on art form to create vibrant, playful installations that nod to sixties pop, bold architecture and, occasionally, ice cream scoops. Her most recent ceramic artwork is being unveiled at the new Standard hotel in London, housed in the ever-growing Kings Cross area, in a refurbished 1974 Brutalist building that previously served as Camden Town Hall Annex. The interior overhaul has been led by Shawn Hausman (designed to contrast with "the greyness of London") and Chowdhary's characteristically dynamic tile mural will be housed in reception. The work brings together a variety of blue hues, from deep navy to breezy turquoise, which plays well with the earthy, rusty browns that surround the work, and also references the decade the building was created in.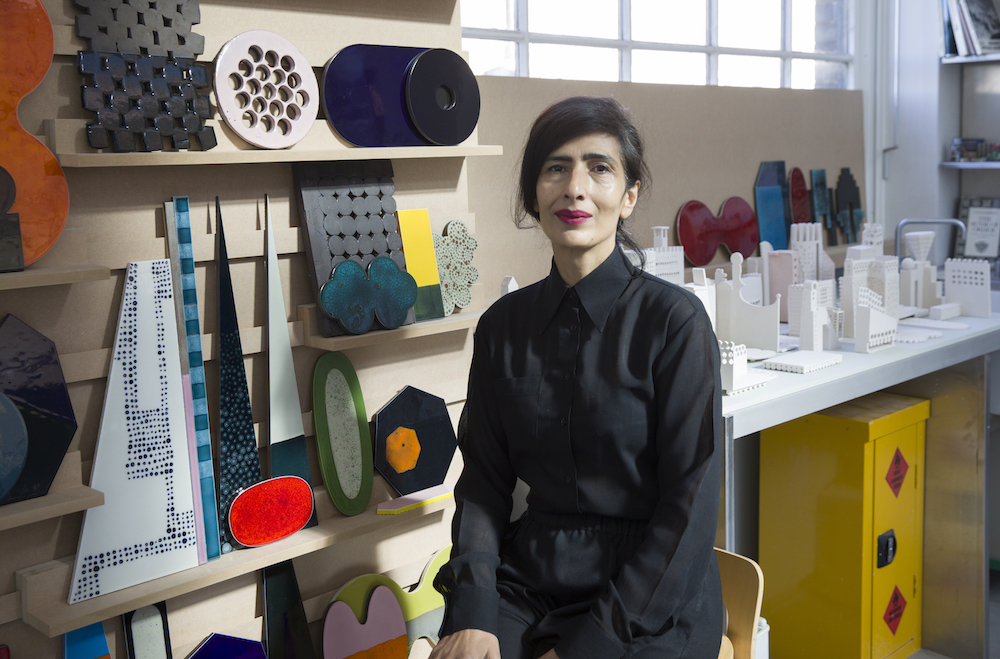 The rest of the Standard's interior is designed by Shawn Hausman. What was the level of collaboration on the mural/feature wall? Was there a strict aesthetic you had to meet?
I designed the feature wall fairly intuitively after discussions with Shawn about the aesthetic language. It was a curved wall that carried the mural, so adjustments were made to ensure the piece fitted the curve.
How does this piece fit into the context of your wider work? Is this a "typical" Lubna Chowdhary piece?
I was working mostly on tile-based projects when I designed this piece in 2016. I had often thought how I'd like to work on a mural for a reception area as it seemed a classic application, so this commission was a gift of a project. Most of my work had been site specific, responding to an architectural context but the work has developed in a new direction since then. In 2017, I completed a residency at the Victoria and Albert Museum in London and have since returned to making sculptural work. I had been keen to develop a conceptual connection between the sculptural and tile-based work and to consolidate the two strands of my practice.  Since then I've been working across both areas quite fluidly.
"I'm interested in the experience of architecture from a sculptural and emotional perspective"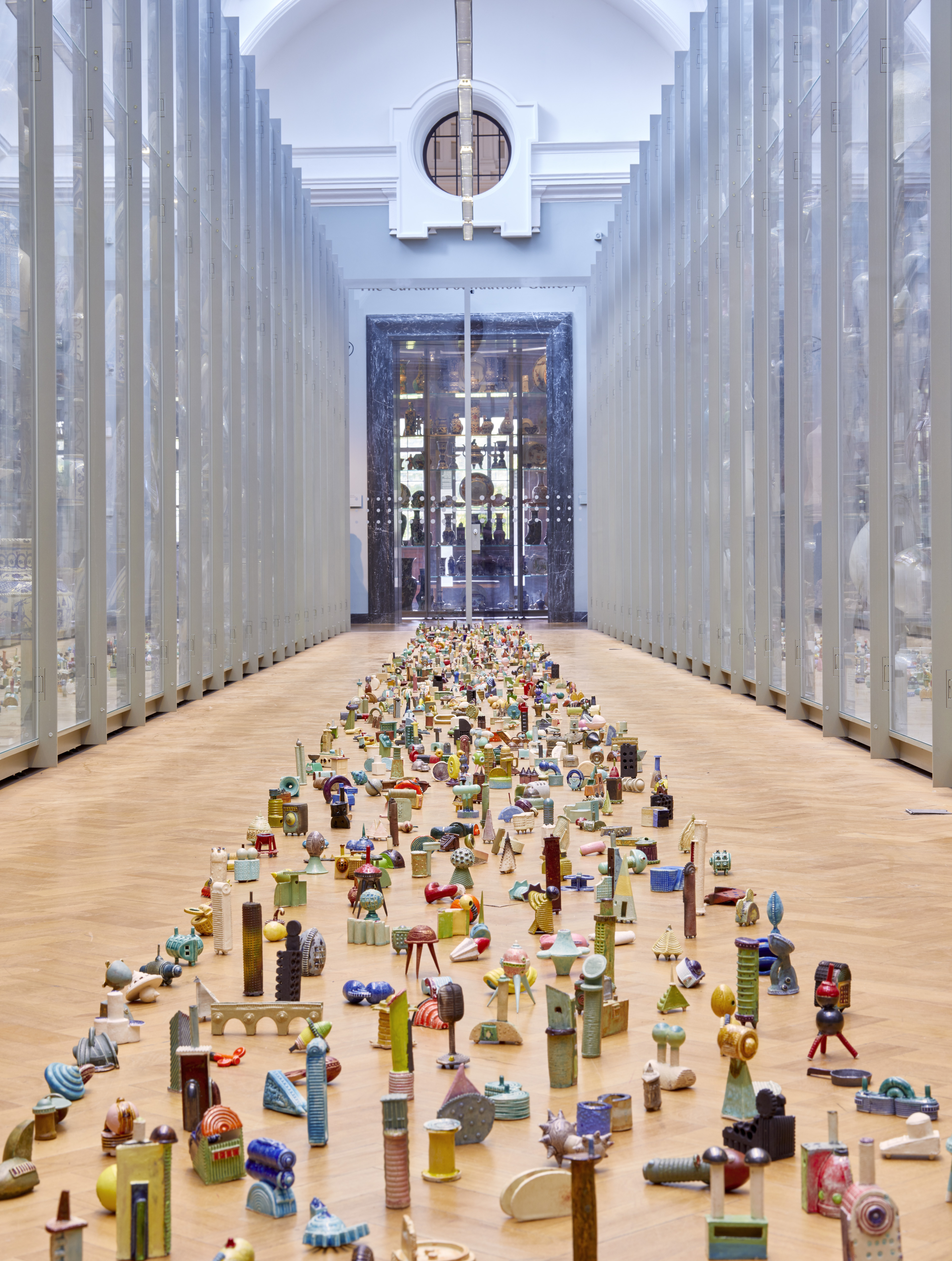 You've designed a number of architectural murals. For the Olivogelo building, you created tiles shaped like ice cream spoons in colours that looked like ice cream flavours. What was the inspiration behind the designs for this particular piece?
Yes the Olivogelo project was influenced by the context of artisan ice-cream making and the sculptural tiles were handmade, making reference to the craft involved and also to the form of the ice cream scoop. Each white tile was glazed individually with a specific palette of coloured glazes which seemed to melt off the tile.
What's the process behind the creation of your tiles, and your murals in general?
For every project, I work as an artist, a designer and a craftsperson; each project is unique and contextualized, so the concept for each work always begins with research into the context and I start by  drawing. Sometimes I work to briefs with very specific sets of requirements for which I have to solve particular sets of problems. I work with a variety of tiles as a base. It really depends on the brief and the quality of the surface appropriate to the project. Each artwork relies on and develops through the application of strong craft and design skills.
I see myself as a hands-on artist, and handmaking is integral to my approach. I often solve problems of a brief  by employing new technologies and materials if necessary. Sometimes the maker's hand needs to be evident, and from the beginning the tiles are made by hand-crafting, either by moulding clay, casting it or hand-building with it. Each tile, even if it's made from a mould, has its own characteristics, as it's handled in its soft stage, dries out and then is hand-glazed, all of which results in something completely unique. At other times the aesthetic is much more about precision and geometry and then I'll use a pre-made tile and the result can look very crisp and graphic.[/caption]
I enjoy the relationship and duality of the machine-made and the handmade and enjoy the visual disjunction that comes from juxtaposing the two methods of making. You're subverting a fairly bland object and giving it a new lease of life through careful consideration and a hand-led manual process that it would never have been expected to undergo. I find there's a satisfaction in this interweaving of tradition and modernity, bringing craft into the modern world.
The tiles always develop in a much more interesting way than the drawings and its important to remain open to the serendipities of the process rather than being constrained by the design on paper. They have an added dimension of the glaze that you can't capture in a drawing or painting.
"You're subverting a fairly bland object and giving it a new lease of life through careful consideration"
Once I feel I have enough glazed tile modules, the composing stage begins. The glazes all are cleared away and I then spend hours arranging and rearranging the pieces. Laying them out on the floor, the permutations are endless and often new possibilities arise and these have to be explored. Often if I'm working on a large piece I have to get some distance from it and be able to see it with a fresh eye. I spend time photographing sections and re-looking at them. Looking at the work on screen again allows this distance and often I notice things which I hadn't seen in the actual piece. Sometimes if I think it's necessary, I go back to glazing a few more elements and integrate these and compose again until I feel satisfied that I have reached an optimum result.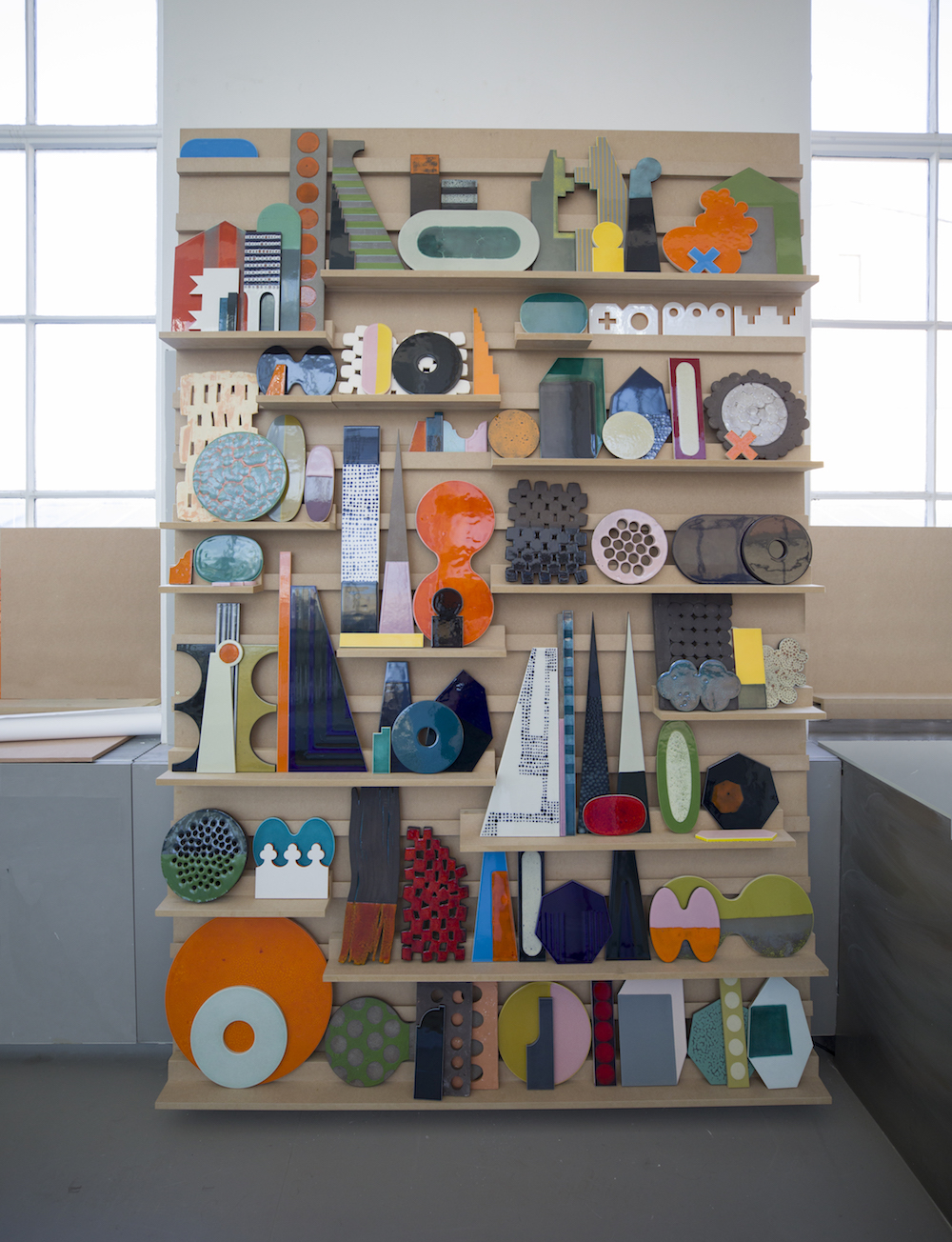 Across the range of your very varied artworks, you express a strong interest in architecture. Your tiled pieces often suggest skylines, your V&A residency featured miniature architectural models, and it is the central theme of your ongoing Metropolis project. Where does this interest in architecture come from, and were you ever tempted to become an architect in the more traditional sense?
I've been exposed to architecture from many different cultures from an early age. I was born in Tanzania and I've seen, experienced and carry memories of a variety of building projects, from simple shacks made from natural materials to huge dams and power plants. In Pakistan I've stayed in buildings made from sundried brick, and on my first trip to India in 1988 I was blown away by the sculptural qualities of the Jantar Mantar in Jaipur and the abandoned city of Fatehpur Sikri.
In London and Europe I've been drawn to the built environment. I've enjoyed the utopian visions of Archigram and Buckminster Fuller. I feel lucky to have been in London for the past thirty years. I've lived here longer than I have anywhere else and I've really witnessed the city evolve dramatically around me. I'm interested in the experience of architecture from a sculptural and emotional perspective. Or as a juxtaposition of objects in a city, an environment which contains energy. Structures that humans self-build to their own scale have been a constant source of interest and research. I have a fascination with follies and have always harboured the desire to self-build some day. If I had another life I might study architecture but I dont think I could endure the wait for a project to come to its conclusion.