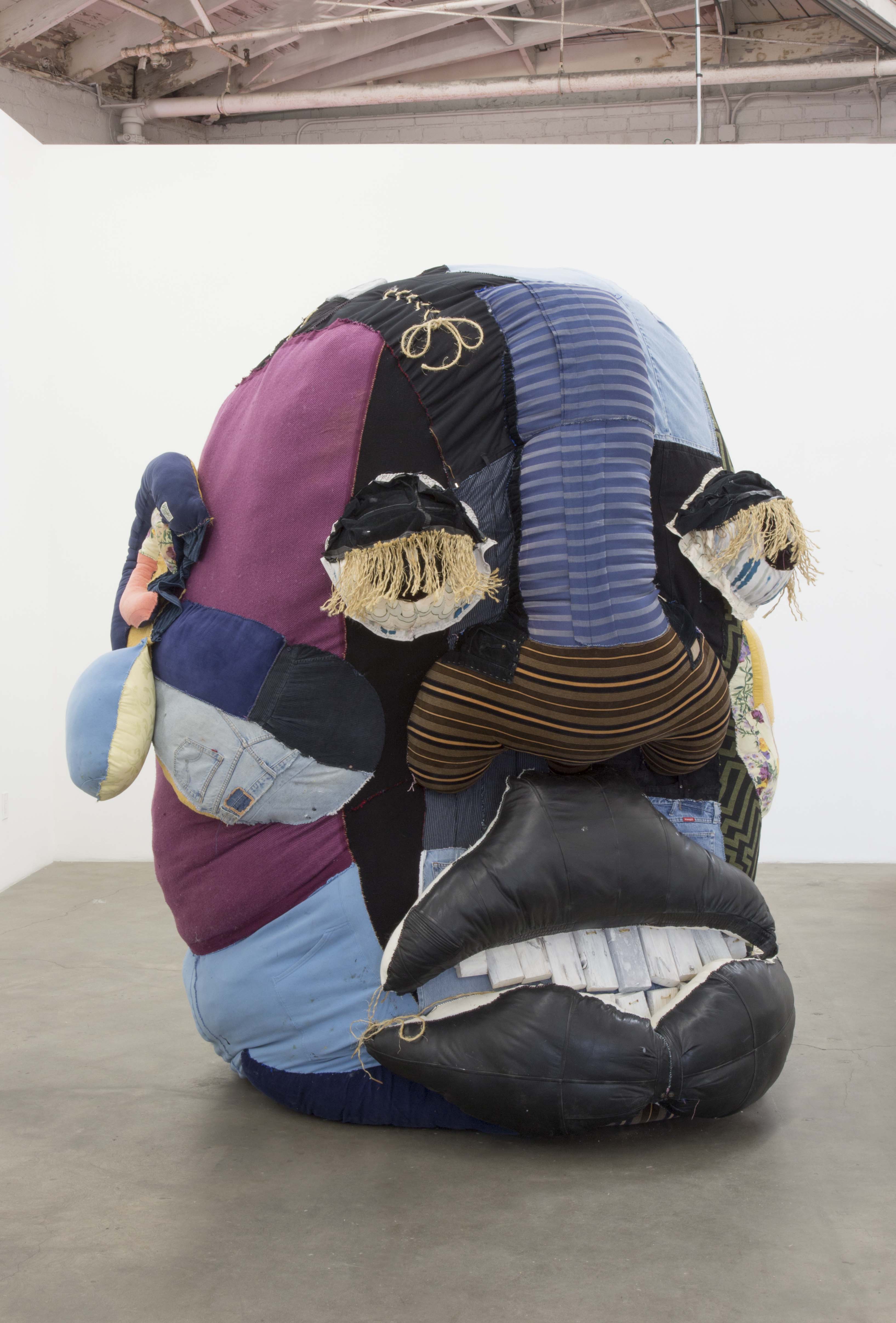 Tau Lewis, twenty-six, is in Wakefield, standing in front of her latest works—a series of three very large hybrid sculptures—at the Hepworth, as part of Yorkshire Sculpture International. Visible up-close are the seams of jeans and other scraps of found and collected fabrics, a patchwork that has been stitched with care by hand and constructed entirely from discarded materials. The Canadian-Jamaican artist Lewis, who was raised in Toronto, spoke eloquently about the work she had made, employing underwater metaphors to create new, positive stories about black bodies in the water, where histories have been effaced. Her fictional sea creatures fill the space and your imagination. Inspired by her mother's hobby of collecting other people's junk and turning it into something of beauty, and the environmental ethics of our age, Lewis makes form out of fragments, in artworks that are both compelling and eco-friendly.
"It was only recently that I started to actually view my mother as an art collector"
Why is it important to you to repurpose materials?
I started working in assemblage a few years ago because I was interested in using what was available to me. I'm not classically trained, and I don't always use traditional methods of construction. I think a lot about access to art making and access to materials, there is an abundance of things available to us as sculptors that for one don't cost anything, and secondly can be recycled. It's not a new concept to me, because I grew up in a hand-me-downs, second-hand-shopping household, and that's something I always enjoyed, finding unique things and treasure hunting.
I'm especially interested in found and repurposed things because of their affective histories, invisible narratives and how they can add depth to a vessel that tells a new story. Objects hold energies and frequencies I believe, especially after passing through people's hands, or being near to the earth or water. I want to honour the diasporic traditions of repurposing and making cultural objects out of what's available. I think there's great potential for magic within the confines of limitation. It forces one to flex different muscles and look at things differently, from every angle in order to create something.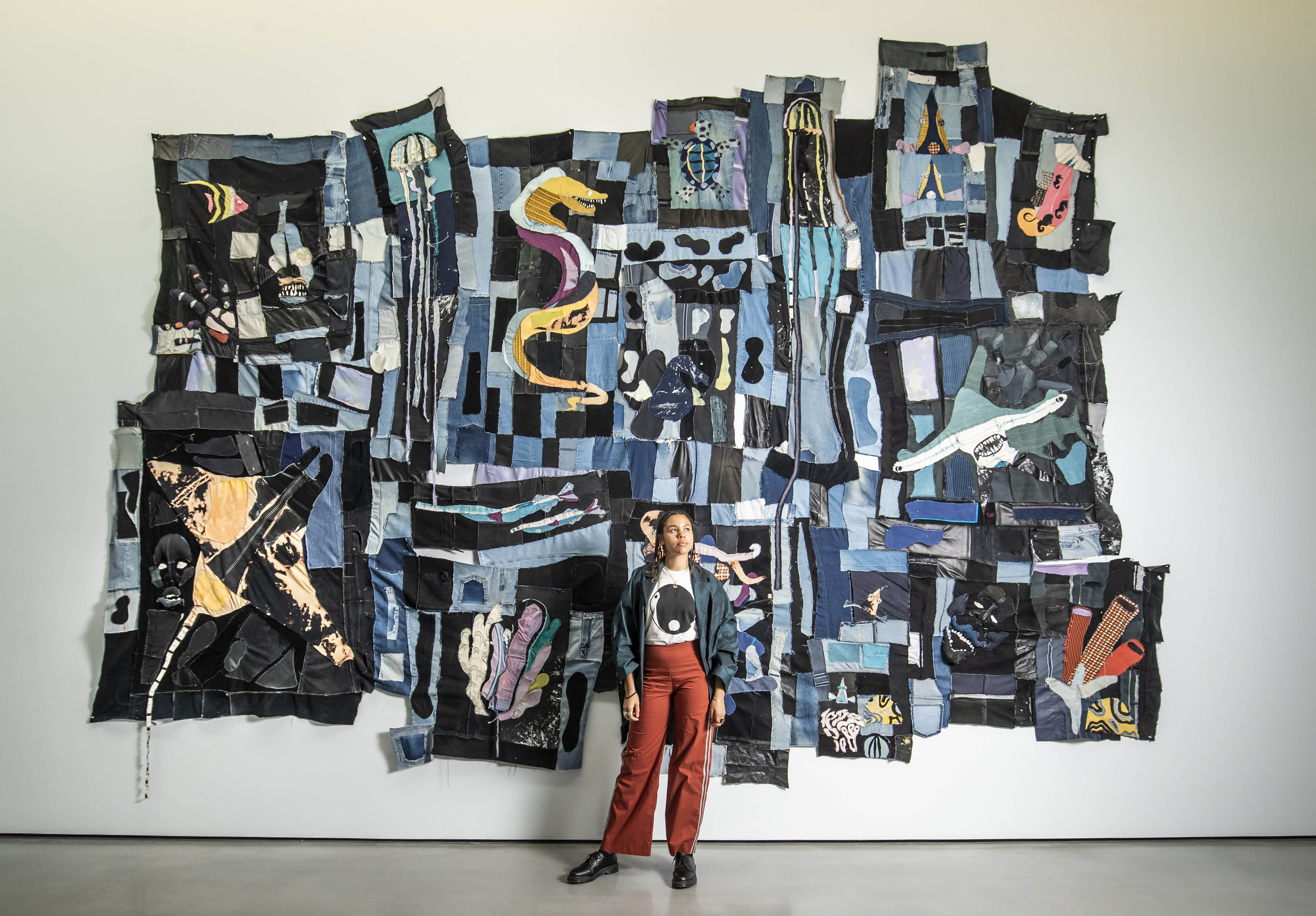 The wall-hanging tapestry work, The Negril Coral Reef Preservation Society, was inspired by a painting at your mother's house; can you tell me about that painting and generally about how your mother's collecting inspired you?
It was only recently that I started to actually view my mother as an art collector. Every wall and surface of the house is covered in different things she's collected, from the side of the road, or yard sales, from the trash and also from her travels. I think about the lines we draw between craft and fine art, and especially about the ways in which contemporary art historically and continually co-opts and borrows from little acknowledged communities of craftspeople. So I'm able to learn something important by looking at my mum's collecting habits, and it has to do with the individual's ability to assert their own value system in their home and also in the world. It challenges classist, racist and capitalist biases about the origins and meanings of certain objects.
The painting I referenced to create the tapestry shown at The Hepworth Wakefield is hung in the bathroom of her house. It's been there as long as I can remember, she collected it in Westmoreland, Jamaica. It depicts a coral reef with a strange assortment of aquatic life intermingling. It's beautifully drawn and is sort of comical because of the depicted relationships. Lobster with eel, turtle hanging out with stingray, it says "The Negril Coral Reef Preservation Society" at the bottom in big block letters. It was a good starting point for the exhibition given that I've been thinking about aquatic territories in relation to black history/ancestors. I also am fascinated by the ocean, and I also thought it would be a good way to memorialize the artwork, which is now deteriorating and peeling at the edges a bit.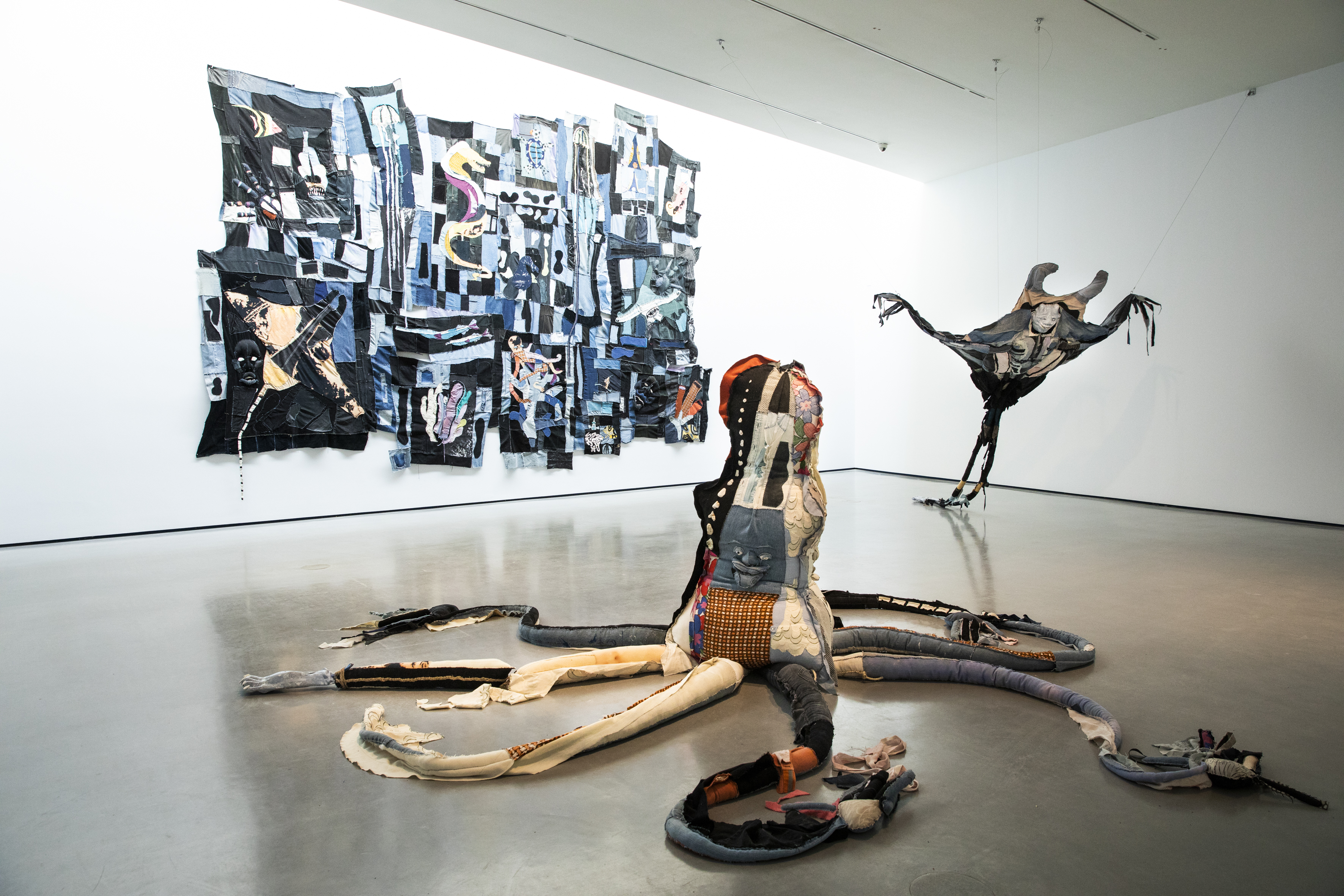 The works you're currently showing in Wakefield have lots of qualities, but they're imbued with this sort of mystic sensuality and eroticism—especially the octopus figure. Does this come from the tactile approach to your work, the fact you work with them by hand and carry them next to you, and that some of the materials have been worn by different people…?
Many of the materials are mine, usually work pants and other things. There's an infusion of personal belongings in everything I make. I also believe energy passes through the hands and on to the objects, especially through the labour-intensive work of hand sewing. Maybe that's what makes them feel alive.
The squid character is definitely phallic, it is a squid after all. On it, in and around the faces there are some labial looking flaps. When it comes down to it, nature's funnest and most interesting shapes are inherently erotic I guess.
You're self-taught: how did you manage that?
I tried twice at post-secondary education, both times for something other than fine art, both times it didn't work out. I'm glad I didn't rush to attend an art college as it could have discouraged the tendency towards art making in me as well. I had the upper hand of time. My first studio was shared with seven other women, mostly recent art school grads who had a very hard time just getting going once graduated. Time, specifically time to research materials and experiment and figure out why I was making, for myself, was my advantage while I wasn't attending school. Classical training, while extremely useful for many, isn't necessarily helpful for every artist. There's also no right or wrong way (physically speaking) to construct an artwork. I worked as a bartender and a waitress and at one point a cleaning lady and funnelled my time and money into learning and making. Both of my parents are self-taught in their professions.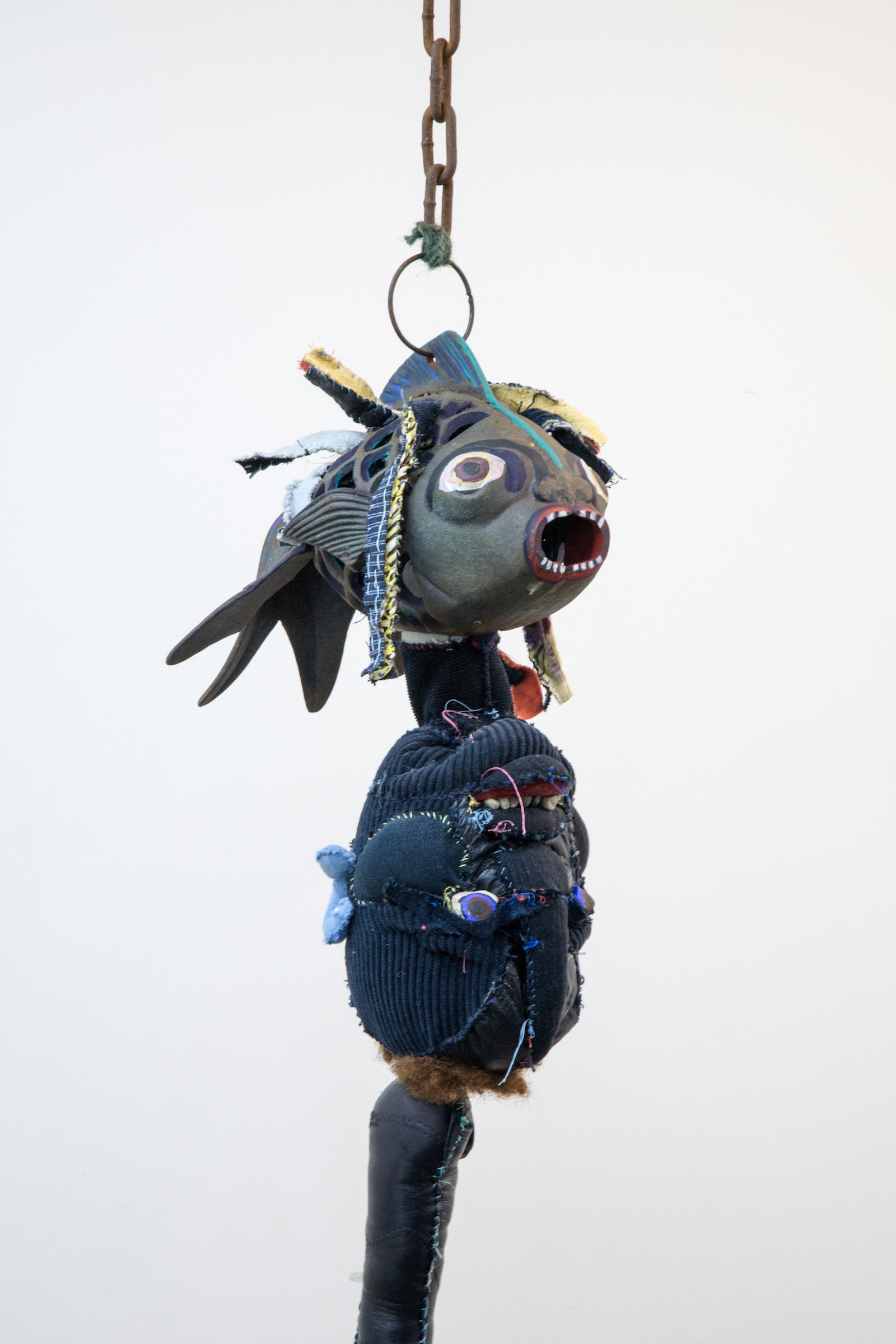 You travelled the world while making these works; how did that affect what you produced? 
I work in patches normally. One of the nice things I've discovered about using fabric is that on top of being easy to source, no matter where you are in the world, it can be easily folded and packed up into a suitcase for travel. After returning to Toronto last February from LA, I began assembling together patches which I'd started on my travels.
The environment always affects the work. I have travelled in the past to make assemblage sculptures on site for an exhibition with limited time to create the work, and the work, especially when you are using found materials which are unique, is always in one way or another determined by, and a reflection of the landscape you are making it in. That's something that challenges me to work outside of the canon of materials, textures and colors I normally gravitate to and is something I really enjoy.
Yorkshire Sculpture International
The Hepworth Wakefield until 29 September 2019
VISIT WEBSITE