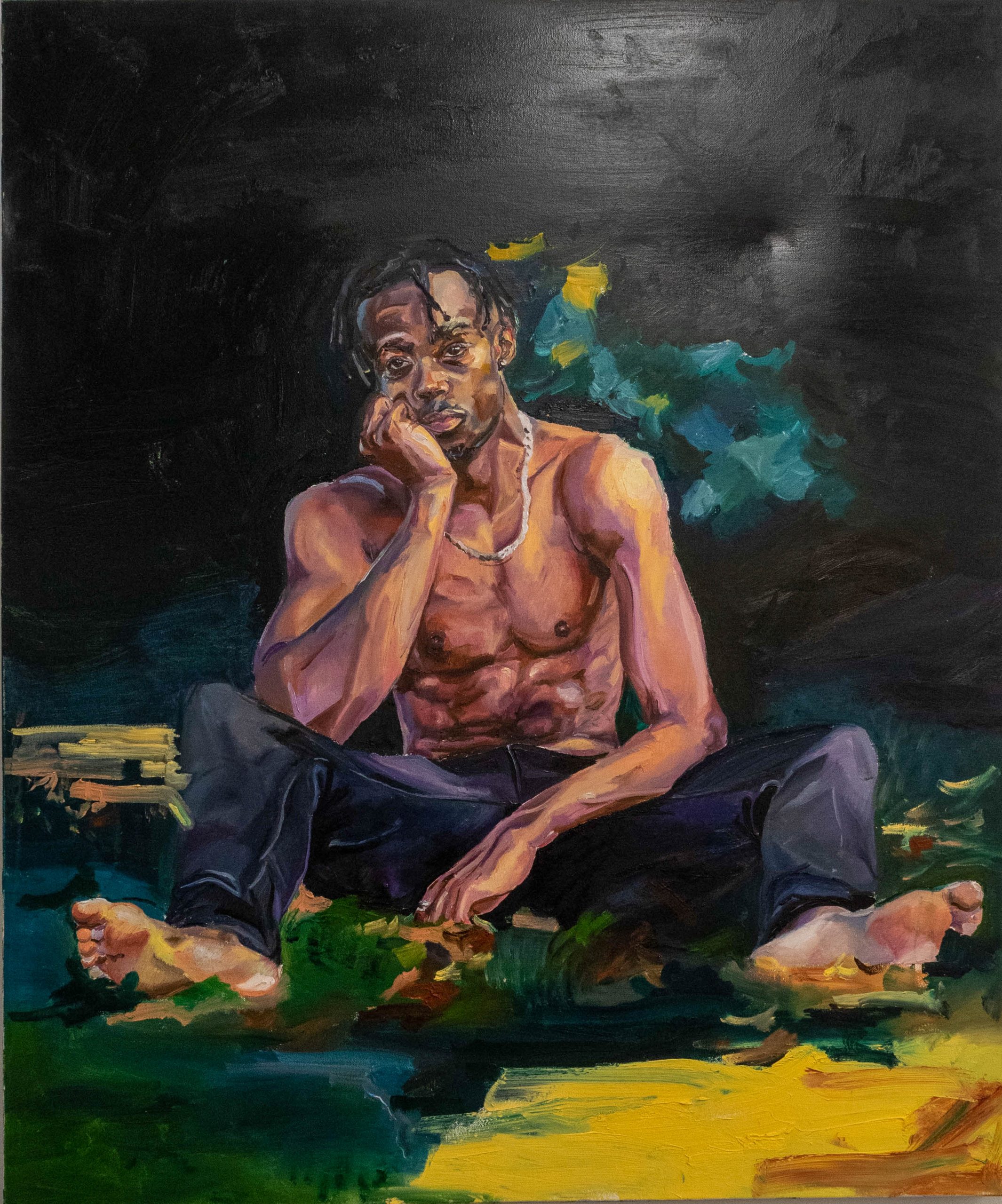 Whether zooming in claustrophobically close to a subject's eyes and nose, or depicting moody bar scenes, Shaqúelle Whyte loads his paintings with emotion. Every facial crease and shadow is maximised to capture a range of feelings, and dark inky tones are used across curls of hair, shadow and clothing. "The physicality of paint is very important when approaching my work," he says. "The differentiation between the thickness of paint, the inherent texture that comes from it, allows me to further push what it is that I can do."  
Still only 20 years old, Whyte is already in his third year at the Slade in London, having been offered a place without taking an art foundation. His sumptuous paintings have won him a scholarship with the Rome Art Program, and an exchange placement with The Cooper Union for the Advancement of Science and Art in New York. He also founded the Modern Faces Collective with a group of fellow student artists. Working with London's Fynn Studio, the collective is opening an exhibition, Together, at the Square Gallery in Battersea on 17 April. "What is most striking of this group of young creatives is their passionate, focused confidence that has brought them together during what is an incredibly tough time for students," says Fynn Studio curator Kobi Prempeh. (Emily Steer) 
Danielle McKinney, Bye Felicia (left); Negroni (right), 2020. Courtesy the artist and Night Gallery
A photographer before turning to painting (the only logical conclusion perhaps for someone who has ruminated so extensively on the way photographs are produced and used today), Danielle Mckinney has already garnered a lot of attention for paintings that strike right to the heart. What she took from studying photography is clear in her proclivity for the iconic image.  
No doubt two forthcoming solo exhibitions this spring will resonate widely. In New York, her newly opened Saw My Shadow at Fortnight Institute features paintings that explore themes of spirituality and the self, the inner life and the outer edges. They are not without humour: in one work, Face Mask with Prayer, a topless figure wearing sweatpants and a face mask poses on the bed, a depiction of Jesus on the wall behind her. Her exhibition at Night Gallery in Los Angeles will present an entirely different facet of her work as it highlights her own take on portraiture: look out for her outstanding self-portrait, Negroni. Its heady gaze and earthy hues won't quickly leave you. (Charlotte Jansen) 
Shara Hughes, Pop (left); Attraction Contraption (centre); Hard Hats (right), 2021. Courtesy the artist and Pilar Corrias, London
Far from a traditional landscape painter, Shara Hughes creates surreal, bucolic scenes filled with explosive colour and mystical underpinnings, which feel dreamy and strangely immersive. As she explained in her interview with Elephant last year, the American artist is drawn to the history of manicured gardens, which bring order to nature's chaos, as a means of exploring empathy and healing.  
It is an apt subject for a post-pandemic world, where solace in nature remains at the fore, and the thirst for beauty and escapism is more alluring than ever. The artist is opening a solo exhibition at the Garden Museum (17 May–5 June) with a focus on individual flowers, including poppies and orchids, which are scaled up to striking proportions. (Holly Black) 

A patchwork of colours is stitched together by UK-based Ghanaian artist Atta Kwami in vibrant works that encompass painting, printmaking and installation. Kwami moves easily between scales, from the intimate dimensions of the page to the expansive architecture of a mural. Inspired in part by the street painting of his home city of Accra, he takes a multisensory approach to his intuitive compositions, which are informed by everything from musical rhythm to kente strip-woven textiles.  
Now in his 60s, the artist was recently announced as the recipient of the 2021 Maria Lassnig Prize in partnership with the Serpentine Gallery. Kwami will release a new monograph in conjunction with the award, as well as a public art commission. His flair for a rainbow array of colours can also be glimpsed as part of the Folkestone Triennial this year, while a new commission for a triptych of large stained-glass windows, designed to adorn the new Ghana National Cathedral in Accra, will further demonstrate Kwami's all-encompassing integration of art, architecture and everyday life. (Louise Benson)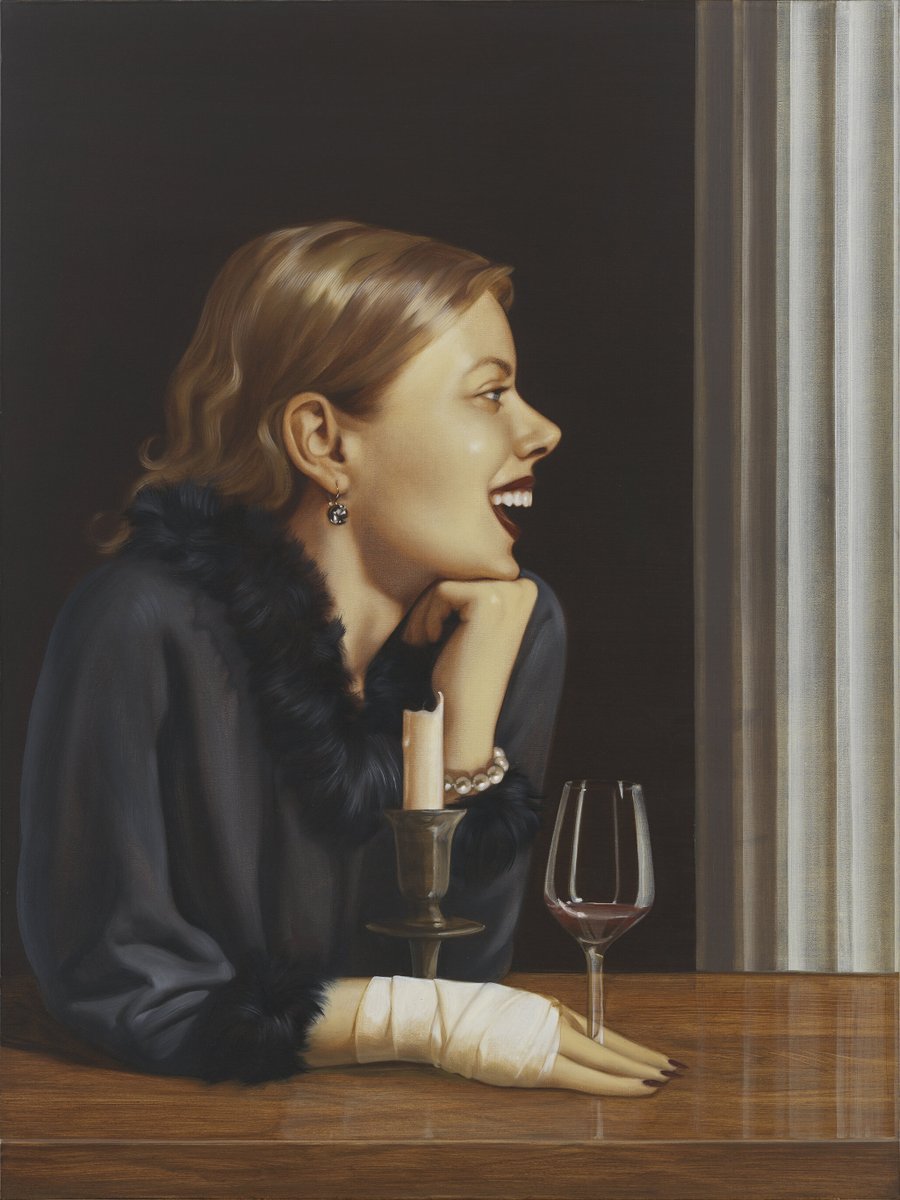 Loose Screw, Anna Weyant's current show at LA's Blum & Poe, combines the dark formality of still life painting, with the eerie sight of an open-mouthed figure sleeping in a slumber mask, and an image of a red-lipsticked young women laughing over a glass of wine. Weyant's paintings dip tantalisingly between art historical references and contemporary life, with many of the works having a double edge: in Slumber (2020) is the figure sleeping comfortably with her mouth hanging open, or is she screaming while experiencing a night terror? Cream, black, and beigey skin tones dominate many of her works, adding a sombre undertone to scenes that are often both amusing and uncomfortable.  
"She references an eclectic range of art historical influences, from 17th-century Dutch painters like Gerrit van Honthorst to contemporary artists Lisa Yuskavage and Will Cotton, and pop culture references such as New Yorker cartoons, Bugs Bunny, and the Grinch," writes Blum & Poe of Loose Screw. (Emily Steer)
Jeffrey Cheung, Circle (left); Sky (right), 2020. Courtesy the artist
Arms and legs overlap in the riotous works of Jeffrey Cheung. The Oakland-based artist combines colourful line-drawings with figurative painting to offer a refreshing take on the body, as seen in his most recent exhibition, Window at Alice gallery in Brussels. The ambiguous gender and race of Cheung's characters represents an outlook rooted in his own experience as a queer Chinese-American, embracing an intersectional vision of the world around him. As inspired by the fluid drawings of Jean Cocteau as he is by the Californian skateboarding scene (he is the co-founder of queer skating collective Unity Skateboarding), Cheung embraces art as an active part of everyday life.  
"Celebrating all bodies, especially those of people of colour, is what I am excited to depict; images of human connection, unity, and love," the artist told Artsy last year. Whether he is distributing a range of independent, hand-drawn zines with his own publishing imprint or playing in punk band Meat Market, Cheung channels a DIY spirit. (Louise Benson)
Mika Tajima
There's something undeniably bodily about Mika Tajima's Pranayama series of works, carved from a range of natural materials and punctuated with jacuzzi jets. One piece in the artist's upcoming show at Simon Lee Gallery (12 April–8 May) is created from a meat-like yet beautiful slab of rose quartz, which is said to heal, transform the energy of the body, and even regulate time keeping. The jacuzzi jets map out pressure points on the human body, and the title of the series links with Pranayama breathing exercises, which also have a regulatory function on the body's energy.
Tajima's works are often experimental in this way, produced using a stunning level of craftsmanship and innovation, with a strong physical presence. Her Simon Lee Gallery show, suitably titled Regulation, focuses on "what remains unhidden as well as the agency and concordant freedom of being uncontainable, unreachable, ineffable, and unknowable". This is the New York-based artist's first solo show in the UK, and brings together paintings, textile pieces and sculptures. (Emily Steer)
What's not to love about Madeline Donahue's work? I've been a fan for some time now (Donahue illustrates my column in Elephant's print magazine) but her work never gets old, probably because her main theme, parenthood, is full of (mis)adventures and constant surprises. Sometimes absurd, sometimes kitsch, and very often involving some form of acrobatics, Donahue's tableaux tap into so many of the aspects of caring for others.  
Featuring recent oil paintings and ceramic works, Donahue's Fun House show runs until May 23 at Praise Shadows Art Gallery in Brookline, Massachusetts. Shot through with dry wit, its contents run the gamut of parenting situations through all the seasons of the last year. (Charlotte Jansen)