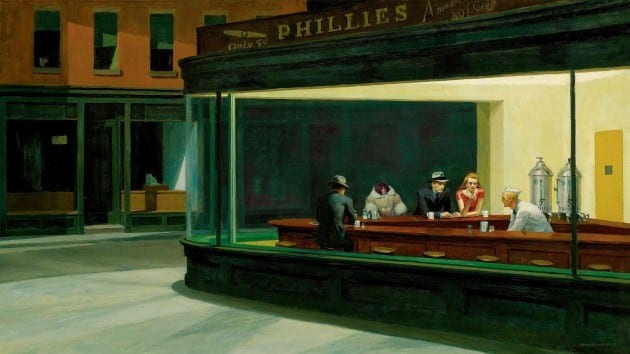 As Corona chat replaces weather-based small talk, galleries (along with pretty much everything else) are closing and supermarket shelves are stripped bare, self-isolation has become familiar to us all. Isolation has presented a naturally rich subject for artists throughout history, and it is a theme that haunts everything from photography to paintings, graphic novels to sculptures, and much more. The word itself is multifarious: ranging from a calming sense of solitude or quiet moments of contemplation to its darker counterparts—depression, despair, loneliness and existential ennui.
The Elephant team has chosen a few iconic artworks across multiple disciplines that express isolation in bold, brutal, innovative or moving ways—from Emin's poignant messy bed, to Ren Hang's vibrant, red-hued backdrop with a lone face blowing bubbles, to Edward Hopper's ubiquitous depiction of a solo diner in Nighthawks. Maybe they'll inspire those with cabin fever, or at the very least, show those currently self-isolating that they're far from alone in their aloneness.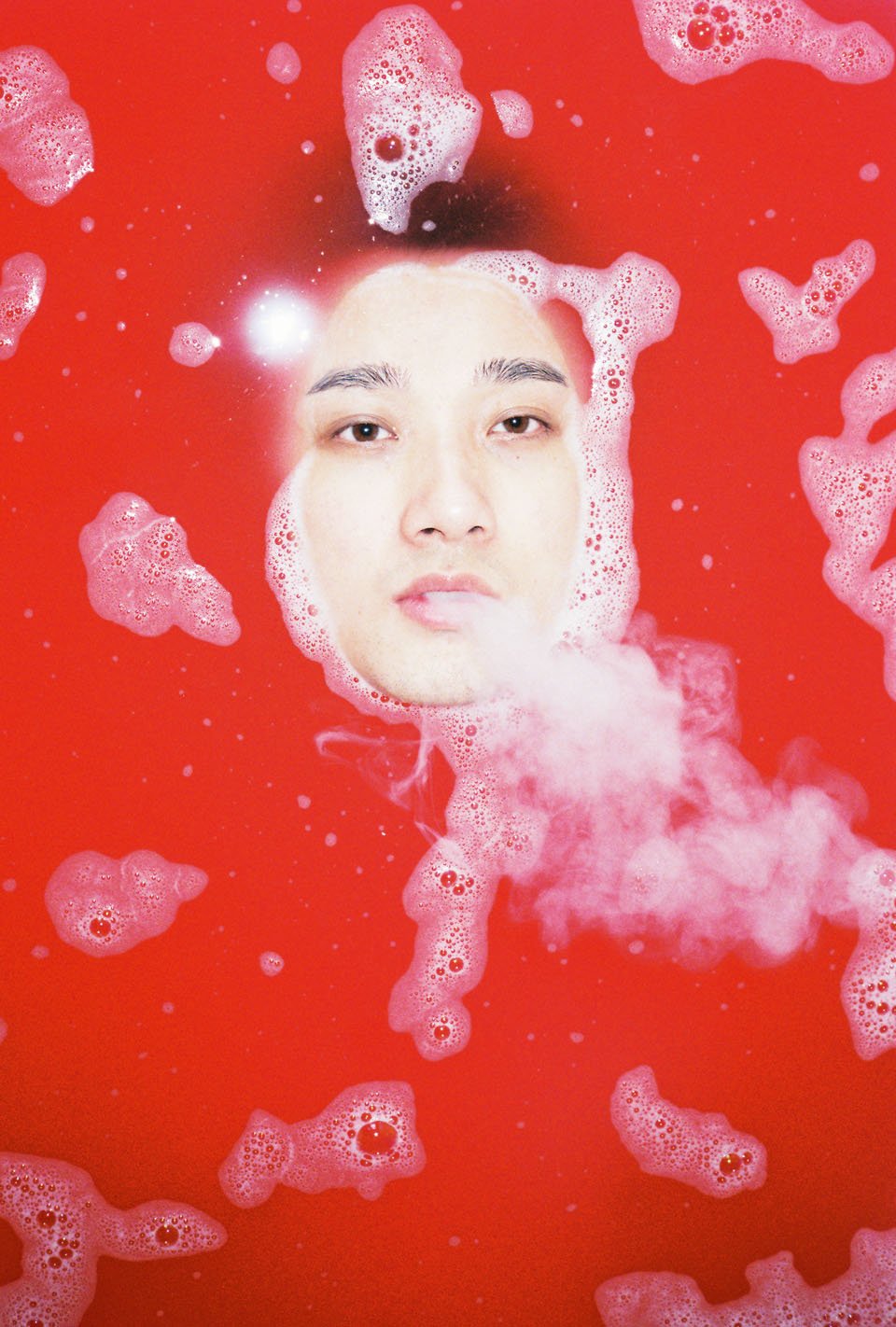 Photography: Ren Hang, Untitled
What could better capture self-isolation than losing yourself in a long hot bath? In this distinctive shot by Ren Hang, the murky water becomes a cocoon from the exterior world, emphasised in the Chinese artist's preferred colour palette of deep red, accompanied by black hair and bare skin. He made no secret of his struggles with depression and mental health, and took his own life in 2017 at the age of twenty-nine. Surrealism and sexuality come together in his photography, which captures an erotic freedom of the body that goes beyond gender. "I don't want others having the impression that Chinese people are robots with no cocks or pussies," he once declared.
Emin's Bed has gone down in history as possibly the most tabloid-baiting piece in Turner Prize history, which does the brutally raw, emotive installation something of an injustice. The piece reeks of heartbreak—perhaps there's a faint glimmer of recognition in seeing despair as a catalyst for catatonic, bed-bound filth. The piece was apparently created when Emin spent four days in her bed, coating it in menstrual blood and the detritus of a break-up—used condoms, fag butts, empty vodka bottles… this is isolation summed up in a single domestic mess.
Alfredo Jaar, The Garden of Good and Evil, 2017. Courtesy the artist, New York, apolitical and YSP. Photo © Jonty Wilde
Sculpture: Alfredo Jaar, The Garden of Good and Evil
If any artist sums up isolation in its most horrific form, it is Alfredo Jaar, whose series of metal cells read as modernist sculptures, while also calling to mind the simple boxes that are used to contain and emotionally torture prisoners. Ten cells are currently situated throughout Yorkshire Sculpture Park, nestled in the trees and, in one case, half submerged in the lake. "You just get the most horrible, dreadful feeling of somebody being underwater in a cell," Clare Lilley, YSP's director, previously told Elephant magazine. The works reference US "black sites", which are secret detention facilities managed by the CIA around the world.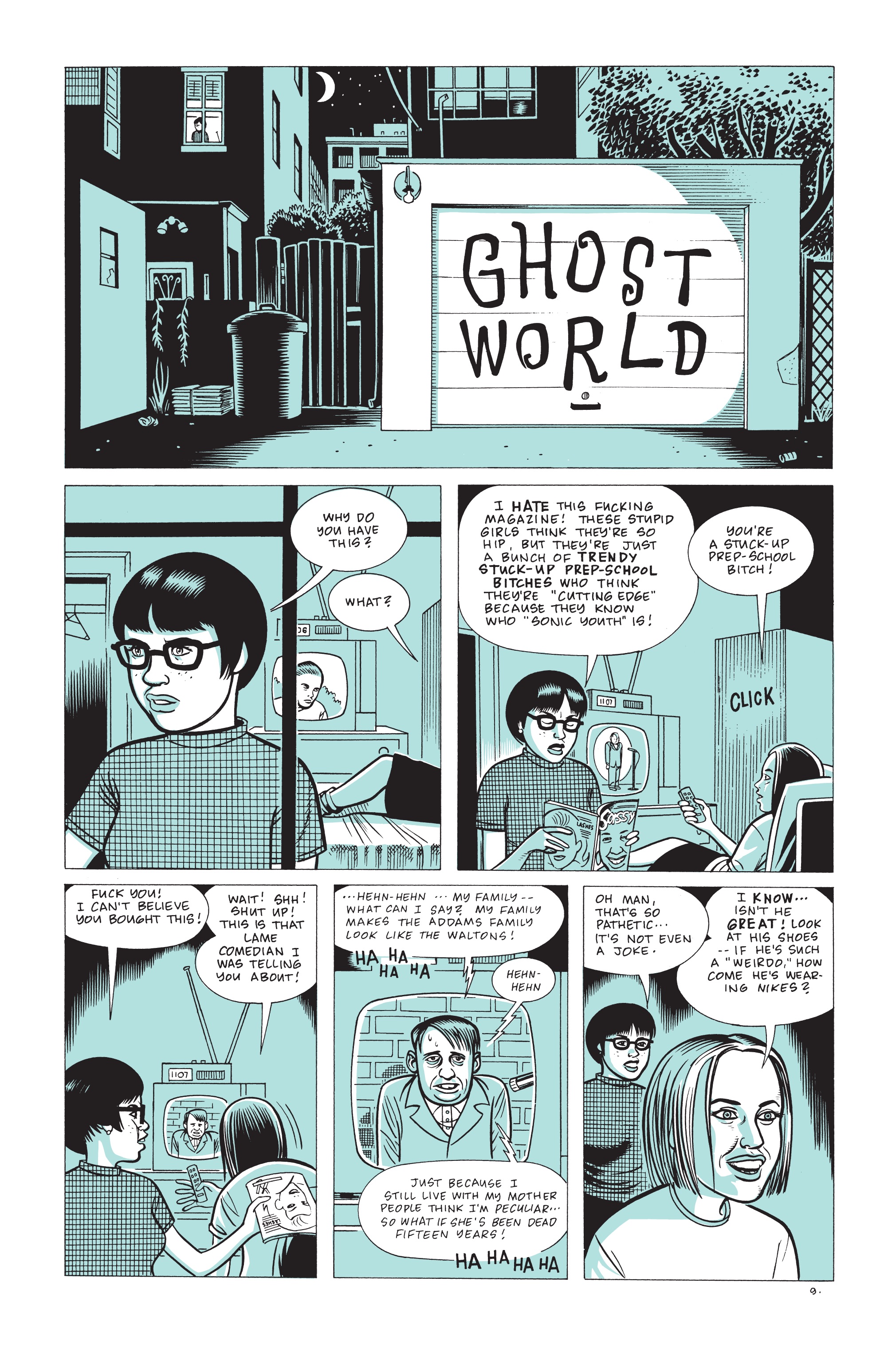 Graphic Novel: Daniel Clowes, Ghost World
Is there a time in your life that feels more isolating than your teenage years? It's all too easy for petty frustrations, bitter squabbles and a whole lot of heartache to run riot in classrooms full of hormonal adolescents, and no one has conveyed it with such bittersweet accuracy as Daniel Clowes in his now-iconic 1997 graphic novel Ghost World. Best friends Enid and Rebecca experience their lives as if they were outsiders looking in, consumed with an ironic detachment that situates them as loners on the outskirts of the throngs of life. Bored and with only each other for company, the minutiae of their day-to-day suburban lives take on the tone of a series of adventures, with every encounter observed in painful detail.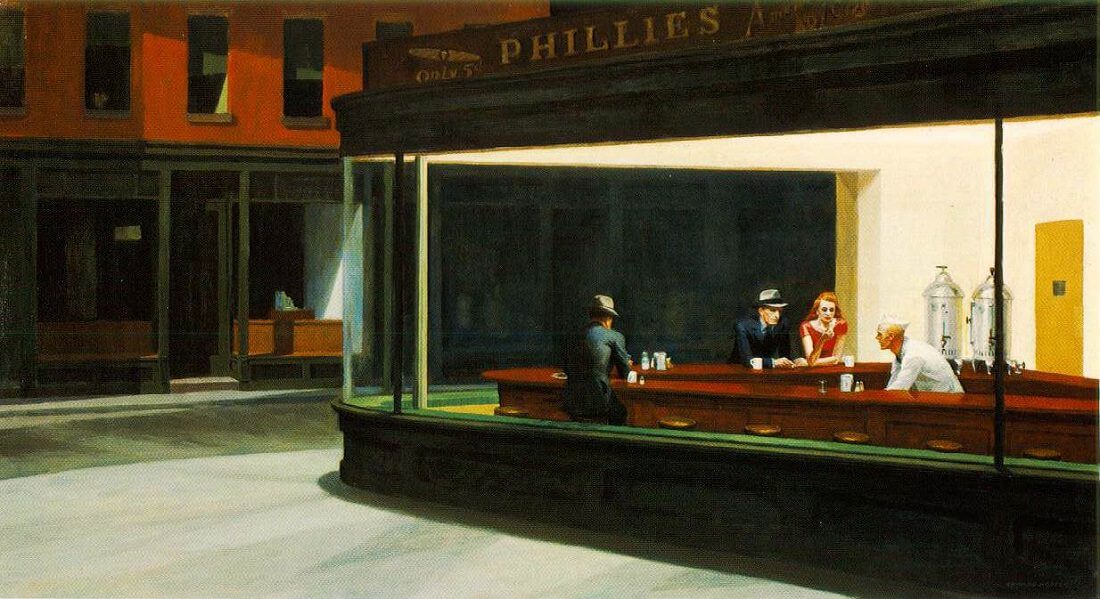 Painting: Edward Hopper, Nighthawks
Its incredibly rare for such a ubiquitous image to retain such potency, but no matter how many million times you've seen Hopper's Nighthawks, the palpable sadness of the lone figure in the foreground never seems to diminish. He sits opposite a beautiful couple, apparently having a lovely time, a contrast that heightens his own aloneness even amidst a crowd.  Alone but not alone, he is striking in his bleak despondency. Hunched over his drink, he appears purposeless, lonely and lost in thought.
Gillian Wearing's silent video piece exemplifies that sense of aloneness that many of us have felt, in spaces that are far from desolate or unpeopled. But it's not sad; it feels joyful and defiant: the artist, standing in the middle of a shopping centre in south London, really is dancing like no one's watching—and despite her confident abandon and arm-flailing, to the sound of nothing but a wall of chattering noise, no one really does bother to watch. She busts out moves that are usually the preserve of the bedroom or dark dance floors, and by situating them in an incongruous context demonstrates a strange disconnect as the personal becomes very public.
Photography: Todd Hido, Homes at Night
Todd Hido has long explored the isolation that can exist in the middle of a densely populated area. His images of suburbia are often chillingly devoid of human form, and life is only suggested by the odd light emanating from a steamy window, or by a rows of cars parked on a frosty street. Homes at Night captures the present moment remarkably well; in these works, empty roads have an eerie feel, while the yellow glow coming from inside homes suggests a certain warmth—albeit, with a sense of solitude.
Music: Joy Division, Isolation
An obvious choice, perhaps, but Joy Division's Isolation, released on the album Closer posthumously, following frontman Ian Curtis' suicide, is a testament to his writing and performance skills. The harrowing lyrics belie an almost jaunty bass line and synth parts, tempered with an excruciatingly plaintive, fatalistic delivery. The album artwork for Closer's exemplifies the Factory Records aesthetic, pioneered by Peter Saville, united by subtle graphical elements such as typography combined with uniquely fitting imagery. This sleeve, designed by Saville with Martyn Atkins, using a photograph by Bernard Pierre Wolff, of the Appiani family tomb in Genoa's Monumental Cemetery of Staglieno in 1978.
Stay the Fuck Home
Our special series offers creative approaches to the long days of self-isolation during this global crisis.
EXPLORE THE SERIES