On a bright afternoon in mid-May, the light is streaming into the vast atrium of Central Saint Martins. Recently ranked second in the world for art and design, the art school's reputation precedes it. Housed inside a former warehouse and transit shed, the experience of entering the expansive central cavity of the building feels not dissimilar to Tate's iconic Turbine Hall. Many of the students here will go on to careers as artists, and the freedom to imagine big museum shows at institutions such as Tate never feels out of the realm of the possible in this space.
It is the day before the fine art degree show when I visit. The course at Central Saint Martins is one of the largest in the country, and 180 final-year undergraduate students are preparing to showcase their work to the public, many of them for the first time. The art school's prominent location in London's Kings Cross (following their move from Holborn six years ago) means that the degree show attracts a broad spectrum of the general public, from dedicated collectors to casual passers-by.
"It's kind of like a celebration. We have three years of work and then we have an opportunity to show it off together. That being said, I'm also shit-scared"
There is an air of quiet panic amongst the students. With just one day to go before the show, most of the work is complete, leaving them with little to do but wait for the crowds to come. They hammer final nails into the walls for last-minute paintings, and listlessly sweep dust from corners. Many sit cross-legged on laptops, adjusting lists of works or emailing out invitations. Some lie curled on the floor, the result of sleepless nights of late. "I've never had a week like the one leading up to the degree show. People were averaging around four hours a night," one student tells me. The comfort of these students in proximity to one another is clear, having spent the last three years of intensive study together.
"We don't have that many opportunities to show work outside of our peer group, who we spend so much time with. Maybe in an open studio event, but you still have your friends there and it's quite a friendly environment," a student named Beth explains. "The degree show feels more exposing, at least for me personally. I do feel quite worried about it, wondering how people are going to respond." Another student, Clara, adds, "It's kind of like a celebration. We have three years of work and then we have an opportunity to show it off together. That being said, I'm also shit-scared."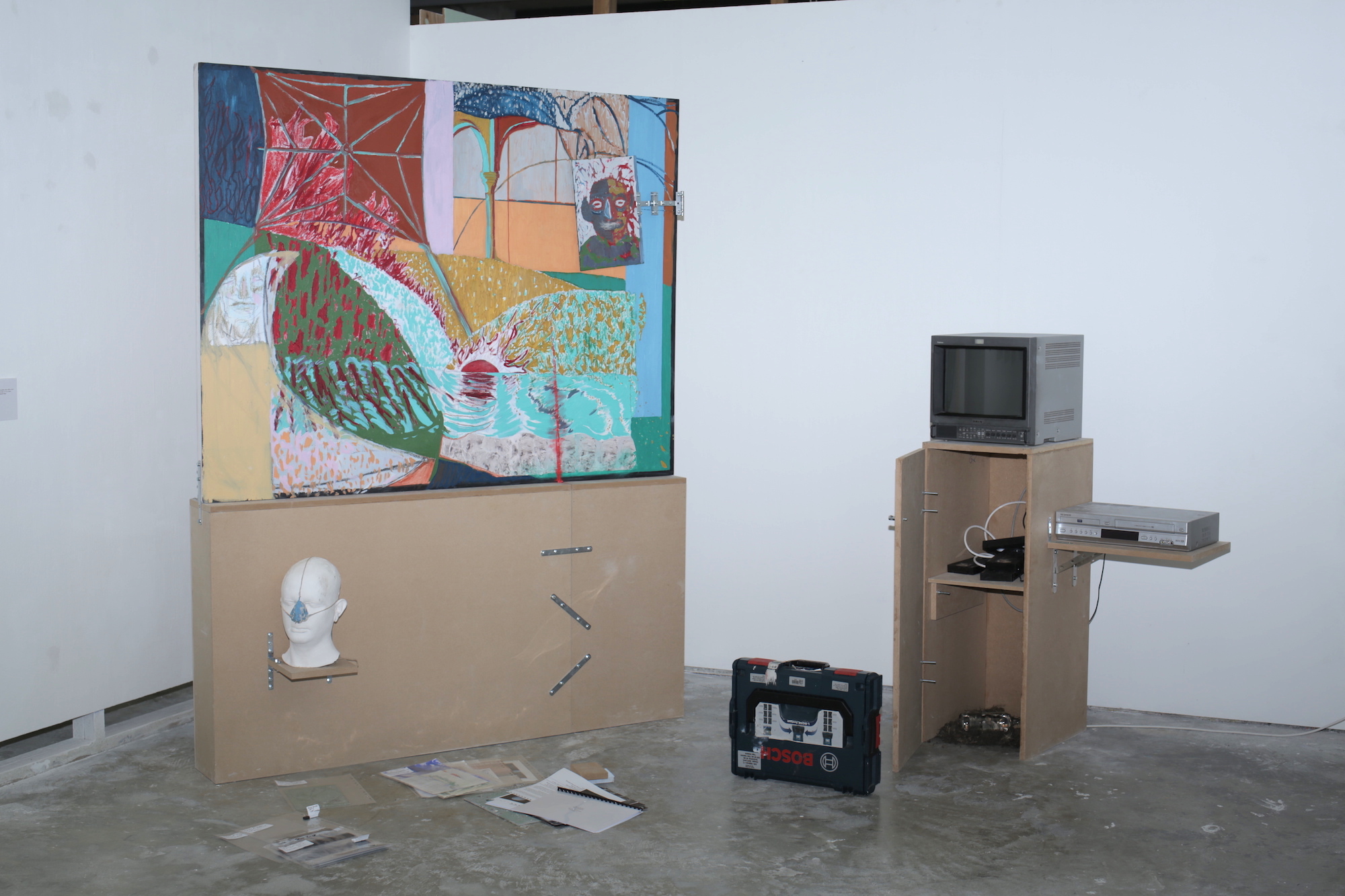 The exhibition takes over much of the building, with students initially divided into groups by staff and allocated their space. They are then encouraged to work with the others who have been placed nearby, taking a broader curatorial approach to the presentation of their work as a group rather than a series of solo shows. Alex Schady, programme director of the fine art course at Central Saint Martins, tells me that this type of collaboration is encouraged by the school: "They should be thinking about the dynamics that are created when they put their work next to someone else's. If they understand their identity as a group identity, then going into the world they will have power."
But how does it feel to be part of one of the largest fine art BA courses in the country, and is there a danger of getting lost amongst the group? I put the question to an assortment of around eight students on the ground floor, who will all be presenting their work in the same small area. A pair of oversized shoes lurks in one corner, while a cluster of acid-green mushrooms can be found close at hand; a video work and other sculptural pieces also populate the space.
"With the curation of the works, it can be difficult to tell them apart. There are definitely studios where the works presented by multiple students seem to become one," one member of the group tells me. "In relation to exposure, the show's so big and there are so many different works that the likelihood of someone coming to speak to you one-on-one is quite low, because there's so much to look at. I feel that you're going to get less feedback being in a show of this size," a student named Isaac adds.
There are also the practical concerns dealt with by a team of onsite technicians, who must apportion their time between the students in the run-up to the show. Preparations begin up to five weeks in advance, with long days as standard during this period. A student named Penelope has installed large-scale striped panels just beneath the glass roof of the building, a feat that required substantial assistance from the technical team. "I can see how much it involves and how much they do to make it actually happen—and how crazy this time is," she says. "Everybody has demands and expectations—'Me first!' 'Me first!' 'I need a ladder!'—and they have to manage those and advise. It's so full-on, and the build team has been amazing."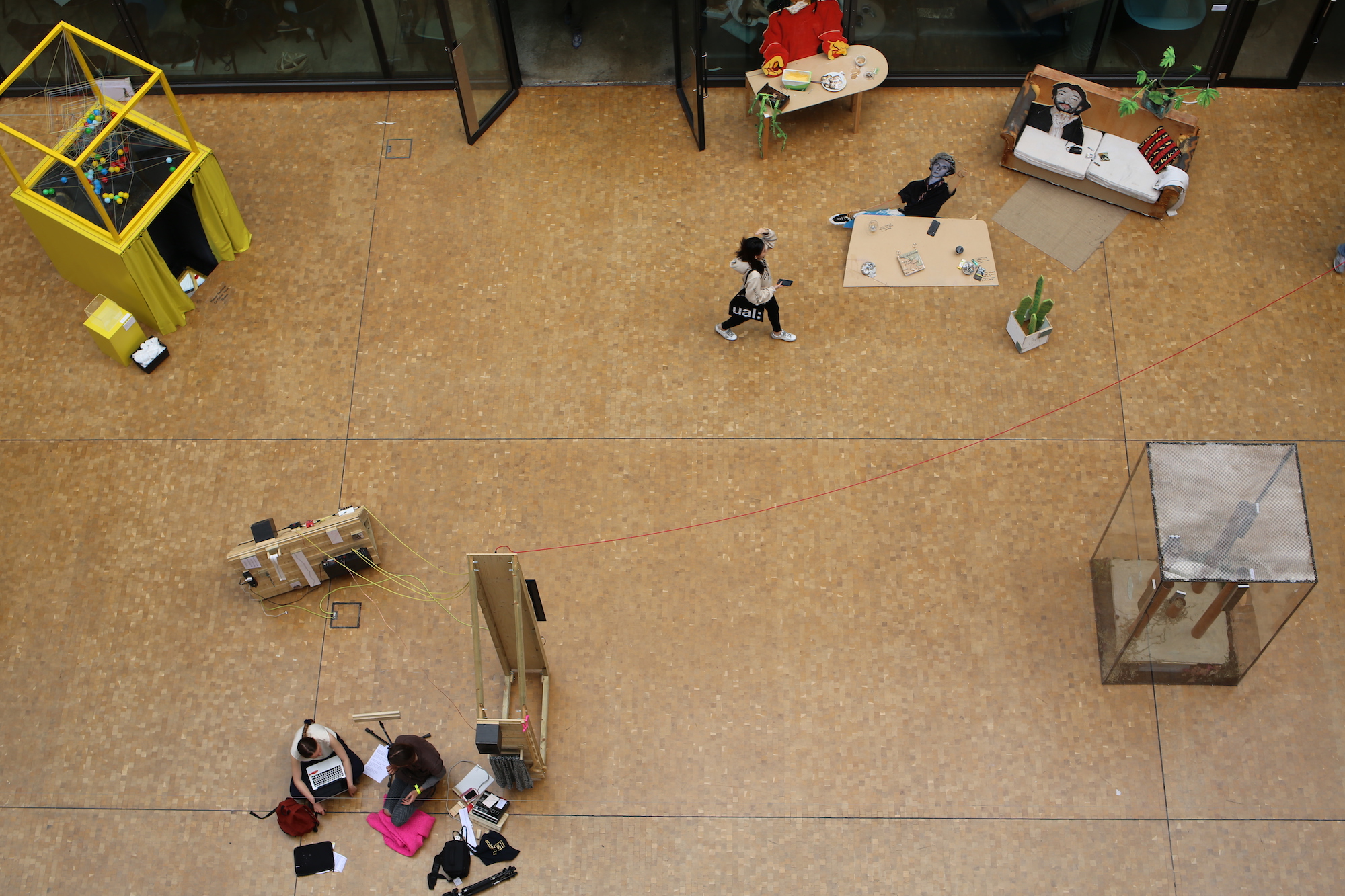 Not only do students need to consider how and when they will install their work, but there are other pressing matters that they are also expected to take care of for the degree show. "A lot of it at the moment is our documentation. It's not just the pieces on the wall that we're working on. There's all the other things that we have to do, like business cards, labels, a website…" one student, Alex, explains. It is unsurprising at a time when artists are increasingly expected to operate as a one-person business, managing everything from their own press to sales—on top of making the artwork itself.
Social media undoubtedly has a part to play in shifting the role of the artist. "It is quite annoying that now artists have to keep up with social media as a portfolio, and they will be judged on how many followers they have and how often they upload shit. I think that is quite sad," a student called Troy says. "I've even seen a few open calls that stipulate that you should have a social media following." Even at degree shows themselves, it has become more likely that students will be tagged on Instagram by the public than receive a follow-up email via their business card.
"It is quite annoying that now artists have to keep up with social media as a portfolio, and they will be judged on how many followers they have. I think that is quite sad"
Now, on the eve of their final show as students, they are faced with the prospect of life after art school. What do they hope for following the exhibition, and how prepared do they feel for the next steps? "It's felt very quiet. Everyone's sort of holding their breath for now," student Sarah laughs. "We've all been quite overwhelmed by the degree show. I've enjoyed making my work for this, but I definitely haven't been paying much attention to the next bit." Anais agrees: "I guess whenever students talk about it, it's a kind of collective screaming. I don't think anyone's really said that they have a clear plan, it's all been more about hoping for the best."
Programme director Alex Schady takes a holistic view on what is to come. "I think this show is a moment to really think about how much agency students have, and how they can make things for themselves," he muses. "It's not, have I got the right gallery to showcase me? But rather, how can I make my own gallery? Or, how can I forget about galleries altogether? How can I challenge the whole notion of the current existing art world? If that's what this degree show is about, it offers a platform to redefine who you are on your own terms. I think that's really exciting." Some students put their hopes and fears around the degree show in simpler terms. "I just feel so much relief," one says, before another adds: "I think it'll be fun."
All photographs © Louise Benson