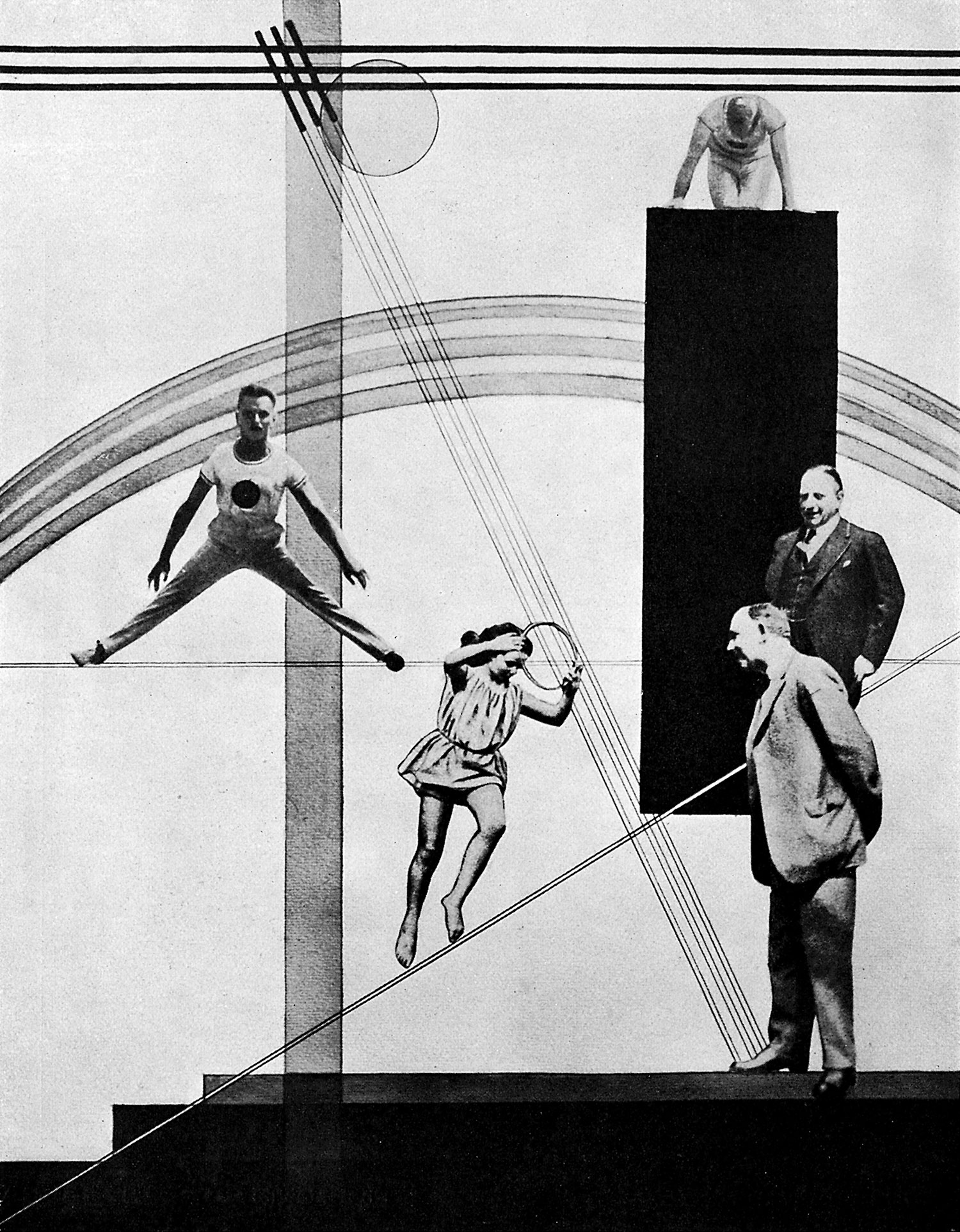 If you think those conversations about the "worth" of certain artistic mediums—you know, the perennial "painting is/isn't dead" debate—are discussions that have only been doing the rounds in recent decades, think again. László Moholy-Nagy was having them almost 100 years ago, and uses the introduction to his seminal text Painting, Photography, Film as a "defense [sic] of photography", and to summarise the division between the three "pure forms of expression" outlined in the book's title.
Painting, Photography, Film is one of the Bauhausbücher series of 14 books originally published in German from 1925 to 1930, and which are now being republished by Lars Müller in their first English translations. Each of the books was written by a master or teacher at the Bauhaus school, and aimed to explain their concepts and teaching methods. Other books in the series include Paul Klee's Pedagogical Sketchbook, Walter Gropius' International Architecture, New Design – Neoplasticism, Nieuwe Beelding by Piet Mondrian and Theo van Doesburg's Principles of Neo-Plastic Art, one of the most recent tranche of books to be released in the series.
From László Moholy-Nagy, Painting, Photography, Film
This edition is particularly gorgeous: Moholy-Nagy designed and edited all the books in the series, and this is the one he wrote himself. The layout is dazzling: the pages use Mondrian-like divides with black lines of varying thicknesses to separate splices of type and images, creating an unusual and strikingly dynamic reading experience. As you might expect of one of the most revered graphic designers of his era, Moholy-Nagy wields typography with both flair and subtlety: a single page merges serif and sans serif fonts, various weights, numerous sizes and a few words casually set in all-caps. 
His writing and way of using prose only serves to underscore and augment the design—or rather, the design augments the prose. His writing sometimes veers into a style that feels almost like modernist poetry: the text is often split into fragments, sentences are reduced to just a single word at times, all arranged in a mixture of traditional paragraphs and teetering monolithic columns.
"As you might expect of one of the most revered graphic designers of his era, Moholy-Nagy wields typography with both flair and subtlety"
The main thrust of the book is Moholy-Nagy's drive for people to see photography and filmmaking recognised in the same way that painting is viewed as a valid art form. Thinking about emergent media over the decades since he wrote the book in 1924, it's a point that feels doomed to be repeated: video art, net art, VR and various other digital media have faced similar battles to be seen as "valid" and "skilled", and remain on the fringes in comparison to more traditional tools like paint or clay.
Moholy-Nagy pushes the idea that the visual arts as a whole should be radically reconsidered; and that artists and students should push the development of photographic design at the same rate that scientists and engineers were developing other technologies. His boundary-pushing approach to photography crosses over into pretty much every other medium: the middle of the book bears a pullout musical score for "Preludes for Piano and Coloured Light."
From László Moholy-Nagy Painting, Photography, Film
Interjections like these operate alongside explanations of theoretical and technical approaches, and a wealth of stunning monochrome illustrations that pepper the book, which include photographs by Man Ray, Dadaist Hannah Höch's "amateur" photographs, press documentary shots of everything from a marabou's eye to a zeppelin over the sea, and "wirelessly telegraphed fingerprints"—a portent of the future if ever there was one.
Above all, what Moholy-Nagy does with impeccable style is demonstrate the breadth and potential of this then-new, exhilarating medium of photography. His vision for the power of photography and film has proved hugely prophetic, and many of his arguments stand up as just as relevant almost a century on.