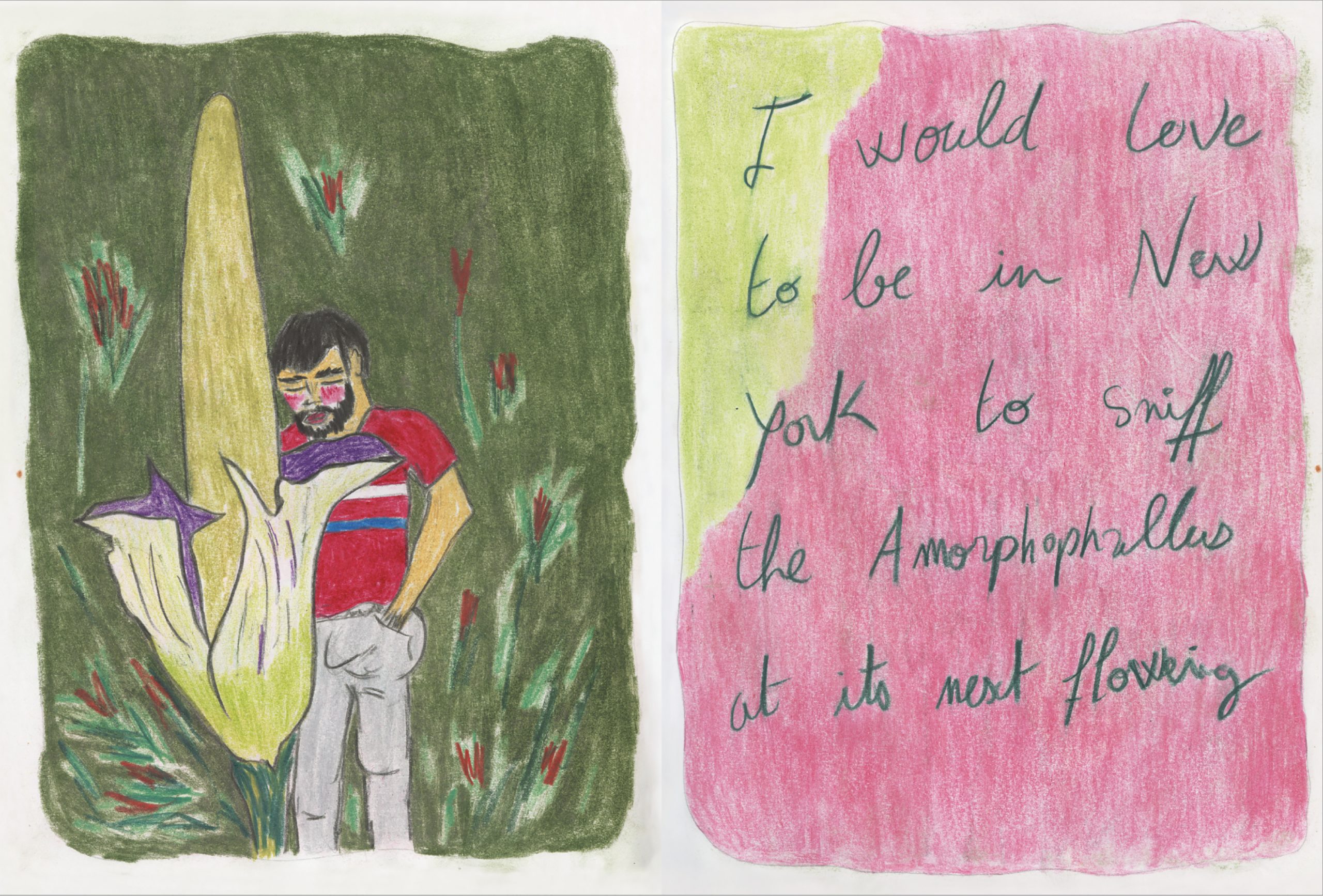 Intimate is an overused adjective when it comes to describing contemporary art, and yet so rarely is genuine intimacy conveyed in visual forms. But intimacy is the throbbing, short-of-breath, quickened heartbeat of Soufiane Ababri's work, and even more so in his first book, La rose donne naissance à une épine et une épine donne naissance à une rose (The rose gives birth to a thorn and a thorn gives birth to a rose).
The series of 34 pencil drawings collected here feels like leafing through a private sketchbook of desires. There's a carnal edge to the way Ababri draws, the confessional quality of the coloured pencils itself reminiscent of closely-guarded notebooks and diaries in childhood.
What you are looking at in La Rose is a series of vignettes, flirtatious and romantic, studies of various flowers and various men, and uncensored sex acts, of course—a central interest for the artist, but not only because it is a subject that is universal and age-old. As Ababri said in an interview with Elephant in 2019, "sex is one hundred percent political", and especially so when your sexuality is politicised, when society inflicts sexual violence against your body. On these pages, however, that sex is safeguarded, and it is unapologetic. It is unleashed and flows, ejaculates even, freely.
It's surprising this is Ababri's first book, since the format is ideal for encountering the erotic and the pornographic. There's a feeling of complicity with the viewer. And it is only by being close to the drawings, by touching them, that you can fully experience them, linger, and feel comfortable in your own various states of arousal while looking.
"People close to me have become a lens through which I see the world and myself"
What makes the book so personal, so truly intimate, are texts (in Ababri's French and an English translation). The drawings are prefaced with an email from Ababri to a certain 'Guillaume', recounting long, drunken conversations, bittersweet exchanges of flowers, suggesting a profoundly intimate relationship, but ambiguity is something the artist enjoys. "This work is fragile and it certainly needs to be", Ababri writes in the letter.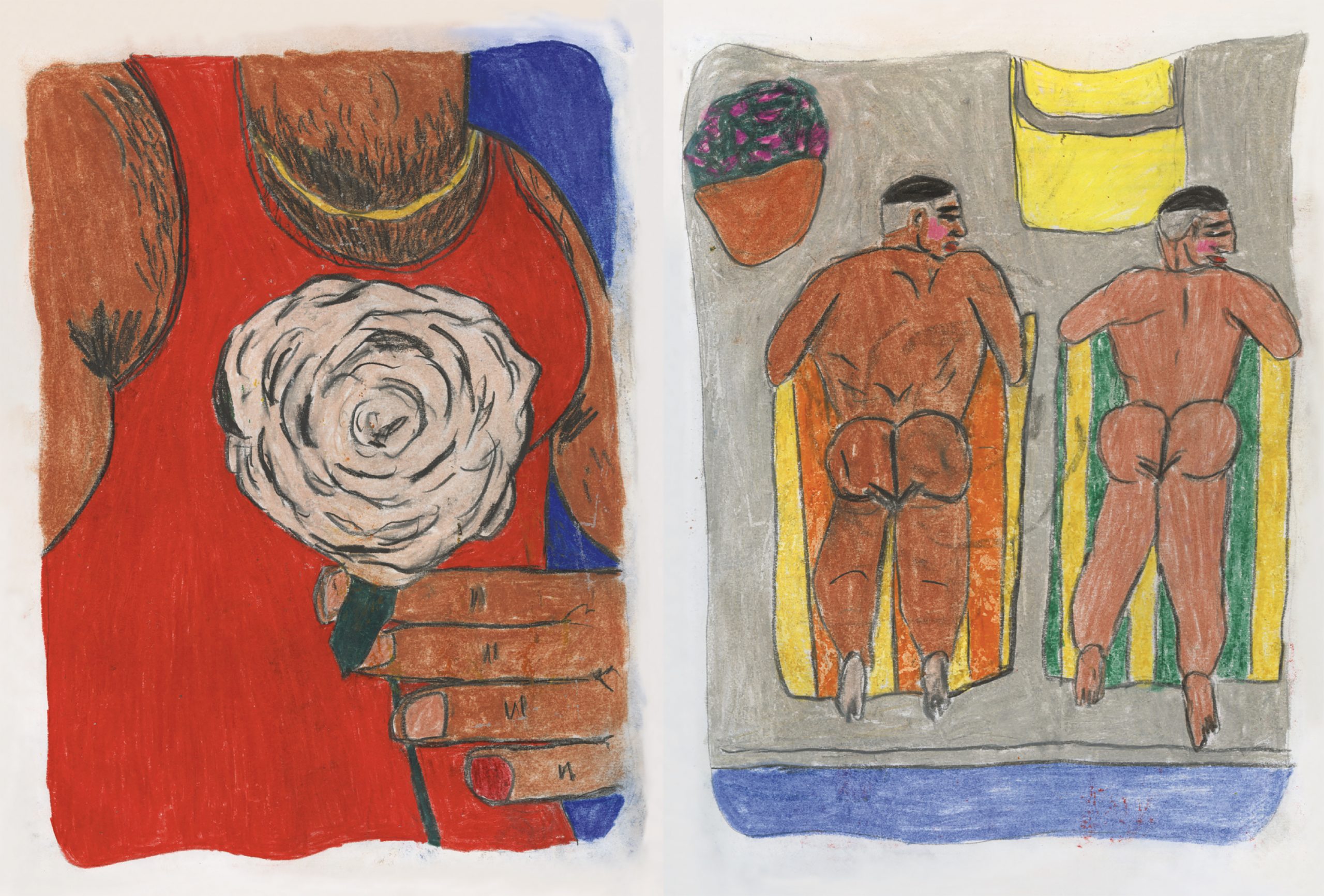 Intimacy is fragile—and that is why it is so rare that readers, or viewers, are entrusted with it. Misunderstanding is so easy. In response to Ababri's work and letter, the sociologist Antoine Idier writes his own letter, analysing at length the various symbols and implications of Ababri's life and work ("It's been a while since I've stopped making the difference between my work and my life, and people close to me have become a lens through which I see the world and myself," the artist concedes).
Idier's letter is replete with intellectual cross-references, from Baldwin to Bourdieu, drawing a much wider circle around this introspective narrative. To quote another, Ababri does what Audre Lorde urges: "to reach down into that deep place of knowledge inside herself and touch that terror and loathing of any difference that lives here. See whose face it wears. Then the personal as the political can begin to illuminate all our choices."
Charlotte Jansen is Elephant's commissioning editor
La Rose Donne Naissance à une Epine et une Epine Donne Naissance à une Rose by Soufiane Ababri
Published by The Steidz, June 2021
VISIT WEBSITE