Discovering oil paint dramatically changed Shaina McCoy's style. The Minneapolis artist began her career painting in acrylic, using a sharpie to outline smiles, frowns and other notable details of her subjects. She was introduced to oil paint in 2012, with the complications of recreating the necessary detail using the new material encouraging her to depict people without facial features.
McCoy's current style focuses attention on the silhouette and posture of those appearing in her work. In paintings of fathers carrying their infant children from her 2020 exhibition at François Ghebaly, Los Angeles, the artist's careful rendering of her subjects' heads and torsos orientate the viewer. Her heavy brushstrokes do not quite replace eyes and mouths, but evoke the same interpersonal warmth.
Her technique is most skilfully deployed in more populated studies, where her attention to human body language and positioning creates a dialogue between subjects that surpasses their facial anonymity. Seated around a dinner table in A Family Affair (McCoy's 2019 series inspired by a family photo album), a trio to the left of the canvas is shown deep in conversation, while in the centre a man spreads condiment over a slice of bread opposite an empty chair, his connection with a companion to the right of him seemingly weaker.
McCoy's use of archival family photo albums lies behind this gestural familiarity. She is also drawn towards moments of affection among the families of friends, who often feature in her works. Her portraits in particular become a negotiation between intimacy and unknowability: the block colour backdrops of Weylin, Who I Do It For, Daddy1980, and The McCoys retain their link with posed or professional photography, while normally expressive faces are neutered, becoming a focal point for McCoy's thick, generous brushstrokes.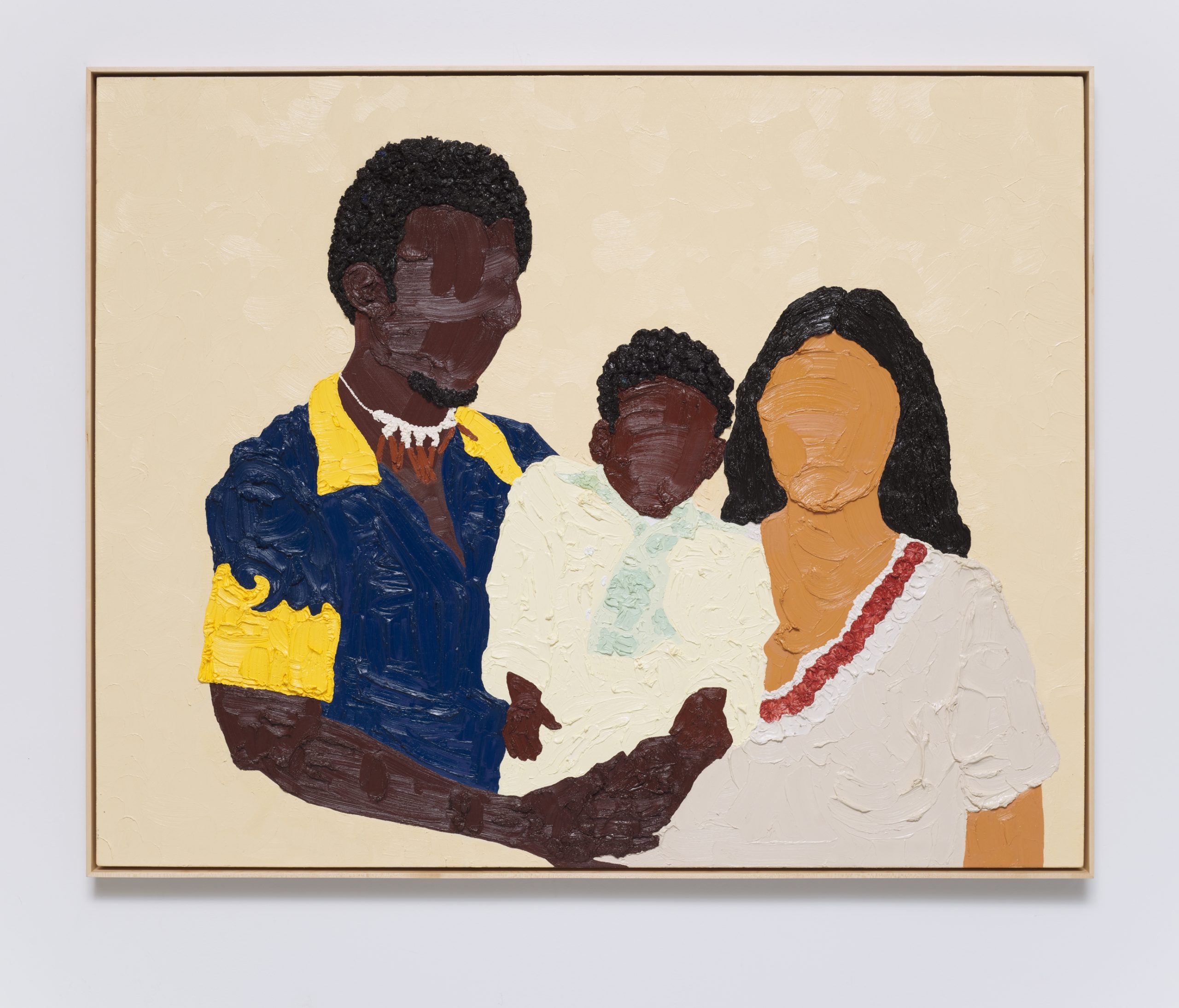 Her most recent show and European debut, B Is For, recently closed at Brussels' Stems gallery, and focused on the "bobbles, barrettes and bows" that feature within the experience of many Black girls in America. Across a series of seven portraits, McCoy has plotted a line from carefree childhood through to adolescence or early adulthood, the subjects seeming to become increasingly self-aware in their physicality with age. As the viewer, it is tempting to project expressions from personal memory onto the blank skin, but this feeling does not dominate—her work is instead an opportunity to draw meaning from a newly democratised system of representation.