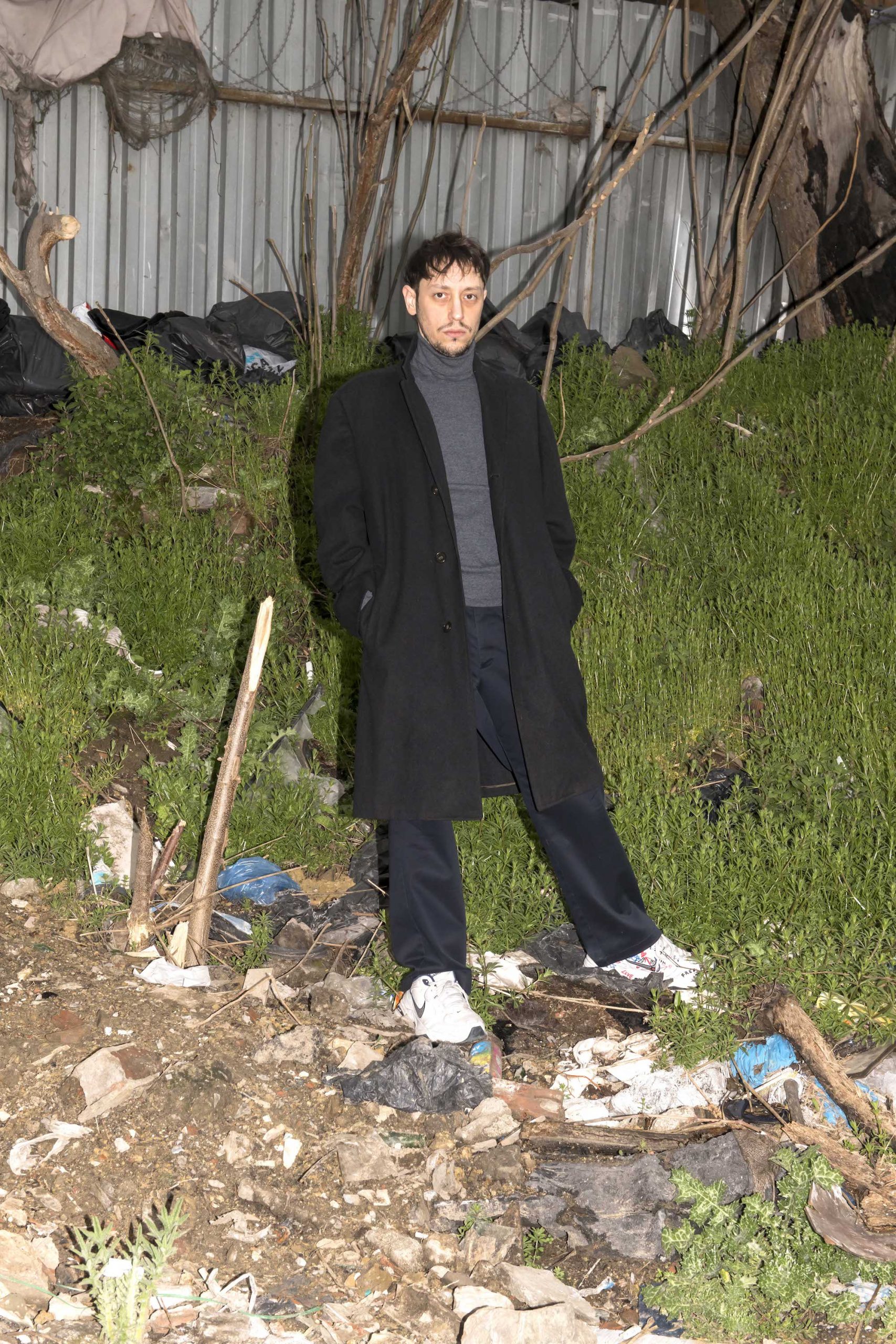 Within moments of starting my interview with Bora Akıncıtürk, his pet poodle runs up to me and starts aggressively humping my leg. It's comedically fitting, given the Turkish artist's reputation for humorous and sometimes crude artworks that splice bizarre everyday scenes with popular culture drawn from both online and offline realms. Have I fallen into a real-life Akıncıtürk painting?
We begin by talking about the art industry and the difficulties that artists face when creating work that is often deemed unclassifiable. Akıncıtürk's artwork, an 'internet brain' of genres and styles, is difficult to box into just one category. "The galleries want someone they can hump!" he jokes. "Galleries need consistency, especially nowadays. There's a specific market for every genre."
Born in Ankara, Akıncıtürk and I are speaking in his east London flat. He has lived in the city for 15 years. Canine trolling aside, the 40-year-old has a warm energy, jumping between showing me sources on his laptop and chatting. Covered head-to-toe in tattoos, he has the boyish charm of someone who doesn't take things too seriously.
View this post on Instagram
Online, he is a prolific presence on Instagram, an obsessive curator of found images, which manifest in on-the-pulse memes and everyday observations. He's also the admin of an anonymous, yet impressively successful, shitposting account on which he takes a playfully surreal angle on pop culture and current events. "I've always been a visual person," he explains. "I'm always on my phone collecting images. Even before smartphones, I would be scrolling on my desktop."
"I was late to the whole net art scene," he admits. "I was too busy making music and doing drugs"
Akıncıtürk wasn't always as logged on when it came to internet culture. He began to pursue his career as an artist and came of age at the same time as post-internet artists such as Jon Rafman and Parker Ito. Back then, Akıncıtürk focused on creating autobiographical works and paintings. "I was late to the whole net art scene," he admits. "I was too busy posting on DeviantArt and Tumblr, or making music and doing drugs. I was very closed off in that sense."
As the internet grew, Akıncıtürk describes the pull towards online content as "unavoidable". "There wasn't a duality between real-life and the digital world anymore," he explains. "They became so interconnected that you couldn't separate one from the other."
His most recent exhibition GROUP EGO DEATH YOGA AND MEDITATION at Screw Gallery in Leeds, explores themes of pseudo-spiritualism, health-club praxis and addiction through the lens of society's growing obsession with self-care. Inspired by the Dark Horse comic book The Mask (which inspired the 1994 film starring Jim Carrey), each collage has the villainous Mask protagonist appear in one corner to convey the shared ideology running through the works.
"I like the element of anonymity that comes with memes, so I try to harness that into my work"
"The original comic is really gory," Akıncıtürk shares. "The mask as a character is totally different from the film. The character who wears the mask constantly changes and you go on a massive journey with them. I like that it's really stupid and cheesy." The motif of the mask also led Akıncıtürk to consider the rise of mask-wearing within the context of Covid-19 during recent years, while he also used the exhibition to reimagine a yoga retreat where the promised enlightenment never arrives.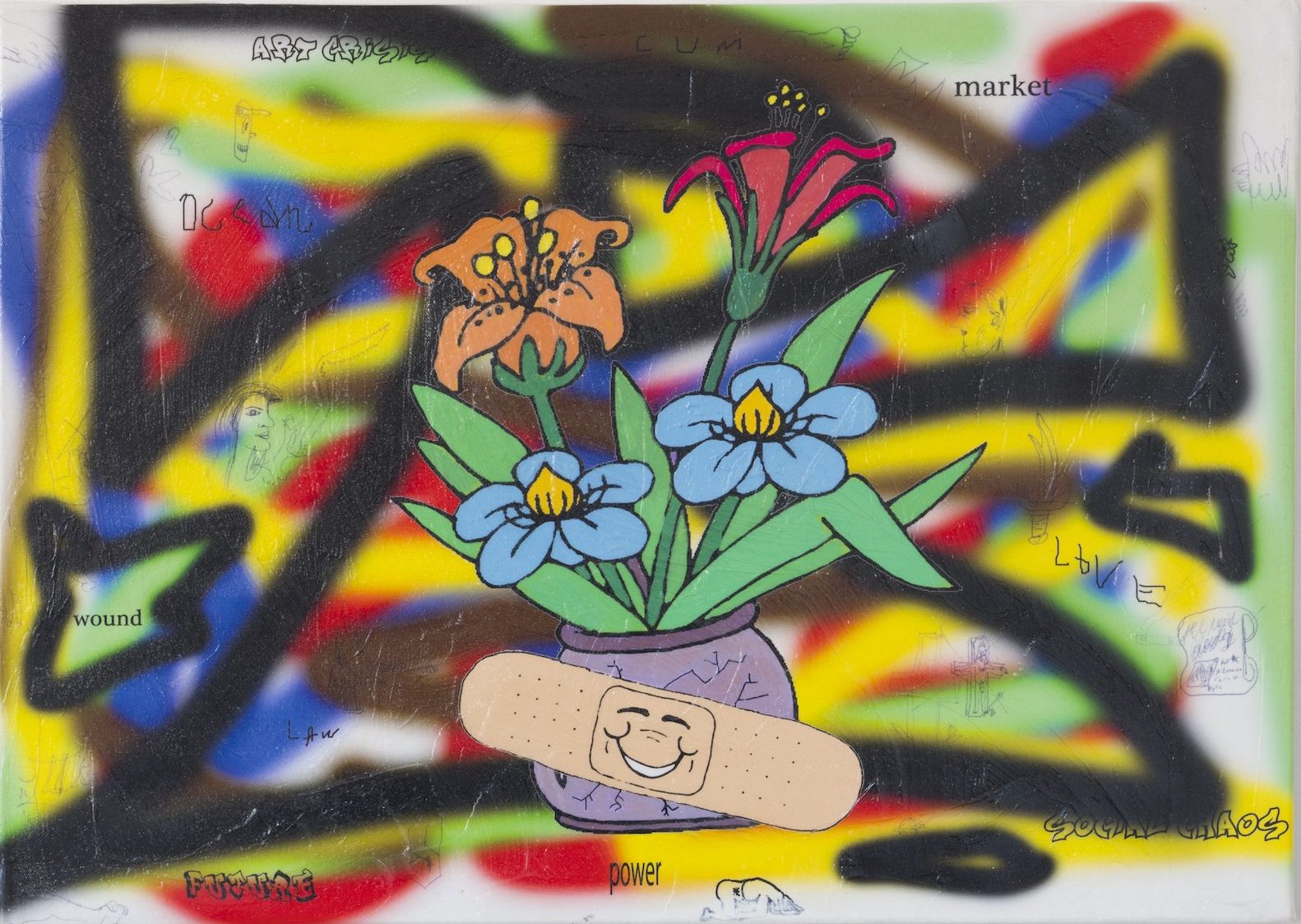 With intricate chain sculptures hanging from canvases like keychains, each artwork is intentionally minimal. Photographs, textiles, sand and paint are used. "I wanted to make it really fast and dirty and quick," he explains. In one of the works, a pared-back canvas is divided into bright red and beige, the division between the two colours also delineating a contrast between a crisply clean section and an intentionally grimy, stained panel.
A white T-shirt with a printout of Akıncıtürk's face is covered in black marker-pen doodles. Elsewhere is a giant sketch of Garfield smoking a bong, exhaling a cartoonish puff that continues onto the white wall behind it. Emerging from the smoke is the letter B in gothic typography, a direct copy of the first tattoo Akıncıtürk had done when he was a teenager. "It's such a stupid tattoo," he laughs. "It was just after high school. The B was actually meant as a D for D12 [the American rap group], but it ended up looking like B for Bora."