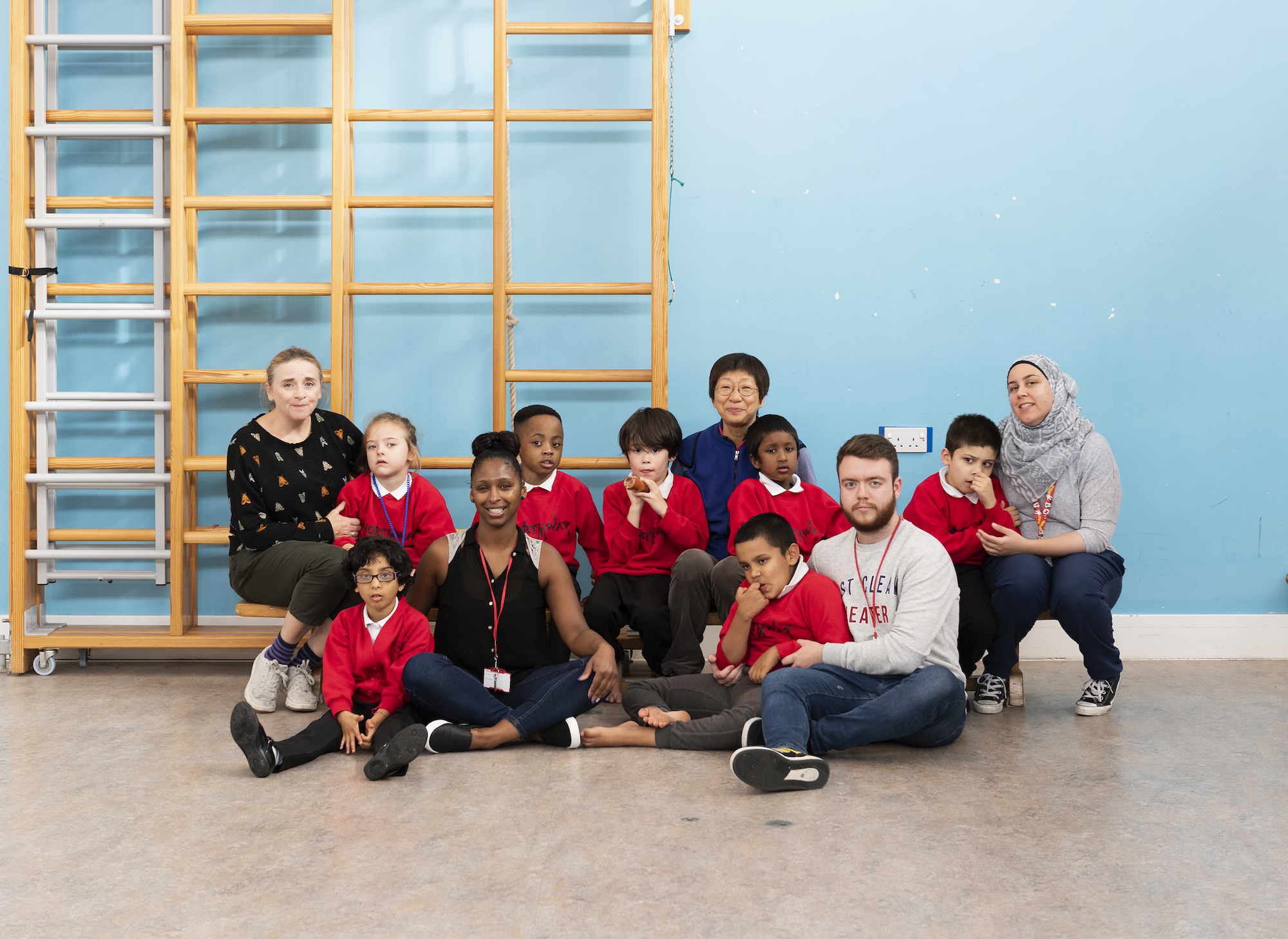 Hair brushed, face checked for stray breakfast crumbs and uniform freshly ironed. You surely remember those school photo days, when a stranger with an oversized camera and tripod set up in the gymnasium and your class would duly troop in. You recall standing in rows that were ordered by height, and the patter of the photographer: "Cheese! Say cheese!" All of this came back to me as I walked between the beaming faces, framed in row upon row, in Tate Britain's Duveen Galleries. This is Steve McQueen's Year 3 Project, which saw the artist photograph more than 75,000 children from London's primary schools, visiting approximately eighty schools per week for a year.  
The resulting images stand for every class photo of our collective childhood, the format made familiar by years of being displayed on every parents' and grandparents' mantelpiece. It is precisely this ubiquity that makes them so strangely beguiling to encounter anew in, of all places, the Tate. What are a load of school kids doing here, smiling down from the walls, with scuffed knees and wobbly teeth? During the exhibition, 600 participating schoolchildren a week will be brought to Tate Britain to view the project, many of them visiting the gallery for the first time. In the place of Pre-Raphaelite paintings, they will see themselves. McQueen's Year 3 Project sends a clear message: you belong here. 
But what do the kids themselves make of the project, and what has the experience of taking part meant to them? I spoke to four children who feature in the Year 3 Project, none of whom had heard of Steve McQueen before. Charlie, now aged nine, is enthusiastic about the project: "It surprised me. I'd never even heard of the Tate Britain before, until the time the photo happened. I felt excited because I was going to be in a massive photo, and people could see us here." Others were less thrilled. "I don't feel special, I feel normal," Alex, also aged nine, says. "There were lots and lots and lots of other classes. I was just one out of a million. I was really small, and no one would notice me. They only look at it all together."
Installation view, Steve McQueen Year 3 at Tate Britain © Tate
"There were lots and lots and lots of other classes. I was just one out of a million. I was really small, and no one would notice me"
On my visit to the exhibition, accompanied by Charlie, we are in the midst of searching for his class photo when another visitor interrupts us to ask if he is one of the kids in the show. He shyly nods yes, and she exclaims: "Oh my goodness, I think you're the first famous person I've met!" I ask Charlie, do you feel famous? "A little bit," he admits. "There's me. See, I wasn't smiling with my teeth back then. I was eight!" Another child, Hester, who I spoke to soon after her visit, puts it simply: "Happy. I felt happy when I found myself." 
For Alex, though, his trip to the gallery did little to remedy his impatience for the project. What was it like seeing himself at the Tate? "I guess I was like, 'Oh, the picture's here, wow.' Like that", he says, flatly. Did he really feel that excitement, that real "Wow!" experience? "No," he clarifies. "No, not like, 'Wow!', but like, 'Wow.'" I pause. What's the difference between the two wows? "One wow's like, 'WOW!' and then the other one's like, 'Wow.'" He rolls his eyes. "One is sarcastic and the other's not." So it was a sarcastic "wow" when you found yourself in the Tate, I ask weakly, although I already know the answer. "Yeah." 
There is a certain pressure, from teachers and parents, on the children who took part in McQueen's Year 3 Project to respond positively to it, although few of them will have had the opportunity to engage deeply with art before their trip to the Tate. While the endless rows of school photos might conjure nostalgic memories for many adults, as a kid, it can leave you cold. I ask Alex to sum up his experience in three words, and he responds with, "Normal, normal, normal." For him, was the visit to the Tate just another school trip? "Yeah, except it was a boring one, because the other school trips were way better, like having a water fight! All of the other ones were better."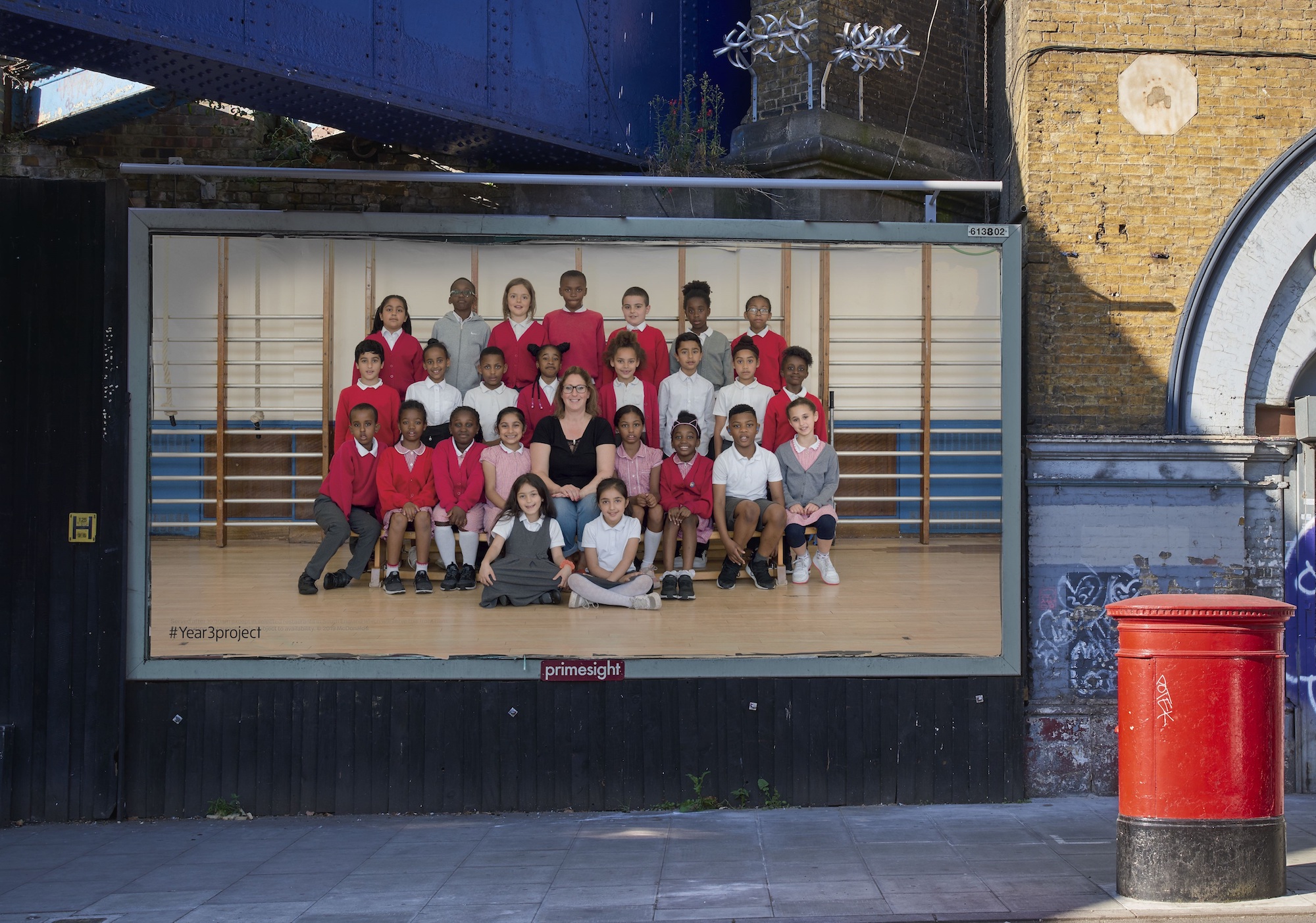 The scale of the Duveen Galleries can also be intimidating, and even off-putting, for children. "So we went to this place, and then there was like, this massive room," Alex describes. "It had, like, a billion pictures or something like that, and there was so much! And there were, like, 75,000 children, and then we found our class." Hester agrees: "I felt quite shocked that there were so many Year 3 classes", although another girl, Anais, saw it differently: "Actually I was expecting maybe, like, twenty classes, but there were, like, thousands." 
The hunt for your own school class amidst the thousands of others can end up feeling like a rather hopeless game of Where's Wally. However, all of the children who I spoke to were able to find themselves reasonably quickly. To speed proceedings up, schools have also been provided with the exact location of their picture. "It didn't take that long to find it because it's my height," Anais explains. "There are some that are all the way at the top, and I can barely see them, so we were very lucky that ours was quite low."
600 billboards have also been stationed around London, in collaboration with Artangel, with individual class photos blown up to enormous proportions. They are difficult to miss, although they could be confusing to the casual observer with little context. For the children, though, it's the billboards that elicit the most excitement. "We saw some in Greenwich, in South London. It was really amazing because we hadn't been to the Tate Britain yet, we only went after we saw this," Anais tells me. With the language of advertising and commerce, displayed at huge-scale in public, they speak more directly to the typical interests of children aged eight and nine than, say, a one-hundred-year-old gallery ever could. Even Alex concedes that, were he to see his class on a billboard, he would feel famous. 
"It had, like, a billion pictures or something like that, and there was so much!"
For most children who took part, their trip to the Tate will quickly be overtaken by other, more pressing concerns, like football, homework and holidays. These photographs might represent our future, but the kids have better things to think about than growing up. I ask Alex what he's most looking forward to at the moment. "The holidays. I'm looking forward to the holidays because we don't have to go to school, and school's bad. I don't like school." Perhaps he didn't enjoy this project so much because it's connected to school, I suggest? "No, it's not even that connected to school. It's just boring. It's just going to an art gallery and taking a picture," he says. "So it's like, nothing's changed." 
Others reflect more positively on the experience. "I feel proud and amazed, because we were very lucky that we were in Year 3 then," Anais tells me. "For a little time I was wondering, why was it only Year 3? But I was happy that it was Year 3, because I was in Year 3!" "Maybe he's going to start doing it every three years," Charlie muses, cheerfully. I doubt it, I say; the project is one of the most ambitious portraits of children ever undertaken in the UK, and unlikely to be repeated. "Oh well, you never know. Otherwise these children were just lucky that they were in Year 3 that year. I was lucky that we got to be part of Steve McQueen's big idea of all the Year 3s in London coming together to make a giant photo. We're here."
Steve McQueen, Year 3
At Tate Britain 12 November 2019 to 3 May 2020
VISIT WEBSITE